Hummus – making hummus with dry chick peas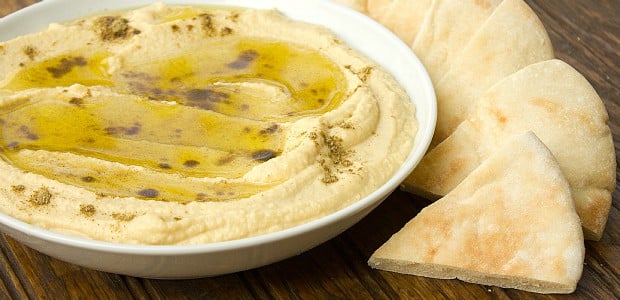 I love hummus. Actually, the whole family loves the stuff and it thrills me that the kids enjoy it so much. They love getting hummus in their lunch for school along with some pita bread, or bread sticks. I was very happy to learn how to make hummus with dry chick peas.
Hummus is quite healthy since chick peas are low in calories and are a good source of protein and fibre. Olive oil is also one of the best oils you can use containing essential fatty acids and antioxidants. Making hummus at home is simple, far cheaper and allows you to control the ingredients.
I make hummus at least once a month for years. Each time I make it I use canned chick peas. I even posted the recipe for hummus here. I have often heard that using dry chick peas produces a far superior hummus; one that is creamier and tastier than that with the canned peas. Using canned peas is just so much easier and does not require you to decide to make hummus the night before, so I have never gotten around to trying it.
Finally, I have tried hummus with the dry peas and everyone who told me it is the best way to make hummus is correct. I loved it and will likely make it this way more often.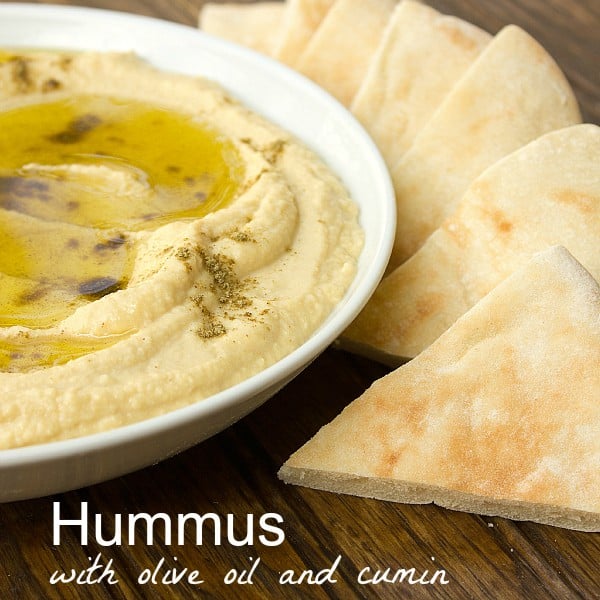 The cumin and olive oil can be stirred into the hummus, but I prefer the flavour if it is drizzled on top. It also looks much more attractive plated this way.
If you are wanting to try so new kinds of hummus, check out these few varieties of hummus: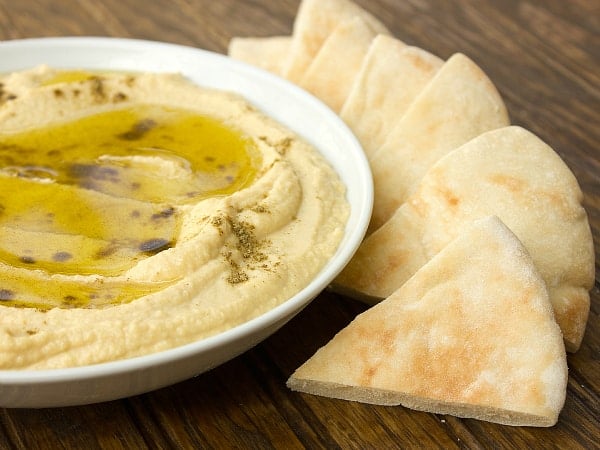 Hummus - making hummus with dry chick peas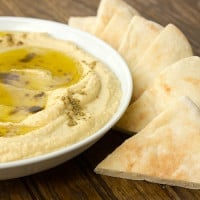 Print
Making hummus with dry chick peas instead of canned. A traditional recipe with olive oil, ground cumin and tahini. This recipe is creamy and delicious,
Servings: 6 cups
Ingredients
2 cups dry chick peas
2 tsp salt
1 tsp baking soda
water
juice of half of a lemon
3 tbsp tahini
2-3 garlic cloves
1/2 cup water (or more if needed)
1/3 cup olive oil
1 tbsp ground cumin
pita bread , crackers, etc.
Instructions
Place the dry chick peas in a large bowl or pot and fill with water so that the water is at least an inch or two above the peas. Let them soak overnight in the fridge.

Drain the chick peas. Place them in a pot and fill with new water, the salt and baking soda.

Bring the chick peas to a boil. Once the water is boiling, lower the heat so that it is a low boil. Cook the chick peas for an hour. They should soften so they can easily be smushed with your fingers.

Drain the chick peas and let them cool until they come to room temperature.

Using a food processor, pulse the chick peas, lemon, garlic cloves and tahini. While the food processor is running, slowly pour in the water. Check the texture and thickness of the hummus. If needed, add more water to desired consistency.

When serving, scoop into a bowl and drizzle olive oil and sprinkle cumin on top of the hummus.

Serve with pita bread, crackers, or veggies.