Lemon Curd and Blueberry Tart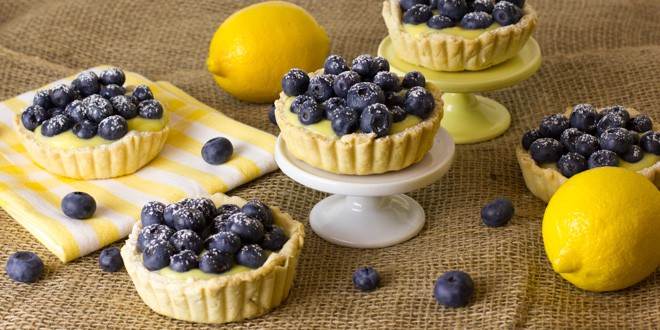 I am a huge sucker for fresh fruit and any time I go to the local grocery store and see berries on sale, I buy way too many of them. That was the case this week. Blueberries were the cheapest I had seen them this summer and I bought tonnes of them. That is fine with me as I LOVE blueberries. So, that means there will be a bunch of blueberry recipes on The Black Peppercorn over the next week or two.
Giveaway – Today I have also started a giveaway for a Gourmet Choice Digital Scale. A digital scale adds precision to cooking and it is especially great when it comes to baking as some recipes use weight instead of volume measurements. To enter click here or the picture below.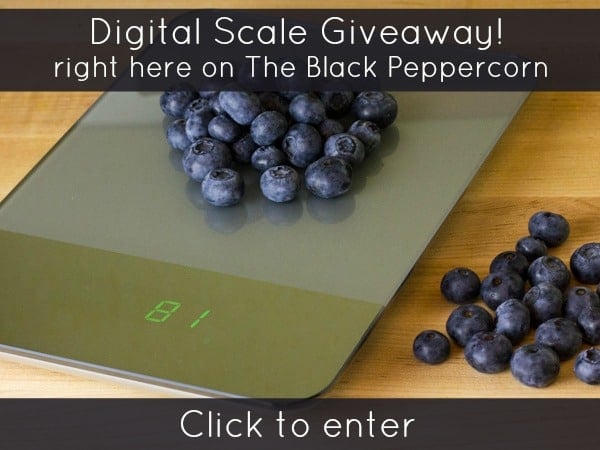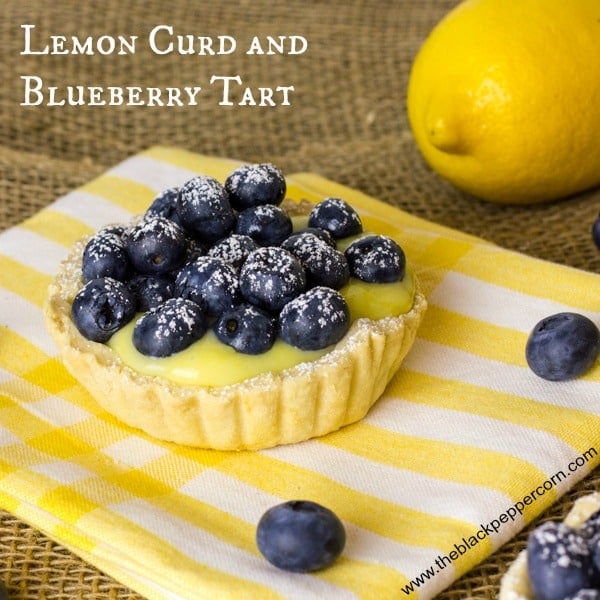 Tarts are a great summer recipe and this one is perfect. This recipe rocks because I love lemon curd as much as fresh blueberries. Having this filling rest in melt-in-your-mouth shortcrust pastry just adds to the perfection of this tart. Each bite is bright and refreshing.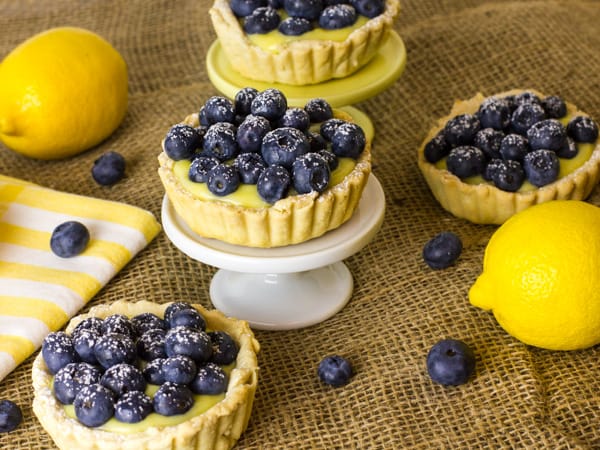 There are a bunch of steps in this recipe, but do not let that cause you to pass by it. These tarts are worth it. Make these for guests and they will flip out!
If you need to get some mini tart round molds, these are a great choice found at Amazon – Wilton Perfect Results 4.75 Inch Round Tart/Quiche Pan, Set of 6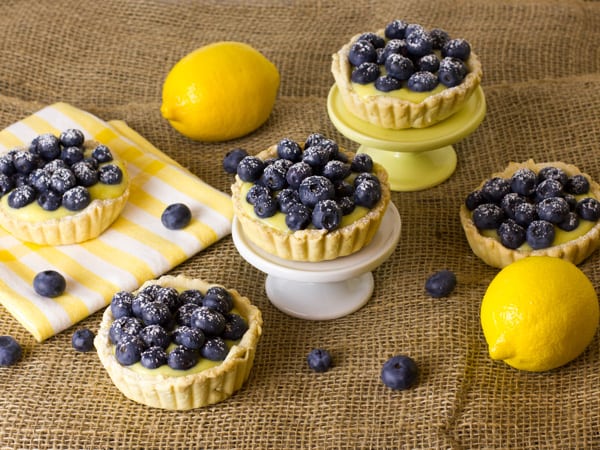 Lemon Blueberry Tarts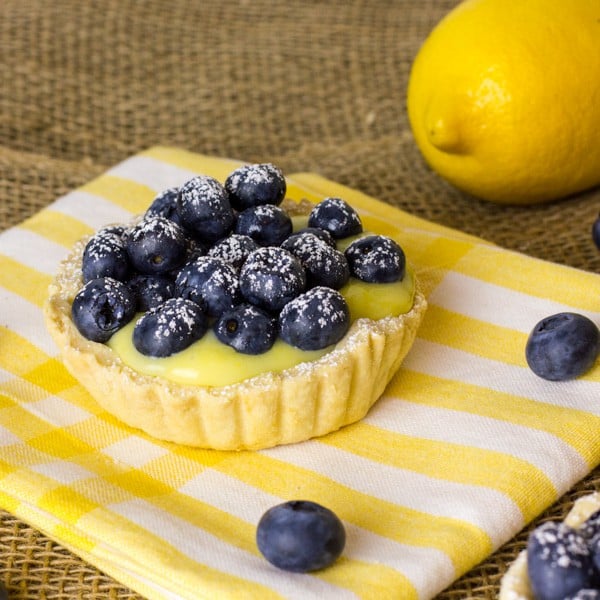 Print
Servings: 6 tarts
Ingredients
1 1/2 cups butter , divided
1 1/2 cups flour
3-5 tbsp water
3 lemons , juiced and zested
1 cup sugar
4 whole eggs
2 egg yolks
2 cups fresh blueberries
3 tbsp powdered sugar
Instructions
To make the short crust pastry, place a glass bowl and 1/2 cup of the butter (cut into 1/2 inch cubes) in the fridge. Dump the butter and flour in a food processor and pulse for about 15 seconds. It should resemble bread crumbs. Remove the glass bowl from the fridge and dump the processed flour and butter into the bowl. Using your hands, make a well in the middle of the flour mixture. Slowly drizzle some of the water in and, using your fingers, swirl the water and work it into the flour and butter. Continue to do this with most of the water. Work it into a clumpy ball. Transfer the pastry onto a floured surface. Use your hands to gently knead it until it is a smooth and even consistency. Add a little more water if needed. The pastry should be workable and not overly dry. You should be able to pinch it but it should not be sticky at all. Cover the pastry with plastic wrap and cool in the fridge for 30 minutes. Grease tart pans with butter. Roll out pastry into about 1/8 inch thickness. Cut the pastry and fit into each tart pan. Press it down in all the corners and trim it off the top of the sides.

Preheat oven to 400F. Place parchment paper on top of each tart and place some baking beans or dry beans to fill in the tart (this keeps the bottom of the pastry from bubbling up). Bake the tart shells for 15 minutes. Take them out of the oven and remove the baking beans and paper. Bake the tart shells for another 5 minutes to brown the pastry up lightly. Cool to room temperature.

To make the lemon curd, cut the butter into 1/2 inch cubes. Whisk together the lemon juice, lemon zest, eggs, egg yolks and sugar together in a saucepan. Heat at medium heat, stirring constantly to prevent it from burning on the bottom. Cook for about 5-8 minutes. Drop in one cube of butter at a time and whisk until melted. Continue to do this until all the butter is whisked in. Test to see if the curd has the right consistency. Dip a spoon in the curd and run your finger down the back of the spoon. If the mark left by your finger stays, the curd is done. If not, let it simmer a minute or two more. Remove from the the and strain through a metal sieve. Cover with plastic wrap and let cool.

Spoon some lemon curd into each tart shell. Place a handful of fresh blueberries on top of the lemon curd on each tart. Dust with icing sugar just before serving.