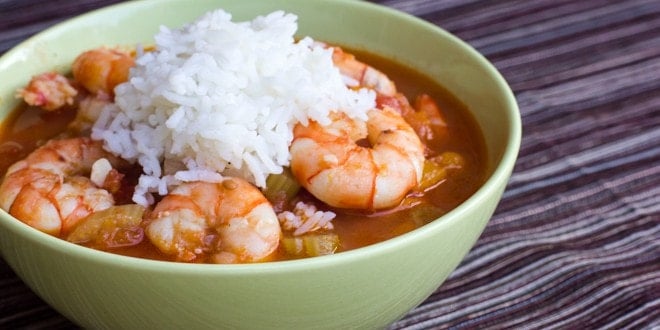 Shrimp creole is one of my favourite dishes, and I remember my father making it when I was a kid. Oh the memories it brings back. This was probably one of the few dishes I first learned how to prepare when I started to cook on my own.
Shrimp creole is of Louisiana origin. There are many dishes in this cuisine that have some similarity in ingredients and presentation. Shrimp creole, shrimp étouffée, gumbo and jambalaya all have common ingredients and steps of preparation, but tasting them reveals the differences and complexities of each. Shrimp creole has a flavour base of tomatoes and the trinity (onion, pepper and celery) along with a mild blend of spices. The flavours of shrimp creole are simple and not as spicy as other dishes in the cuisine of Louisiana.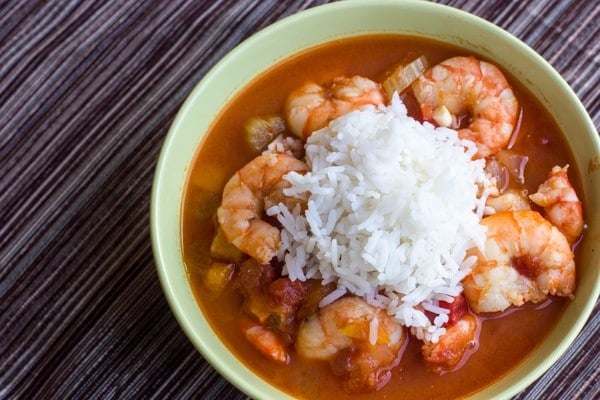 My recipe for shrimp creole has changed a little bit over the years. I prefer to have a sauce that is thinner as I love how the rice soaks of the broth. While still thicker than gumbo, there is lots of sauce for the rice. I add plenty of chicken stock and reduce it by about half. This concentrates the flavour of the sauce.
Now, while I use a number of individual spices for the seasoning, many people also have a container of creole seasoning on the shelf. If this is the case, feel free to use that in place of the spices in the recipe. Zatarains, Tony Chachere and Slap Ya Mama are all great brands of creole seasoning and I have a container of each in my spice pantry.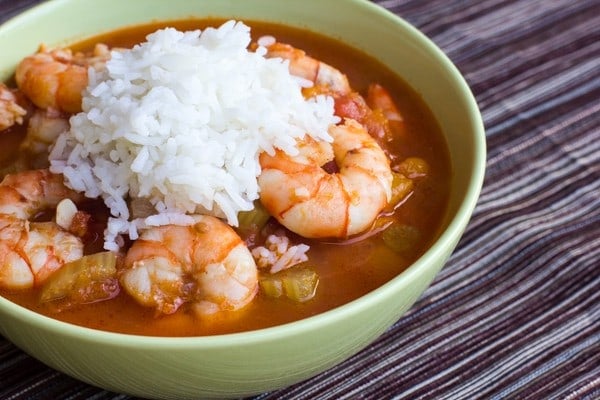 Shrimp Creole Recipe - Classic Louisiana Cuisine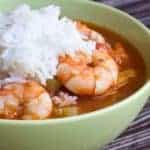 Print
Shrimp creole is a classic New Orleans dish made with tomatoes, celery, onions, peppers and serve on rice. Similar to étouffée, gumbo and jambalaya but milder to cajun dishes.
Servings: 6 people
Ingredients
2 tbsp butter
1 onion , diced
1 red pepper , diced
4 celery stalks , diced
3 garlic cloves , minced
28 oz diced tomatoes
2 1/2 cups chicken broth
2 tsp hot sauce
2 bay leaves
1 tsp salt
1 tsp ground black pepper
1/4 tsp cayenne pepper
1/2 tsp thyme
2 pounds shrimp (raw) , peeled and deveined
cooked white rice
Instructions
Melt butter in a dutch oven or pot over medium heat.

Add onion, pepper, celery and garlic and sauté, stirring often until tender, about 6-8 minutes.

Add diced tomatoes, chicken broth, hot sauce, bay leaves, salt, black pepper, cayenne pepper and thyme.

Bring to a boil and reduce the heat to a low simmer. Continue to cook for 20-30 minutes, or until the broth reduces by about half.

Stir in the raw shrimp and cook for another 10 minutes. Remove bay leaves.

Serve with rice.