Louisiana Style Barbecue Shrimp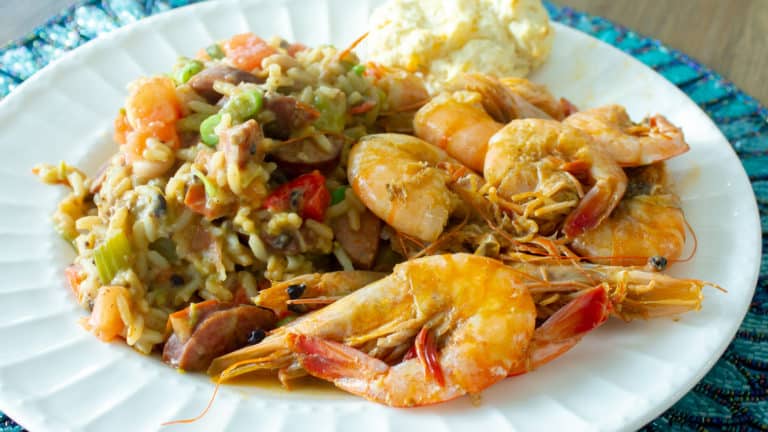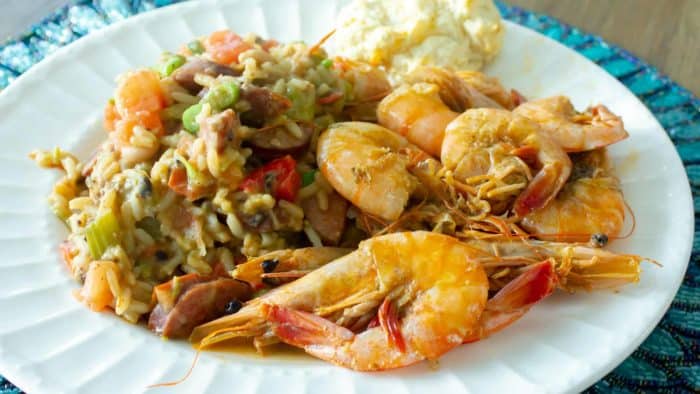 One of my favourite vacation spots is going to the coast of the Gulf of Mexico. While I have usually gone to either New Orleans or Biloxi, recently, we went to Orange Beach, Alabama.
Anytime I am at the gulf, I eat seafood any meal that I can. Normally, we stay in hotels, so I am forced to enjoy the fresh seafood at restaurants. Now, while there is no shortage of great restaurants down there, I do also love to cook. This past trip we rented a condo, and one of the benefits of that accommodation was the kitchen so that I could cook dishes using some of the fresh seafood and other ingredients.
I went to a local market and picked up some fresh gulf shrimp. The first dish I wanted to make was barbecue shrimp. This is a simple recipe that both highlights the flavour of the shrimp and adds a delicious buttery and spicy seasoning!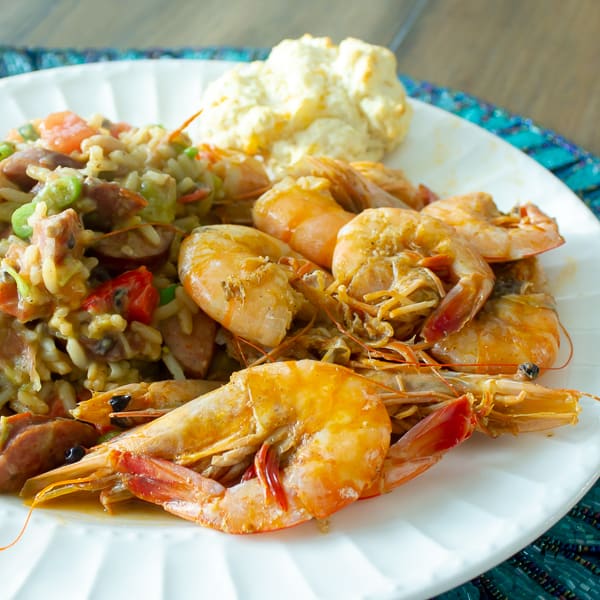 Barbecue shrimp is a classic dish in New Orleans and one that I learned from my father when I was a teenager. I have used this method for cooking and shrimp for so many years it has easily become my favourite, especially when I am wanting something with more bold flavours than the simple but still so delicious Peel and Eat Shrimp.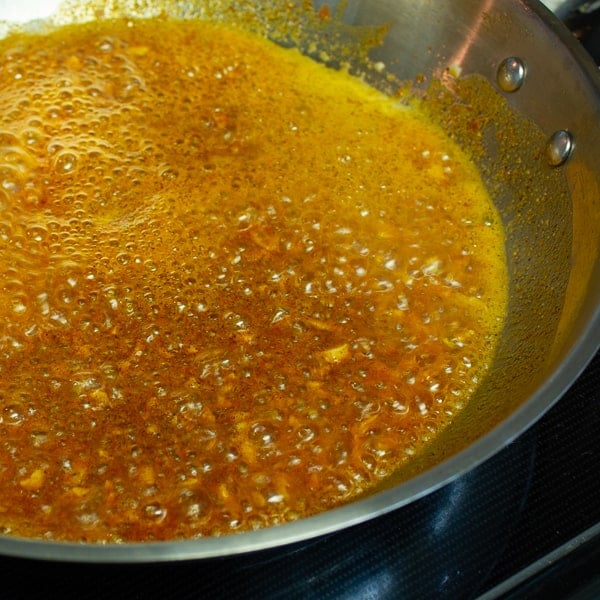 Melt the butter, in a large skillet over medium heat. Add the minced garlic, spices and Worcestershire sauce. While you can use any store-bought creole seasoning, you can also make it yourself. I actually have a recipe for a great cajun spice mix that can be found here – Cajun Spice Rub.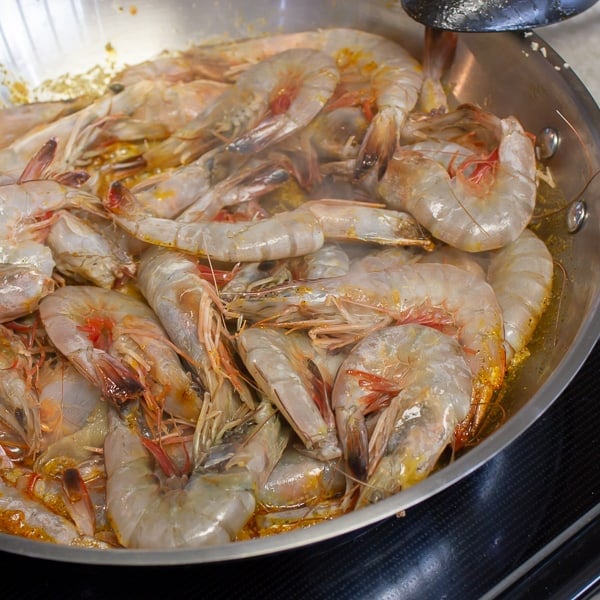 After the butter and seasoning has has a chance to cook for a few minutes, add in the fresh shrimp.
Since I was on the coast of the Gulf of Mexico, I was able to get some gulf shrimp that was freshly caught. You can use unpeeled or peeled shrimp and even shrimp with the head on, like I did as you see in the photos. Even frozen shrimp works great for this recipe, but make sure they are thawed first.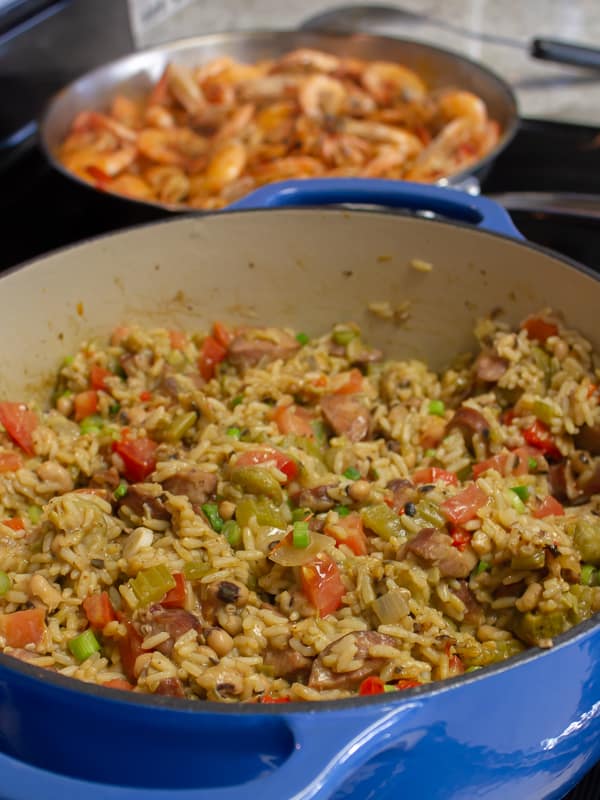 I made the barbecue shrimp alongside another classic New Orleans recipe. Hoppin John is a great dish to compliment barbecue shrimp.
While this is a traditional dish served on New Years, I make this all through the year. I love the rice, black eyed peas and veggies. I also love using andouille or other smoked sausage. The recipe for hoppin john will be coming to the site soon!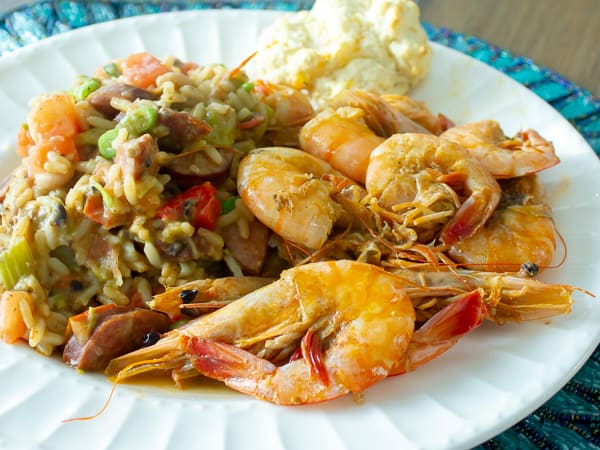 The, butter, spices and beer infuse into the shrimp to make every bite, rich and full of flavour. You will notice that this recipe makes lots of sauce. This is intentional and has incredible flavour.
I love to dip either Buttermilk Biscuits or crusty Artisan Bread in this sauce.
It is so good!
Louisiana Style Barbecue Shrimp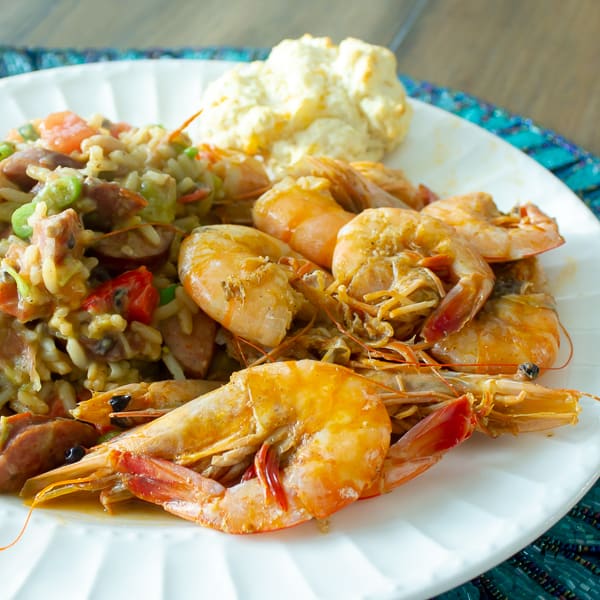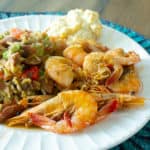 Print
Buttery and spicy sautéed fresh shrimp with creole seasoning and beer. Easy to make recipe and tastes just like you are at a restaurant in New Orleans. Dip some fresh bread in the sauce.

Servings: 8
Ingredients
1/2 cup butter
3 cloves garlic minced
2 tbsp Worcestershire sauce
2 pounds fresh shrimp
1 1/2 cups beer
Instructions
In a large skillet, melt butter over medium high heat.

Add the garlic, creole seasoning/cajun spice and Worcestershire sauce. Let cook for a couple minutes to allow the seasoning to bloom.

Add the shrimp and stir so they are coated in the spice butter mixture. Cook for a couple minutes.

Pour in the beer and stir. Continue to cook, stirring often, until the shrimp are cook through and pink on all sides, about 10 minutes or so.

Serve immediately.
Nutrition
Per serving:
Calories: 245.1kcalCarbohydrates: 3.84gProtein: 23.78gFat: 13.38gSaturated Fat: 7.56gCholesterol: 316.27mgSodium: 1026.58mgFiber: 0.51gSugar: 0.64g