This authentic cajun dish is made with sautéed trinity (onions, peppers and celery) in a roux based sauce with shrimp, and served with rice.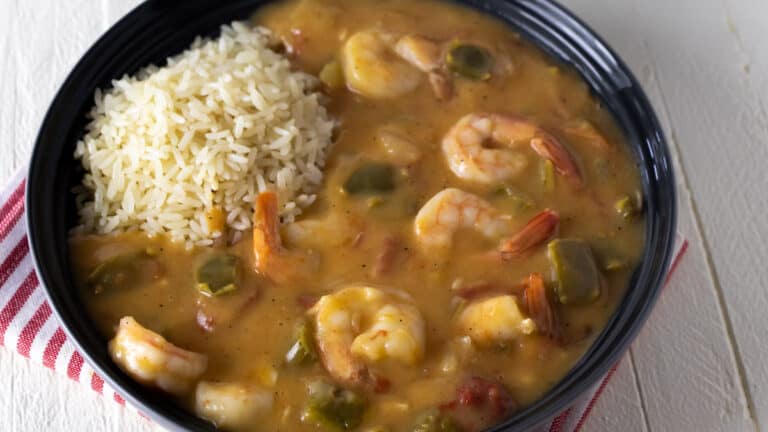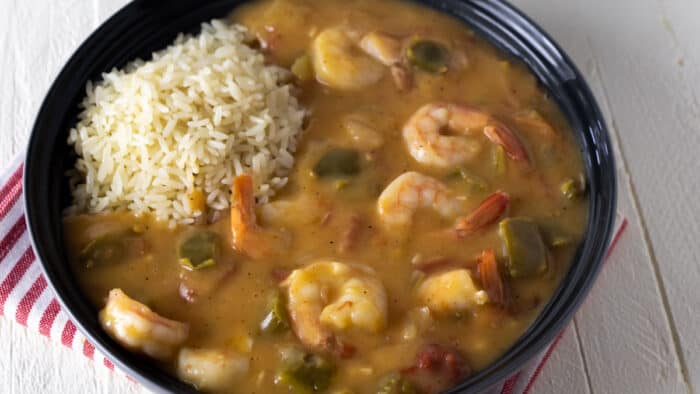 I love cajun cuisine and my favourite dish is étouffée. I remember when my wife and I went to New Orleans for our honeymoon, I ordered crawfish étouffée and it was incredible. It is hard to source crawfish up here in Canada, so when I make this dish, I often make shrimp étouffée. The shrimp version is just as delicious.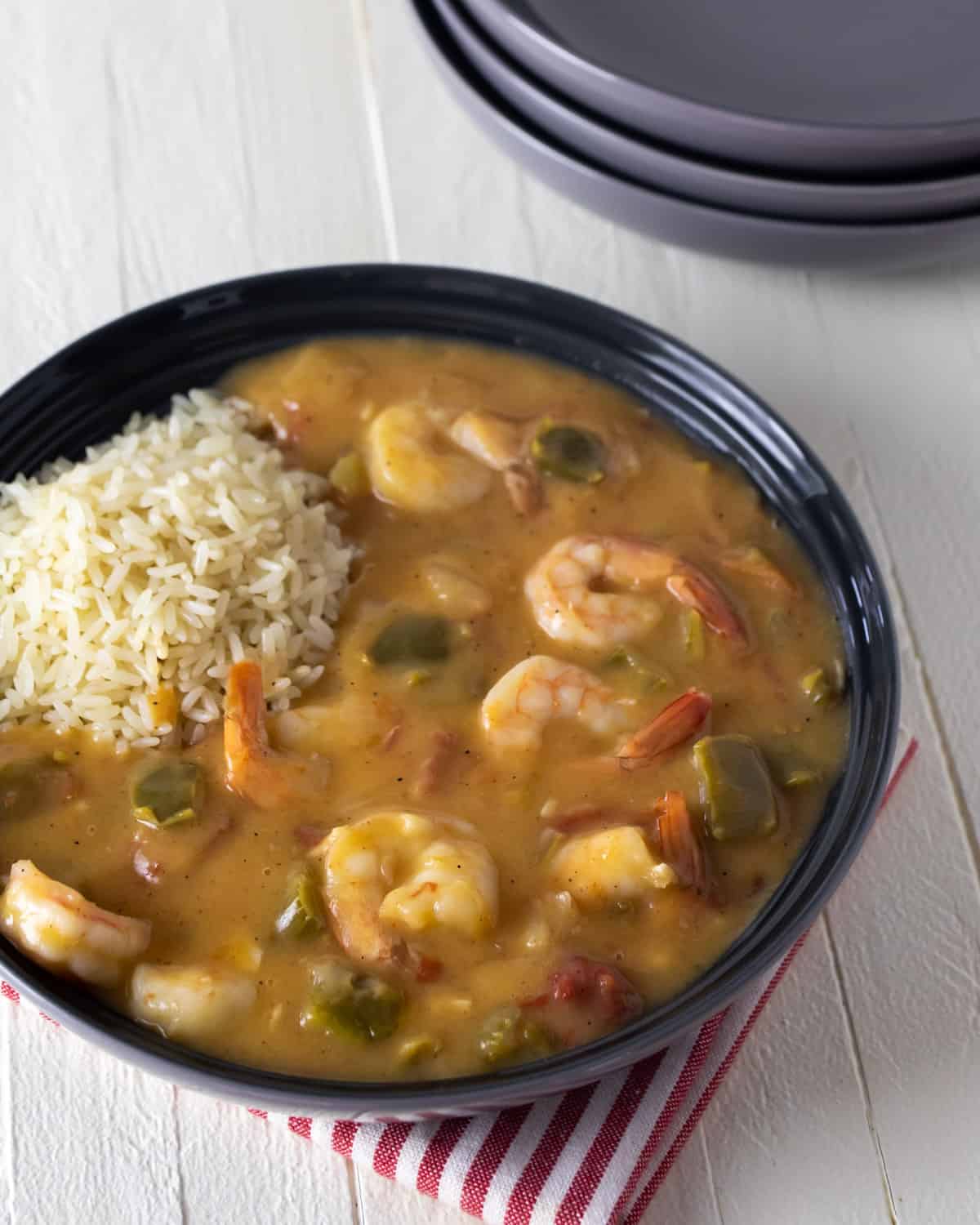 What Is Étouffée
A French word, étouffée literally means smothered. This dish is shrimp or crawfish, and long simmered vegetables, in a delicious gravy like sauce served with cooked long grain rice. Less common, but also quite delicious, étouffée can also be made with chicken. In some ways, étouffée shares some similarities with gumbo, except it is a much thicker stew like consistency.
Ingredient Notes
Oil – The oil is used to make up the roux. I like to use vegetable oil
Onions, Peppers, Celery – These three ingredients are called the 'Trinity' and used together in lots of cajun cooking.
Garlic – I used whole garlic that I minced. You can also use jarred pre-minced garlic that you can purchase at the supermarket.
Flour – This along with the oil is what makes up the roux and gives étouffée its creamy gravy like sauce.
Tomatoes – Some people do not include tomatoes in their étouffée but I love what they bring to this dish. Canned whole tomatoes is what I use.
Spices – This recipe uses salt, pepper, paprika and cayenne. You could also use cajun seasoning blend instead.
Chicken Broth – You could also use vegetable or seafood broth. The roux is dissolved into the broth to create the gravy.
Bay Leaves – these are a common ingredient in cajun recipes.
Butter – Adding a little bit of butter to the étouffée gives the gravy a creamy and glossy consistency.
Shrimp – I like to add peeled shrimp to the étouffée
Rice – Rice is cooked separately and added to the bowl along with the étouffée when serving.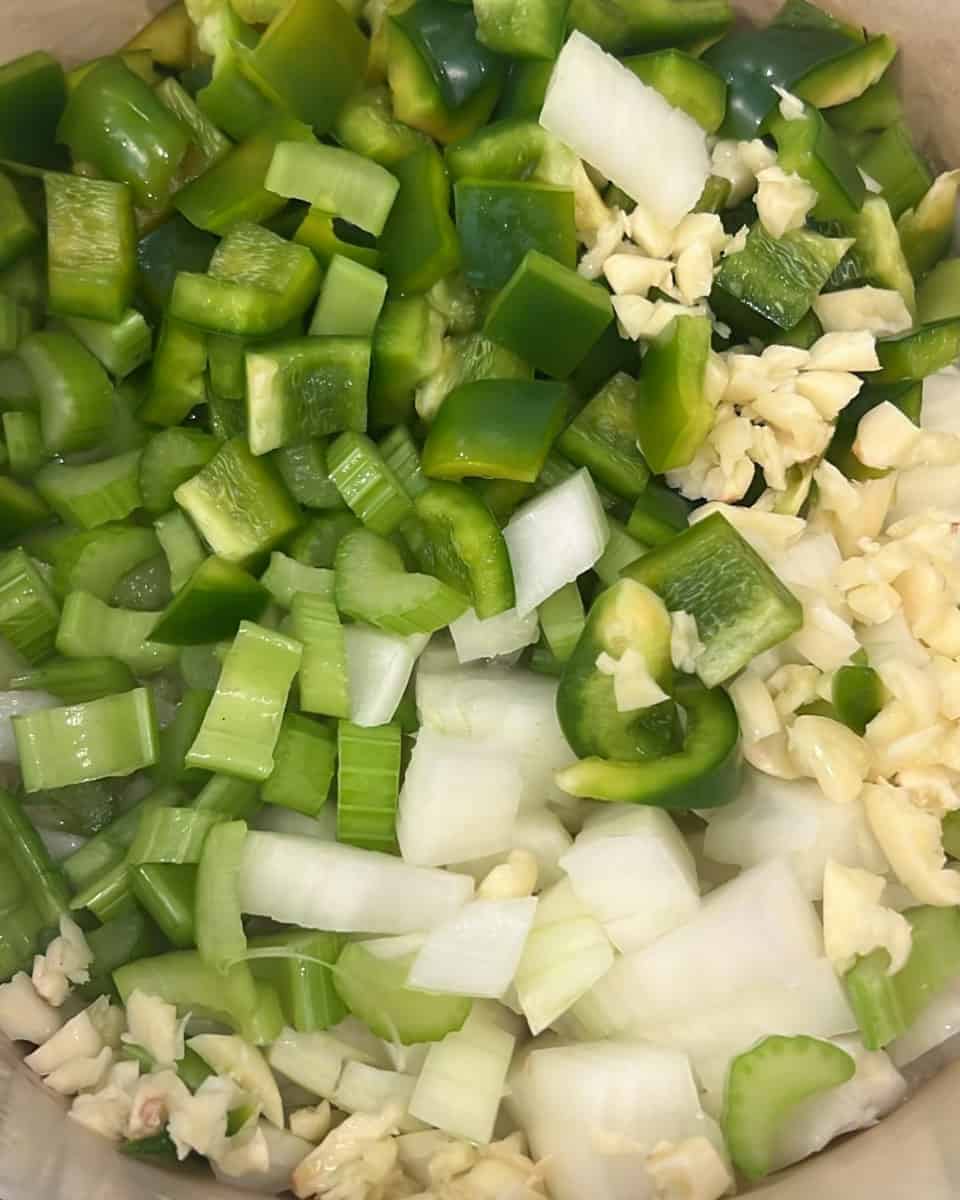 Sauté The Trinity
The first step to making shrimp étouffée is to heat the oil in a dutch oven or large pot, over medium heat. Then add the diced onion, pepper, celery and minced garlic. Let the vegetables cook, stirring often for 10-15 minutes.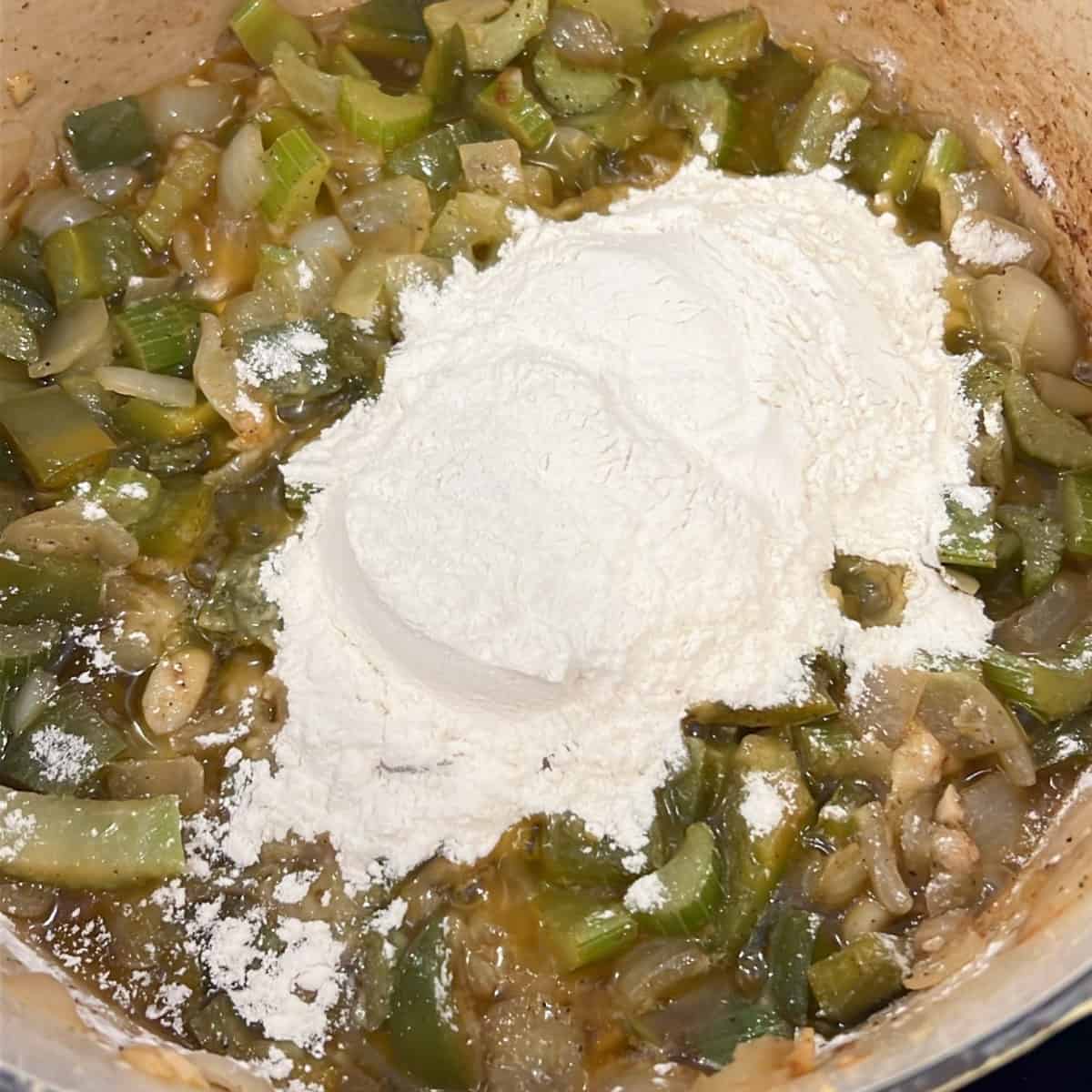 How To Make Roux
Stir the flour into the oil and sautéed veggies. Let this cook for another 10 minutes, stirring regularly. This will develop a roux mixed with the onion, pepper and celery.
Expert Tip! A key part to every étouffée is the roux. Classic roux is oil or butter whisked over medium medium high heat. The longer that it is cooked, the darker the roux colour will become. I like the roux in my gumbo to be a darker almost chocolate colour. Étouffée I prefer the roux to be much lighter, almost like peanut butter in colour.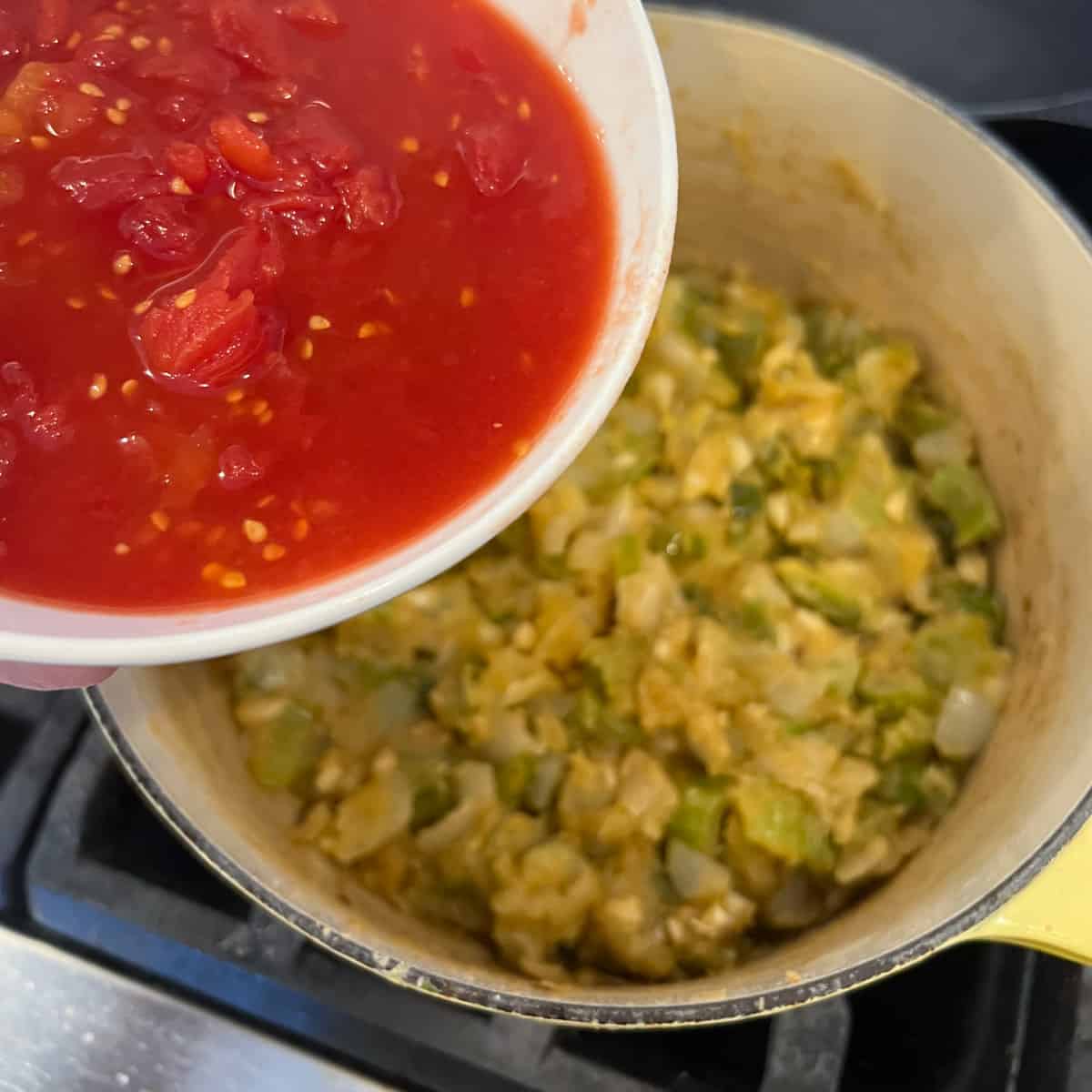 Spices And Tomatoes.
Once the roux and trinity have been cooking away in the pot for a while, it is time to add some more ingredients. Stir in the spices and mix in the tomatoes. Continue to let this cook for an additional 3-4 minutes.
Storebought Creole Seasoning? There are many different popular brands of creole seasoning and they work very well in shrimp étouffée. I often use these in my cajun dishes and the flavour is so good. I would recommend 2-3 teaspoons but the amount would vary based on preference and brand, as they all have different amounts of both salt and heat level. Just add a bit, then taste, and add some more if needed.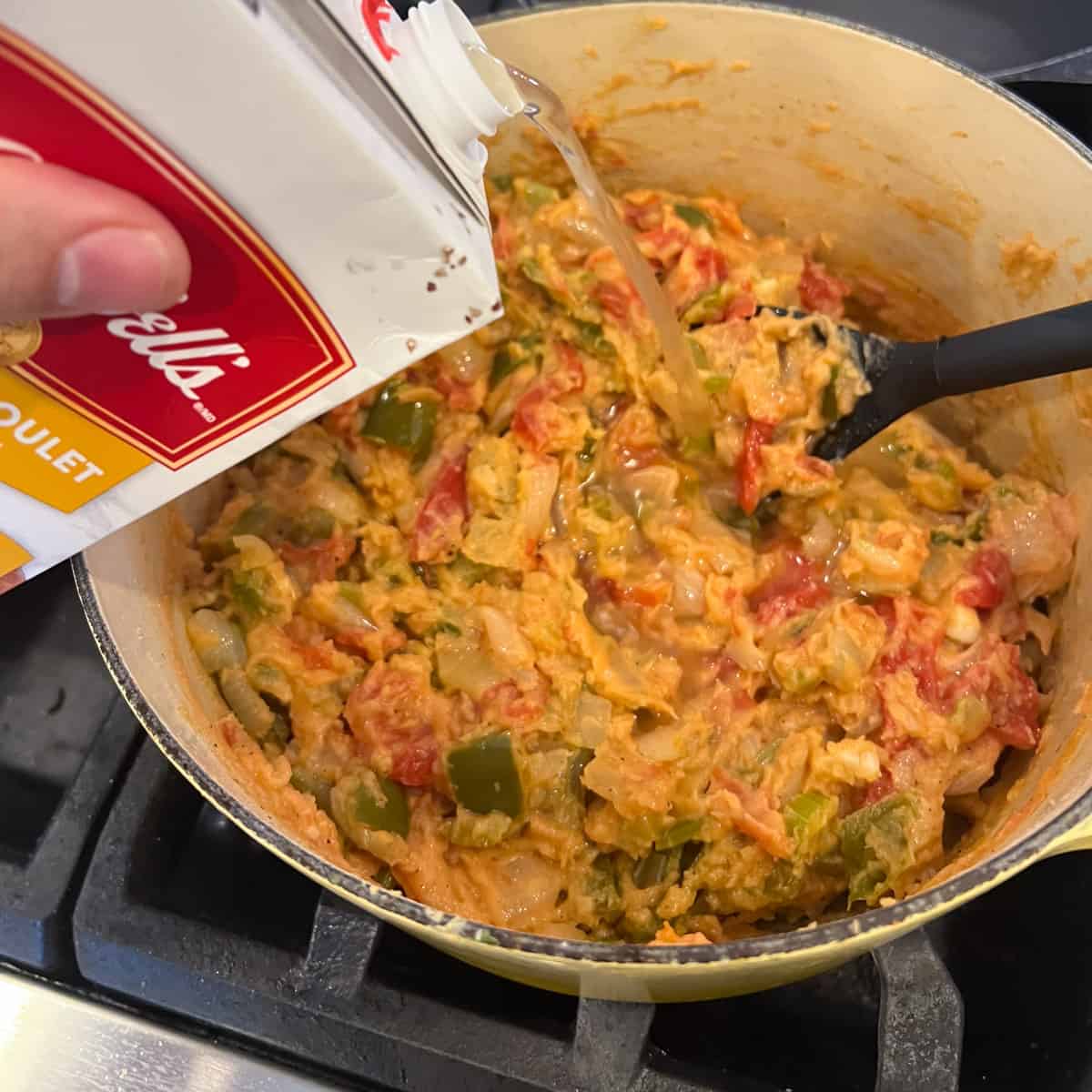 Pour In The Broth
For this recipe, I used chicken broth. It is also possible to use vegetable broth and seafood broth as well. Pour in the broth as well as the bay leaves and butter. Stir the roux until a smooth gravy like sauce is formed. Reduce heat to medium low and let simmer for 15-20 minutes, stirring occasionally.
Homemade Seafood Broth – Since the shrimp needs to be peeled prior to being added to the étouffée, it is possible to make a broth with just the shrimp peels. If you purchase shrimp with the peel, remove them and add them to a pot of boiling water. Let the broth cook for about 30 minutes, then strain the broth. It can now be added to the étouffée.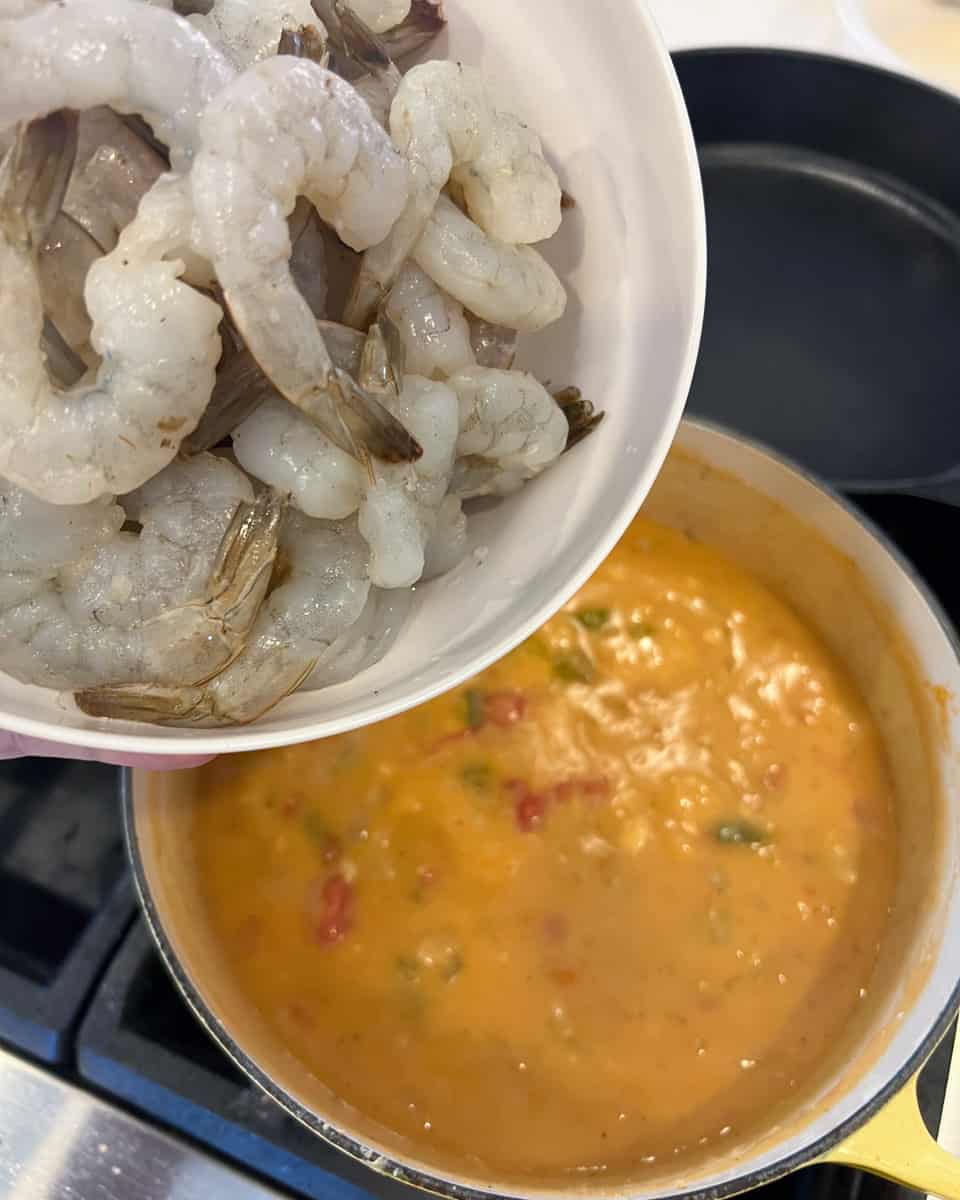 Add The Shrimp
The étouffée is almost done and it is time to add the shrimp. Shrimp does not take long to cook, so this is the final step in the cooking process. Stir in the raw shrimp and let them cook. They will turn from grey to a bright pink. Let the shrimp cook for about 10 minutes, stirring regularly.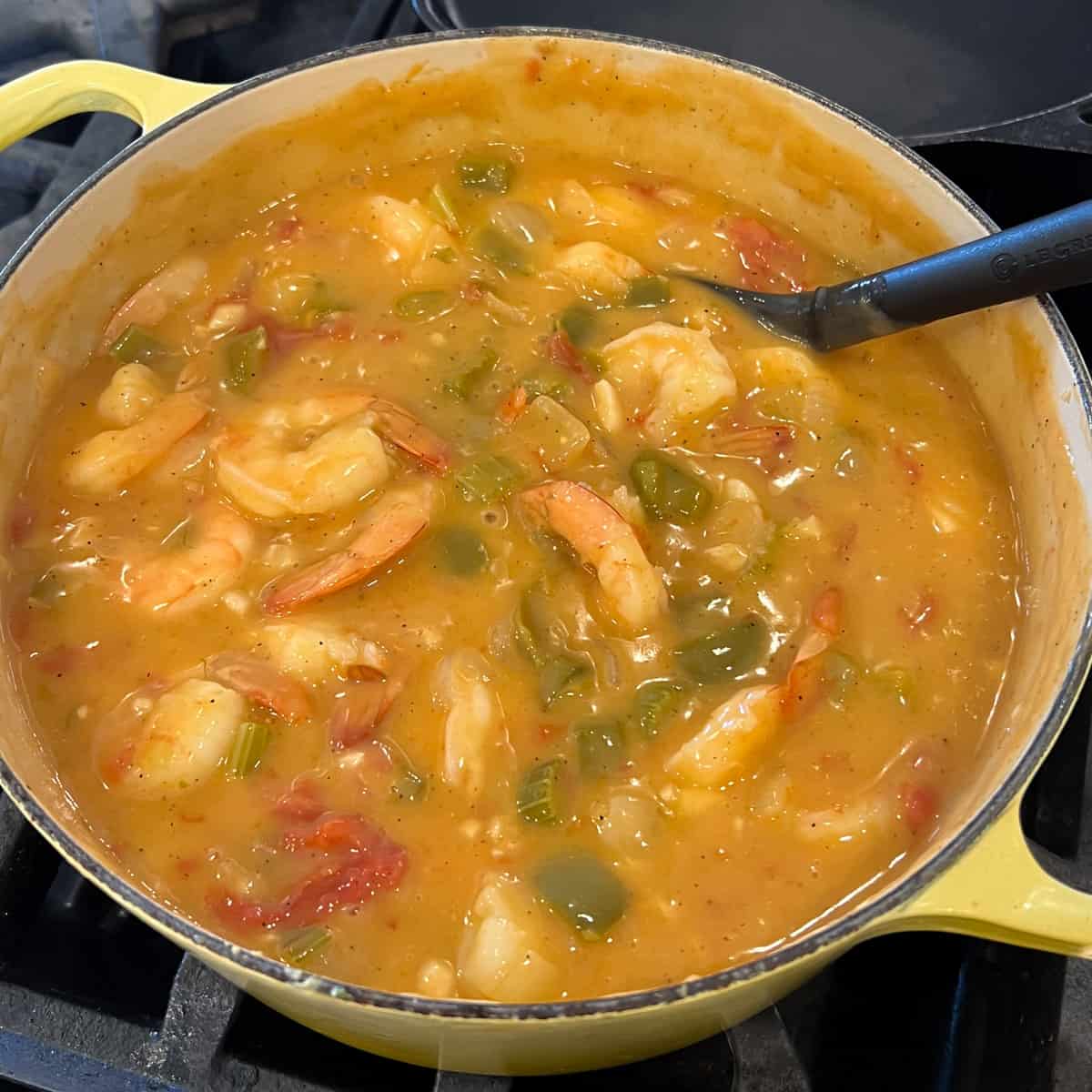 Étouffée Looks So Good
The pot of shrimp étouffée looks so good and the smell in the kitchen is incredible. I find myself continually tasting it as it simmers.
Cook Rice Separately
There are many different types of rice, and my preference is parboiled or long grain rice. Cook the rice in a separate pot, according to the directions on the package.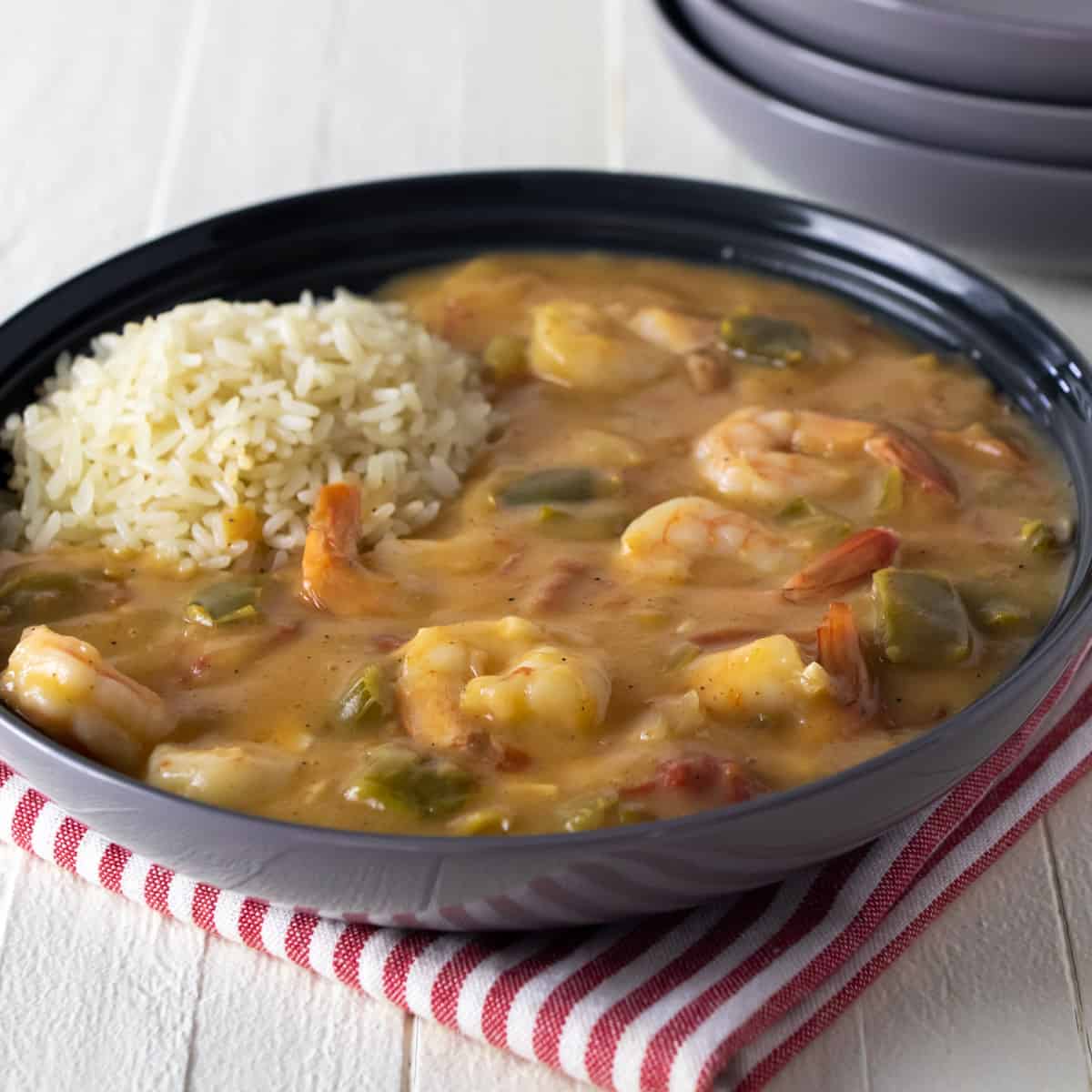 How To Serve Shrimp Étouffée
My favourite way to serve the étouffée is to use a wide bowl like a pasta bowl. Scoop some rice and make a pile of the rice on one side of the bowl. Then, ladle a hearty portion of the shrimp étouffée in the bowl surrounding the rice.
More Cajun Dishes
Cajun and creole are my favourite type of cuisine and I have cooked and shared many different dishes over the years. Here are a few that you can try!
Shrimp Étouffée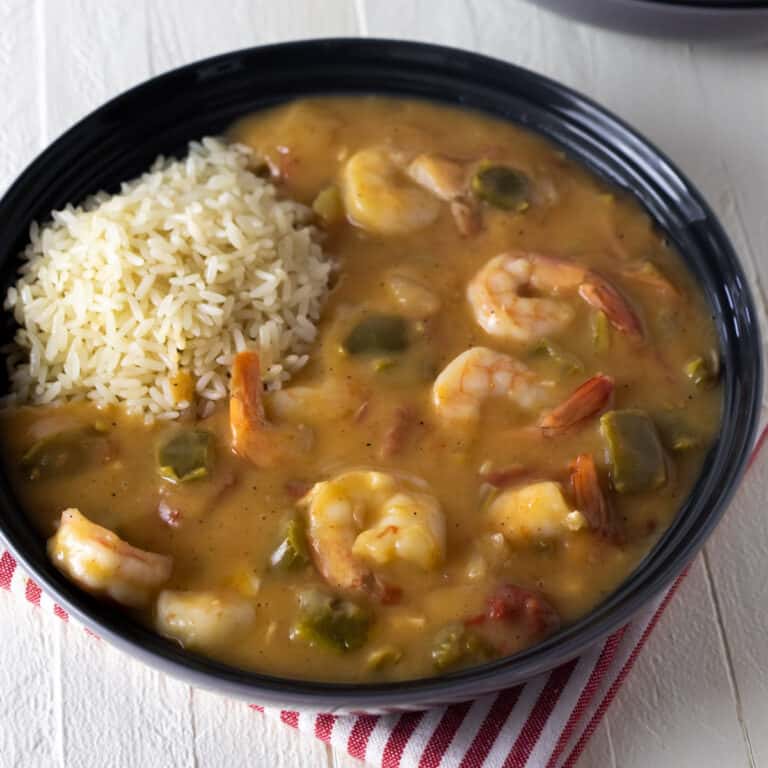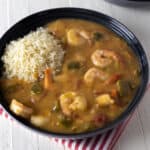 Print
Simple recipe for how to make shrimp étouffée. This classic cajun dish has shrimp is a roux based sauce and served on rice.
Servings: 8
Ingredients
1/2 cup oil
2 large onions , peeled and diced
1 large green pepper , cored and diced
5 stalks celery , diced
5 cloves garlic , minced
1/2 cup flour
2 cups canned whole tomatoes sauce , mashed with fork
1/2 tsp cayenne pepper
1 1/2 tsp salt
1/2 tsp black pepper
1/2 tsp paprika
4 cups chicken broth
3 tbsp butter
2 bay leaves
2 pounds shrimp , peeled
3 cups rice
Instructions
Heat oil, over medium heat, in a dutch oven or large pot. Add the onions, pepper, celery and garlic. Cook until the vegetables are cooked through and soft, about 10-15 minutes. Stir often.

Stir in the flour and let it form a roux with the oil. Cook for about 10 more minutes. If you want a darker roux, feel free to let it cook a little longer. Stir often.

Stir in the canned tomatoes and spices. Let it simmer for a few mintues.

Pour in the chicken broth, butter and bay leaves. Stir until the roux dissolves into the broth to form a gravy like sauce. Reduce heat to medium low and let simmer for about 15-20 more minutes.

While the étouffée is simmering, cook rice in a separate pot, according to package. Set aside.

Stir the shrimp in to the sauce and let cook through, stirring them often. Let the étouffée simmer for another 10 minutes.

Spoon the shrimp étouffée in a bowl and scoop a little bit of rice on top.
Nutrition
Per serving:
Calories: 592kcalCarbohydrates: 72gProtein: 31gFat: 20gSaturated Fat: 4gCholesterol: 196mgSodium: 1147mgFiber: 4gSugar: 6g