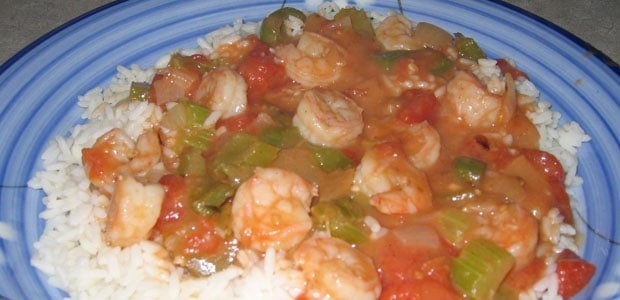 I remember when I was a teenager going on a family trip to New Orleans and having Shrimp Creole. It is a classic dish from Louisiana and it is one of my favorites. I have made this dish for probably more than 10 years and I never get tired of it. Give it a try!!
Shrimp Creole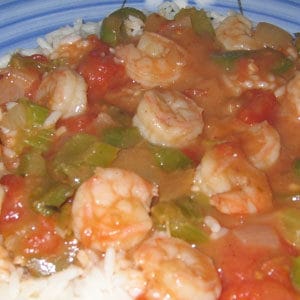 Print
Servings: 4
Ingredients
3 tbsp olive oil
4 tbsp flour
1 onion , diced
1 green pepper , diced
3 stalks celery , thinly sliced
1 cup water
1 pound raw shrimp
1 tsp salt
1 tsp paprika
1 tsp garlic salt
1/2 tsp black pepper
1/2 tsp white pepper
1/4 tsp cayenne pepper
1 can (28 oz) diced tomatoes
1 tsp sugar
Instructions
The first thing you need to do is make a light brown roux. If you have never made roux, here is the link giving instructions.

When the roux is done, add the onion, green pepper and celery. Cook for 6 minutes, stirring constantly.

Stir in the water and cook another 2 minutes.

Add shrimp and cook until shrimp are pink, about 5 minutes.

Stir in remaining ingredients.

Bring to a boil and then lower heat to a simmer. Cook for 30 minutes.

Serve with rice.