Mussels with White Wine and Garlic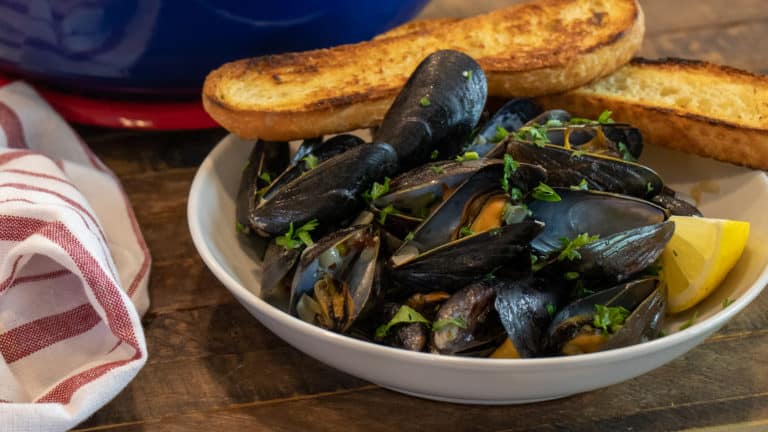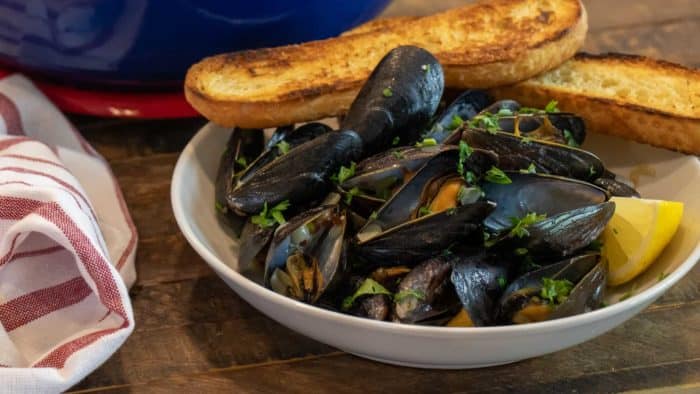 Steamed mussels are one of my favourite appetizers. Almost anytime we go to an Italian restaurant, I order a dish of mussels. I am a fan of almost any seafood with mussels being near the top.
Mussels are excellent steamed like in this recipe. They are also great served with pasta, in Spanish paella, in a pot of soup and more.
These mussels are steamed in a broth made from white wine, garlic, shallots, butter and dried chillies. Even though it is a simple broth, the flavour is rich, buttery and ideal for mussels. The broth allows the mussels to be the star of the dish.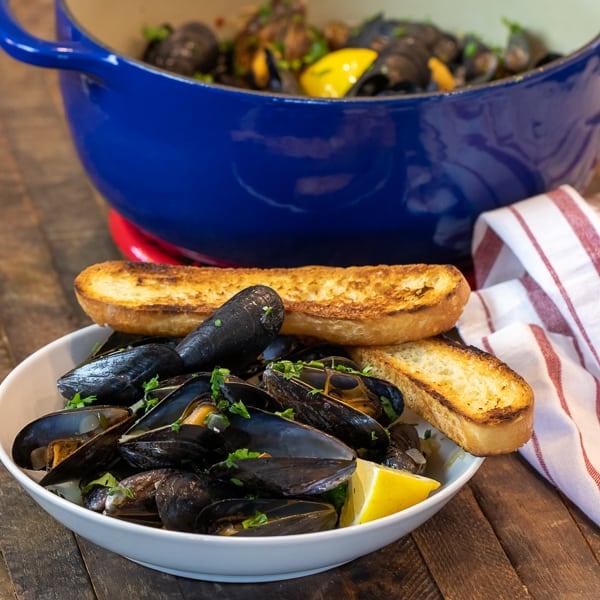 There are many different broths that you can make that go well with mussels. This white wine and garlic is the broth I make most often and perfect to be a starter for many different entrees.
You can also steam them in beer, in a tomato broth with sausage and so much more. The are so many possibilities.
If you are interested in another recipe for mussels, then check out this Thai Red Curry Mussels recipe. Thai flavours work very well for seafood and the spicy sauce is great with the mussels.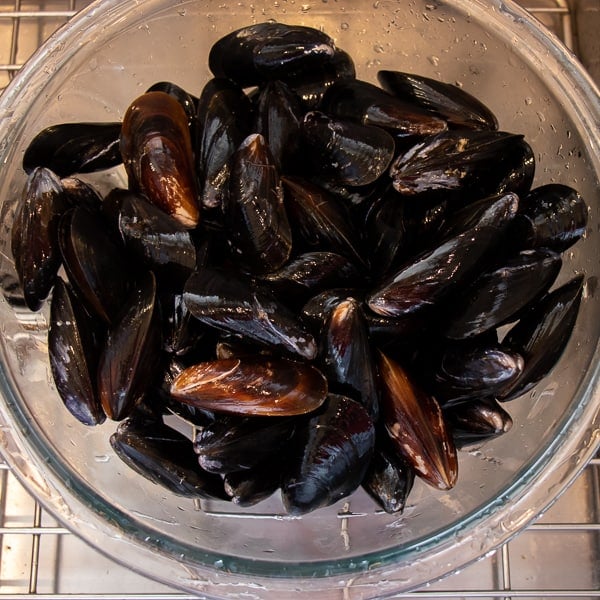 Clean the mussels by running them under cold water. Some mussels have something like a string attached to it. This is called a beard and should be removed by pulling on it until it is released. Also, check to see if there are any mussels that need to be discarded.
To check for dead mussels look for any that are open. Squeeze the open mussel shut and then release. If the mussel is still alive, it should close up again. If you do this a couple times and there is no response from the mussel and it remains open, throw it away.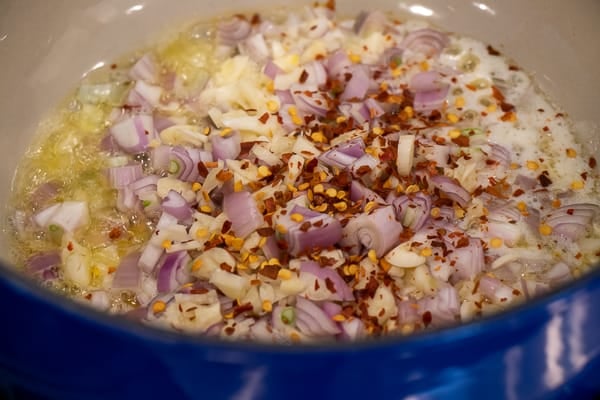 I use a dutch oven to cook the mussels. You could also use a large pot or a wok.
Heat the dutch oven over medium heat. Melt the butter and then add the diced shallots, garlic and dried chillies. Let these sauté and just begin to caramelize. Stir it regularly to ensure they do not burn or stick to the bottom of the pot.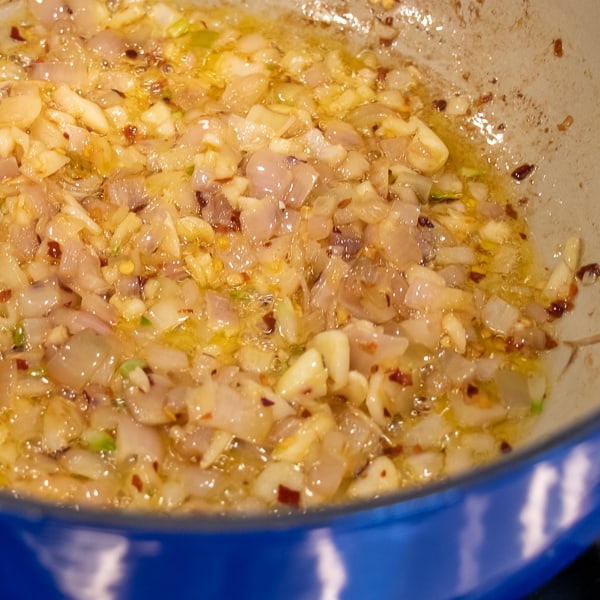 After 3 to 5 minutes, the shallots will be soft and translucent. You can see in the picture above, what they should look like. These aromatics will add some wonderful flavours to the mussels and sauce they will be cooked in.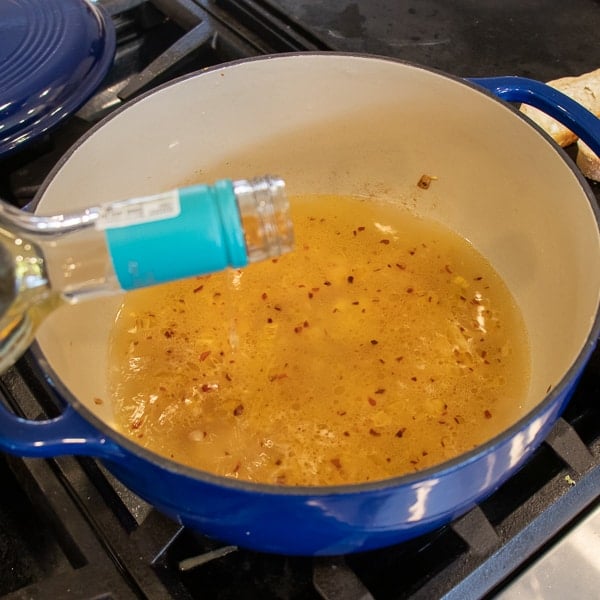 Pour in the wine. Increase the heat to medium high and bring the wine to a boil.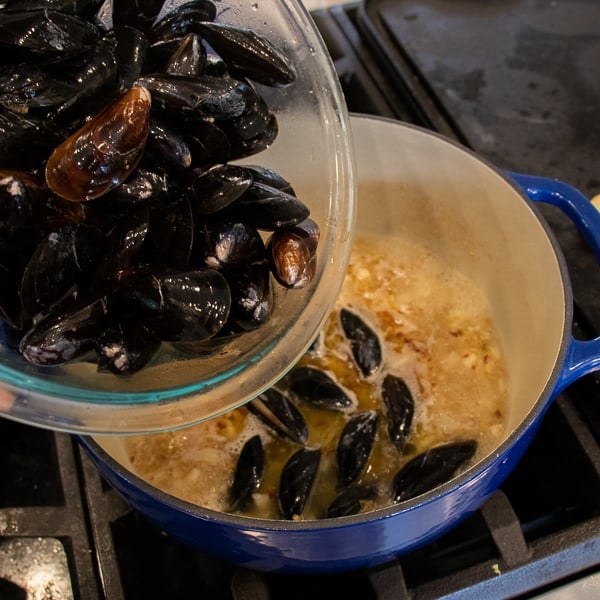 Once the wine is bubbling, carefully dump in the mussels. Be careful not do drop them in too quickly so they don't splash the wine broth.
Stir the mussels in the broth so they are well coated. Put a lid on and let the mussels steam for about 5 minutes.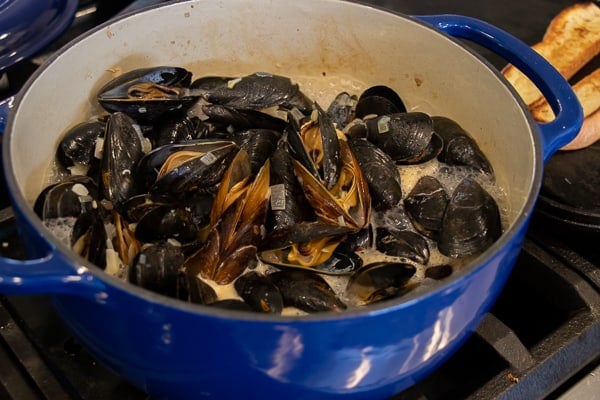 The mussels are cooked once they all open. Stir them in the broth some more to enhance the flavour of the mussels. Discard any mussels that do not open.
Once the mussels have finished cooking, turn off the heat. Squeeze in the juice of a lemon and sprinkle the minced parsley all over the mussels. Toss them once more to coat.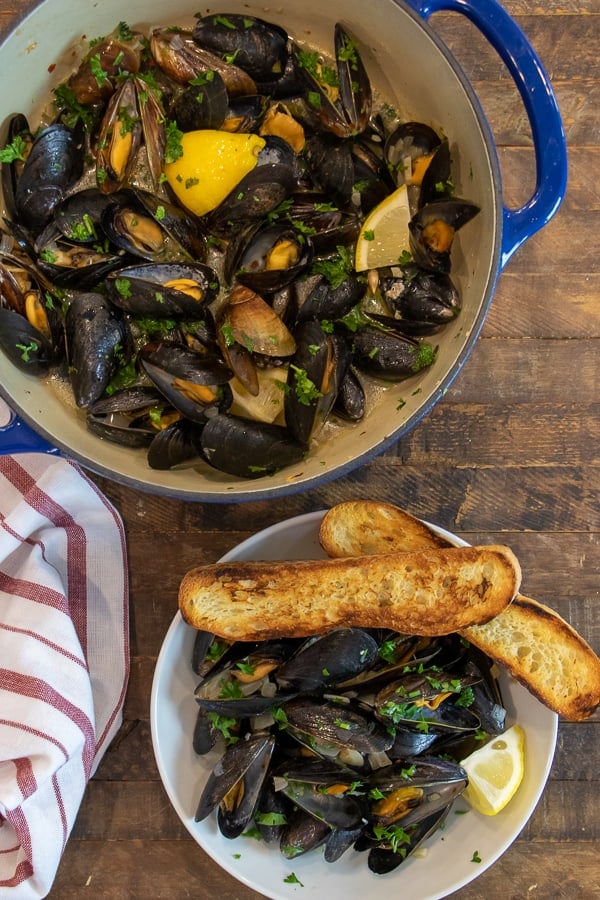 Ladle some mussels and broth into a large bowl to serve. Toasted bread is ideal to go alongside mussels. The broth has so much flavour, so I love dipping the toasted bread. It tastes amazing and is almost as good at the mussels.
I use crusty bread, and spread butter on both sides. Toast the bread on a skillet or grill over medium heat. Once browned and toasted on both sides, they are perfect to go along with the mussels.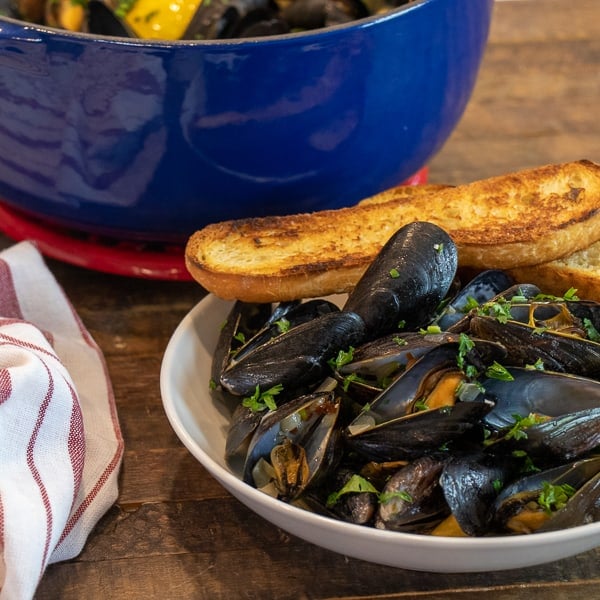 Mussels with White Wine and Garlic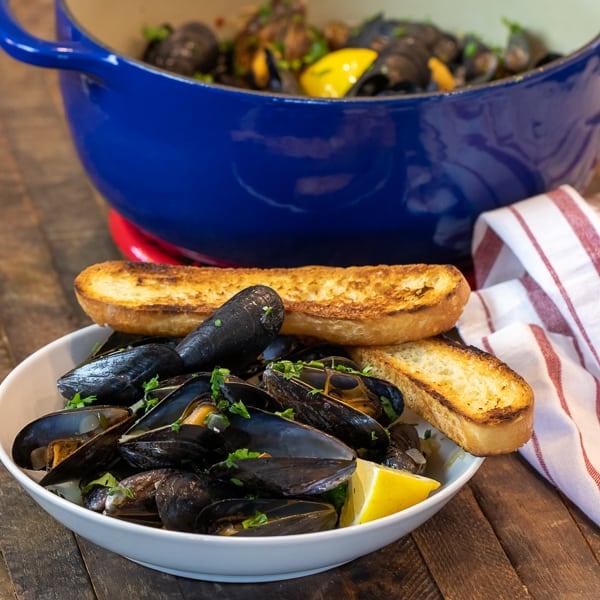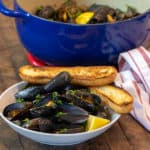 Print
Steamed mussels recipe with white wine, shallots, garlic and butter. The best mussels could not be easier to make at home with this simple and delicious recipe.
Servings: 2 people
Ingredients
2 tbsp butter
3 shallots peeled and minced
4 cloves garlic peeled and minced
1 tbsp dried chilies
1 tsp salt
1 1/2 cups white wine
2 pounds mussels , rinsed and cleaned
3 tbsp fresh parsley minced
1 lemon
Instructions
Melt butter over medium heat in a large saucepan or dutch oven. Add the minced shallots, garlic, dried chilies and salt. Stir often and cook until the shallots are tender, about 3-5 minutes.

Add the whit wine and increase the heat to high.

Once the wine is at a boil, add the mussels. Stir so the mussels are coated in the wine mixture.

Cover with a lid and steam for about 5-7 minutes, or until all the mussels have opened.

Sprinkle the minced parsley on top and squeeze the juice of a lemon all over the mussels.

Stir again and serve warm with toasted fresh bread.