Shrimp Pomodoro with Rotini Pasta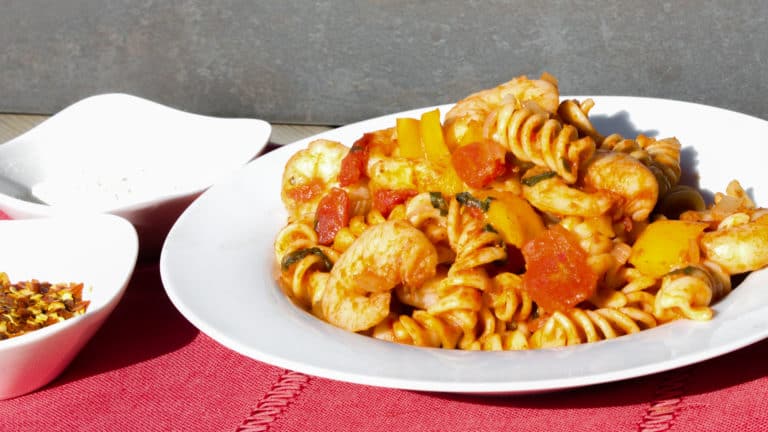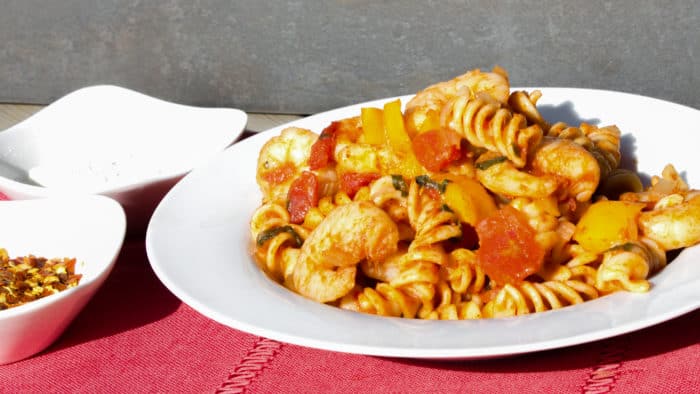 Today was Mother's Day and my kids were so excited to make the day extra special for her. B woke up at 5am to hang a banner and little coloured hearts that he and E made the day before. He wanted to make sure that it was all up before she was awake.
So cute!
I have got to say that I was highly impressed because he thought of this himself and executed it without my help. This effort by B made it all the more special to Janna and I think she felt the love!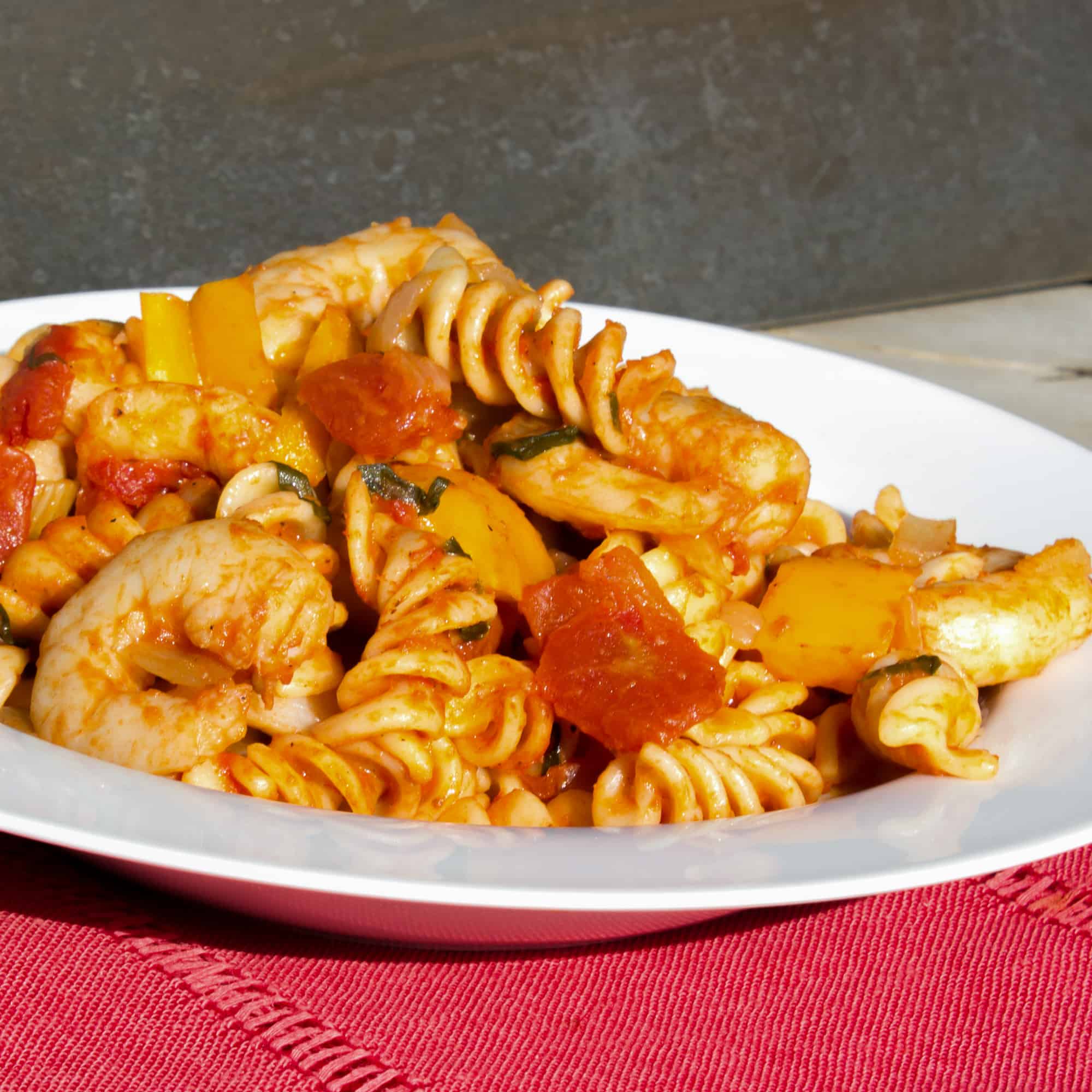 Over the next couple days I will post some of the food made for Mother's Day but today the dish I want to share with you is a dish I made a couple of days before. I look for any excuse to use shrimp and this pomodoro sauce is the perfect example.
Chicken, beef and even pork sausage is common in tomato based Italian pasta sauces but seafood goes wonderfully well. I used shrimp in this sauce but it could easily be substituted with calamari, mussels or some other type of seafood.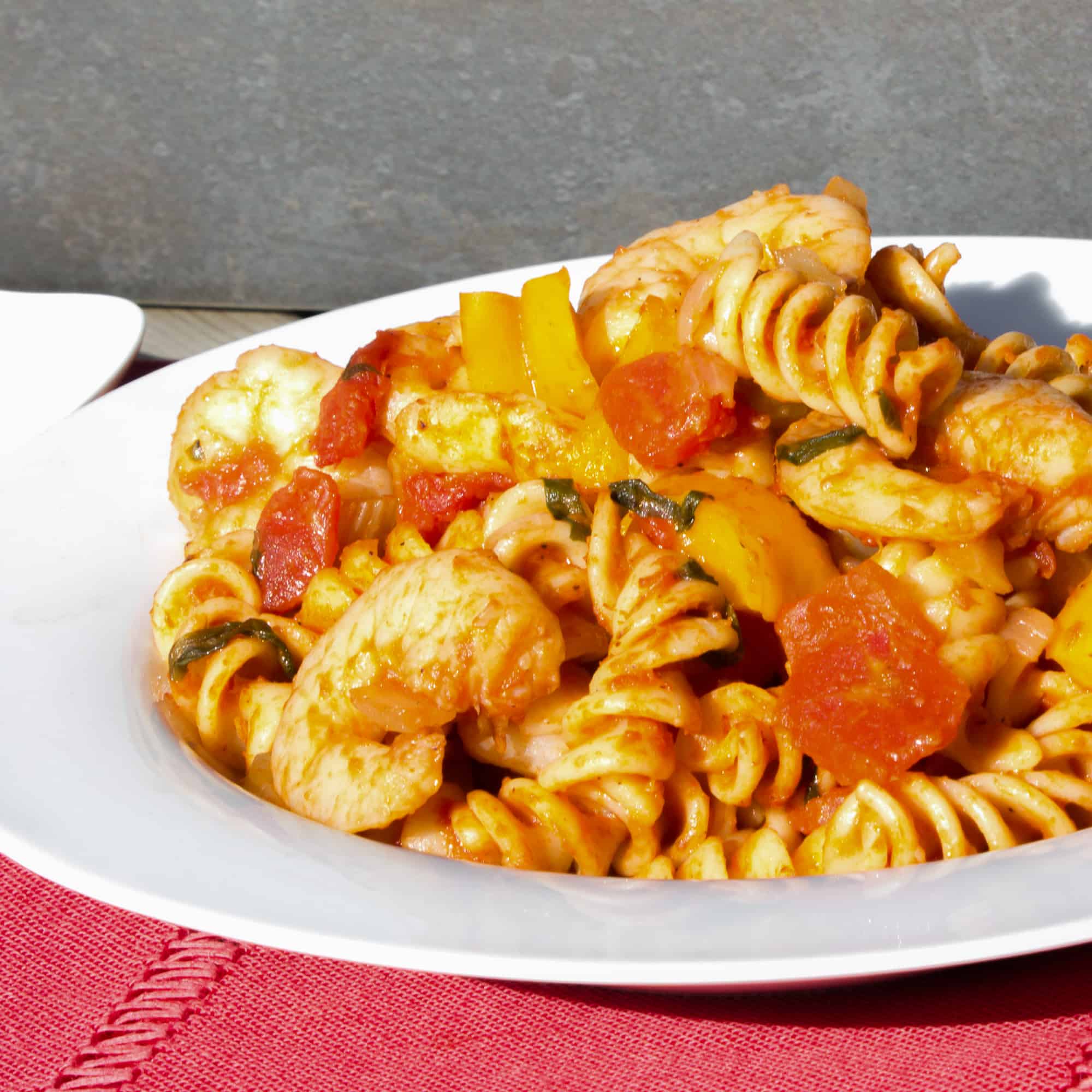 The pomodoro sauce is made with a can of diced tomatoes. Years ago I would use cans of pre-made Italian tomato/spaghetti sauce for any tomato based sauce but have since found that diced tomatoes or cans of crushed strained tomatoes can create a fresher sauce and you can add the specific spices to your preference. I far prefer making pomodoro sauce this way.
Shrimp Pomodoro with Rotini Pasta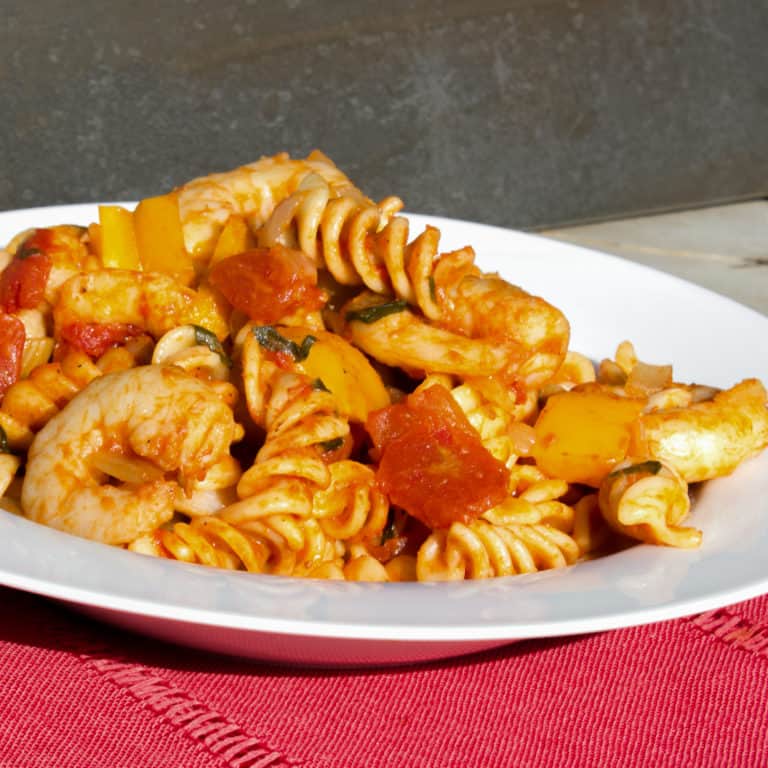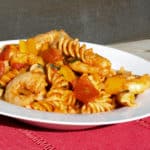 Print
Shrimp pomodoro with rotini pasta. Easy Italian tomato based marinara sauce with white wine, peppers, onions, celery and garlic with tender shrimp as the seafood.
Servings: 6 servings
Ingredients
1 pound uncooked shrimp peeled and deveined
3 tbsp olive oil
1 onion minced
3 celery stalks thinly sliced
1 yellow pepper diced
3 garlic cloves minced
1 can diced tomatoes 28oz/796ml
1 can tomato paste 5.5oz/156ml
1/2 cup white wine
1 tbsp white sugar
1 tbsp basil
1 tsp salt
1/2 tsp ground black pepper
1/2 cup grated parmesan cheese
500 g dry rotini pasta about 1 pound
Instructions
Cook pasta according to directions on the package. Set aside.

Heat oil in a large skillet on medium heat. Add onion, celery, pepper and garlic and cook until tender, about 10 minutes.

Add the white wine and cook a few minutes or until evaporated.

Stir in the diced tomatoes, tomato paste, sugar and spices. Bring to a boil and lower heat to a simmer. Cook, stirring often, for 15-20 minutes.

Stir in the shrimp, cover with a lid, and cook until the shrimp is cooked through. This should take anywhere from 5-10 minutes depending on the size of the shrimp.

Stir in the parmesan cheese and cooked rotini pasta. Serve immediately.