This smoothie tastes like a baked peach crisp or crumble and it is a perfect summer morning drink!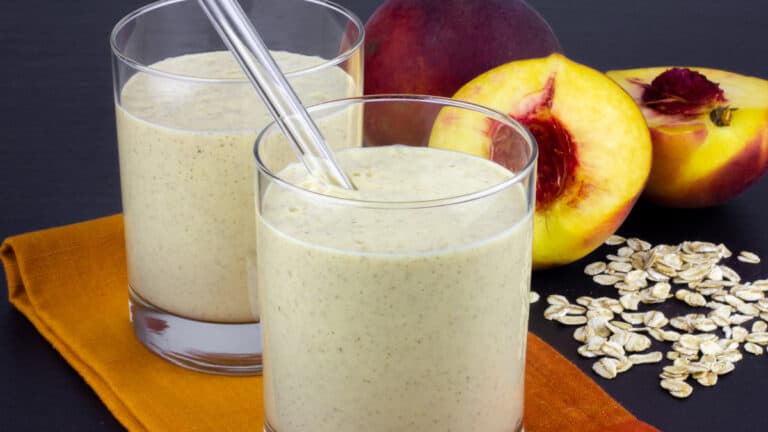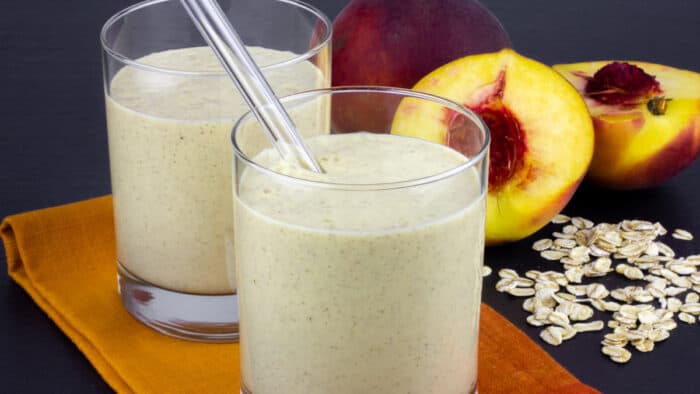 I love fresh peaches, especially when they are in season. One of my favourite peach dishes is a crumble. To be fair, I like any crumble as the combination of the fruit with the sweet oat topping is incredible. This peach crumble smoothie takes all that is great about a baked dessert crumble and turns it into a healthy drink.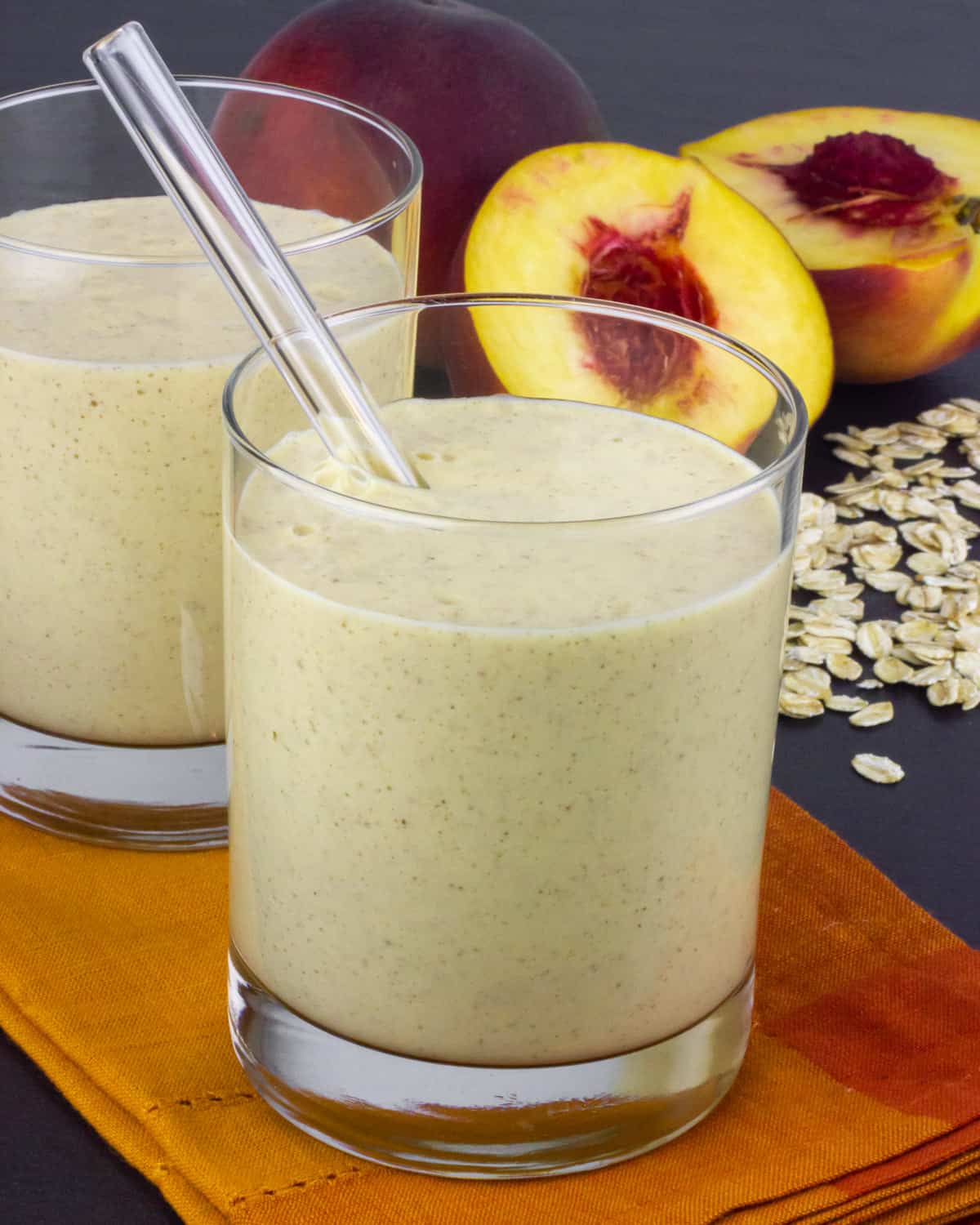 Ingredient Notes
The peach crumble smoothie is very filling and perfect for breakfast! The ingredients needed to make this smoothie are simple and few.
Peaches – this is the main ingredient of the smoothie and I like to use nice fresh ripe summer peaches. If peaches are not in season, you can definitely use frozen peaches. I like to let them defrost slightly before blending.
Greek yogurt – while any kind is fine, I love Greek yogurt for the increase in protein. Feel free to use sweetened yogurt if you want your smoothie to have a bit of a sweeter flavour.
Oats – for this smoothie, you could use any kind of oats, rolled, large, or quick oats all work great.
Chia seeds – I regularly like to throw in a small amount of chia seeds into my smoothie recipe for the increase in fibre.
Water – this will thin out the smoothie. The amount of water needed is a personal preference. Add as much as you desire.
Expert Tip! Smoothies are a drink that can be altered very easily. Throw in one or two more types of fruit or toss in some nuts like almonds or cashews. Instead of water, you could use milk for a creamier smoothie!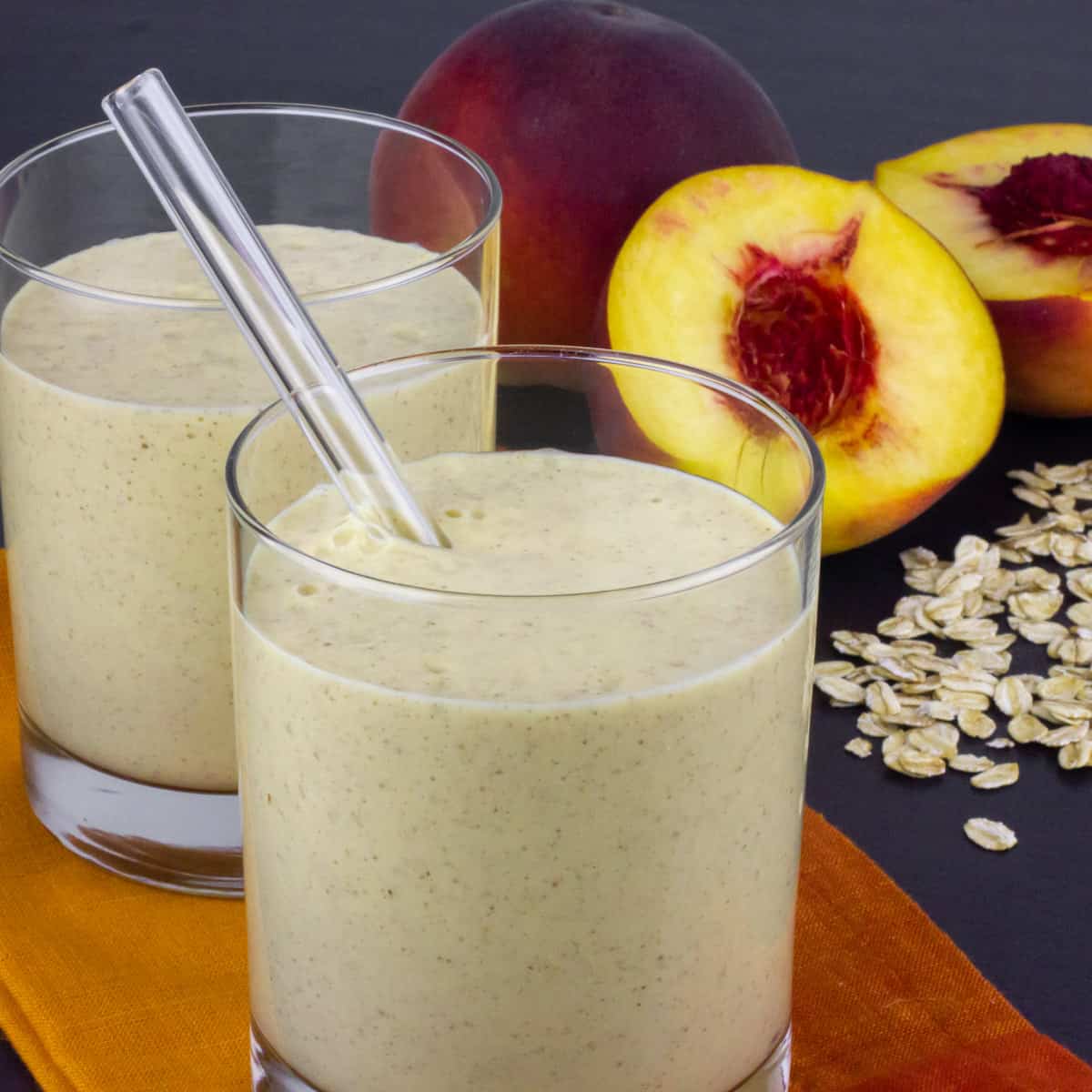 How To Make A Smoothie
Making a smoothie is super easy. All you need is a blender to mix and smooth all the ingredients together into a creamy drink. Some smoothies include ice or frozen fruit, so a fairly good blender that can crush ice is helpful. This peach crumble recipe does not include ice and is a quick blend.
To make the smoothie, add all of the ingredients to the blender and start the blender. I start at a low or medium speed and let it run for about 30 seconds. Then, increase the speed to high (or to the smoothie setting if your blender has that setting) and let it run at that speed for one minute. If the smoothie is a little thicker than you prefer, add a little water and run the blender to mix it in. Serve immediately! Throw in a few ice cubes to the glass if you like as well.
Can You Keep A Smoothie In The Fridge?
While I like to drink my smoothie right away, sometimes I make a larger amount than I need. You can pour the smoothie into a cup with a lid and store in in the fridge. I personally find the smoothie to be good for only about a day afterwards. When you take it out of the fridge, give the smoothie a stir as it may separate as it rests.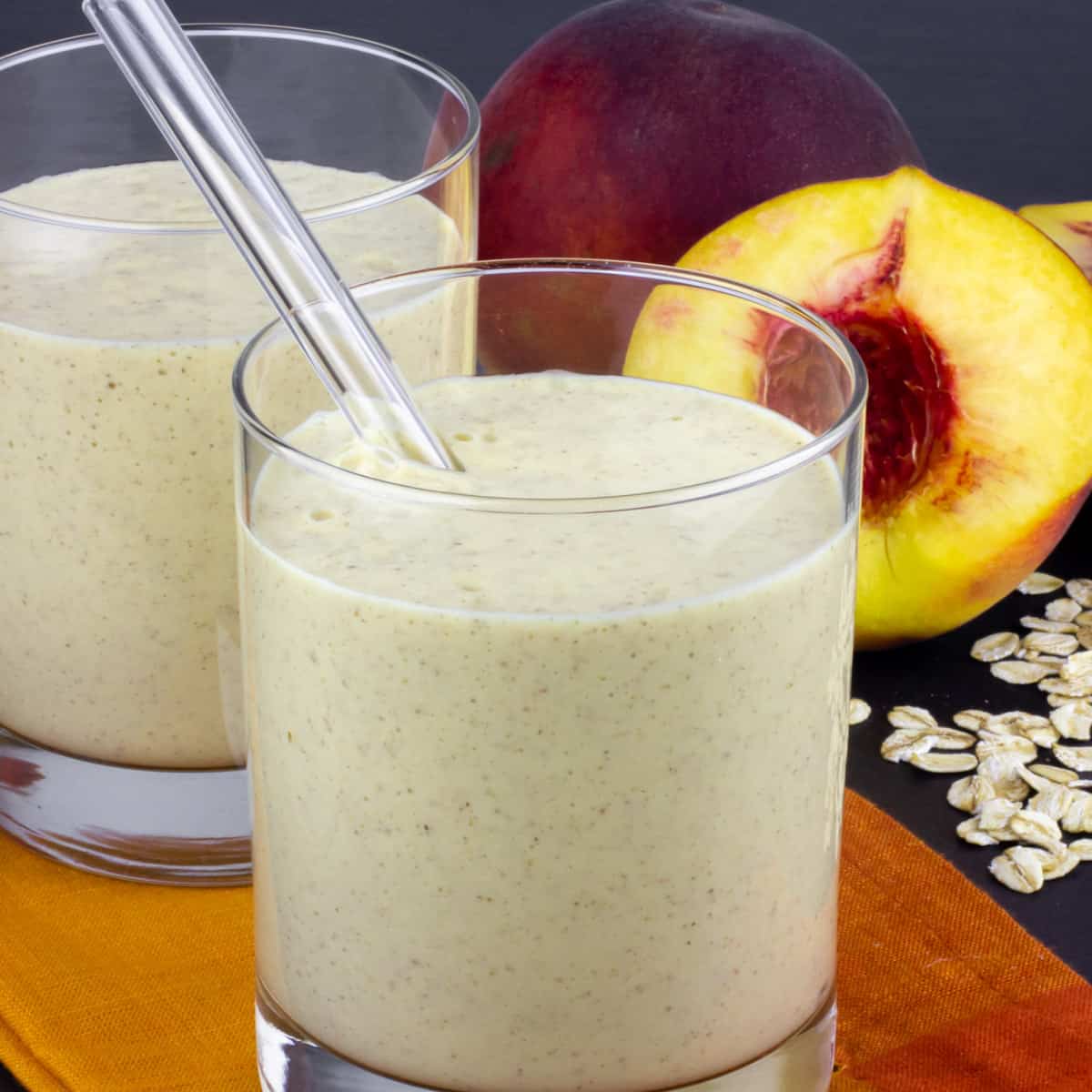 Other Smoothie Recipes
There are so many different types of smoothies that you can make using various fruit, vegetables and other ingredients. Here are some more ideas!
Peach Crumble Smoothie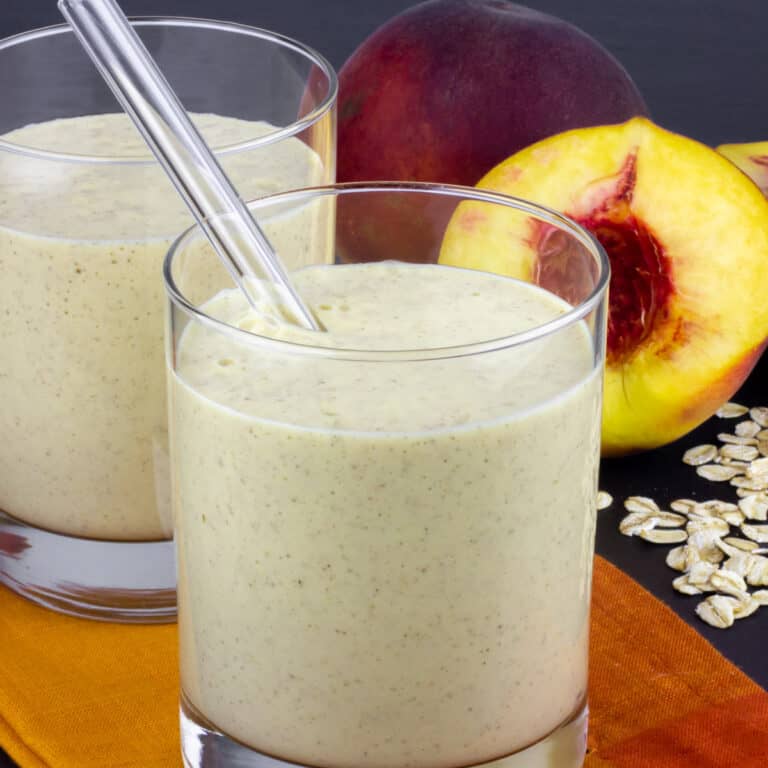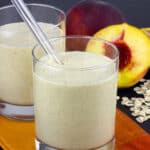 Print
Delicious and easy to make smoothie recipe. Peaches, rolled oats, greek yogurt, chia seeds all come together for a simple drink that is perfect for breakfast!
Servings: 3 cups
Ingredients
1/2 cup water
1 1/2 cup peaches , sliced
1/3 cup rolled oats
3/4 cup nonfat plain Greek yogurt
1 tbsp chia seeds
Instructions
Place all ingredients in a blender jar in the order listed above.

Secure the lid.

Start the blender at a medium speed and run for about 30 seconds.

Increase the speed to the highest setting and blend for about 1 minute.

If a thinner consistency is desired, add a little extra water and blend for another 20 seconds.
Nutrition
Per serving:
Calories: 349kcalProtein: 26gFat: 5gFiber: 11g