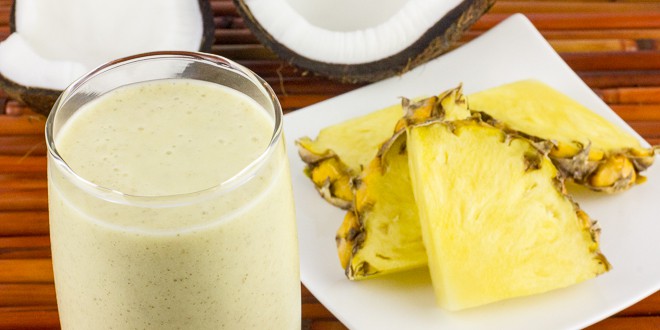 Pina colada smoothies are healthy and a great way to start the day. My family have developed a huge love of smoothies and over the years I have worked at developing some new smoothie recipes
It is interesting how the kids do not like to eat fruit, but if I blend them into a smoothie, they absolutely love it. so, if that gets them to eat something healthy, I will make it happen!
One of my favourite drinks is a pina colada. The combination of pineapple and coconut work so well together, and while it is great with some rum, it is also excellent in a smoothie.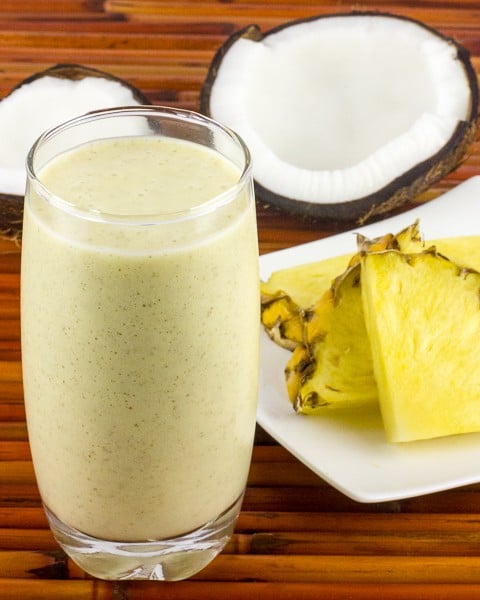 This pina colada smoothie uses coconut milk to give the coconut flavour as well as providing a smooth creaminess to the drink.
I used fresh golden pineapple, but it is also possible to use frozen pineapple, if desired. Frozen pineapple will give the smoothie a much colder, almost icy texture.
There are so many different blenders that I have used to make this smoothie. I like my smoothies to be very smooth and high performance blenders like the Blendtec, Vitamix, and Salton Harley Pasternak blenders all did a great job making this smoothie.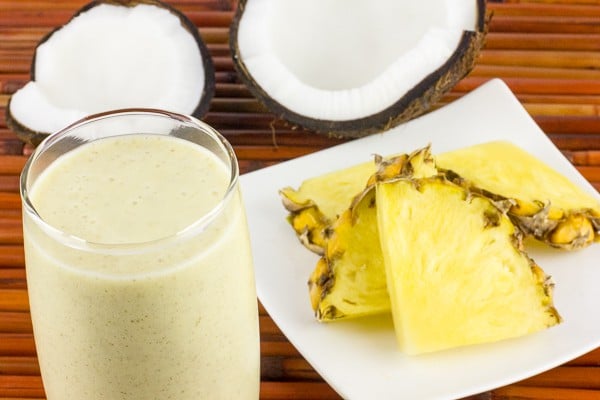 This smoothie is over the top healthy.
I add some whey protein powder to give this drink a lot of protein.
On top of that, I also include some raw cashews increases the amount of healthy fats.
The chia seeds in the smoothie are crazy healthy. Not only do they provide lots of fiber, there it also contains some healthy omega fats and protein.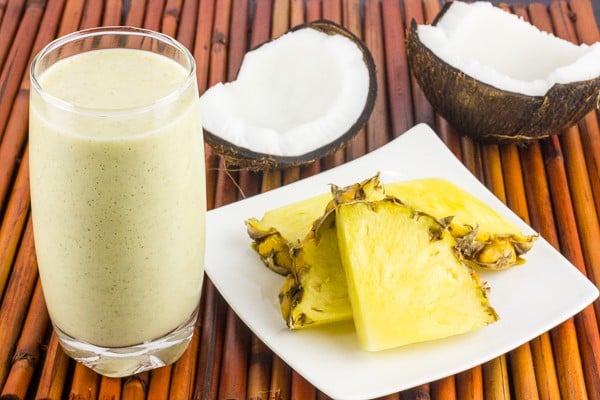 Pina Colada Smoothie Recipe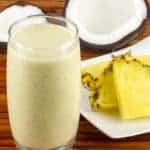 Print
How to make a pina colada smoothie recipe with these simple instructions. This is a healthy pina colada smoothie with fresh pineapple, coconut milk, cashews and chia seeds.
Servings: 1 serving
Ingredients
3/4 cup unsweetened coconut milk
1/2 cup water
1 1/2 cups fresh pineapple, diced (frozen, if desired)
1 serving whey protein powder
5 raw cashews
1 tbsp chia seeds
Instructions
Place all ingredients in the blender jar in the order listed above.

Secure the lid.

Set the speed control to the lowest speed and turn the blender on.

Slowly increase the speed to the highest setting and blend for about 1 minute.

If a thinner consistency is desired, add a little extra water and blend for another 20 seconds.
Nutrition
Per serving:
Calories: 332kcalProtein: 28gFat: 10gFiber: 9g