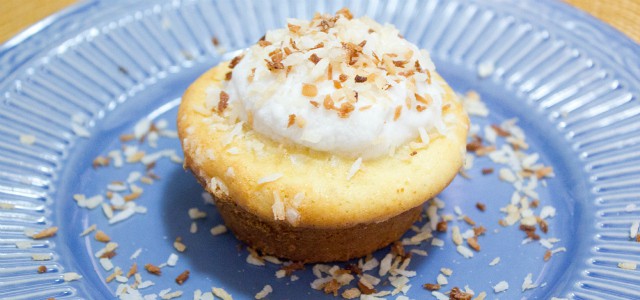 In previous posts I have talked about various classic flavour pairings. Chocolate and peanut butter, tomato and basil, lemon and thyme, cinnamon and raisin are all popular combinations. There have been countless recipes and variations of recipes using these blends. Today's post uses another popular combination. Pineapple and coconut each have a bright tropical flavour and are great on their own. Once mixed together these flavours remind people of tropical beaches like Puerto Rico and Hawaii.
The most popular recipe that uses coconut and pineapple together is the Pina Colada drink. Originating in Puerto Rico in 1954, this drink brings feelings of the tropics, warm weather and a vacation. Sitting here on this day in January in Toronto I could sure use a tropical getaway! There are times when life is hectic and you need a vacation. Add winter weather to the busyness of life and you might even hear me scream for the tropical essence that is found in pineapple and coconut.
This pina colada cupcake has a wonderfully bright flavour. With every bite you can taste the flavours of pineapple, coconut and rum from the rum extract. The cupcake is moist and packed with crushed pineapple. A dollop of coconut whipped cream and toasted coconut top it off.
As you eat one of these pina colada cupcakes, I encourage you to close your eyes. Forget whatever crazy and hectic things are happening in your life. Ignore the weather that is outside your window. The pina colada flavour will whisk you to a tropical island where you can feel the warmth of the sun beating down on you and hear the sounds of the waves crashing against the beach. Once I am done this post I am going to go have another!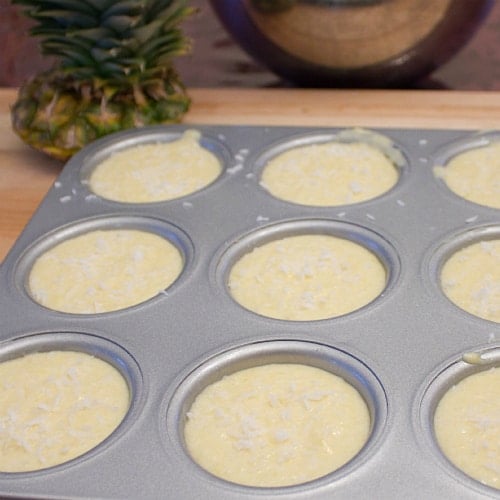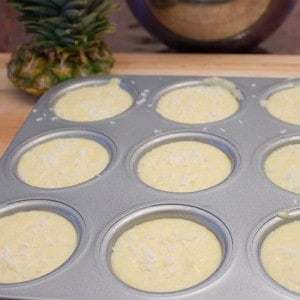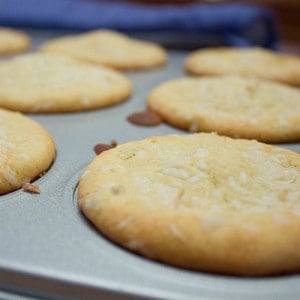 I made the crushed pineapple from a fresh pineapple. It provides a far sweeter flavour than crushed pineapple from a can. Simply pulse some fresh pineapple in a food processor for 30 seconds. Bake these cupcakes at 375F for 20-22 minutes. They should begin browning on top and a toothpick should come out clean. Let them cool completely in the muffin tin and remove carefully so they do not break.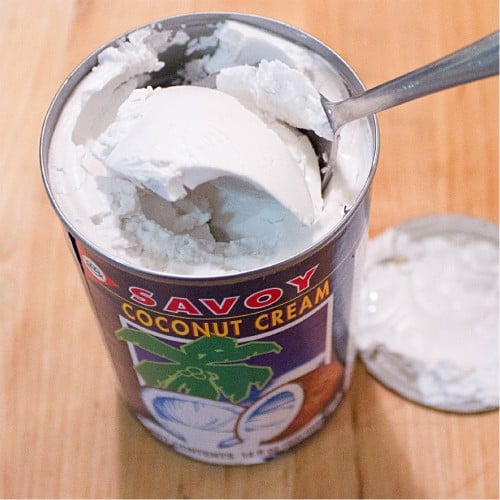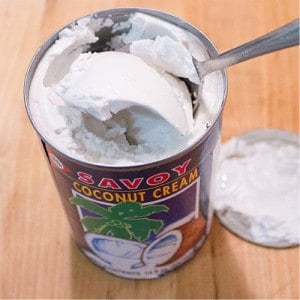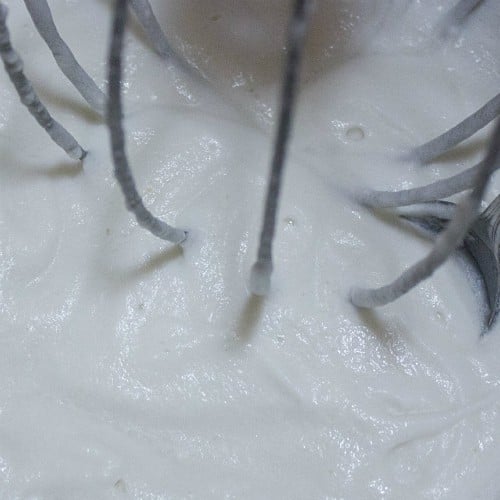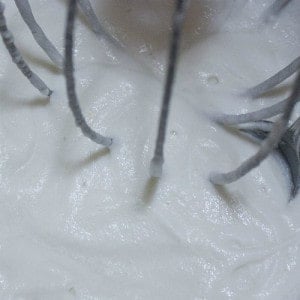 Whipped coconut is so easy to make. I use a can of coconut cream. A can of coconut cream and coconut milk are similar but there are differences. Each have the coconut paste and some water. Cream coconut has more of the paste so I use that can instead of coconut milk (although you can use coconut milk to make the cream). To make the whipped coconut cream you need to separate the coconut paste from the water. You keep the coconut paste and can discard the water. Putting the can into the fridge for a day or two should separate the paste. Also, having the coconut paste cold should help to form the stiffer peaks.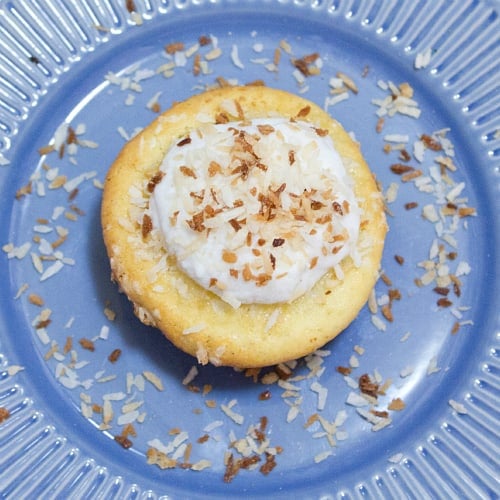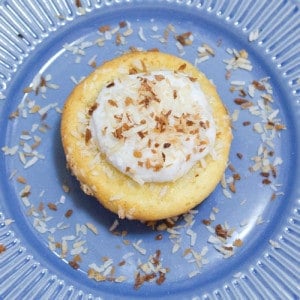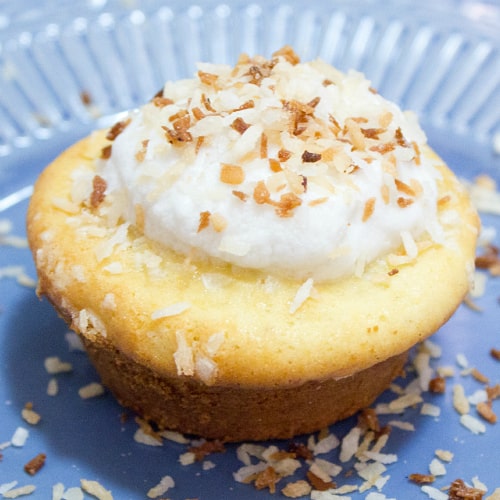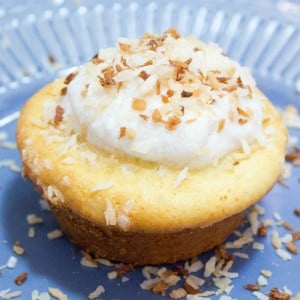 Pina Colada Cupcakes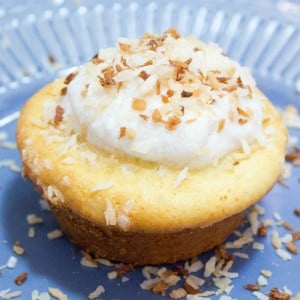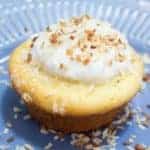 Print
Servings: 12
Ingredients
1/2 cup butter , softened
1 cup sugar
2 eggs
1 cup crushed pineapple
1 1/2 tsp rum extract
1/2 cup desiccated coconut
2 cups cake and pastry flour
1 1/2 tsp baking powder
1/4 tsp baking soda
1/2 tsp salt
1 cup coconut cream
1/2 cup powdered sugar
1/4 cup toasted coconut
Instructions
Beat the butter, sugar and eggs with an electric mixture until creamy and smooth. Mix in the crushed pineapple, rum extract and desiccated coconut.

In a separate bowl, sift together the flour, baking powder, baking soda and salt.

With an electric mixer on low, or with a wooden smooth, mix together the wet and dry ingredients until they are just combined. Do not over-mix the batter.

Scoop the muffin batter into a greased muffin tray. There should be enough batter to fill 12 muffin cups.

Bake at 375F for 20-22 minutes. Check with a toothpick and it comes out of the muffin with no batter, they are done.

Cool on a wire rack.

Top with the whipped coconut cream and toasted coconut just prior to serving.

To make the the whipped coconut cream, have a can of coconut cream in the fridge for at least 12 hours. Remove the coconut paste from the can and discard the water. Using a chilled bowl, beat the coconut cream on high while slowly adding in the powdered sugar. After a few minutes it will stiffen and peaks should form in the whipped cream.

To make the toasted coconut, place some sweetened coconut on a tray and bake in a 350F oven for a few minutes. Once the coconut begins to brown, remove it and let it cool completely.