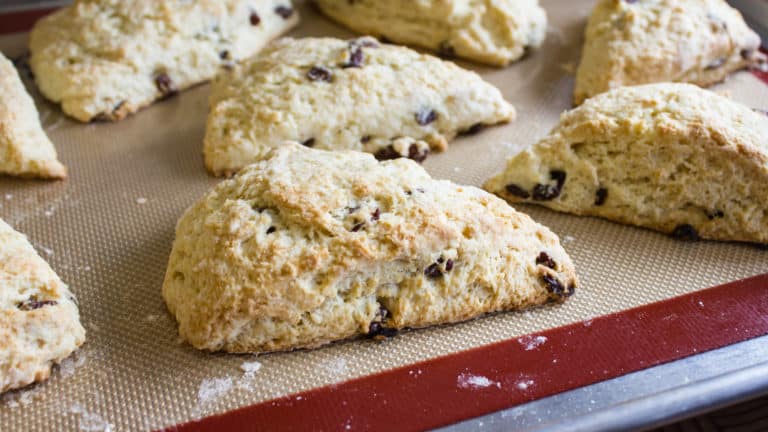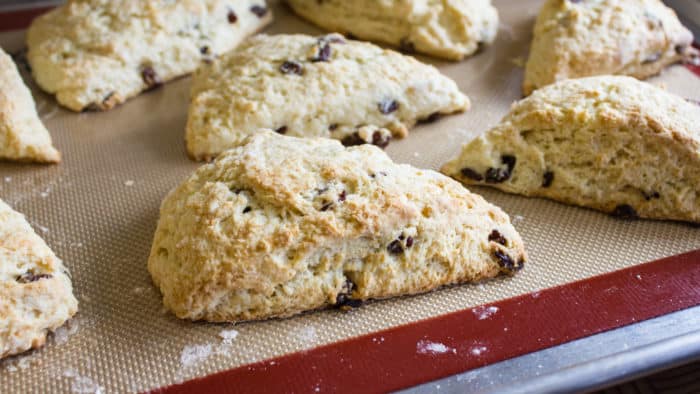 Ahhhh, scones! They are one of my favourite things to eat alongside a cup of coffee. These buttery and flaky baked delights just melt in your mouth. Anything freshly baked will win me over but these scones, coming right out of the oven are completely amazing.
Scones are also surprisingly simple to make. They can be whipped up and thrown in the oven in a matter of minutes.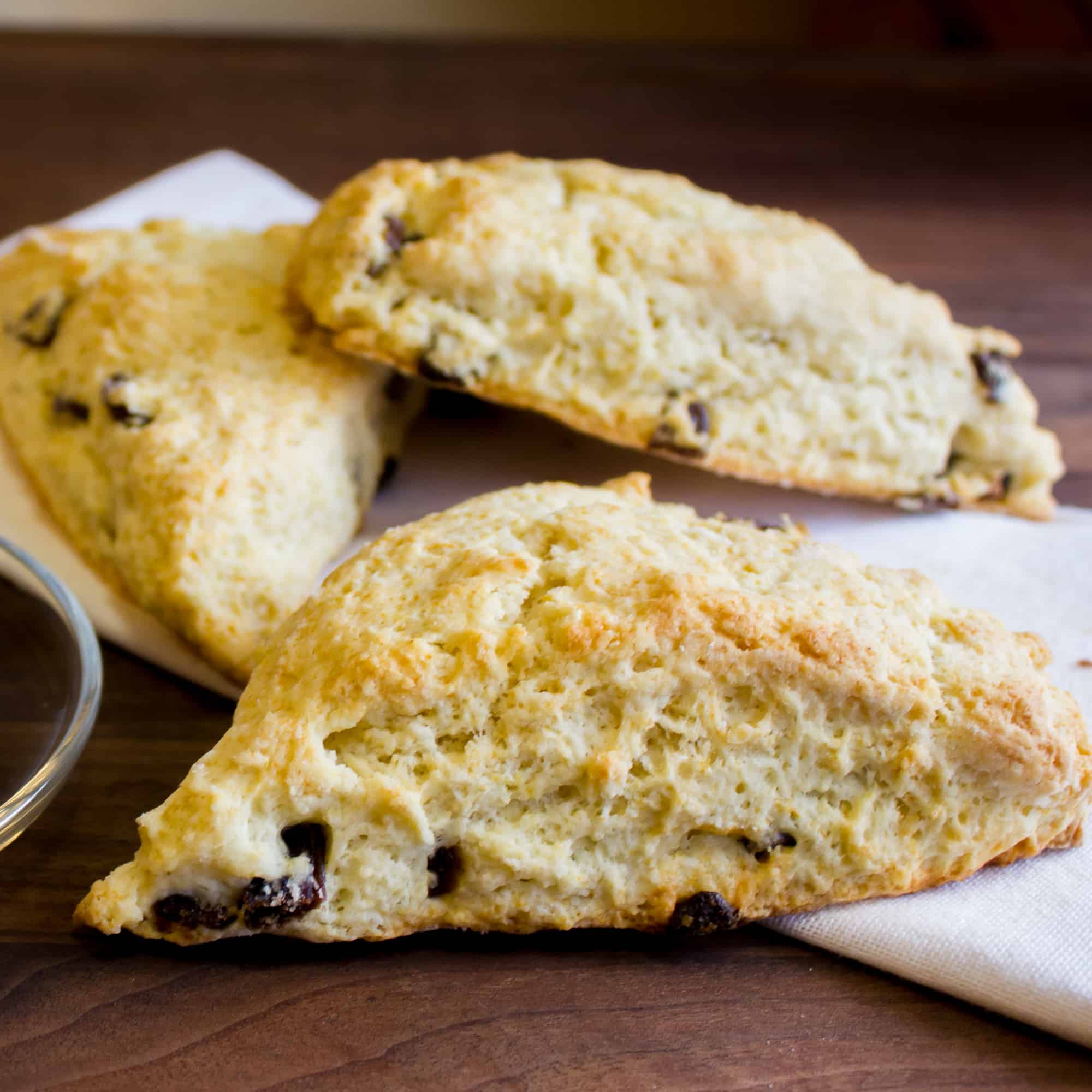 This recipe is quite versatile as well. It is a sweet scone, and the raisins can be substituted with many different things: dried cranberries, fresh fruit (blueberries, strawberries, etc.), chocolate chips, pralines and more!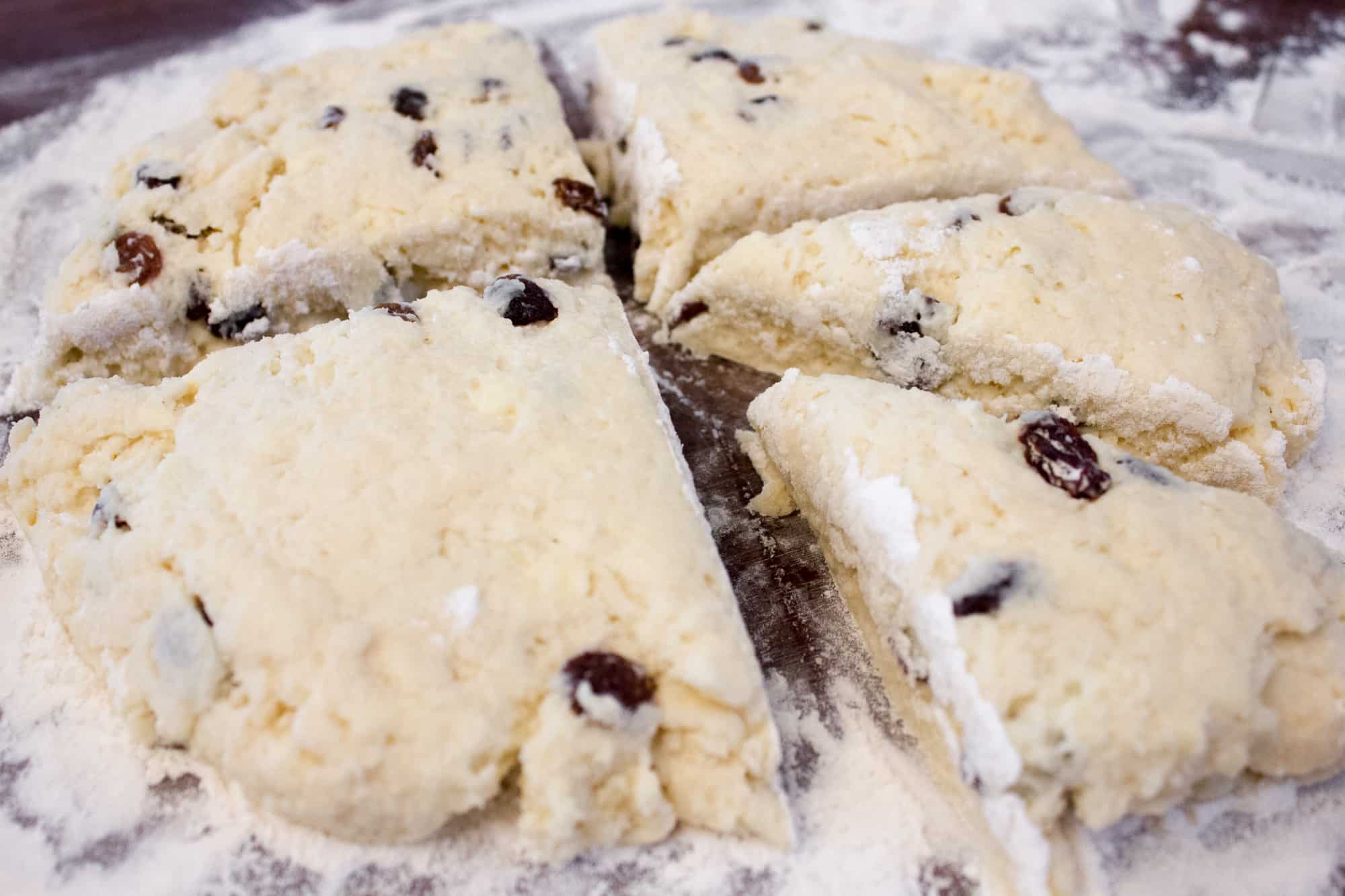 It is very important not to overwork the batter. The milk and egg mixture should be gently mixed in with your hands until just combined. The batter will likely still be a little wet, sticking to your hands. That's ok. Just dust your hands with flour so that you are able to work with the batter.
Once transferred to a floured work surface, gently pat into an 8 inch round disc and then cut into 8 wedges. You can see this in the picture above.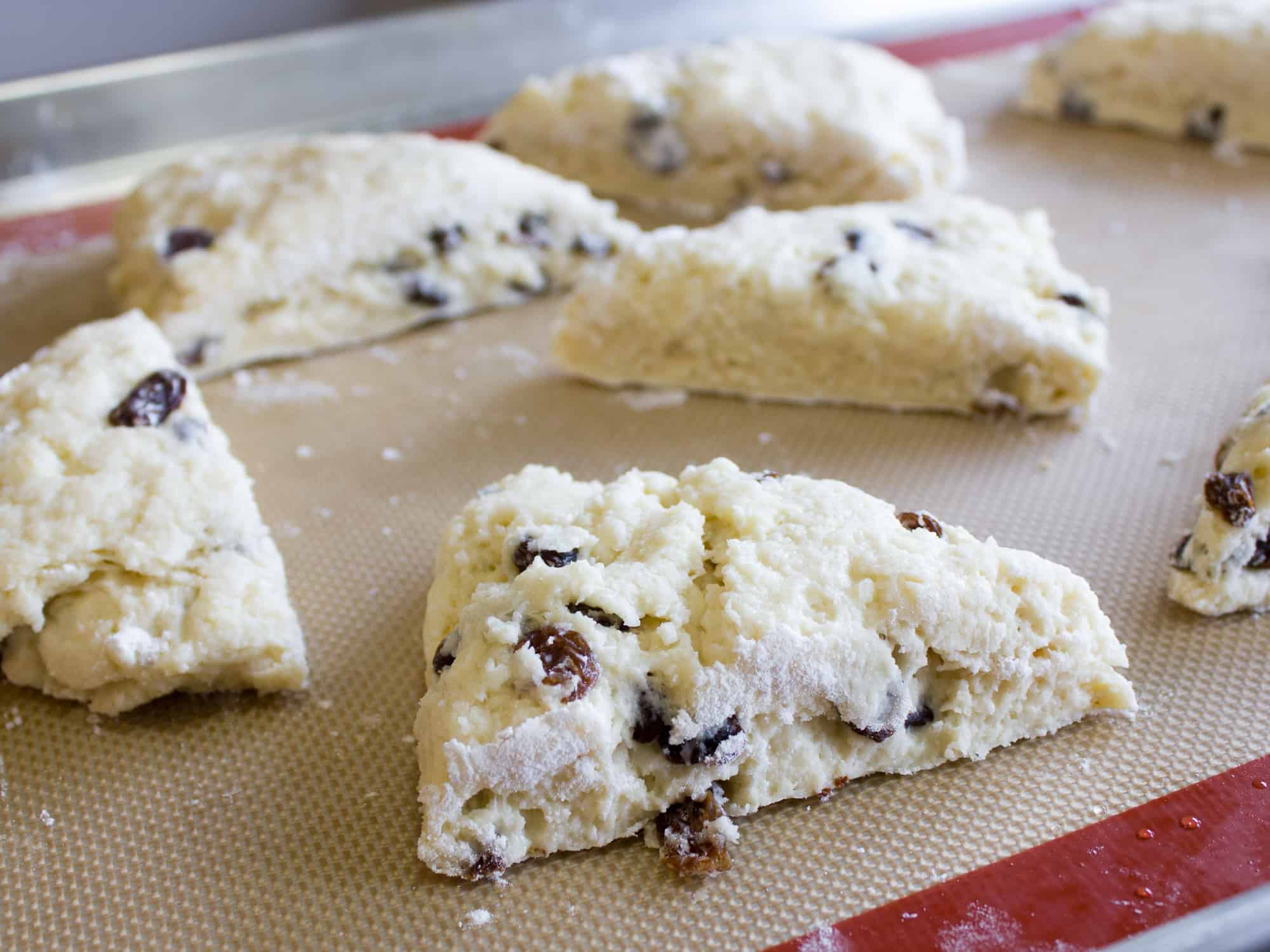 I use a silicone baking mat when baking almost anything. It is so easy to clean and the stuff never sticks!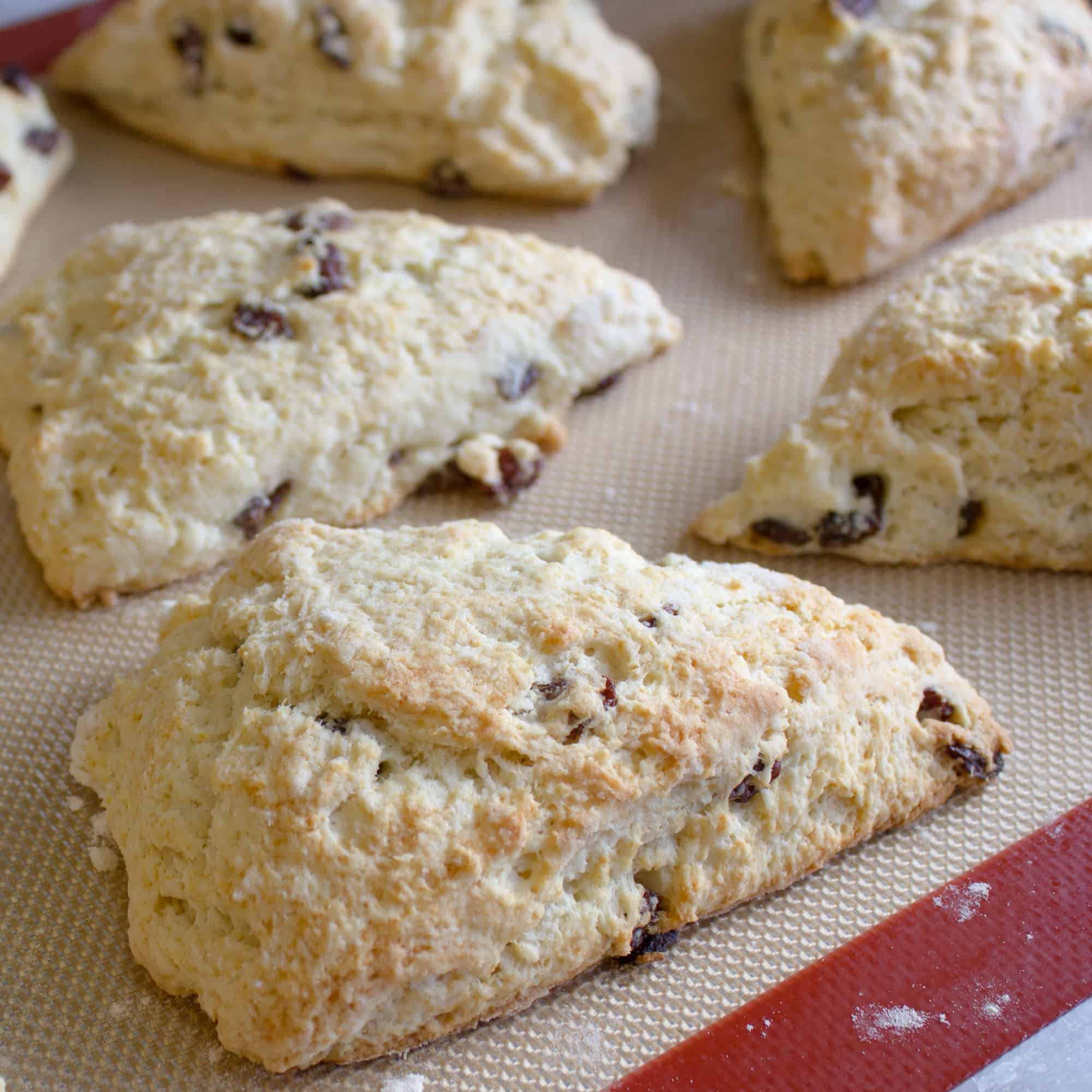 Bake in 400F oven for 16-18 minutes. The tops will be starting to brown and the scones will be cooked through.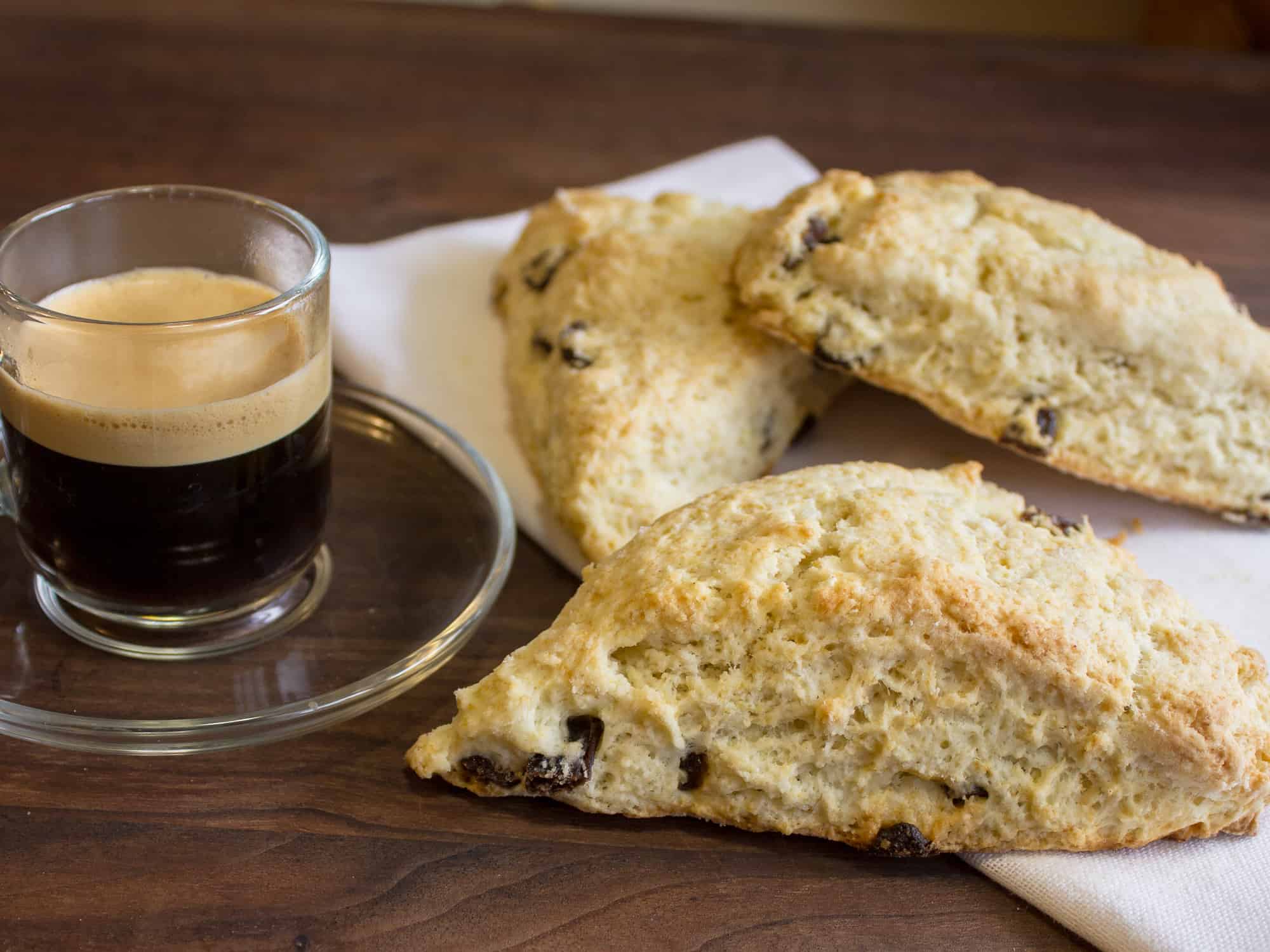 Making scones is not a difficult task. In fact, I find it one of the most simple things to bake. The ingredients are items that you usually have in your fridge and pantry. It does not take long for them to get thrown in the oven. There are also many ways to vary this recipe.
Here are a few other scone recipes:
Raisin Scones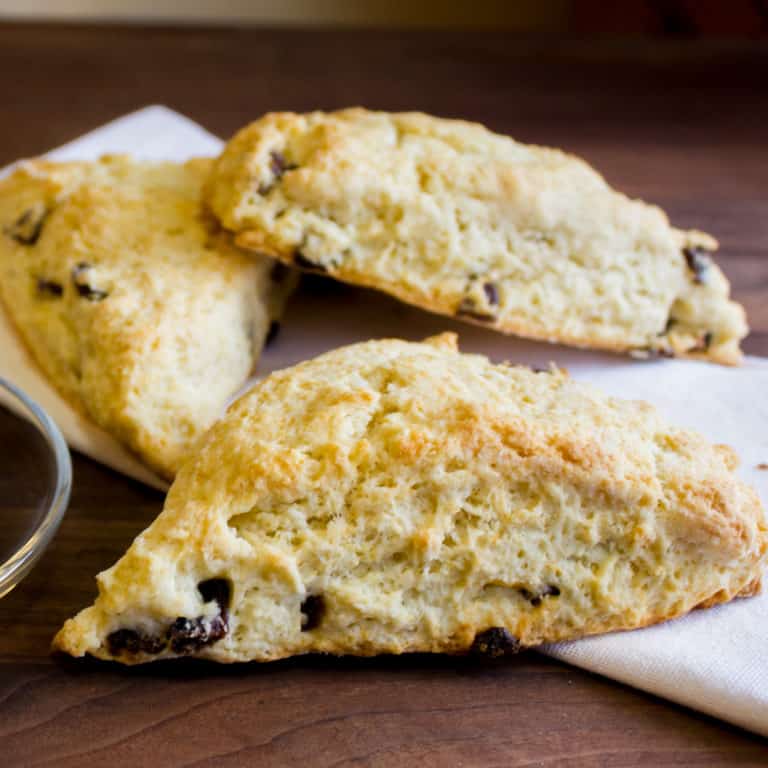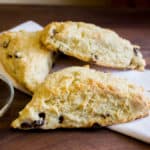 Print
These raisin scones are buttery and flaky baked biscuits. Super easy to make and bake. The raisins can be substituted with dried cranberries or some fresh blueberries, strawberries etc.
Servings: 8 scones
Ingredients
2 1/4 cups all purpose flour
1/3 cup white sugar
4 tsp baking powder
1/2 tsp salt
1/2 cup cold butter , cut into small cubes
1/2 cup raisins
3/4 cup milk
1 egg
Instructions
Preheat oven to 400F.

In a bowl, whisk together the flour, sugar, baking powder and salt.

Add the cold butter to the bowl and using a pastry blender, cut the butter into the flour. Continue until a crumbly consistency is produced. Stir in the raisins.

In a separate bowl, whisk the egg into the milk. Pour the milk mixture into the flour and stir together with your hands until combined. Work gently and be careful to not over-mix the batter.

Spread a little flour on a flat work surface. Dump the batter onto the floured work surface and pat down to make a 8 inch disc. Cut into 8 equal wedges.

Place wedges on a baking sheet lined with parchment paper or a silicone baking mat.

Bake for 16-18 minutes. The scones should be just starting to brown on top.

They are the best served right away although the are very tasty served at room temperature.