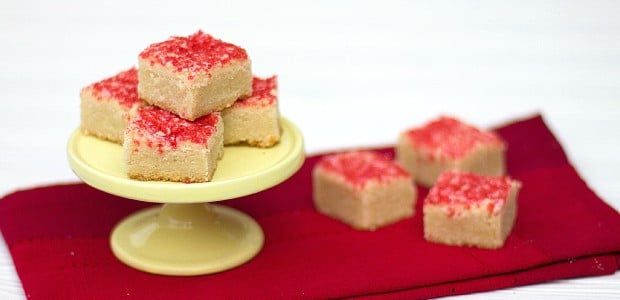 Shortbread is a wonderful thing. Simple, buttery and melt in your mouth delicious, shortbread cookies are a 'must bake' every Christmas. They go so fast, that I typically make 3 batches during the holidays. I have tried many different recipes for shortbread that even use various baking techniques. A few times, I have rolled the cookies and used cutout shapes. I have also used a cookie press to make some of the most tender, melt in your mouth, cookies I have ever had – I even have that recipe posted last year – Cookie Press Shortbread.
This recipe is by far the easiest as all it requires is combining the ingredients, patting it down in a pan, sprinkling coloured sugar and baking. These can be in the oven within 10 minutes. Seriously, it's that fast! Not only are they easy, but they taste absolutely incredible. They are so buttery and have the perfect texture – so soft and tender. I may need to go have another one right now!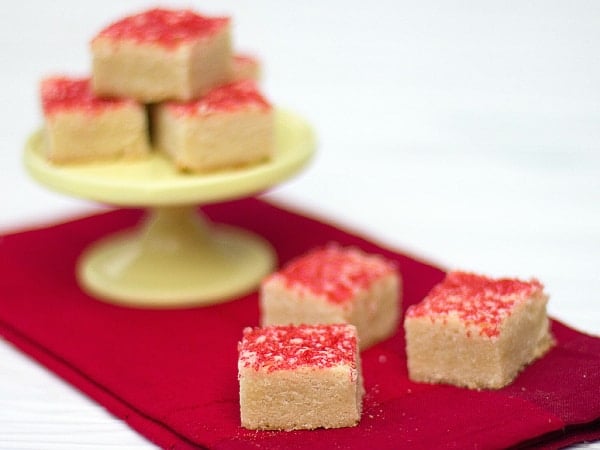 Using a 13×9 pan, this recipe makes a LOT of squares. I cut them into 1 inch squares and they are the perfect size. The coloured sugar gives these cookies the perfect festive look and they are immediately ready for the holidays. This shortbread is Barbara Bush's recipe from the "White House Cookbook" updated by publisher John Wiley & Sons in 1996. She uses an 8×8 pan and I modified it for a 13×9 pan.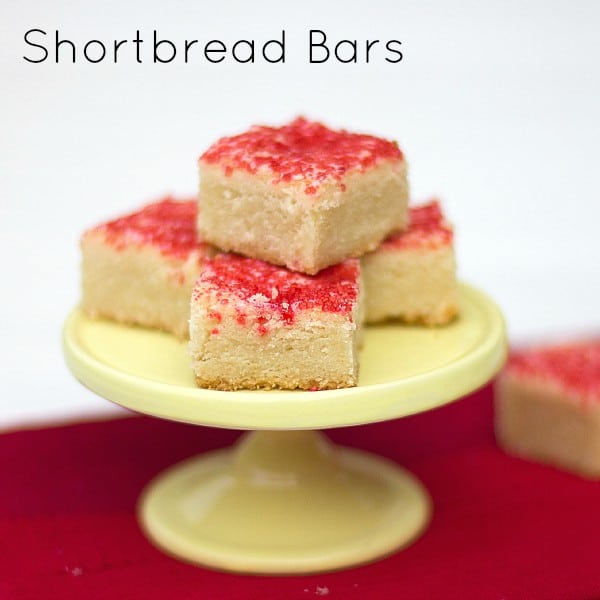 Shortbread Bars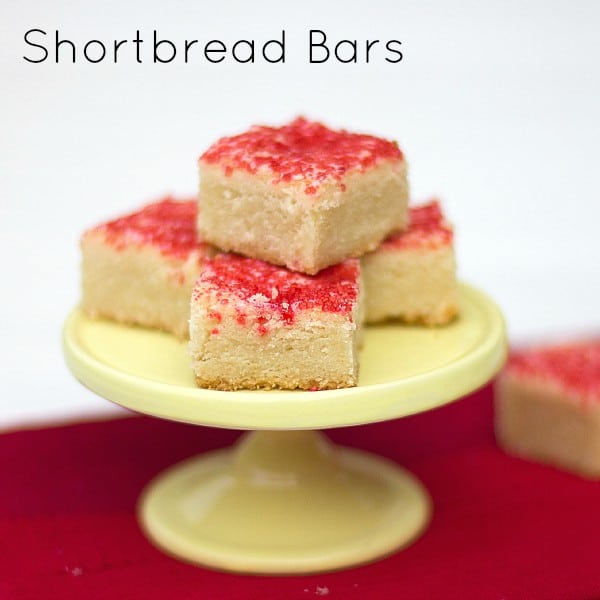 Print
Servings: 90
Ingredients
1 pound (2 cups) unsalted butter, softened
1 1/2 cups powdered sugar
4 cups flour
1/2 tsp baking powder
1/2 tsp salt
approx. 1/4 cup red coloured sugar
Instructions
Line a 13x9 pan with parchment paper (or foil)

Preheat oven to 350F

Using an electric mixer, cream together the butter and powdered sugar until smooth.

In a separate bowl, whisk together the flour, baking powder and salt.

Slowly beat the dry ingredients in the butter mixture until it is fully combined and there are no lumps or dry flour in the dough.

Spread the dough in the lined pan, patting it so that it is evenly spread across the pan.

Prick the dough many times with a fork. Sprinkle the coloured sugar evenly across the cookie dough.

Bake for 33-37 minutes. The edges should be starting to brown.

Cool on a wire rack.

Cut into small 1 inch squares. Store in an airtight container for 2 weeks or in the freezer for 2 months.