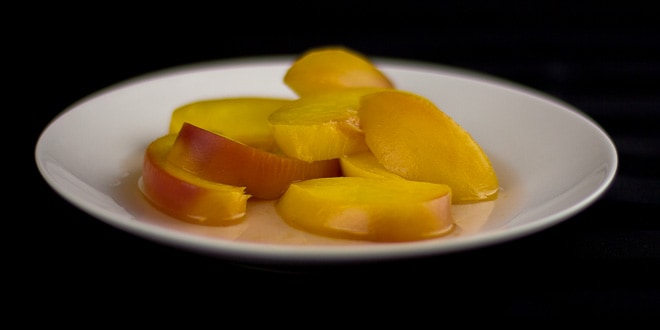 Sous vide cooking is not just a fancy way to cook tender meat, it is also a great way to cook vegetables and fruit. In this recipe, fresh Ontario peaches are gently poached in a sous vide water bath. This uses a fraction of syrup or liquid to cover the peaches while poaching because they are surrounded by the simple syrup in the vacuum sealed bag. The sous vide cooks at an exact 180F which results in the perfect soft, but not mushy, peaches. The cognac or brandy adds a wonderful flavor to the syrup and peaches. They are excellent served on their own or with creme anglaise or vanilla ice cream.
Sous Vide Peaches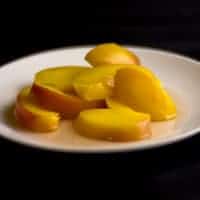 Print
Servings: 4
Ingredients
4 peaches , halved and pitted
1/2 cup water
1/2 cup sugar
1/3 cup cognac or brandy
Instructions
Set sous vide water bath to 180F.

In a small saucepan, heat the water and sugar, stirring often. Once the sugar has dissolved, remove from heat and cool. Stir in the cognac or brandy and set the syrup aside..

Place peach halves in a food safe vacuum bag. Pour in the syrup. Vacuum seal, being careful the syrup does not get sucked out with the vacuum sealer. Alternatively, use a Ziploc freezer bag, remove the air and seal it.

Place the peaches in the water bath and cook for 30-40 minutes.

Remove from the water bath and immediately place in an ice bath to stop the peaches from continuing to cook.

Peel the skin off the peaches just prior to serving.

Serve on its own or with creme anglaise or vanilla ice cream.