Swiss Chalet Secret Sauce Copycat Recipe
Swiss Chalet is more than just a restaurant, it is a Canadian institution. Every Canadian has been to Swiss Chalet, and these restaurants are packed, many times of the week all over the country, especially for Sunday lunch. One popular tradition is to go to Swiss Chalet after church, for what is coined 'Christian Chicken'.
There are many great things to order at Swiss Chalet, but the most popular is their quarter chicken dinner. Delicious rotisserie chicken, crispy fries, a bun and their famous dipping sauce. The Swiss Chalet dipping sauce is easily the most popular item at Swiss Chalet. A great mix of spices with a nice tang, this dipping sauce is great for the chicken, fries and even the bun. You can purchase packets of the mix to make the sauce at home, but I wanted to try and make my own version of the sauce.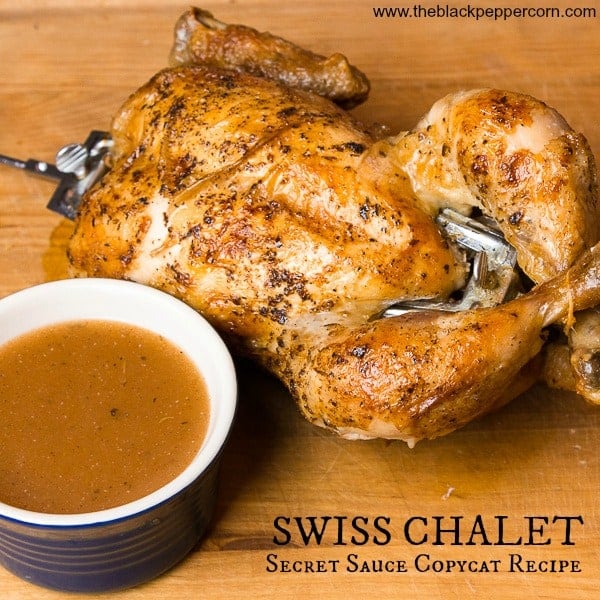 This copycat recipe is quite simple to make and it is pretty darn close to the original Swiss Chalet sauce. It has the perfect colour, the spices are similar to the restaurant version, and the vinegar matches the tang. Everyone in the family loved the sauce and said it was surprisingly close to the Swiss Chalet original.
Swiss Chalet Secret Sauce Copycat Recipe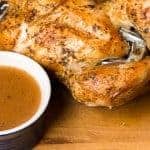 Print
Simple to make copycat recipe for Swiss Chalet dipping sauce. Perfect for rotisserie chicken, french fries and more. Make it right at home.
Servings: 2 cups
Ingredients
2 cups chicken broth
2 tbsp vinegar
2 tsp tomato paste
1/2 tsp salt
1/2 tsp sugar
1 tsp paprika
1/4 tsp black pepper
1/4 tsp garlic powder
1/4 tsp onion powder
1/4 tsp allspice
1/4 tsp ground ginger
1/4 tsp basil
1/4 tsp oregano
1 tsp hot sauce
1/2 tsp Worcestershire sauce
2 tbsp corn starch
2 tbsp water
Instructions
Whisk together all the ingredients in a saucepan, except the corn starch and 2 tbsp water.

Bring the sauce to a low boil. Lower heat and simmer for 5-10 minutes.

Make a slurry by mixing together the corn starch and 2 tbsp water. Whisk the slurry into the sauce to thicken.

Serve warm.