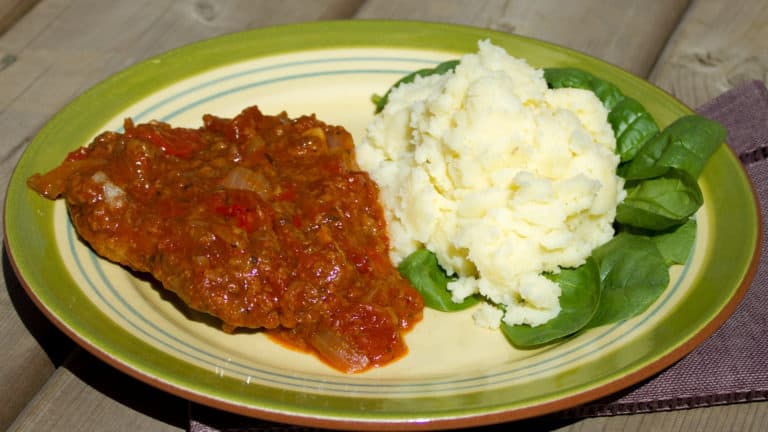 There is nothing like some good old comfort food! Don't get me wrong, I do love fine dining and making fancy dishes and international cuisine. There are times though, that what I am truly craving, is some down home country cooking. Comfort food provides such a feeling of warmth and coziness.
So, if you are like me, and you crave comfort food from time to time, then you may want to remember this recipe for swiss steak. I remember that my mom used to make this and I was always excited to come home from school and the aroma was throughout the house.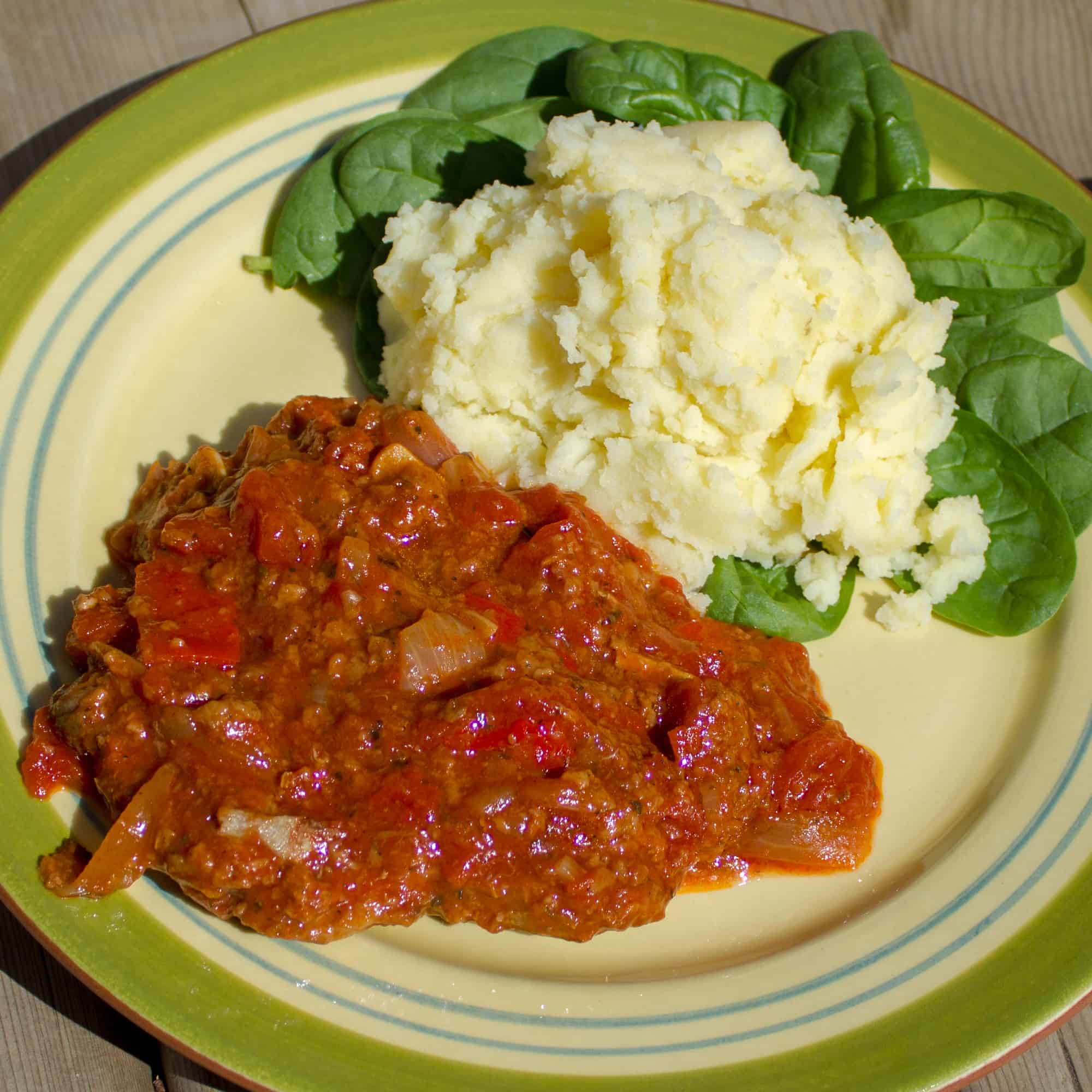 Swiss steak is a method of preparing steak. Usually the steak is the cheaper cuts of beef, often round or sirloin. Pound the steak with a meat tenderizer to create a tender, cut with your fork, piece of meat. It is also possible to use cube steak/minute steak in this recipe, which is a cut of beef that has been tenderized with an electric tenderizer. They are available at many grocery stores and are perfect for swiss steak.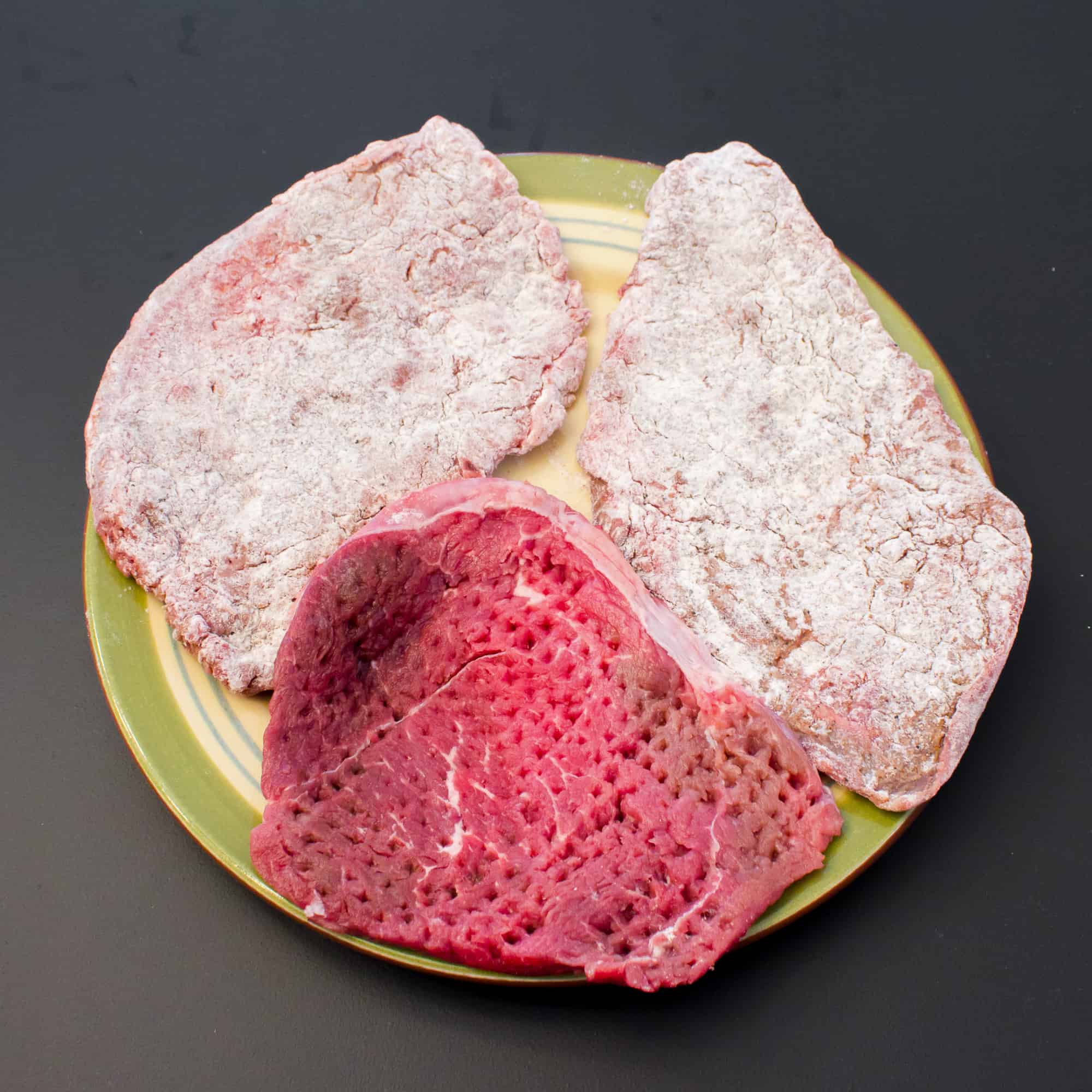 What is Braising?
The cooking technique for swiss steak is braising. The first step of braising is to sear a cut of meat in a skillet. Then, place the meat in a roaster or casserole dish and bake in the oven. Usually the meat braises and simmers in a mixture of juices, broth or other sauce. This technique allows cheap and tough cuts of meat to be moist and tender.
To make swiss steak, lightly coat the tenderized steak in flour and then fry in some oil to sear the outside and create a crust with the flour. Then braise the steak in stewed tomatoes and other vegetables. This dish is tender and delicious!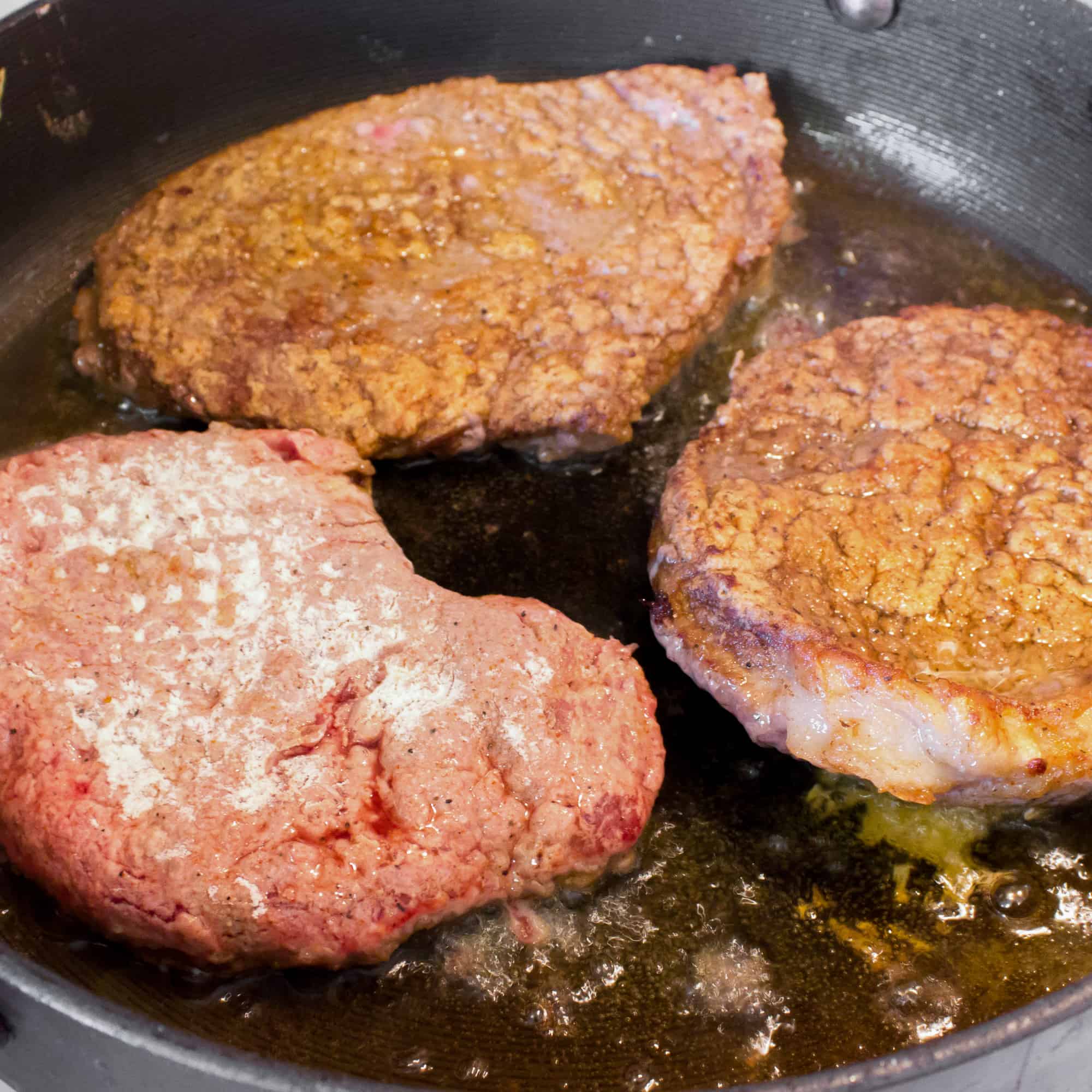 If you are not using cube steak or minute steak, pound the meat with a meat tenderizer and dredge in the seasoned flour. Cook in the oil for just a few minutes per side.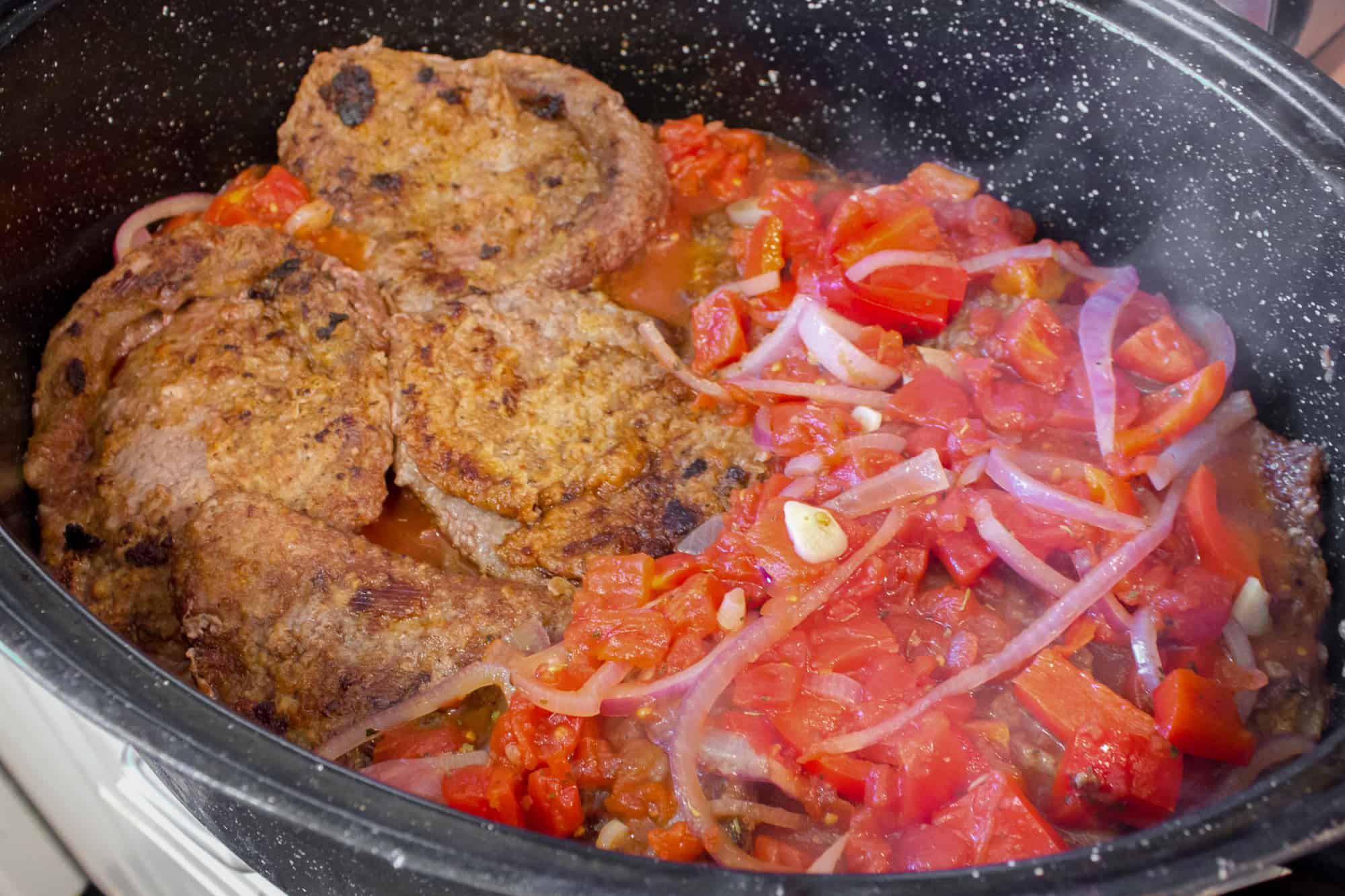 Create stewing mix by frying the onions, peppers and celery until tender. Add the tomatoes and bring to a boil. Cover the meat with the stewing mixture in a casserole dish or roasting pan.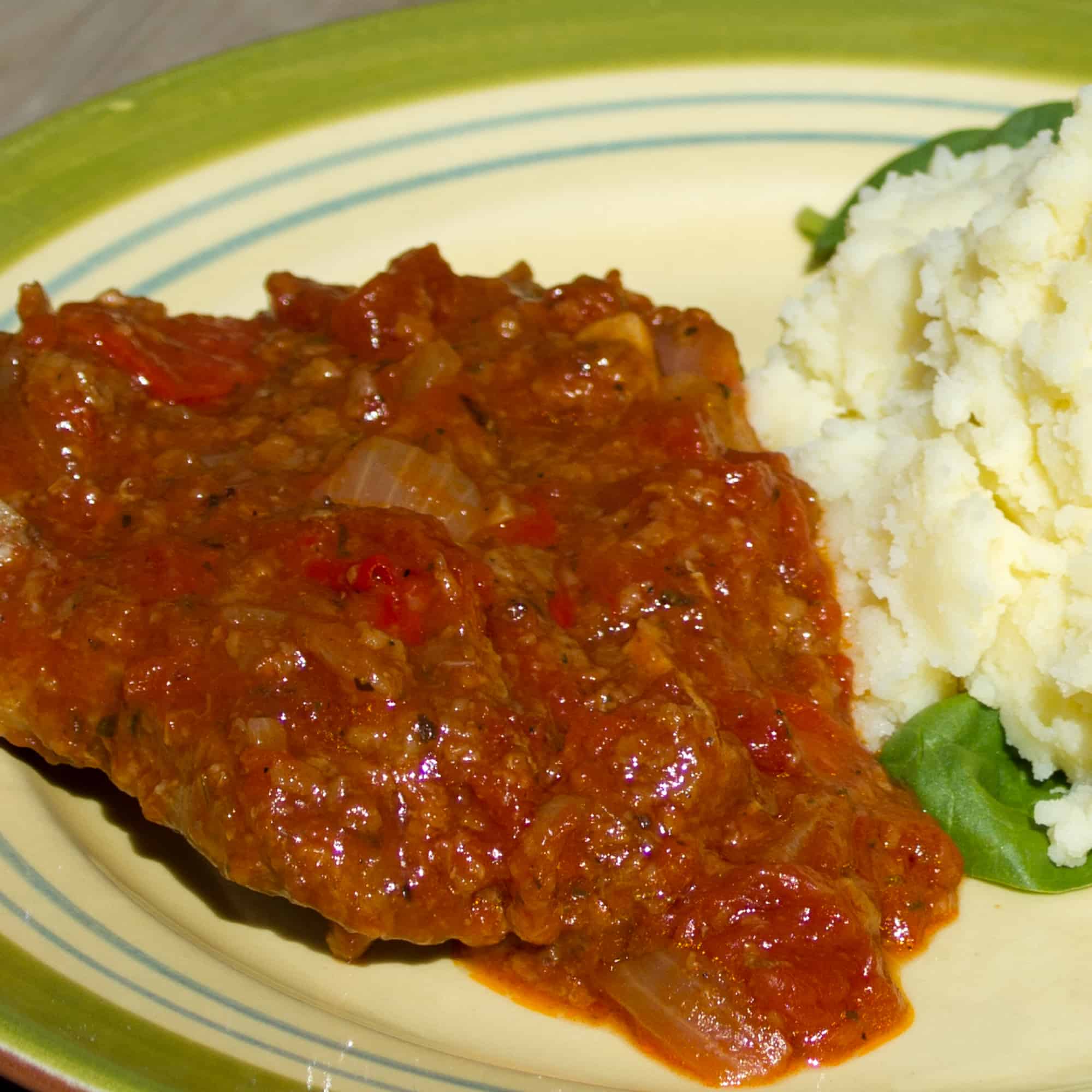 Swiss Steak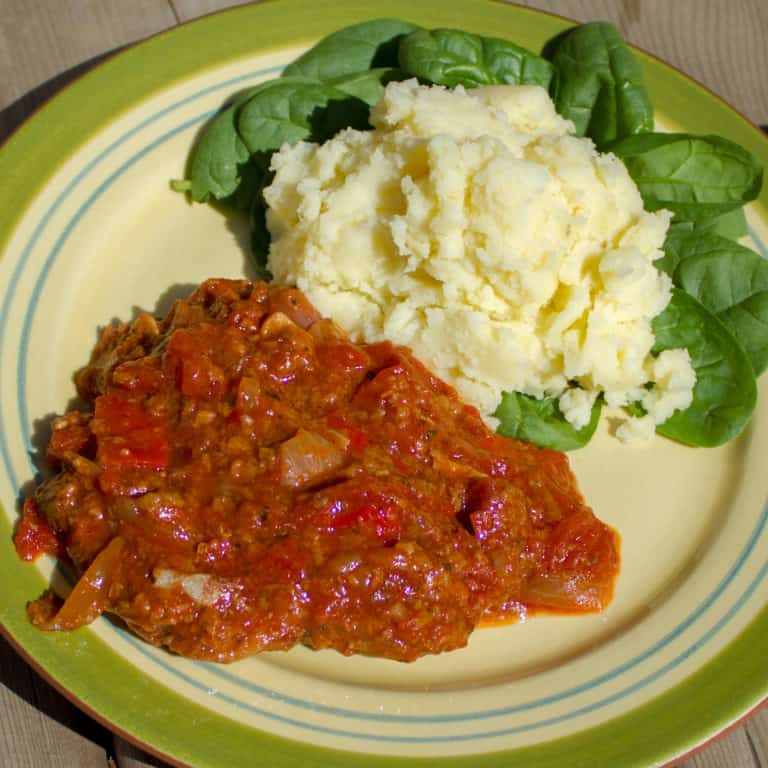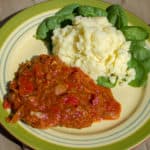 Print
Swiss steak takes a cheap and tough cut of beef like round or sirloin steak (cube or minute), which is then braised in stewed tomatoes and other vegetables.
Servings: 4
Ingredients
2 pounds of steak (round, sirloin, cube, minute)
1 cup flour
1 tsp salt
1 tsp pepper
1 tsp paprika
1/4 cup olive oil
3 garlic cloves , minced
2 onions , sliced
2 peppers , diced
2 celery stalks , sliced
2 cans of diced tomatoes
1/2 cup water
1 can tomato paste
Instructions
If you are using steak that has not been tenderized, pound it on both sides with a meat tenderizer.

Mix the flour, salt, pepper and paprika in a shallow bowl. Dredge the steak in the flour mixture until coated all over.

Heat the oil in a skillet on medium high heat. Add the steak and cook about 4 minutes per side. The flour should brown and create a crust around the steak. If there are more pieces of steak than will fit in the skillet, cook them in multiple batches. After the steak has cook about 4 minutes per side, remove them from the skillet and let them rest on a plate.

The skillet will have a buildup of browned flour and other seasonings. This has incredible flavour that should not be wasted. Add 1/2 cup of water and stir to pull the bits off the skillet.

Add the garlic, onions, peppers and celery to the skillet and cook until beginning to soften, about 7 minutes.

Stir in the tomatoes and tomato paste and bring to a boil.

Add a third of the tomato mixture to the bottom of a casserole dish or roasting pan. Then add the steak and top it with the remaining tomato mixture.

Cover the casserole dish and bake in a 325F oven for 2 hours. Serve with mashed potatoes, rice or pasta.