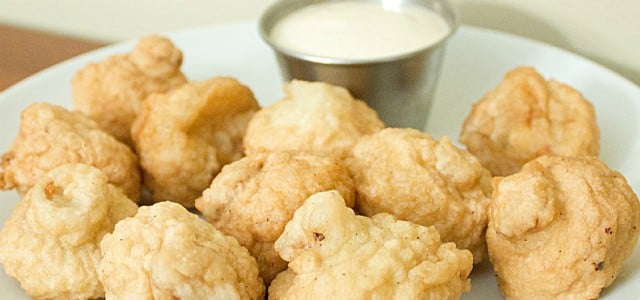 Here is another appetizer that I had as an extra recipe during the 12 Days of Super Bowl Snacks. Tempura mushrooms are great party food and are always a hit. Making them is a snap as tempura is easy and has just a few ingredients. You can adjust the batter to your preference. For a thinner batter use only one cup of flour. If you like it thicker, you could add a bit more. This batter provides a nice coating but not too thick.
Tempura Mushrooms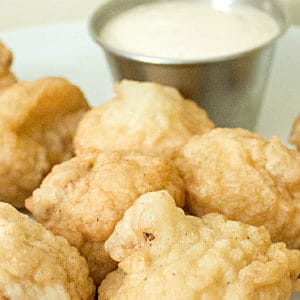 Print
Deep fried mushrooms is great party food. The batter is easy to make with just a few ingredients. These bite size appetizers go great with ranch dip.
Servings: 4 people
Ingredients
20 medium size mushrooms
1 1/2 cup flour
1 cup water
1 egg
1 tsp salt
Instructions
Wash the mushrooms. Make sure they dry completely.

Beat the egg and water together. Whisk in the flour and salt until there are no lumps.

Heat oil to 375F. Dip a mushroom into the tempura batter and slowly drop into the oil. If you drop it to quickly all the batter with fall off the mushroom. After the mushroom has been in the oil for a minute or so, turn it to cook the other side.

You can cook 5 or 6 mushrooms in the oil at a time. Just make sure they are not touching each other in the oil.

Drain on a paper towel.

Serve with a dip. Some possible dips are ranch dressing, marinara sauce or this spicy mayo.
Notes
Make spicy mayo by mixing 1/4 cup mayonnaise with 1 tbsp lemon juice and a 1/2 tsp of sriracha sauce (or more if you want it extra spicy).