Cheddar and Chive Biscuits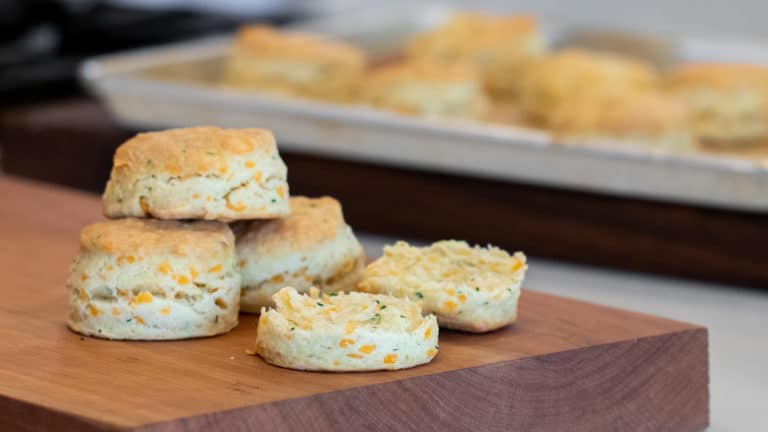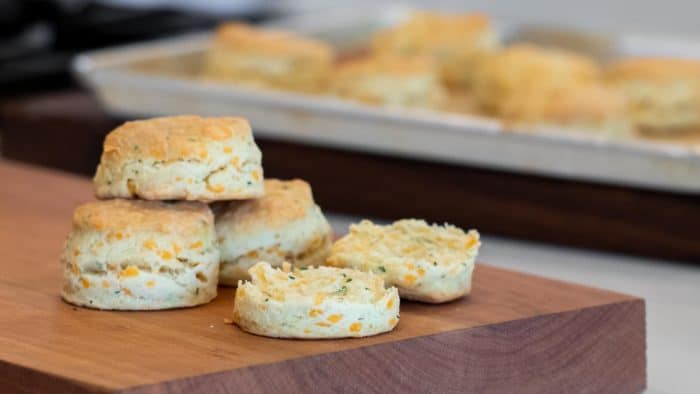 For Christmas, I received a Smart Garden and I have been growing some herbs in it for the last few months. I must say, that I love having fresh herbs in the kitchen ready to use any time I need some.
One of the herbs I have been growing is chives. Fresh chives is not something I usually purchase, as I typically only need a couple tablespoons at a time. These chives grow really fast, almost like my lawn in the spring!
The other day, I was planning to make some cheddar biscuits, when I happened to look over at the Smart Garden and saw the chives. They were in desperate need of trimming, and I thought they would be a nice addition to these biscuits.
Adding the chives does not greatly impact the flavour of these biscuits, but they do add a slight flavour of onion and a hint of garlic. These biscuits were so good – buttery, flakey and absolutely delicious!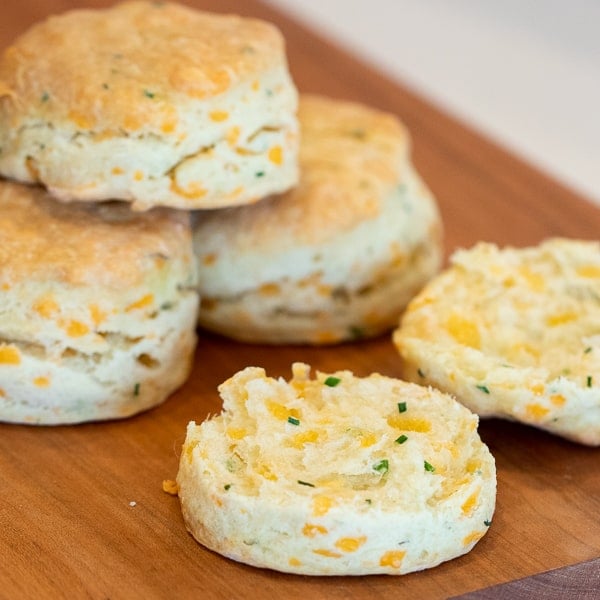 Tips for baking the best biscuits.
Sift the flour first. This ensures that there are no clumps of flour and helps the biscuit be light and fluffy.
Make sure that the lard or butter that you use is cold. This keeps little pea sized bits of the fat in the dough which results in a flakier biscuit.
Do no overmix! Stir with your hands gently. Over-mixing will result in a dense and flat biscuit.
Do not over-bake the biscuit.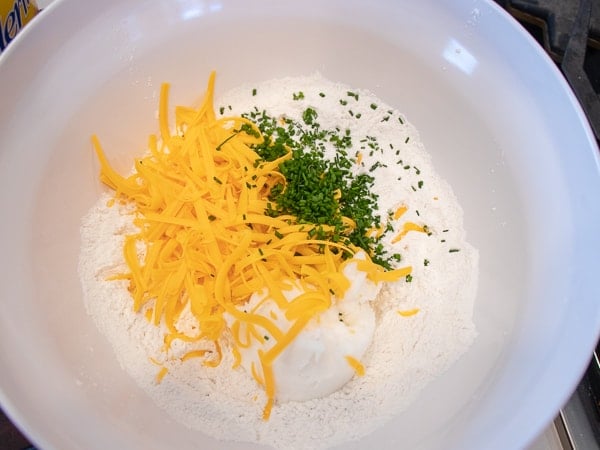 Whisk the dry ingredients together in a large bowl first. For the fat ingredient, you can either use cold butter or lard. I find that both will result in excellent biscuits and the flavour is not all that different.
I like to add the grated cheese and minced chives at the same time that I am cutting the butter/lard into the flour. Doing it all at the same time ensures that the cheese and chives are well mixed in the dough. If desired, you can simply mix it in after you have cut in the butter/lard.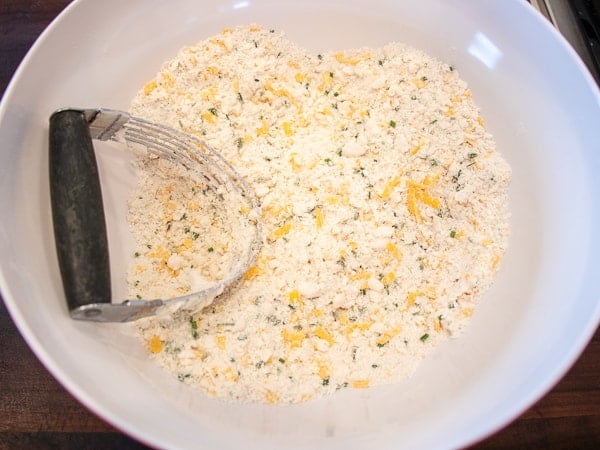 Use a pastry cutter or a couple of knives to cut the butter or lard into the flour. Try to make sure that the fat is well cut into the flour and that there are no large chunks of butter/lard.
The new step is to mix in the milk. Pour in the milk and using one hand slowly mix the milk with the dry ingredients. Keep stirring with your hand until the milk is all mixed in.
The dough should not be too sticky. If the dough seems very wet and sticking all over your hands, you may want to a little more flour (about 1 tablespoon).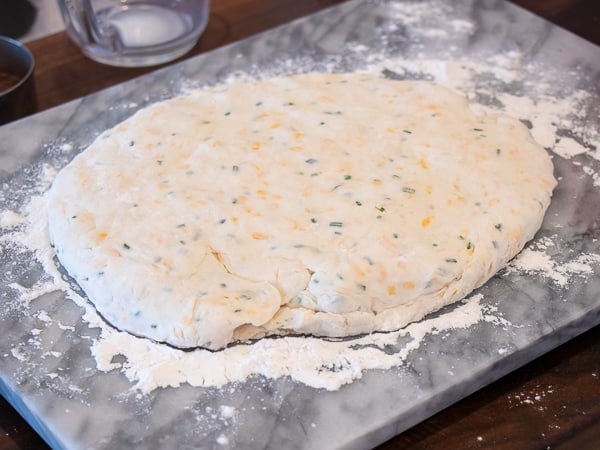 Form the dough in a ball and place on a floured surface. Flatten the dough so that it is 3/4 inch thick.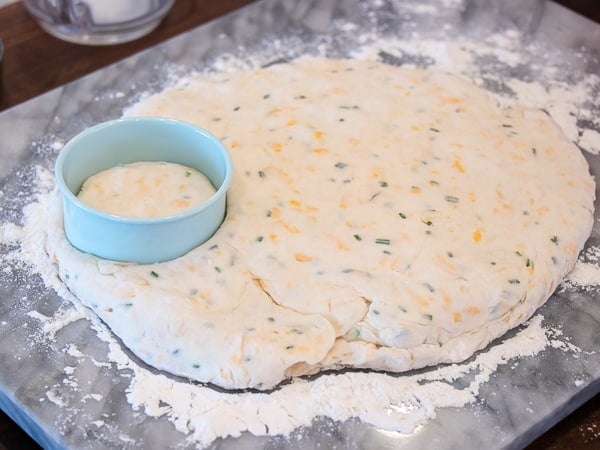 The next step is to cut the biscuit dough with a round cutter. I use a biscuit cutter that is 8.5 cm (3 1/4 inches) in diameter. Press the cutter into the dough and give a semi turn to ensure that it has cut through.
Lift out the cutter and gently remove the cut circle of dough. It should lift out easily since the dough is on a floured surface. Continue to cut out all the biscuits that you can. Then, form the remaining dough back into a ball, flatten it and cut out some more biscuits until there is not enough dough left to form a biscuit.
With this size cutter, I can typically get 10-11 biscuits.
Place the cut out biscuits on a baking sheet. I like to use a sheet that is lined with either parchment paper or a silicone baking sheet.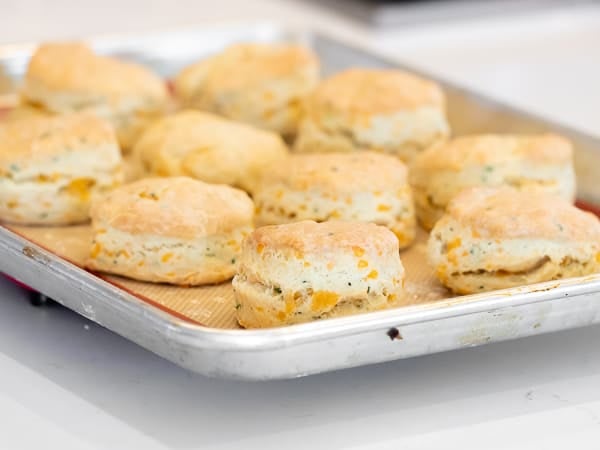 Bake the biscuits in a 400F oven for 16 minutes, or until they have risen nicely and browning on top and on the bottom.
Once they have finished baking, take them out of the oven and brush the tops of the biscuits with melted butter.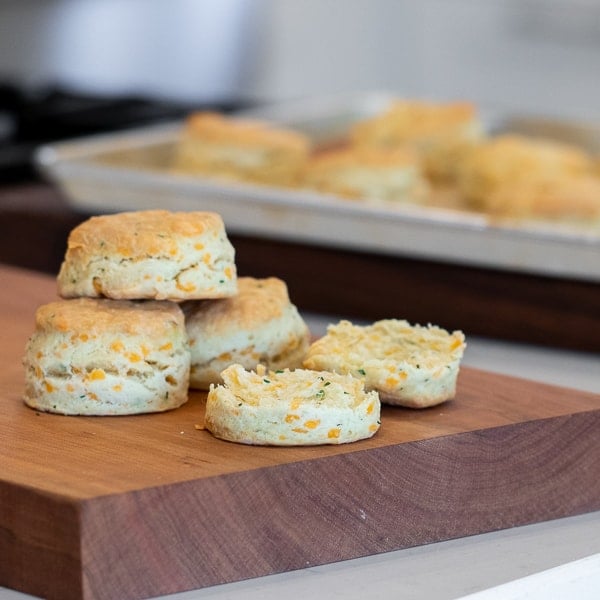 These biscuits are best served warm and right when they come out of the oven. They are amazing served with a warm bowl of soup, stew or chili.
Here are some great recipes that are perfect alongside these biscuits.
Cheddar and Chive Biscuits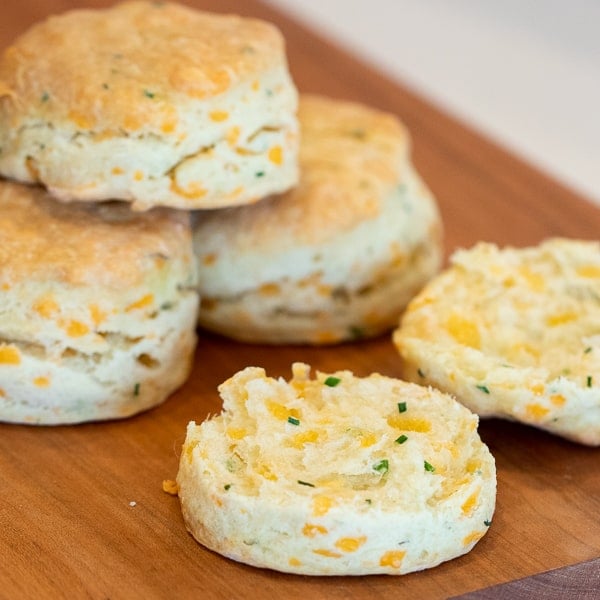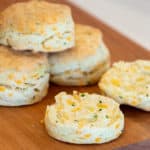 Print
Simple recipe for how to bake cheddar cheese and chive biscuits that are buttery, flakey and simple to make in the oven. Similar to scones, these fresh baked and similar to Red Lobster's Cheddar Bay biscuits.
Prep Time: 10 minutes
Cook Time: 16 minutes
Total Time: 26 minutes
Servings: 10 biscuits
Ingredients
2 1/4 cups flour
1/2 tsp salt
1 1/2 tsp baking powder
1/2 tsp baking soda
1/2 cup cold butter or lard
1 cup milk
1 cup grated cheddar cheese
4 tbsp fresh chives minced
2 tbsp melted butter
Instructions
Preheat oven to 400F.

In a bowl, whisk together the flour, salt, baking powder and baking soda.

Using a pastry blender, cut in the lard/butter, grated cheddar cheese and fresh minced chives, until well incorporated into the dry ingredients and there are small little bits of the butter/lard throughout the flour.

Pour in the milk and using your hands, gently mix together to incorporate the milk into the dry ingredients to make the biscuit batter. Be careful not to overmix the batter.

Pat onto a floured surface to an even thickness of around 3/4-1 inch thick. Using a circle biscuit cutter, cut out biscuits and place on a baking sheet.

Bake in the 400F oven for 16 minutes, or until they just start to brown.

Take out of the oven and immediately brush with the melted butter.
Nutrition
Per serving:
Calories: 266kcalCarbohydrates: 23gProtein: 7gFat: 16gSaturated Fat: 10gCholesterol: 45mgSodium: 362mgFiber: 1gSugar: 1g