Curried Carrot and Fennel Soup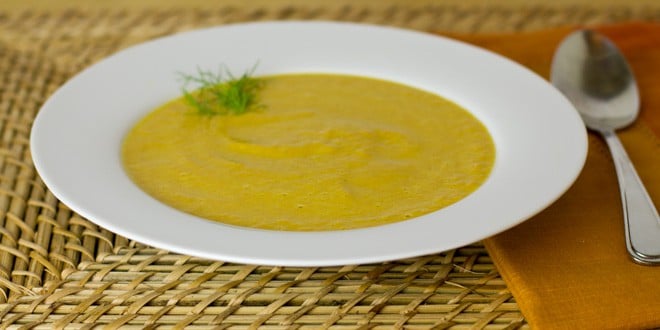 I recently received a new toy for my kitchen. The Bellini Intelli Kitchen Master is many appliances in one. It can blend, chop, fry, steam, knead, puree and more. There are adjustable temperature and speed settings allowing a great deal of flexibility. This appliance which has been available in Australia for a number of years, is just now available in Canada through Cedarlane Culinary. They distribute some high end products like Sous Vide Supreme, Aladdin Smoking Guns and Vacmaster chamber vacuum sealers. These products are new and exciting for foodies and people interested in modernist cooking. Now, they have made the Bellini Intelli Kitchen Master available for Canadian home cooks.
I am just getting into using it and am thoroughly amazed by this appliance. It can do a LOT and I know that I have just scratched the surface. Below is a curried carrot and fennel soup that I made in the Bellini. I have given traditional cooking instructions in the recipe, but check below the recipe, for actual Bellini directions.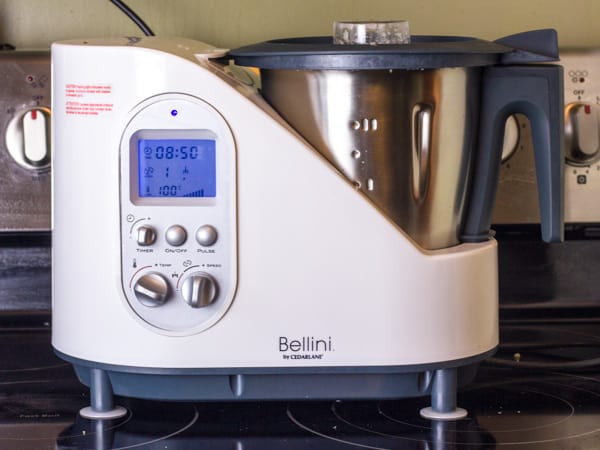 This soup is light and creamy, with a hint of curry and spice. The fennel gives a nice additional flavor profile along with the carrot.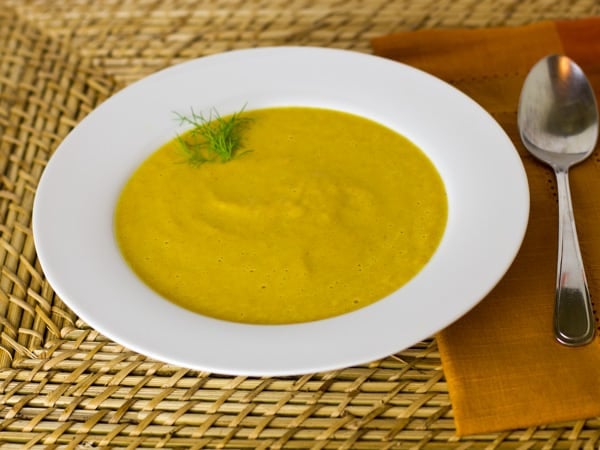 Curried Carrot and Fennel Soup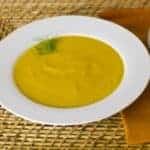 Print
Servings: 4 -6
Ingredients
2 tbsp oil
1 onion , diced
2 garlic cloves , minced
1 fennel head , roughly chopped
4 carrots , peeled and cut into chunks
1 1/2 cups chicken or vegetable stock/broth
1 1/2 cups whole milk
1 tbsp curry powder
1/4 tsp cayenne pepper
salt and pepper , to taste
Instructions
Heat oil in a pot on medium heat. Add onion, garlic and fennel. Stir often so they do not burn. Cook until tender and beginning to caramelize, about 5-7 minutes.

Add the carrots and stock and spices. Bring to a boil, lower heat to a simmer and cover pot with a lid. Cook until the carrots are tender, about 20 minutes.

Remove from the heat and stir in the milk. Puree with an immersion blender or upright blender. If needed, add more milk to reach desired thickness.

Serve hot.
Bellini Intelli Kitchen Master Directions
Place onion and garlic into the bowl. Chop on speed 4 for 10 seconds. Scrape down the sides of the bowl. Chop on speed 4 for another 10 seconds. Add oil and cook on speed 1 at 100C for 3 minutes. Add chopped fennel and carrots and cook on speed 1 at 100C for 15 minutes.
Add the stock/broth and spices. Remove the measuring cup from the lid. Cook on speed 1 at 100C for 20 minutes. Check to see if the carrots are tender. Cook another 10 minutes at the same speed and temperature if the carrots are still firm. Let the soup cool for about 10 minutes.
Add the milk and place the measuring cup back into the lid. Blend on speed 6 for 30 seconds or until smooth and creamy. Add more milk if the soup is thicker than desired.