Frozen Strawberry Mousse Terrine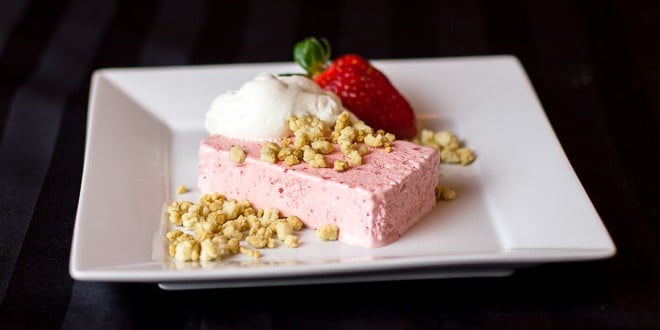 Ever since I started watching Masterchef and saw them make various terrines, I wanted to give it a try. A terrine is a French term for a way of serving food that is in a loaf shape. Often made with various meats and vegetables, the loaf is sliced and served. There are also many terrines that are desserts with chocolate, fruits, cake and more. Terrines can be a great way to present and plate a delicious dish.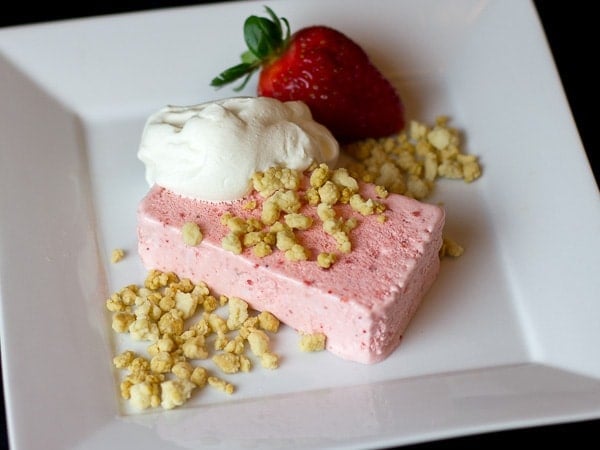 I recently received a new Lekue Loaf Springform Pan
. This got me in the mood to try something in the shape of a loaf. Instead of going the savory way, I made a dessert terrine. I make a strawberry foam in my Bellini Intelli Kitchen Master all the time and it tastes amazing frozen. I figured this would be the perfect way to break in this springform loaf pan.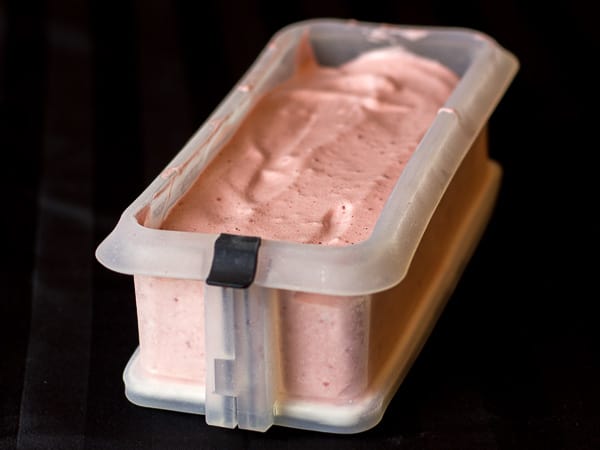 The one thing I love about this loaf pan is that the sides are silicone (like all products of Lekue) so nothing sticks to it and it is easy to pull away from the food once set. Also, there is a ceramic bottom which is perfect for bringing to the table for presentation and serving.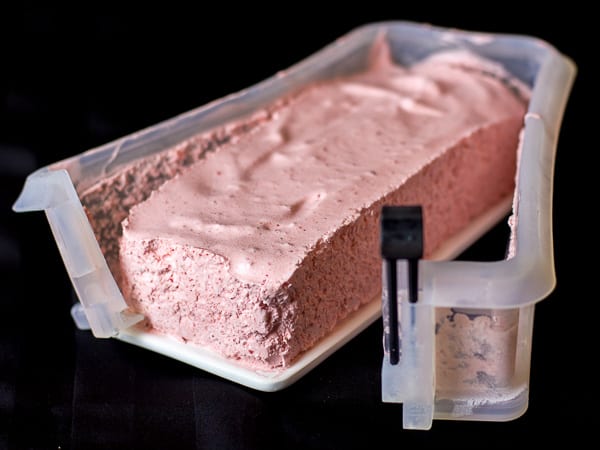 Once frozen, this mousse has a very light texture. It reminds me of a very whipped sorbet. It is extremely delicious and goes perfect with whipped cream and crumbled shortcrust pastry.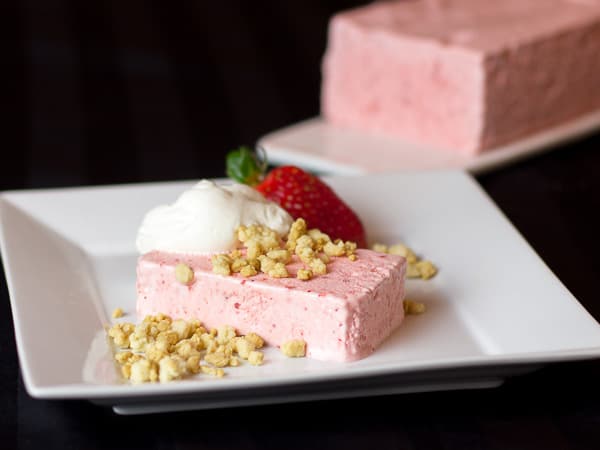 Frozen Strawberry Mousse Terrine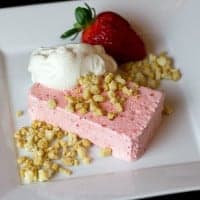 Print
Servings: 4 -6
Ingredients
2 cups frozen strawberries
3/4 cup white sugar
2 egg whites
1 tbsp lemon juice
Instructions
Pulse frozen strawberries and sugar in a food processor until chopped fine.

Scoop into stand mixer bowl. Add egg whites and lemon juice.

Using wire whip beater, mix on high speed, until it thickens and soft peaks form.

Spread into terrine tray (or loaf pan). Place in freezer for at least 3 hours.

Slice a 1 1/2 inch slice and lay on a plate. Serve with whipped cream, crumbled shortcrust pastry or shortbread, and a fresh strawberry.
Make the Strawberry mousse using a Bellini Intelli Kitchen Master (or Thermomix)
Add the frozen strawberries and sugar to mixing bowl with chopping blade attachment. Blend on speed 7 for 30 seconds.
Add butterfly blade to the chopping blade attachment. Add egg whites and sugar. Mix for 2 minutes on speed 4.
Spread into terrine tray and freeze like instructions above.