Doritos Crusted Chicken Fingers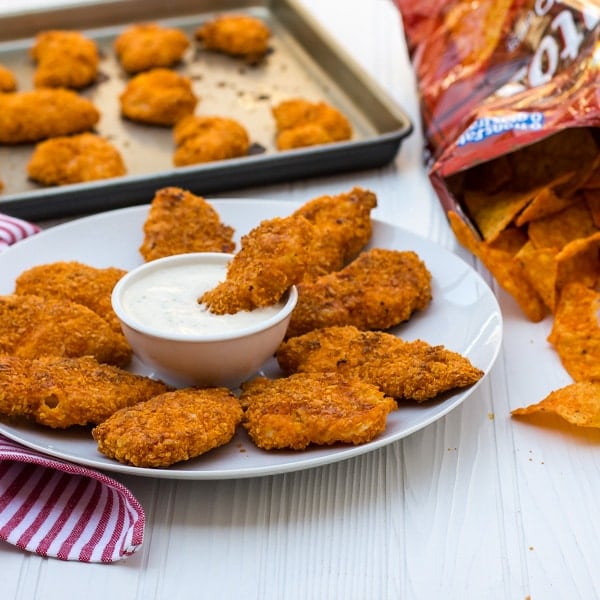 I have a severe weakness for salty snacks. I know that for some people, chocolate is their thing, but not me. I love to have a bag of chips while I am sitting on the couch watching sports, a movie or playing a board game. And if I get to choose any bag of chips – I go for Doritos. Yeah, I know, Doritos are not chips. They are awesome corn tortilla triangles of cheesy goodness! I love every flavor of Doritos but my all-time favorite is Zesty cheese flavor. YUM! So, it should come as no surprise that I look for ways to incorporate Doritos into my recipes. Boneless, skinless chicken breasts were on sale this week, so I decided that the recipe would revolve around chicken. After a little bit of thought the Doritos crusted chicken fingers were born!
I was amazed that they turned out as good as they did. They are perfect crunchy chicken fingers with the clear taste of nacho cheese Doritos. Everyone in the family loved them and it was great fun for the kids as they even got involved making them. They enjoyed dredging the the chicken strips in the various ingredients, but liked eating them even more!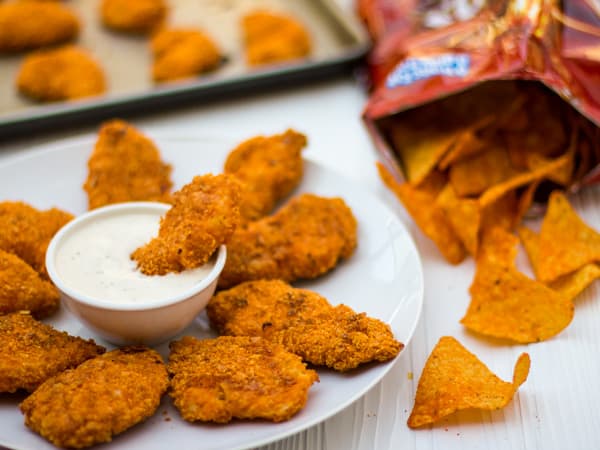 I often make baked chicken fingers crusted with corn flakes. It is easy to make and they turn out crispy and delicious. I used the same method to make these but substituted corn flakes with Doritos. I have no idea why this has taken me so long to figure out. Doritos are way better than corn flakes. I do not know if I will ever make them with corn flakes again. There are so many flavors of Doritos that I will have fun trying this recipe with Cool Ranch, Sweet Chili Heat and other great Doritos flavors!
5 Step process
Marinate sliced boneless chicken breasts in buttermilk for 2 hours.
Dredge in flour.
Dip in egg wash.
Dredge in crushed Doritos.
Bake in a 400F for 15-20 minutes.
I served it with this buttermilk ranch dressing.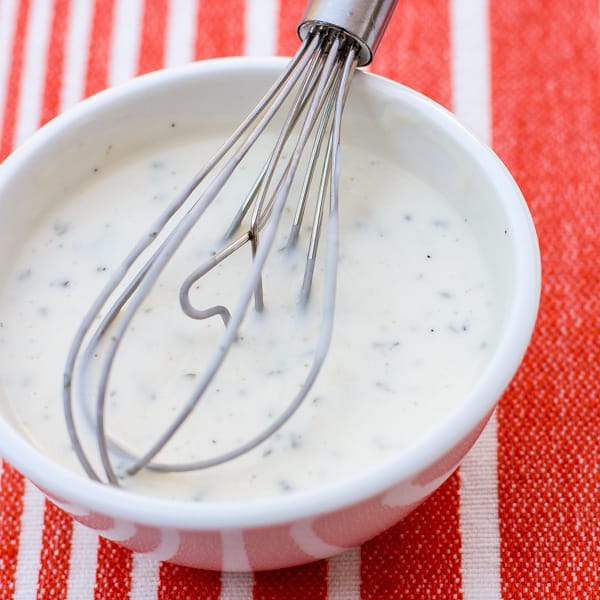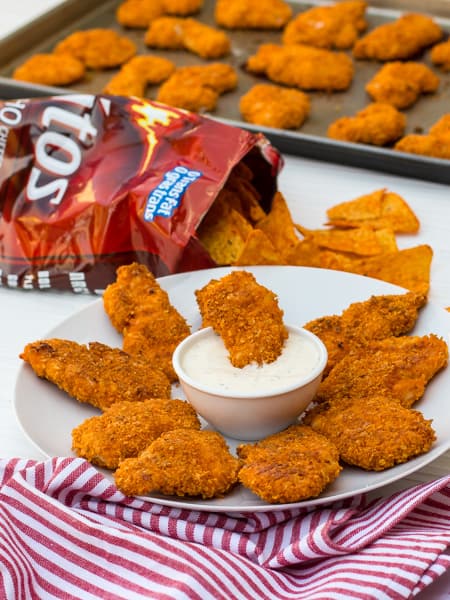 Doritos Crusted Chicken Fingers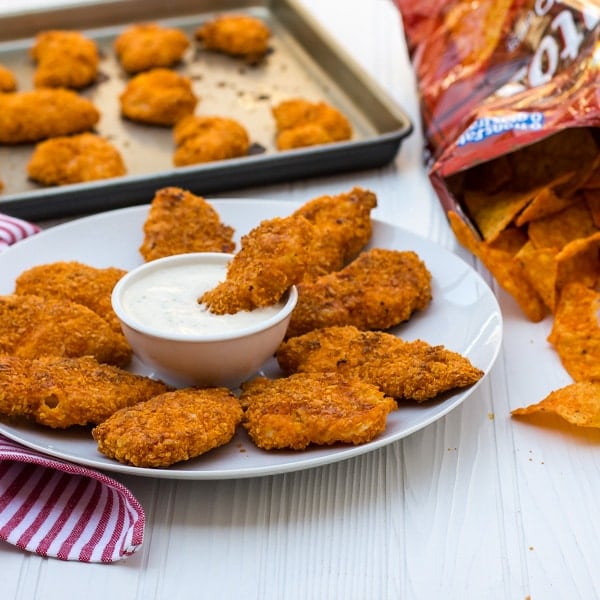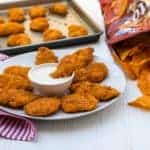 Print
Oven baked chicken strips coated with crushed Doritos. Easy homemade chicken fingers that have the crunch and flavor of Doritos. Serve with ranch dip, bbq sauce, etc.
Servings: 4
Ingredients
4 chicken breasts , boneless skinless
1 large bag (255g) Doritos , nacho flavor (or flavour of choice)
2 cups buttermilk
2 cups flour
1-2 tsp cayenne pepper (optional)
4 eggs
cooking spray , optional
Instructions
Cut the chicken into thin 1/2 inch strips.

Place the chicken in a bowl and pour in the buttermilk. Stir so the chicken is coated in the buttermilk. Cover the bowl and place in the fridge for about 2 hours.

Using a food processor, crush the Doritos so that they are a texture similar to panko or coarse bread crumbs. Set aside in a large bowl.

Place flour and optional cayenne pepper in one bowl and eggs in another. Whisk the eggs so that they are well scrambled.

Preheat oven to 400F and, if desired, spray a baking sheet with cooking spray.

Set up the four bowls in order: 1. bowl with the chicken, 2. bowl with the flour, 3. bowl with the beaten eggs, 4. bowl with the crushed Doritos.

Using a fork, lift out a few chicken strips and let excess buttermilk drain off. Place them in the flour and dredge them in so they are all coated in flour. Lift the chicken strips out of the flour and shake off any excess. Place them in the egg wash and turn them so they are evenly coated in egg. Lift them out of the egg and then dredge in the crushed Doritos. Place the coated chicken fingers on the baking sheet. Do this with the remaining chicken strips.

Bake in the oven for 15-20 minutes, turning halfway through.

Serve with buttermilk ranch dip, bbq sauce or your favorite dip.
Nutrition
Per serving:
Calories: 823kcalCarbohydrates: 93gProtein: 45gFat: 28gSaturated Fat: 7gCholesterol: 249mgSodium: 713mgFiber: 5gSugar: 9g