Father's Day and the Perfect Steak!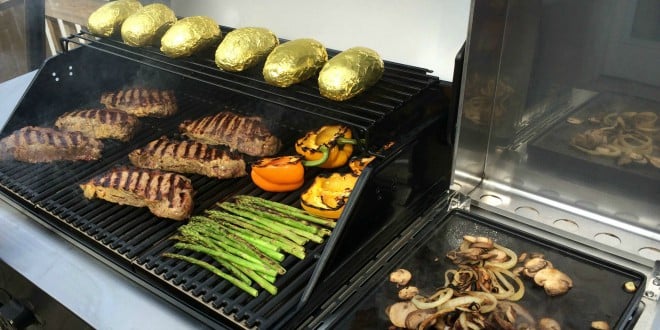 While Mother's Day is the busiest day of the year for most restaurants, Father's Day is a different day altogether. Many dads, myself included, prefer to head to the backyard and fire up the grill. Whatever the reason, maybe it is that male urge to hunt and provide for his family, dads find a great deal of joy grilling meat on 'their' day. The Charbroil 4 Burner TRU-Infrared Commercial Series Grill is ideal for any 'grill enthusiast' father. The large grilling surface is plenty of space for cooking for even the largest families. The TRU-Infrared cooking system provides even heat distribution and minimizes flare-ups.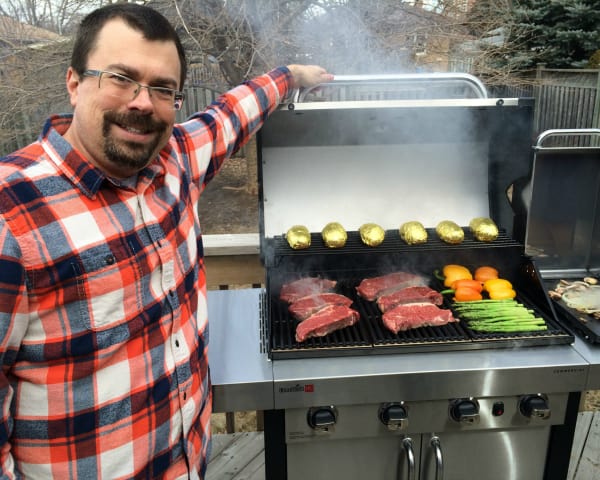 On Father's Day, I love to grill steak. I like a thick strip loin or ribeye steak, grilled to a perfect medium rare. Some people use lots of marinade or BBQ sauce, but I like to grill it simply with salt and pepper. Once the steak comes off the grill, I top it with some sautéed onions and mushrooms, fresh squeezed lime juice, a spoonful of chimichurri, or a couple slices of compound butter. Compound butter is simply salted butter mixed with fresh herbs or other aromatics. This butter does not overpower the steak, instead it highlights and magnifies the meat.
Grilling the perfect steak
Regardless of the steak you use, and there are many options and preferences, purchase fresh and high quality meat. The quality of the beef purchased greatly impacts the taste of the steak.
Let the steaks sit out for about 15-20 minutes so they can get to room temperature. This is beneficial for grilling, especially if you prefer a rare or medium-rare steak.
Preheat the grill to high.
Brush both sides of the steak with some oil (vegetable, peanut, etc.). Sprinkle both sides with sea salt and fresh ground pepper.
Place the steak on the grill and cook to desired doneness, flipping after 4-7 minutes or so. Cooking time will vary based on the thickness of the steak and the desired doneness

Rare – 120-125F
Medium Rare – 130-135F
Medium – 140-145F
Medium Well – 150-155F
Well Done – 160F+
My favorite topping for steak is an herb butter. This butter is fresh and has the bright taste of chives and rosemary. It highlights the taste of the steak and does not dominate it or overtake it like some steak sauces or bbq sauces tend to. Simple to make, this butter has become my go-to herb butter for steak, but it is also excellent for roast beef, lamb, pork and even fish!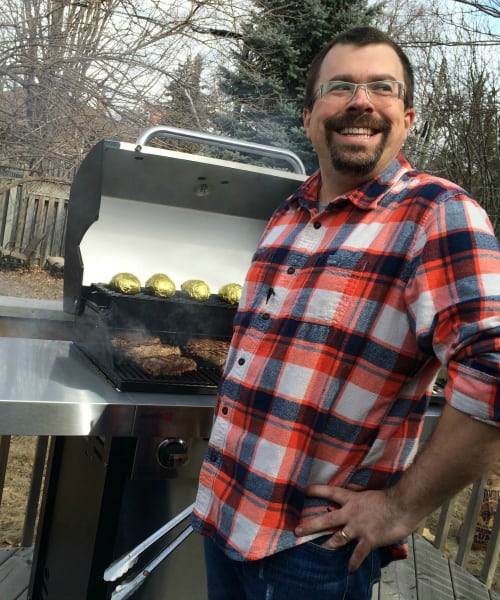 I typically use chives and rosemary, but some other herbs that are also great to add to this butter are tarragon, thyme and oregano. Make sure you use fresh herbs as dried herbs do not work well in an herb butter.
Herb and Garlic Compound Butter
Ingredients
8 tbsp salted butter
4 tbsp fresh chives, minced
2 tbsp fresh rosemary, minced
1 tbsp lemon juice
1 tsp garlic powder
Directions
Let the butter come to room temperature.
Cream together butter, chives, rosemary, lemon juice and garlic powder.
Form into a long cylinder about 1 1/2 inches in diameter. Wrap in plastic wrap and place in the fridge to harden.
To serve, slice the butter into 1/2 inch rounds and place 1 or 2 slices on each grilled steak.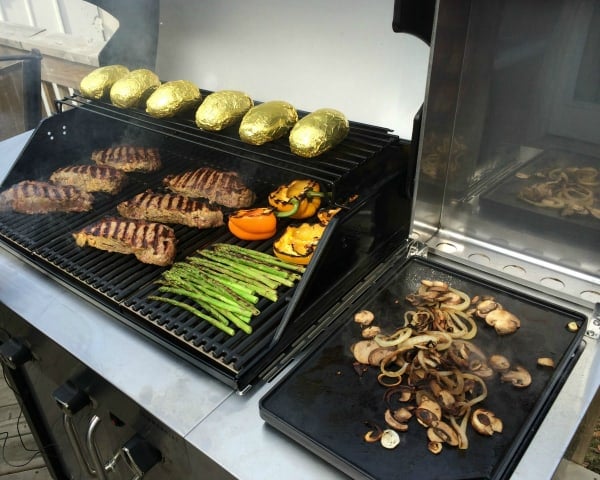 Disclaimer: This post is sponsored by Charbroil Grills and I received compensation in exchange for writing this article.