Kasha Salad with Grapes, Dried Mango and Pistachios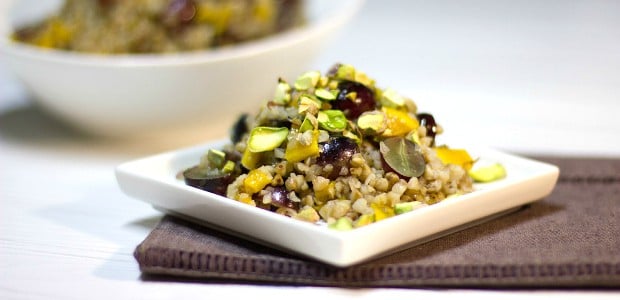 Many of my friends have taken on a gluten free eating lifestyle. A few of them have asked me to get creative and make a salad for them. I have never used kasha before, but this roasted buckwheat is tasty and an excellent gluten free alternative to wheat grains.
Kasha is buckwheat that has been roasted. It can be purchased whole or ground with a rough granulation. Cooking kasha is easy and quite similar, in technique, to couscous or quinoa. It tastes similar to other grains like barley and works great in a cold salad. This salad has wonderful ingredients that work together to create a light and healthy salad.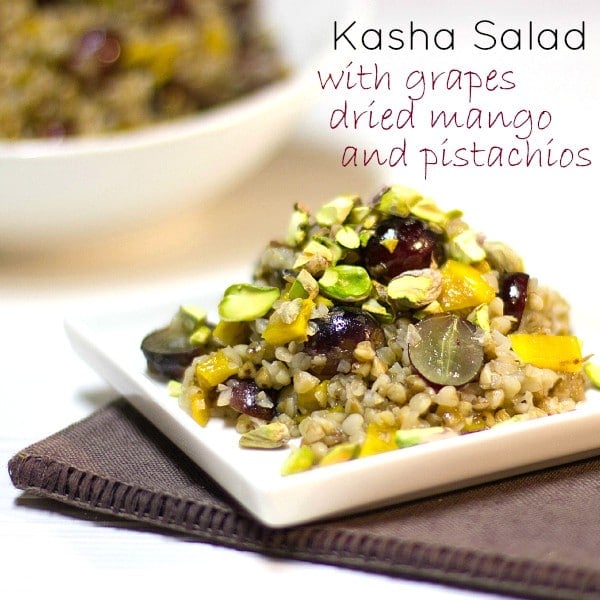 Make sure the pistachios are added just before serving to ensure they stay toasty and crunchy.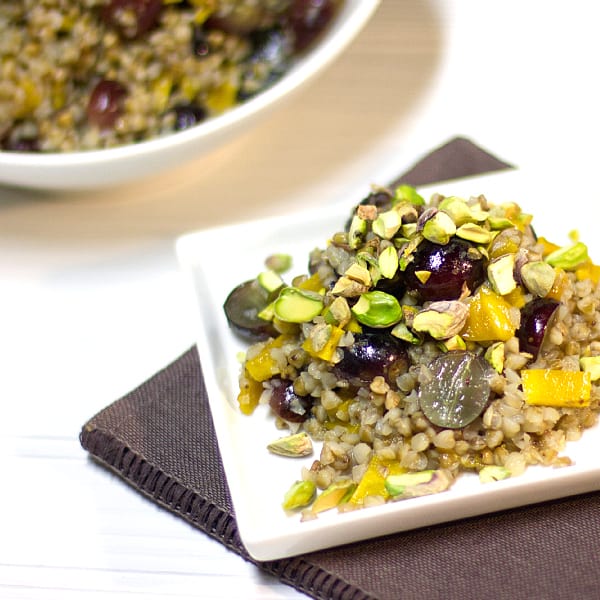 Kasha Salad with Grapes, Dried Mango and Pistachios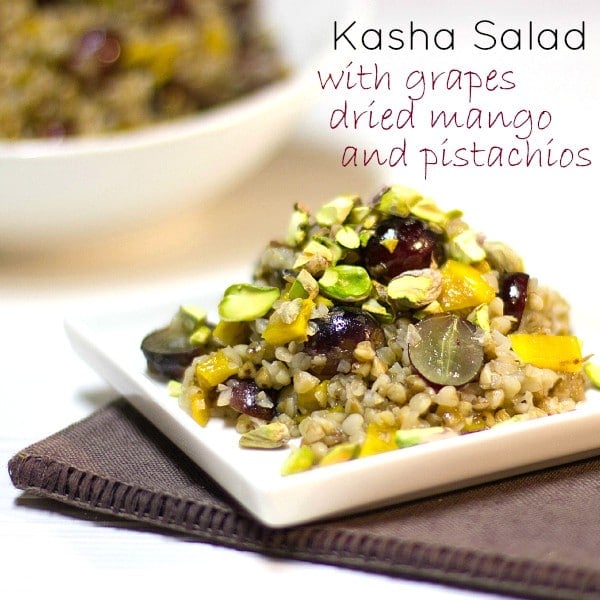 Print
A gluten free salad made with kasha (roasted buckwheat), grapes, dried mango, pistachios and a honey lime dressing.
Servings: 4
Ingredients
1 cup dried whole kasha (roasted buckwheat)
2 tbsp oil
2 cups water
1 cup red grapes , halved
1/2 cup dried mango , diced (dried apricots can also work well)
1/2 cup pistachios , chopped
1/4 cup lime juice
1/4 cup honey
1/4 cup oil
Instructions
Heat the 2tbsp oil in a pan on medium heat. Add the kasha and stir continuously. Do this for 4-5 minutes and the kasha will toast and brown.

Add the water, lower the heat to a simmer and cover with a lid. Cook for 12-15 minutes or until the water is all absorbed in the kasha. Remove from heat and cool.

Toss together the kasha, grapes and mango.

Make the dressing by mixing together the lime juice, honey and oil. Mix the dressing in the salad until evenly coated.

Sprinkle the pistachio on the salad when serving.