This salad is always popular for pot lucks, picnics and other gatherings. It is great as a side and even hearty enough as a full meal!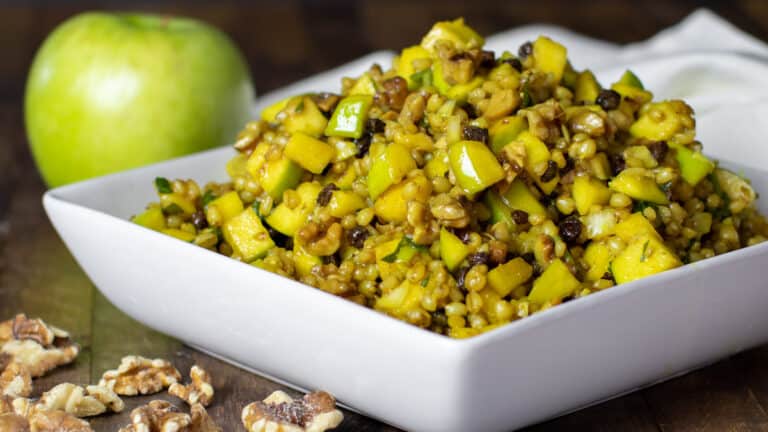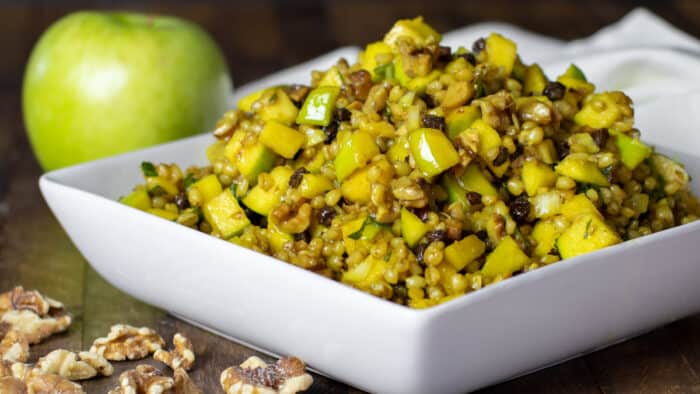 I am always making different types of salads and this curry wheat berry salad is one of my favourites. I really enjoy the sweet and nutty flavour of wheat berries as well as their chewy texture. Wheat berries are the entire wheat kernel (except the hull) and are rich in both fiber and protein.
This salad is always popular any time I bring it to an event or pot luck. Every bite is packed with flavour.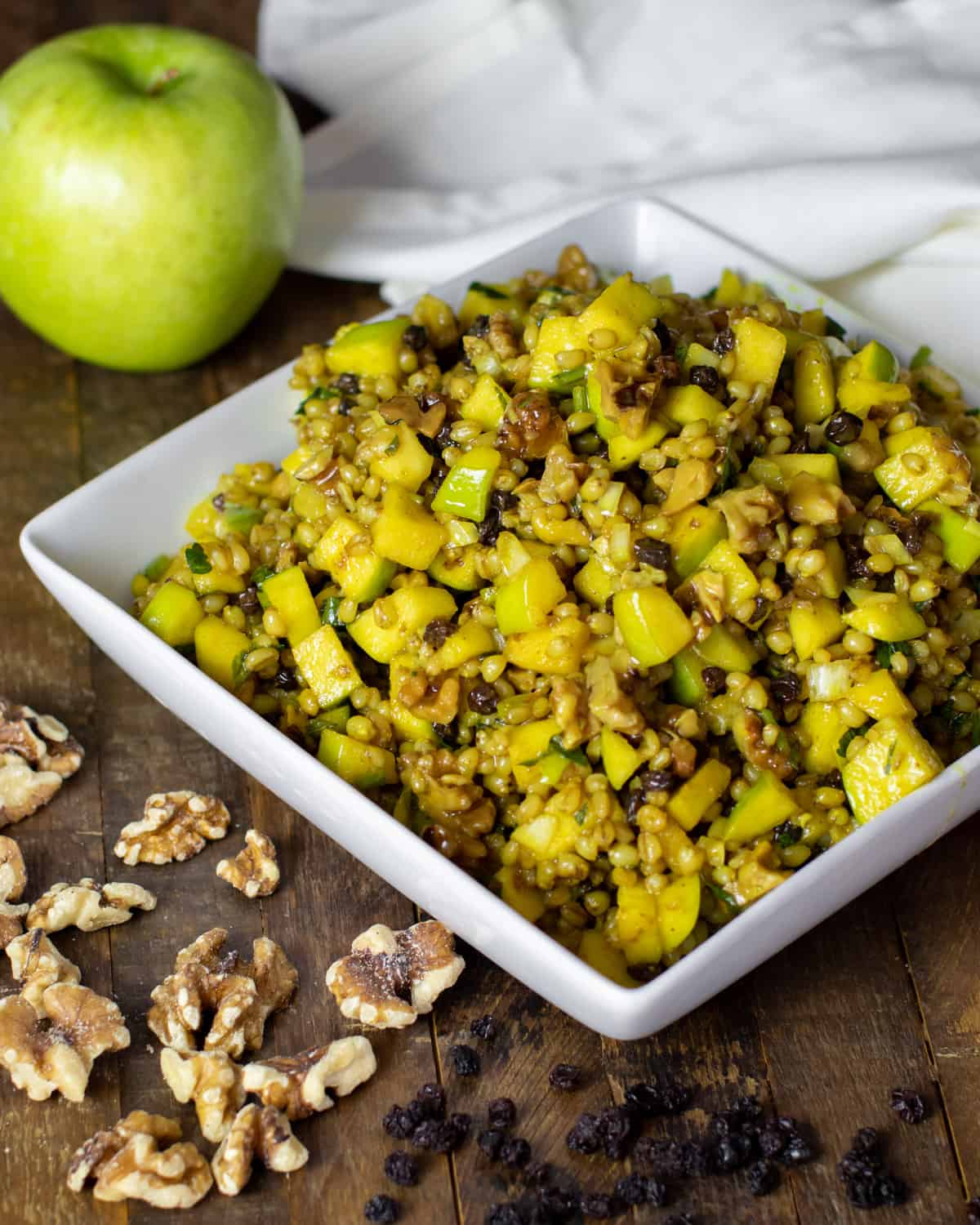 What Makes This Salad So Good
This curry wheat berry salad has a wonderful combination of flavours. There is the sweetness coming from the wheat berries and currants. To contrast that there is the tang from the granny smith apples and onions.
There is also a combination of textures in the salad as well. The wheat berries and dried fruit provide a chewy texture and the walnuts give a nutty crunch.
Expert Tip! This salad is healthy and hearty enough to be a meal all by itself. This is great to pack for lunch at work or school!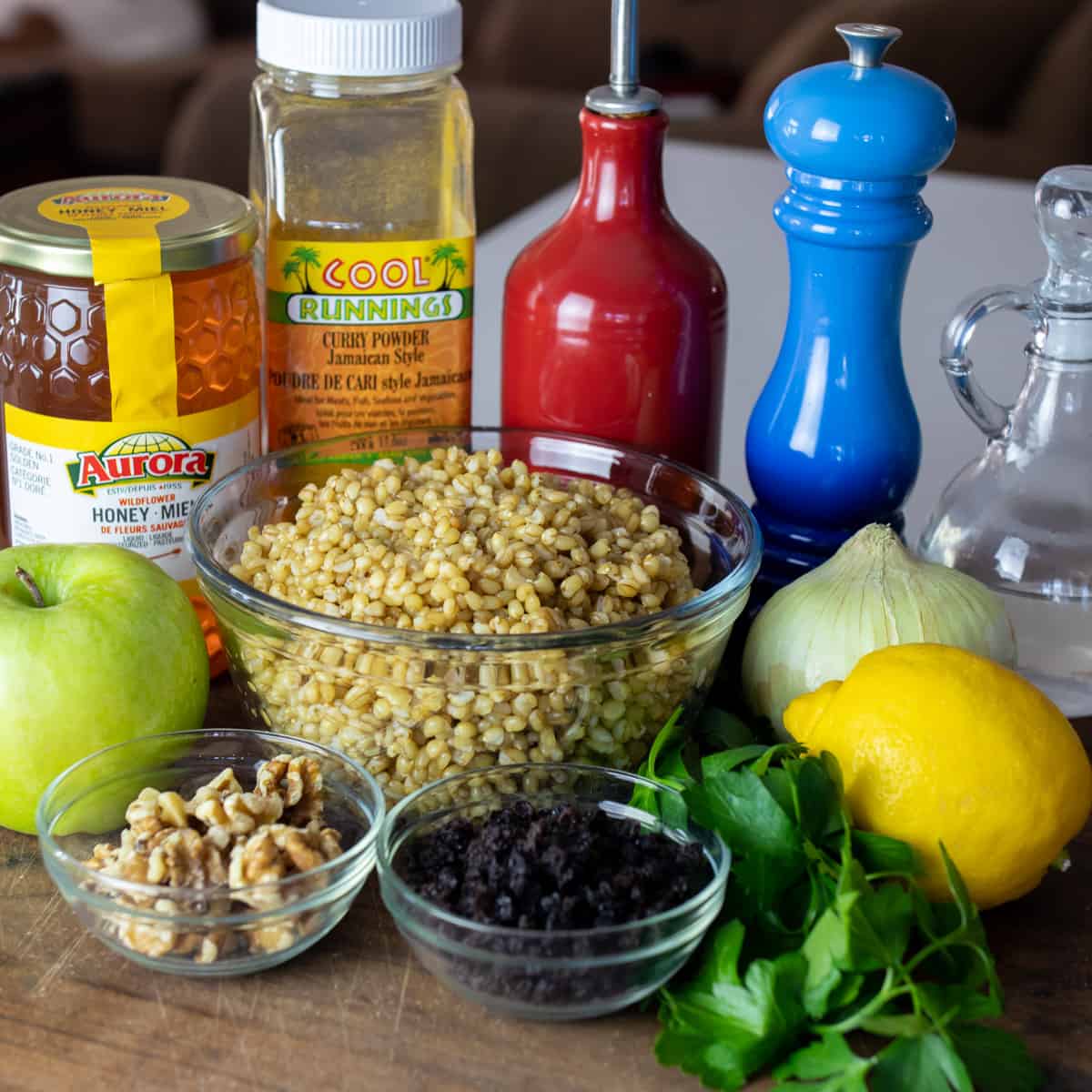 Ingredients You Need
wheat berries
granny smith apples
walnuts – or other nut
currants – or other dried fruit like raisins, cranberries, etc.
onion
parlsey
lemon juice
curry powder
oil
vinegar
salt
sugar
honey
Expert Tip! This is a salad which is easy to adapt. Switch up the ingredients and use a different flavour of vinaigrette for a unique salad. The options are endless.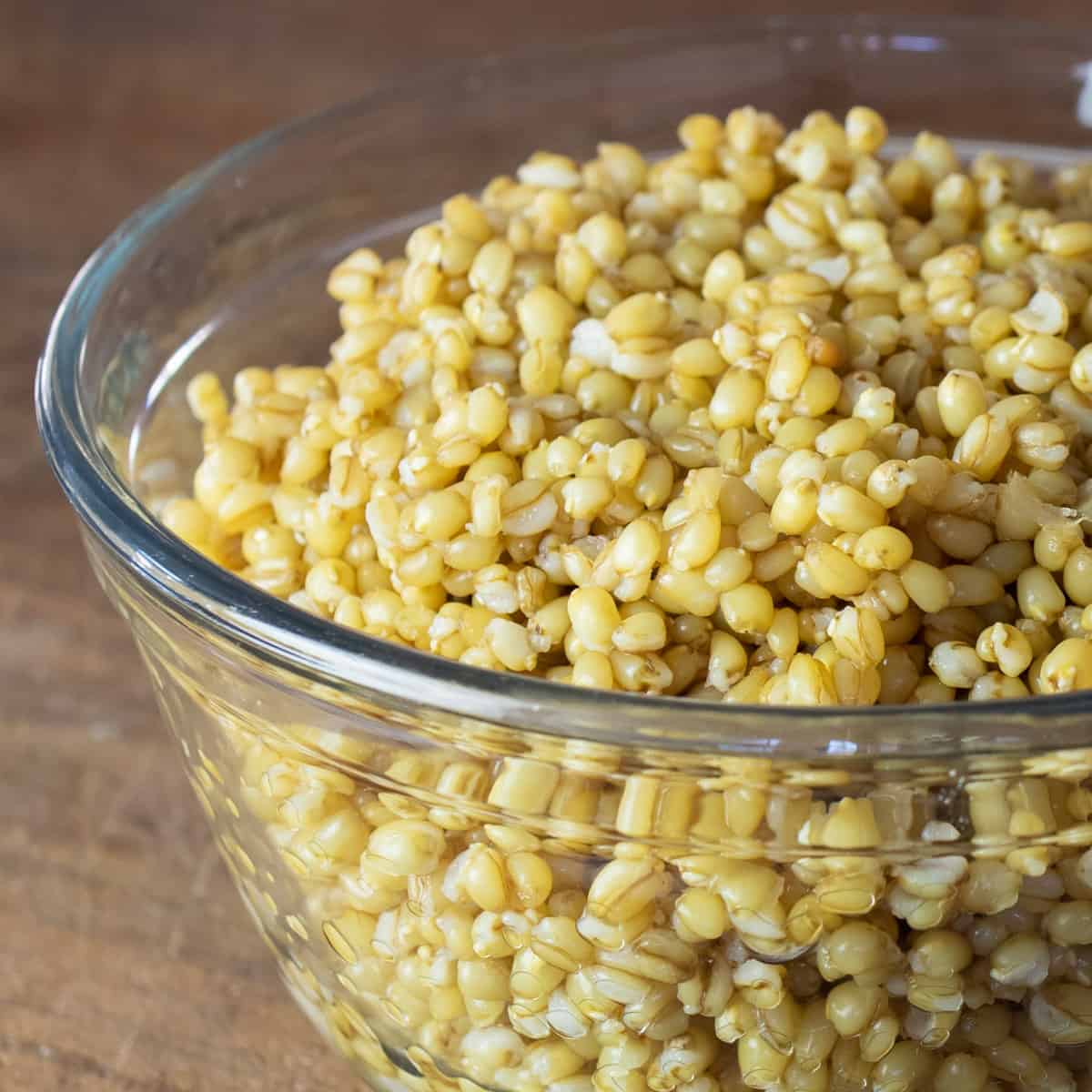 How To Cook Wheat Berries
Wheat berries are hard and need to be cooked to soften prior to adding them to the salad. They are similar to pearl barley and although wheat berries are a little larger and need a bit more time to cook.
Place the wheat berries in a large enough pot and fill with water about 2 inches, or more, above the wheat berries. As they boil and cook, the wheat berries will absorb plenty of water, so it is important to make sure that you have enough water in the pot.
Bring the water to a boil and then lower heat to a simmer. You want the water to still have a light rolling boil. Let the wheat berries cook for about 1 hour. In that time, they should double in size and be soft. Remove from the heat and drain. Let cook completely before making the salad.
Expert Tip! The wheat berries can be cooked ahead before making the salad. I sometimes make them the night before and place them in a container in the fridge. Then, the salad can be assembled the following day!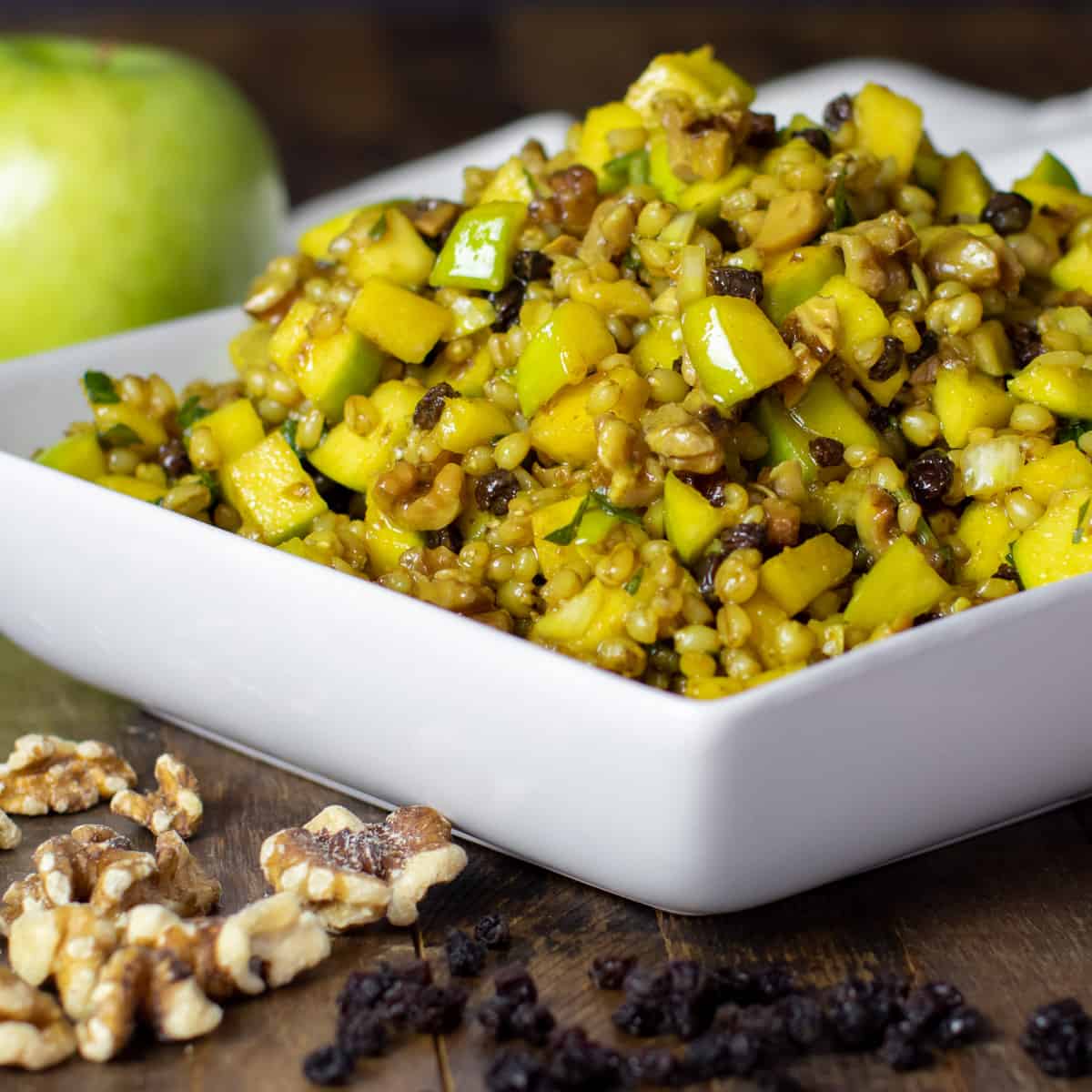 How to Make Curry Wheat Berry Salad
After the wheat berries have been prepared, it is time to make the salad. Prepare the curry vinaigrette by whisking together the oil, lemon juice, vinegar, curry powder, honey and salt in a separate bowl until well combined. Set aside.
Dump the wheat berries, apples, onion, currants and parsley in a large bowl. Pour the vinaigrette overtop and mix so everything is well coated in the vinaigrette. Cover the bowl with a lid or plastic wrap and place it in the fridge to marinate for one hour.
When ready to serve, stir in the toasted walnuts.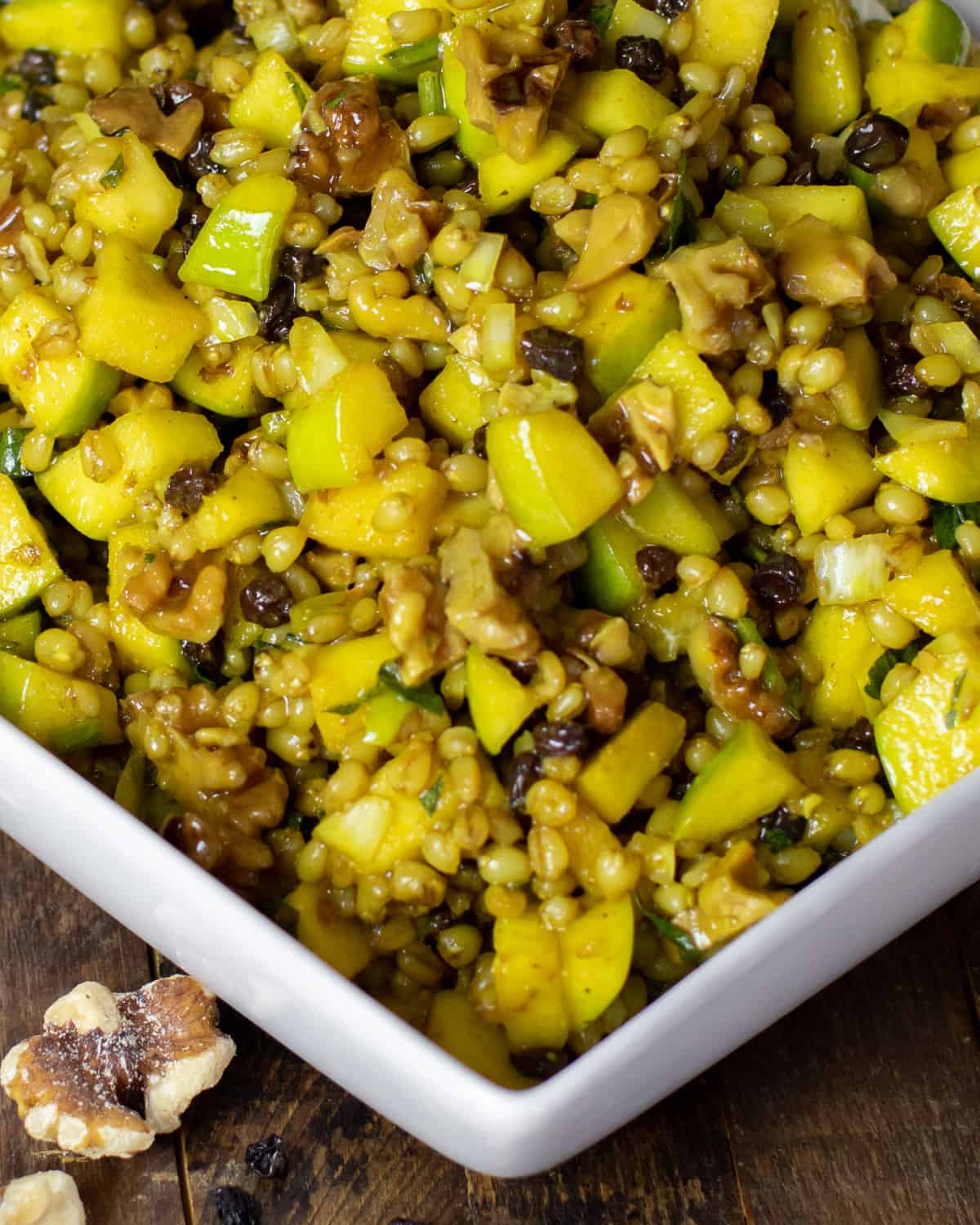 Other Creative Salad Recipes
If you are looking for some other unique salad ideas, then check out these recipes!
Curry Wheat Berry Salad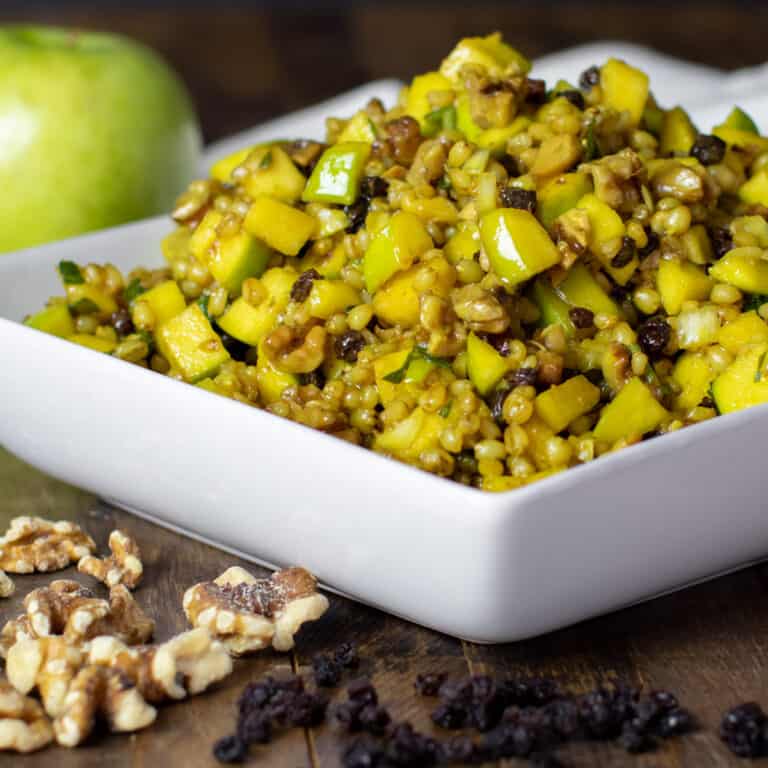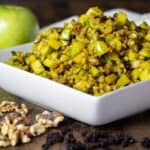 Print
This healthy salad recipe has wheat berries, granny smith apples, onions, dried fruit, parsley, toasted nuts with a sweet mild curry vinaigrette.
Servings: 10
Ingredients
1 1/2 cups wheat berries (soft berries)
2 granny smith apples cored and diced
1 small onion diced finely
2/3 cups currants or raisins
1/2 cup fresh parsley minced
2/3 cup toasted walnuts roughly chopped
Vinaigrette Ingredients
1/2 cup olive oil
1/2 cup white vinegar
1 tbsp lemon juice
1/4 cup honey
1 1/2 tbsp curry powder
1/2 tsp salt
Instructions
Rinse the wheat berries in cold water. Place the wheat berries in a pot and fill with water 2 inches above the wheat berries. Bring the water to a boil and then lower the heat so the water is at a low boil. Cook the wheat berries for 1 hour. They should soften and plump up. After the hour, drain, rinse and cool the wheat berries completely.

Make the vinaigrette by whisking together the oil, vinegar, lemon juice, honey, curry powder and salt until combined.

Mix the wheat berries with the diced apples, onion, currants, and parsley.

Pour the vinaigrette over the salad and toss until well coated. Place the salad in the fridge for one hour to marinate.

Sprinkle the toasted walnuts just before serving.
Nutrition
Per serving:
Calories: 330kcalCarbohydrates: 44gProtein: 6gFat: 16gSaturated Fat: 2gSodium: 124mgFiber: 6gSugar: 17g
This recipe was originally published in October 2012.