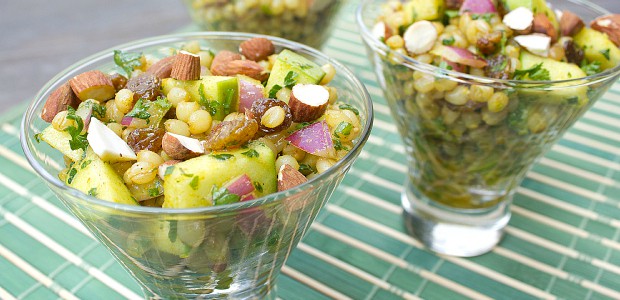 My wife has a salad pot luck every Wednesday at her work and this gives me the opportunity to play around with some new salads. Last week I made this Curry Wheat Berry Salad. I have never used wheat berries before but I have eaten them a few times.
I really enjoy the sweet and nutty flavour of wheat berries as well as their chewy texture. Wheat berries are the entire wheat kernel (except the hull) and are rich in both fiber and protein.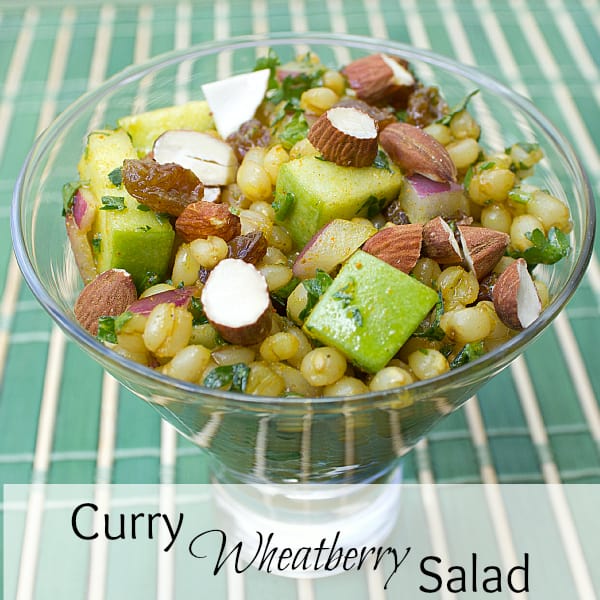 This salad has a wonderful combination of flavours. There is the sweetness coming from the wheat berries and raisins. To contrast that there is the tang from the granny smith apples and onions.
There is also a combination of textures in the salad as well. The wheat berries and raisins provide a chewy texture and the almonds give a nutty crunch.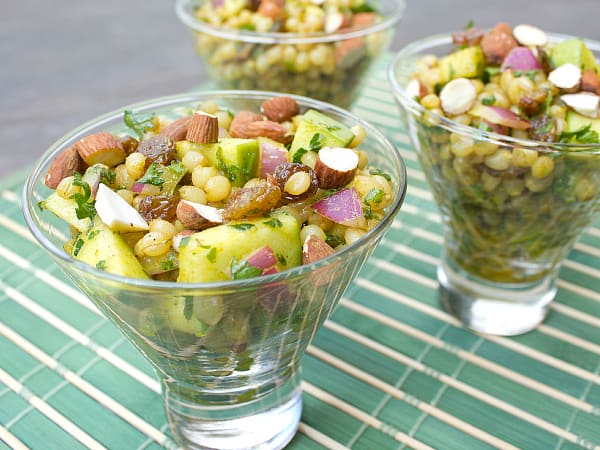 Curry Wheat Berry Salad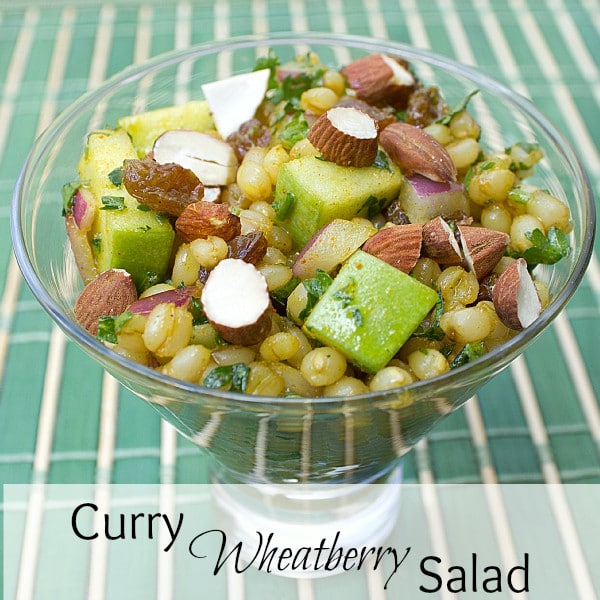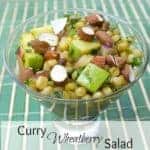 Print
This healthy salad recipe has wheat berries, granny smith apples, red onions, raisins, parsley, toasted almonds with a sweet mild curry vinaigrette.
Servings: 6
Ingredients
1 1/2 cups wheat berries (soft berries)
2 granny smith apples cored and diced
1 small red onion minced
3/4 cups sultana raisins
1 cup fresh parsley finely chopped
1/2 cup olive oil
1/2 cup white vinegar
1 tbsp lemon juice
1/4 cup honey
1 1/2 tbsp curry powder
1/2 tsp salt
1/2 cup toasted almonds roughly chopped
Instructions
Rinse the wheat berries in cold water. Place the wheat berries in a pot and fill with water 2 inches above the wheat berries. Bring the water to a boil and then lower the heat so the water is at a low boil. Cook the wheat berries for 1 hour. They should soften and plump up. After the hour, drain, rinse and cool the wheat berries completely.

Mix the wheat berries with the diced apples, onion, raisins, and parsley.

Make the vinaigrette by whisking together the oil, vinegar, lemon juice, honey, curry powder and salt until combined.

Pour the vinaigrette over the salad and toss until well coated.

Sprinkle the toasted almonds just before serving.