Chicken, Cranberry, Pecan and Orzo Salad with a Lemon Vinaigrette
This pasta salad is packed with so many ingredients that every bite is an adventure. Perfect for a summer BBQ, church pot luck, and even a holiday family dinner!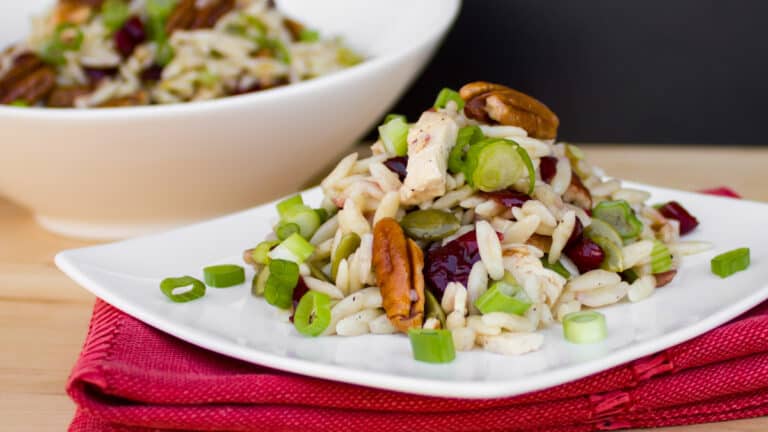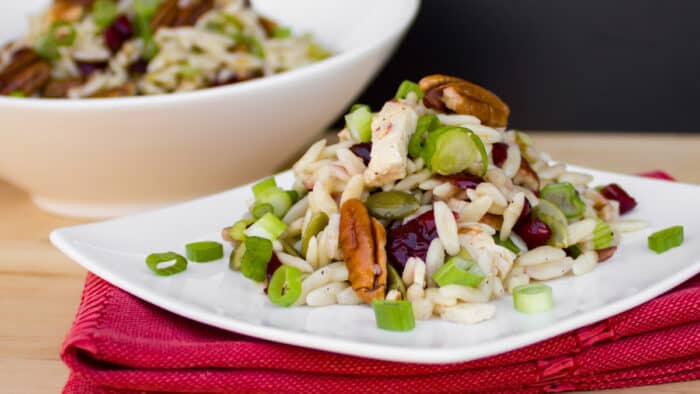 Orzo pasta is a wonderful vehicle to build a salad around. Its small size makes you think you may be having rice but it is tender and delicious! The salad is brought together by the orzo pasta and chunks of cooked chicken.
This orzo salad is packed with so much hearty goodness. There is a nuttiness with the pecans and pumpkin seeds, a sweetness with the dried cranberries and a zing with the lemon zest.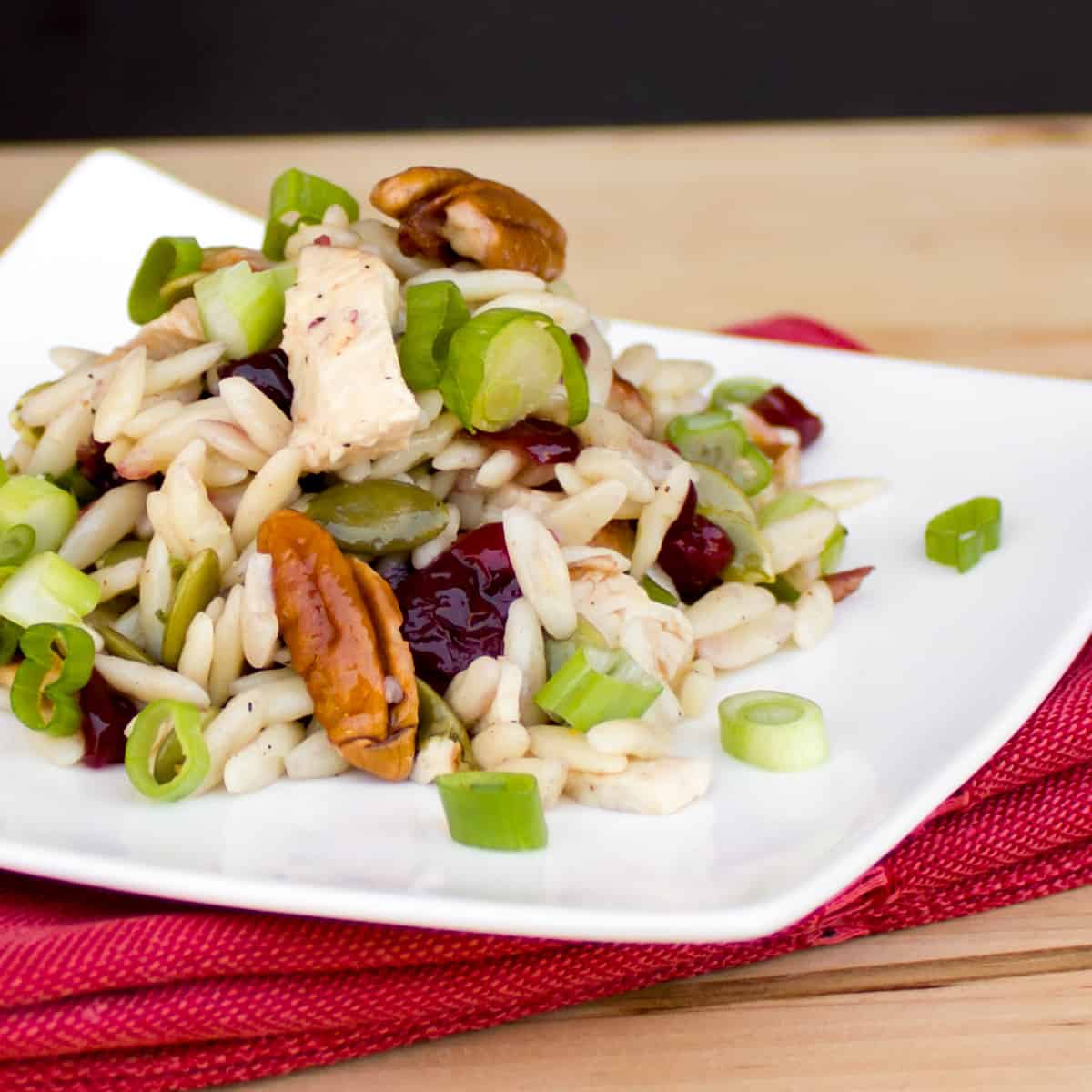 Ingredient Notes
Orzo Pasta – This pasta is small and almost resembles grains of rice.
Chicken – I like to use store-bought rotisserie chicken for this salad.
Dried Cranberries – this will provide a sweet tang in each bite and works so well with all the other ingredients.
Pecans – this nutty crunch is perfect for this salad. You could also use almonds or walnuts.
Pumpkin Seeds – also called pempitas, these are one of my favourite seeds to add to recipes and they are amazing in this salad and go very well with the cranberries.
Green Onions – The crisp texture of the sliced scallions give the salad a welcome zing.
Lemon Vinaigrette Ingredients – this is a homemade dressing with olive oil, honey, lemon juice and zest, salt and pepper.
Expert Tip: While orzo pasta is excellent for this recipe, feel free to use a different type of pasta if you prefer. Other kinds of pasta that are great for salads include, fusilli, penne, elbow macaroni, farfalle/bowtie, and more!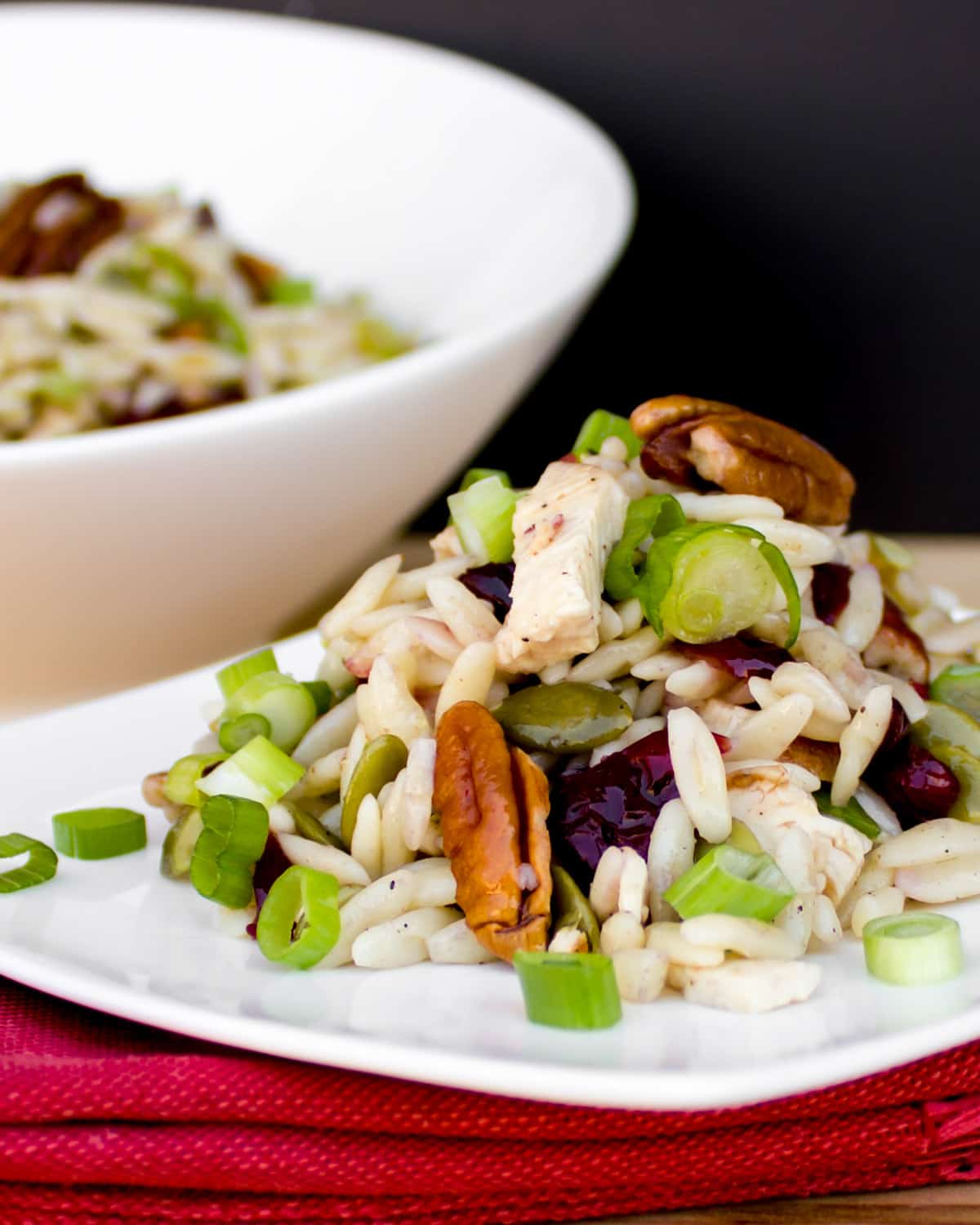 How To Make Pasta Salad
Preparing this orzo pasta salad is very simple. First, cook the pasta according to the directions on the package. Rinse the pasta and let it cool to room temperature. Then toss the pasta with the diced chicken, pecans, cranberries, pumpkin seeds and green onions.
In a separate bowl, whisk all the ingredients for the lemon vinaigrette until well incorporated. Pour the vinaigrette into the bowl with the pasta salad and toss to combine.
This salad is ready to serve immediately, or it can be placed in the fridge for a bit to let it marinate. If placing in the fridge, make sure to cover the salad with lid or plastic wrap.
Expert Tip: This pasta salad is perfect for making ahead. Assemble the pasta in the morning or even the night before and keep in the fridge until needed. I find that giving the salad time to marinate enhances the flavour of every bite!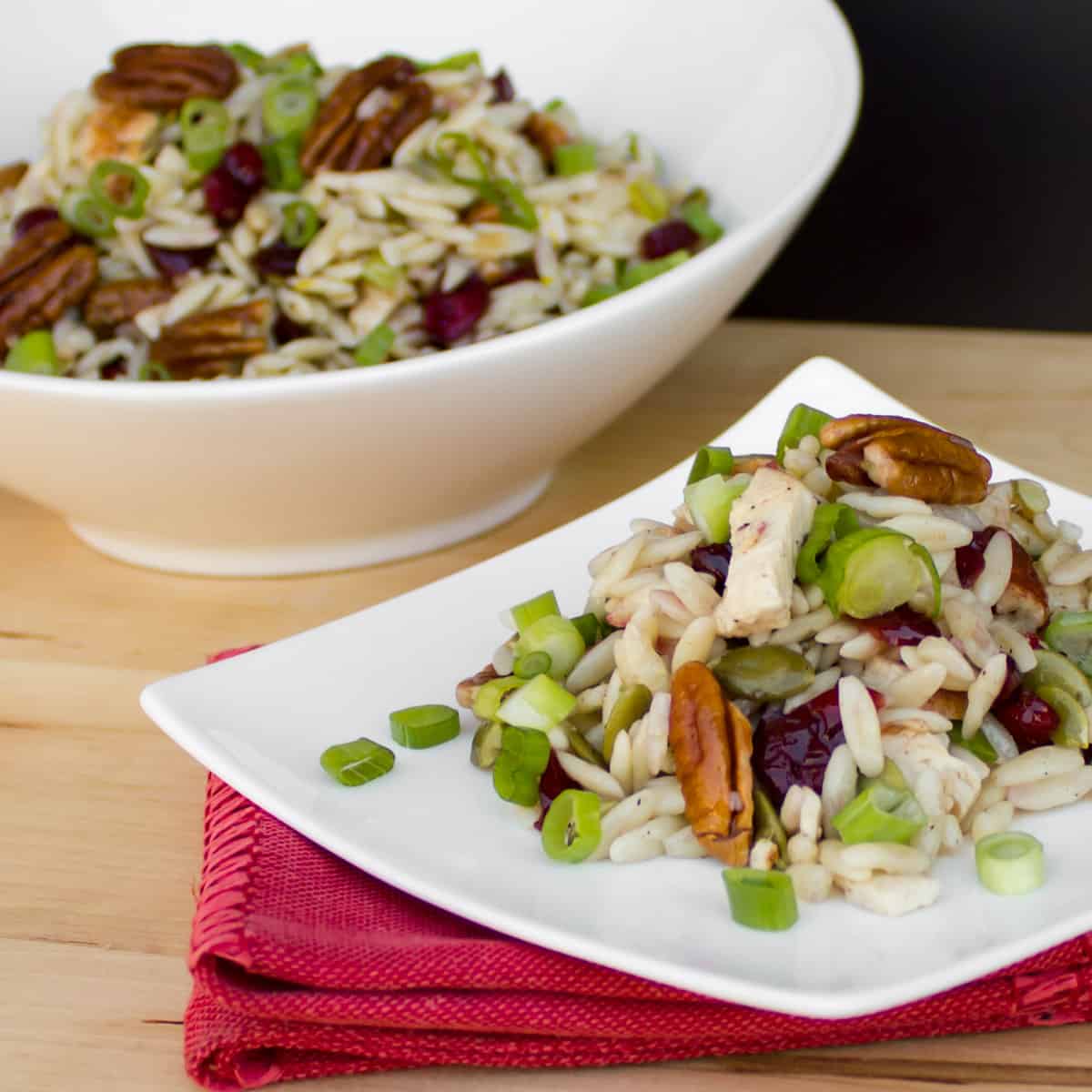 Other Salad Recipes
If you like this orzo pasta salad and looking for some more ideas then check out these recipes!
Chicken, Cranberry, Pecan and Orzo Salad with a Lemon Vinaigrette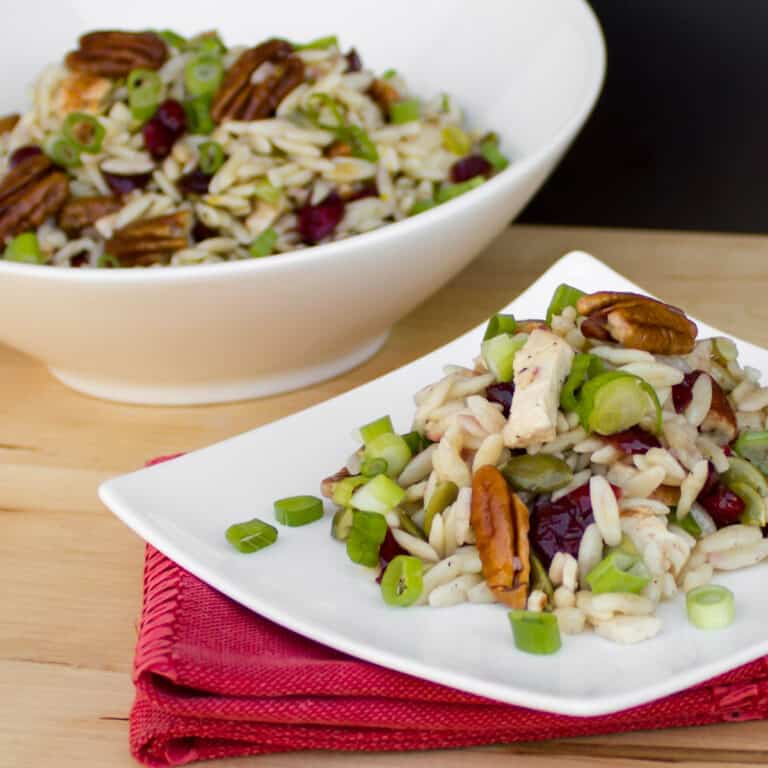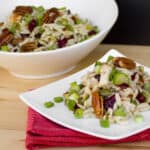 Print
A hearty and healthy pasta salad recipe with orzo, chicken, pecans, dried cranberries, pumpkin seeds, scallions with a lemon vinaigrette using lemon juice, zest and olive oil.
Servings: 8 people
Ingredients
Salad Ingredients
2 cups orzo pasta , uncooked
1 cup cooked chicken breast , diced
1 cup dried cranberries
1 cup pecans , roughly chopped
3/4 cup pumpkin seeds
3/4 cup green onions , sliced
Lemon Vinaigrette Ingredients
1/2 cup olive oil
4 tbsp honey
1/4 cup lemon juice
1/2 tsp lemon zest
1/2 tsp salt
1/2 tsp black pepper
Instructions
Cook orzo pasta in a pot of boiling water until tender, about 8 minutes. Cool the pasta completely before making the salad.

In a large bowl, mix together the orzo pasta, chicken, cranberries, pecans, pumpkin seeds and sliced green onions.

In a separate bowl, make the vinaigrette by whisking together the oil, honey, lemon juice, lemon zest, salt and pepper.

Pour the vinaigrette on the salad and toss until the evenly coated.
Nutrition
Per serving:
Calories: 490kcalCarbohydrates: 53gProtein: 14gFat: 27gSaturated Fat: 3gCholesterol: 15mgSodium: 164mgFiber: 4gSugar: 22g
This recipe was originally published in April 2012.