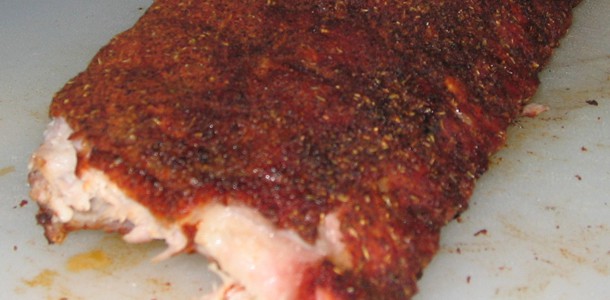 Memphis ribs are a unique blending of flavours. First, you have the wonderful rub that is not too sweet and not too spicy. Second, you have the mild smoke flavour from the hickory chips (or other alternative). These combine to make a mouth watering rib!
To properly make these ribs you need to cook them on the barbecue using the indirect grilling method. I have given more detailed instructions and even some photos to see how to prepare these ribs.
Memphis Ribs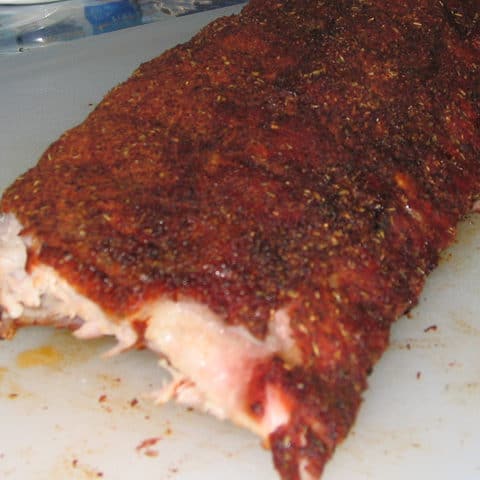 Print
A great rib recipe using a dry rub and a smoking technique that can be used on any regular BBQ grill
Servings: 4 people
Ingredients
2 racks of pork back ribs
2 cups wood chips , soaked in water
Rub
2 tbsp brown sugar
1 tbsp paprika
1 tbsp onion salt
1 tbsp garlic salt
1 tbsp chili powder
1 tbsp black pepper
1/2 tbsp salt
1/2 tbsp thyme
1 tsp cayenne pepper optional for those wanting them hot!
Mop Sauce
1/2 cup white vinegar
1/2 cup water
1/4 cup dijon mustard
1/2 tsp salt
Instructions
Peel the membrane off the back of the ribs. Wash them and dry them with a paper towel.

Mix the ingredients for the rub together. Take a handful of the rub and rub it on one side of the ribs. Flip them and rub it on the back of the ribs. Be generous as there should be rub that would fall off if you tipped the ribs.

You do not want ribs to cook over a direct flame or else they would burn and be too tough. Therefore you need to setup your barbecue for indirect grilling. To do this place a metal pan or tray under the grill where the ribs will cook. Fill the pan 3/4 full of water. The water helps the ribs 'slow cook' and keeps the heat down. How to make a smoker pouch: Make a pouch of aluminum foil and fill with the wood chips. Close the foil pouch and poke a few times with a knife so the smoke can escape. Place the pouch, under the grill in the barbecue but not right under where the ribs will be.

Heat the barbecue to about 325 F. Place the ribs on the grill and and close the lid. Cook for about 2 hours.

After about 45 minutes of cooking, baste the ribs with the mop sauce. Baste them every 30 minutes until they are done.

Serve dry or with your favorite barbecue sauce.