Mom's Quick and Easy Garlic Bread
A super simple way to make garlic breadsticks with Texas toast or sandwich bread slices. These are perfect alongside spaghetti and meatballs, fettuccini alfredo and so much more!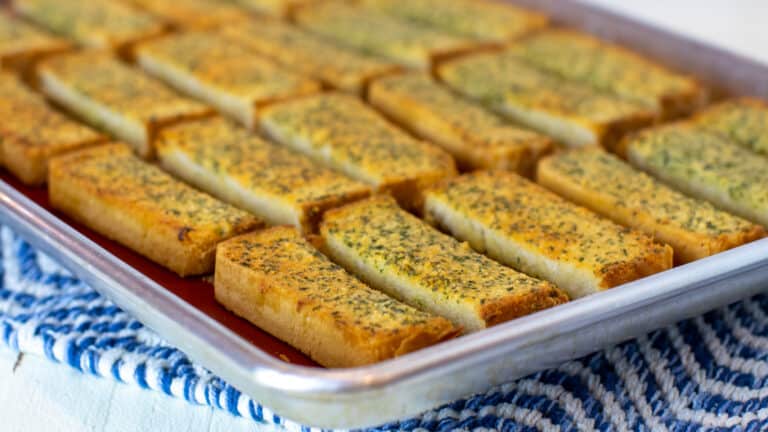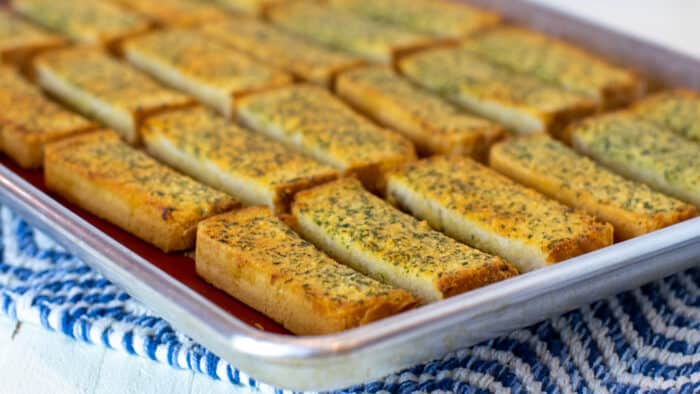 When I was a kid my mom used to make these garlic breadsticks all the time. I always loved them and made sure to learn how to make them. My kids are also huge fans of my mom's garlic bread and love every time I make them.
We often have pasta or other Italian style meals for dinner. So, having garlic bread is a great addition. It tastes amazing and also stretches the meal, which is great when you have three hungry teenagers in the house!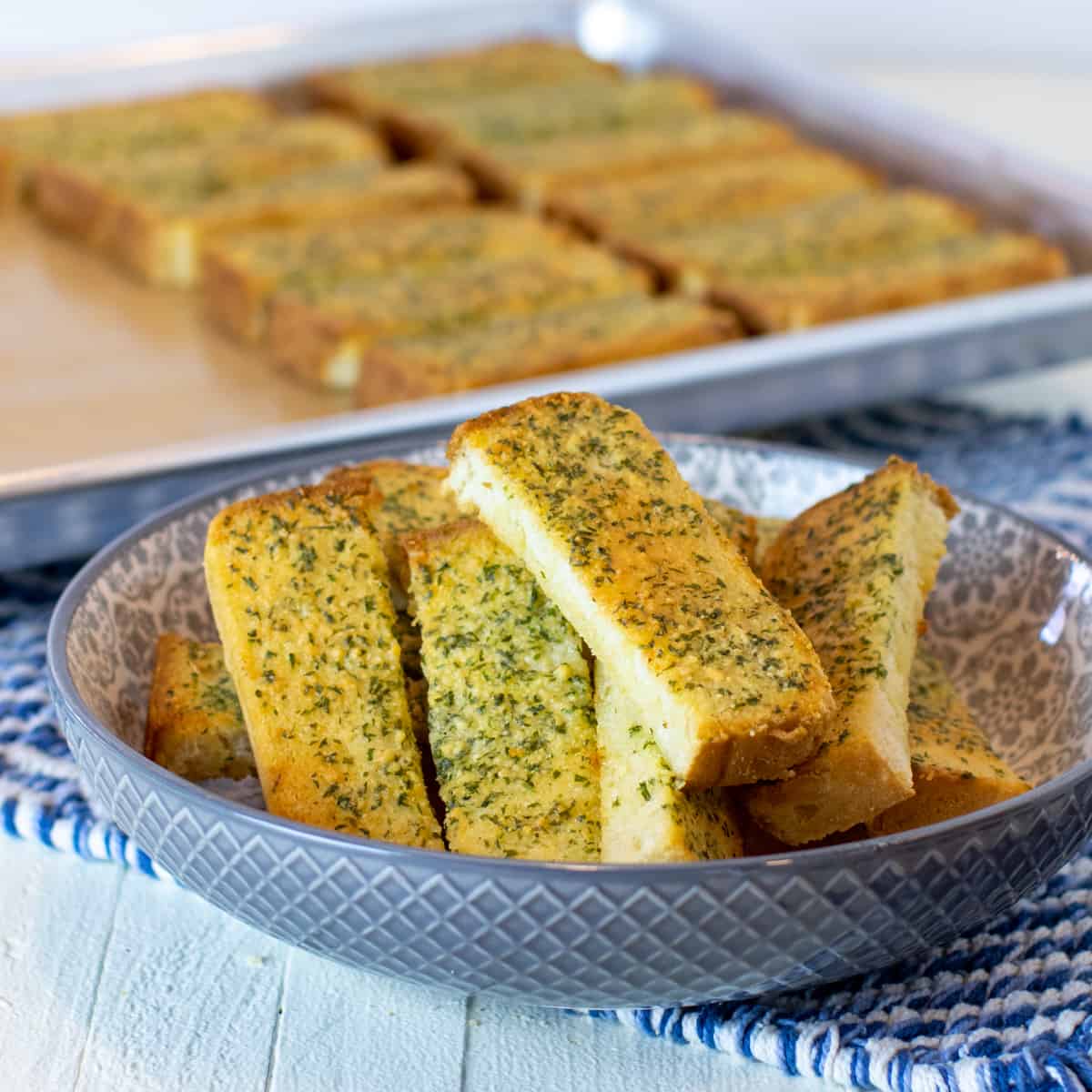 This method for making garlic bread is very simple and uses ingredients I typically have in the pantry. I have used many different styles of bread for this garlic bread and my favourite is Texas toast.
Using a loaf Texas toast bread usually provides slices that are a bit thicker than a standard loaf of sliced sandwich bread. This will result in garlic bread sticks that are crispy and crunchy on the outside, but still a little soft in the middle. They taste delicious!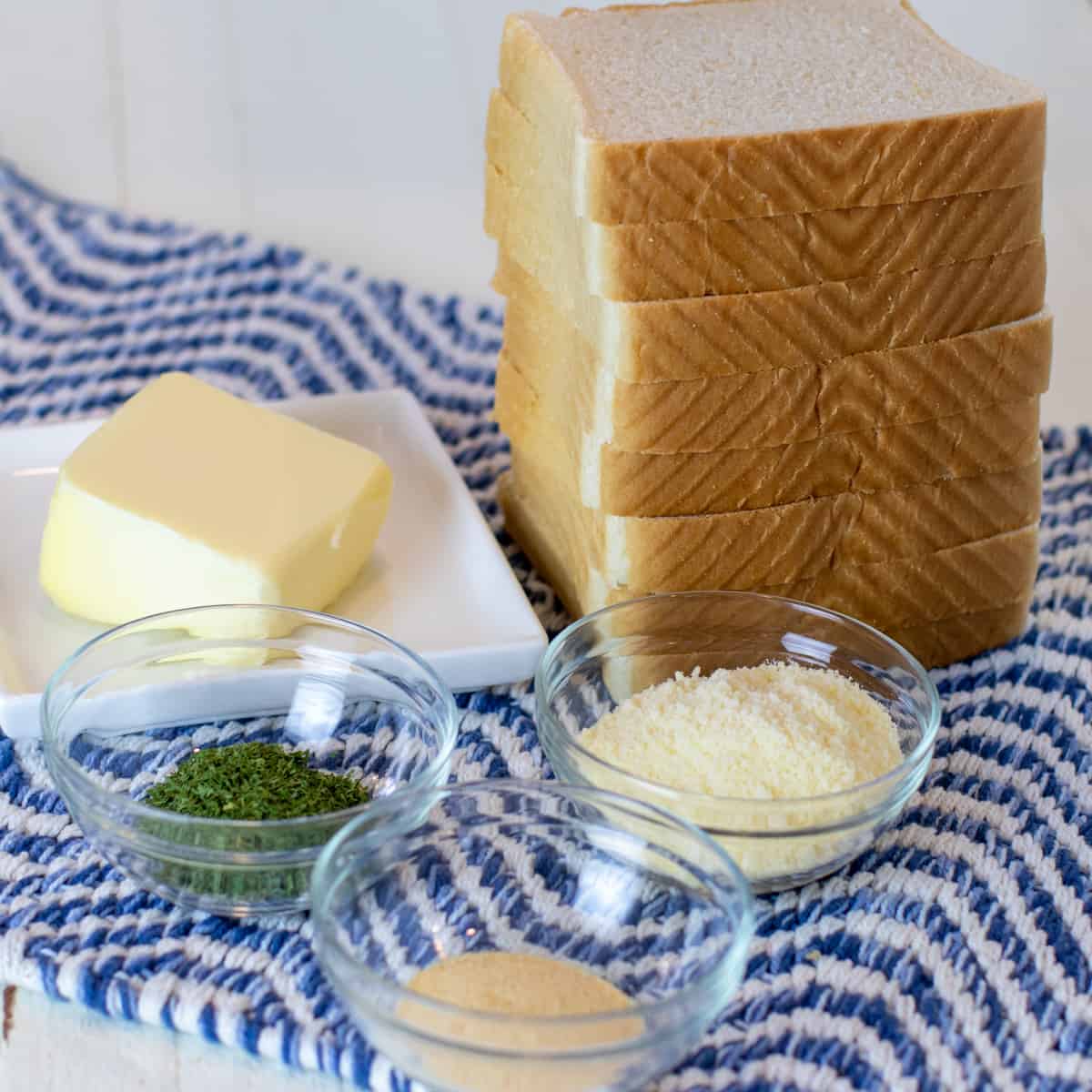 Ingredients You Need For Garlic Bread
Butter – make sure the butter is softened to allow you to mix the spread easily. Margarine will also work.
Garlic powder – I like to use garlic powder since I always have it on hand, but fresh minced garlic will also result in a delicious garlic bread!
Dry parsley – you could also use fresh parsley.
Grated parmesan cheese
Texas toast or sandwich bread slices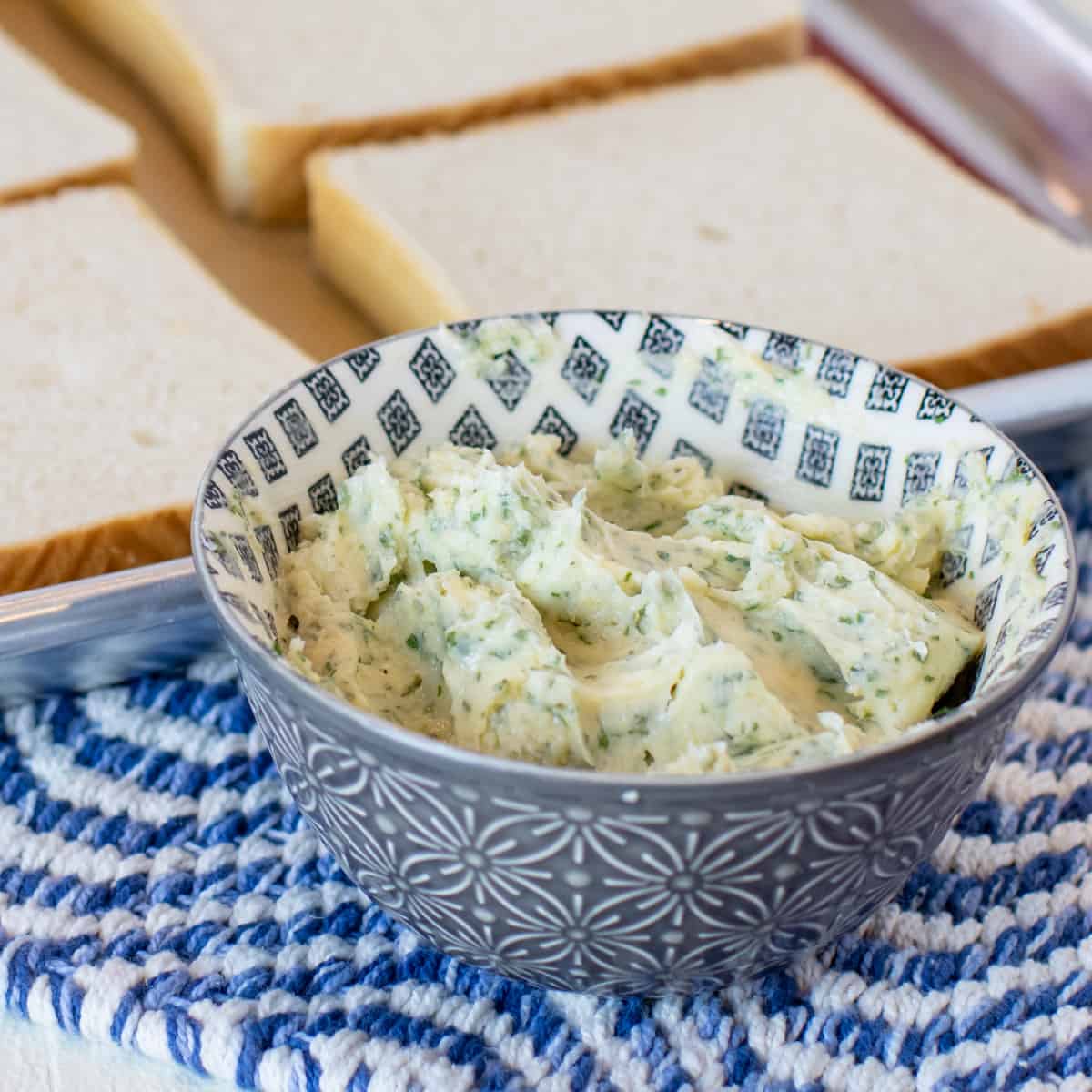 How to Make Garlic Butter
The garlic butter for this recipe uses just a few ingredients and can be mixed together in a minute. I like to use salted butter, that way there is no need to add any extra salt to the spread.
Make sure that the butter is softened first, as this allows it to be creamed easily. In a medium sized bowl, add the butter, garlic powder, dry parsley and parmesan cheese. Use a knife to stir the mixture until everything is combined and creamy. Make sure that there are no pockets of garlic powder, but that it is all incorporated into the butter.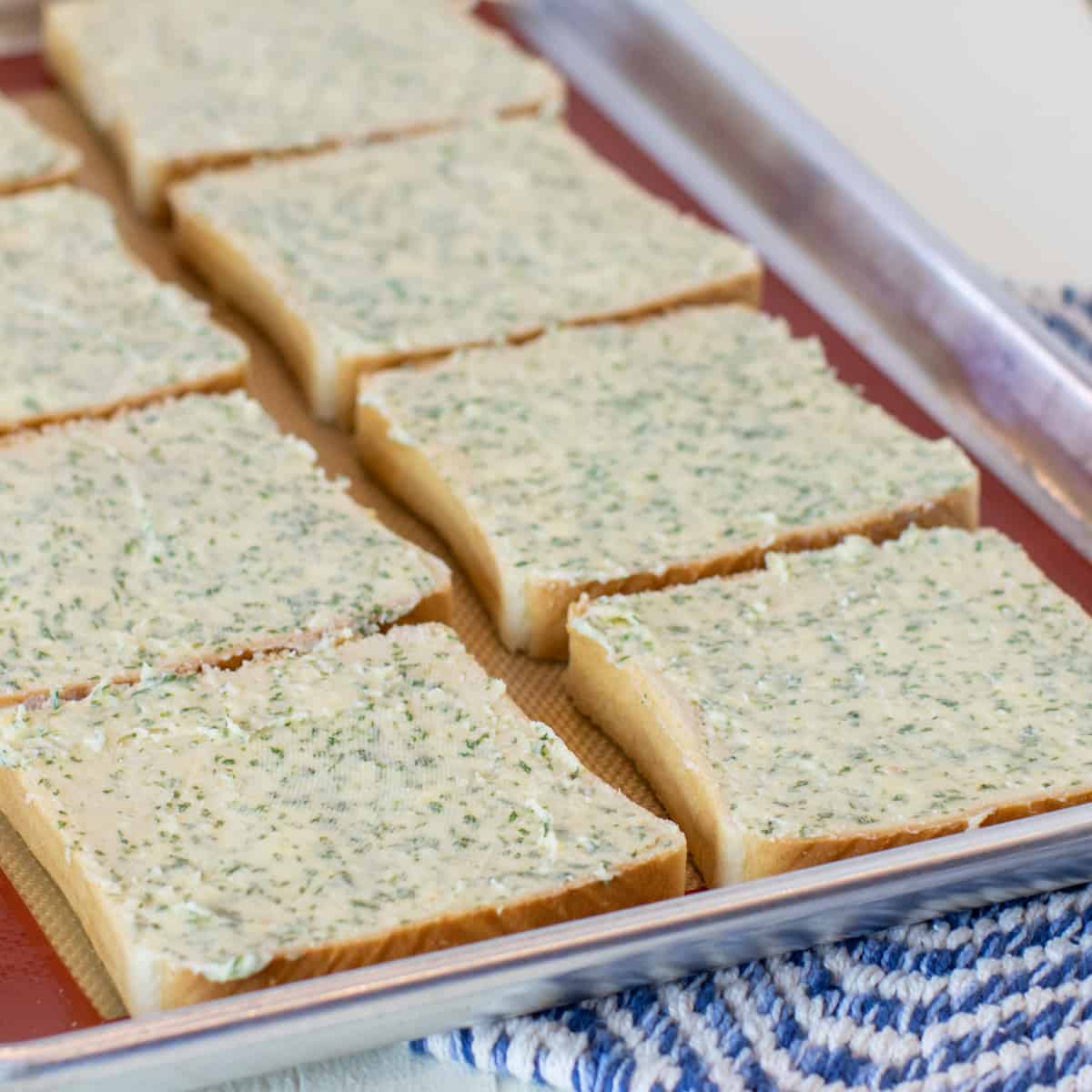 Place the bread sliced on a baking sheet. I lined the baking sheet with a silicone baking mat. You could also use parchment paper.
Spread the garlic butter evenly across the bread slices. Make sure to coat the bread edge to edge with the garlic butter to get that tasty flavour everywhere.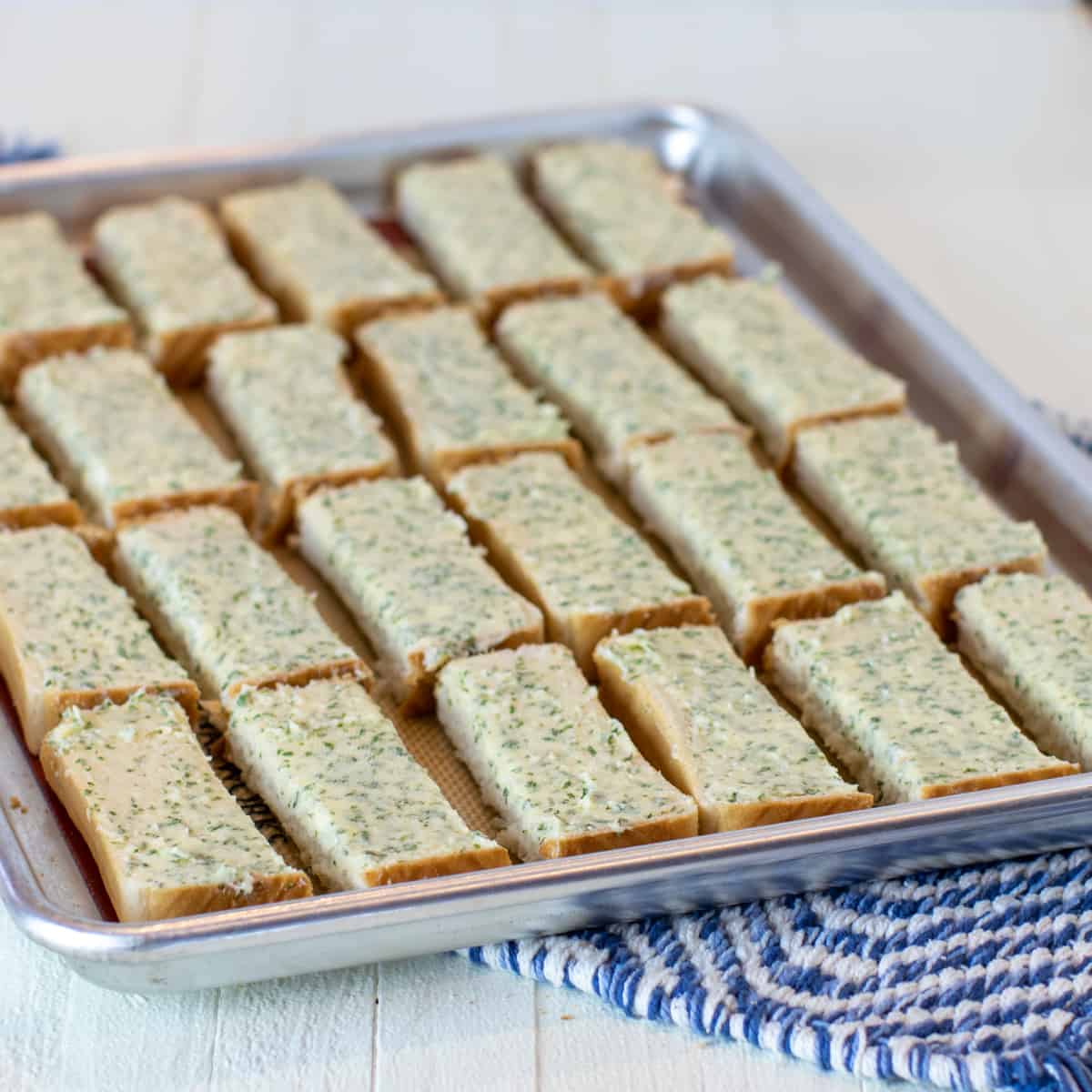 How To Bake Garlic Bread
Preheat the oven to 375F. Place the baking sheet with garlic bread sticks in the oven and bake for about 8-10 minutes. You should start to see the bread starting to brown around the edges. We like the garlic bread to be a little crispy on the edges, but if you prefer it to be softer, you could remove them from the oven a little sooner.
Take them out of the oven and serve while they are still warm. These are great served with pasta, chicken, roast beef and so much more!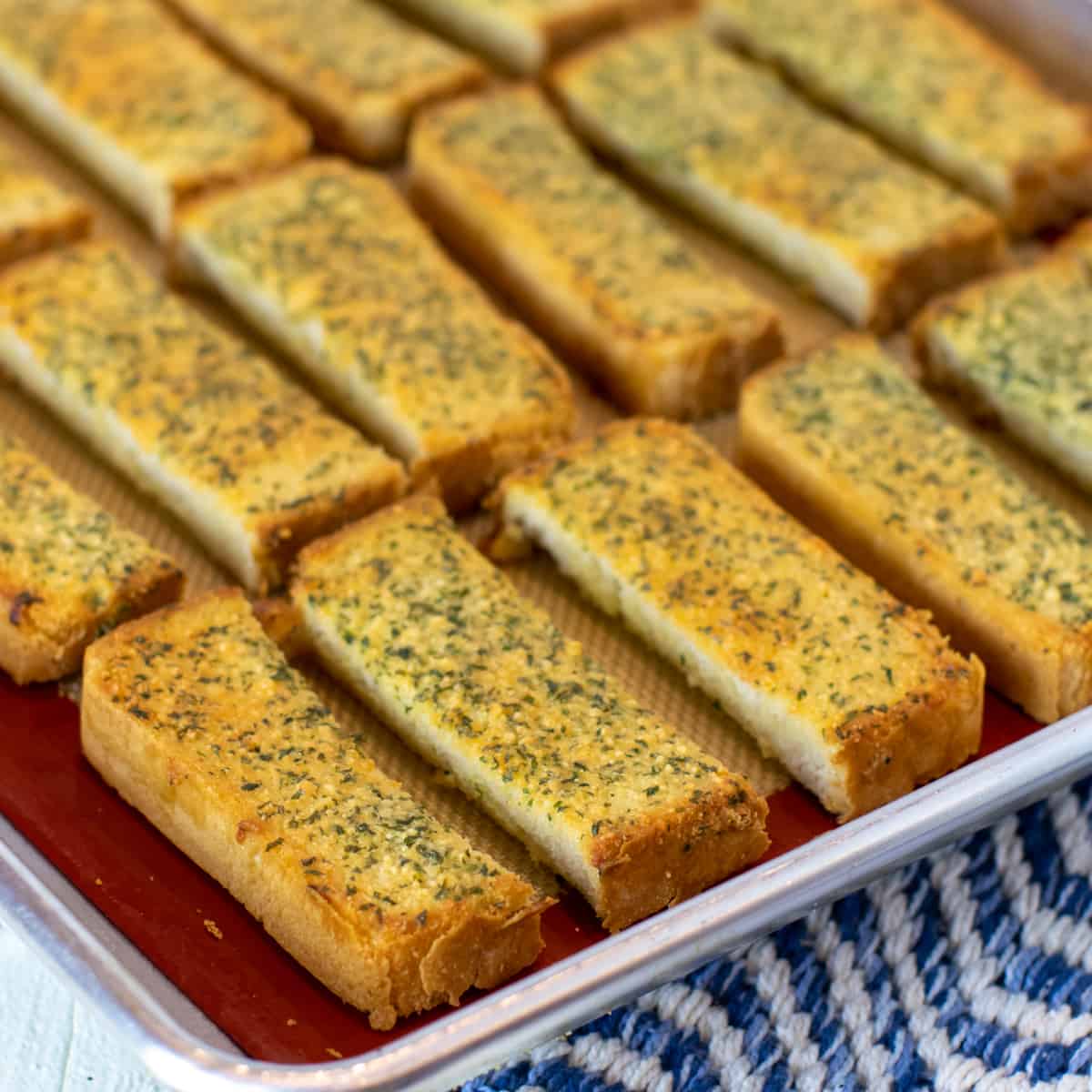 Recipes That Are Great With Garlic Bread
If you are looking for a dish to go with these garlic breadsticks, then check out these recipes!
Mom's Quick and Easy Garlic Bread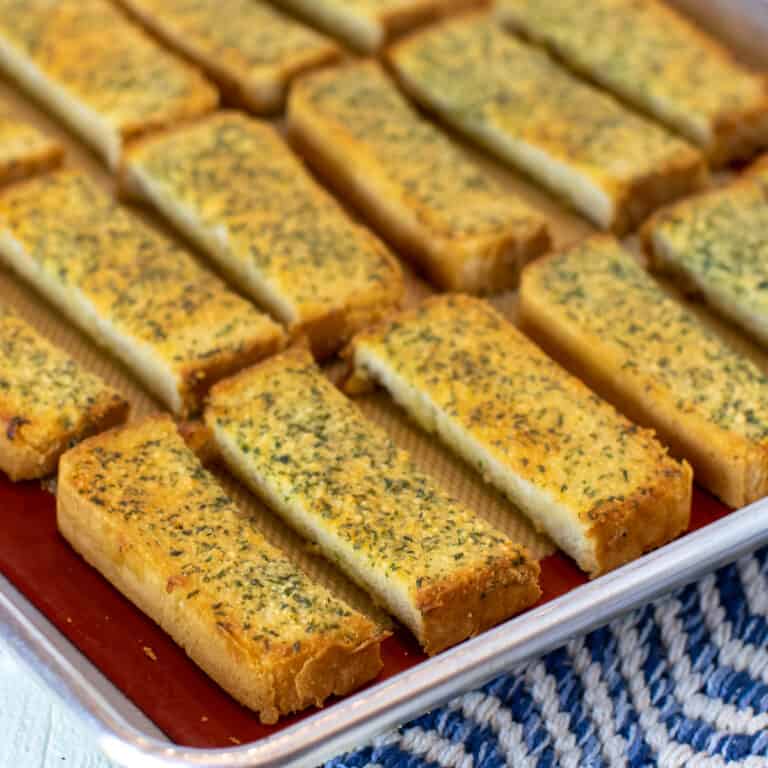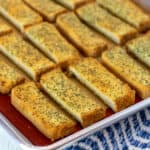 Print
A simple way to make garlic bread with Texas toast or sandwich bread slices. Made in minutes with a garlic butter and parmesan cheese.
Servings: 8
Ingredients
1/3 cup butter , softened
1 tbsp garlic powder
1 tsp dry parsley
2 tbsp grated parmesan cheese
8 slices Texas toast or sandwich bread
Instructions
Preheat oven to 375F

In a bowl, mix together the softened butter, garlic powder, dry parsley and grated parmesan cheese until well combined.

Place the sliced bread on a baking sheet. Spread some of the garlic butter on the top of each slice of bread.

Cut the bread slices into 3 equal portions to resemble long bread sticks.

Place the baking sheet in the oven to bake for 8-10 minutes or until the bread is just starting to brown on the edges.

Remove from the oven and serve immediately.
Nutrition
Per serving:
Calories: 144kcalCarbohydrates: 13gProtein: 3gFat: 9gSaturated Fat: 5gCholesterol: 21mgSodium: 203mgFiber: 1gSugar: 1g