Red Amaranth with Bacon and Onions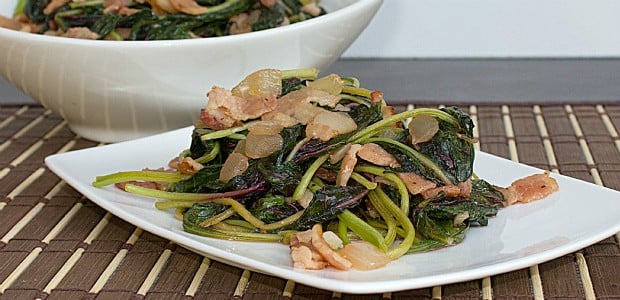 I do a lot of my grocery shopping at a local Asian grocery store. It has great selection of items that are not typically available at standard Canadian supermarkets. Among them are vegetables, namely greens. It is quite interesting to see the greens that are popular in different places around the world.
Rapini is a common green in Italy
Collard greens are popular in the southern United States
Callaloo is cooked in the Caribbean, Jamaica in particular.
One popular green in Chinese cuisine is called red amaranth. Sometimes called Chinese spinach, this leafy vegetable is vibrant green with streaks of reddish purple. They are great in a stir fry or soup. I prepared them using my typical recipe for collard greens and bacon, substituting the collard greens with red amaranth. The red amaranth is not bitter like some other greens and has a wonderful sweetness. This is a great side dish packed with flavour and nutrients!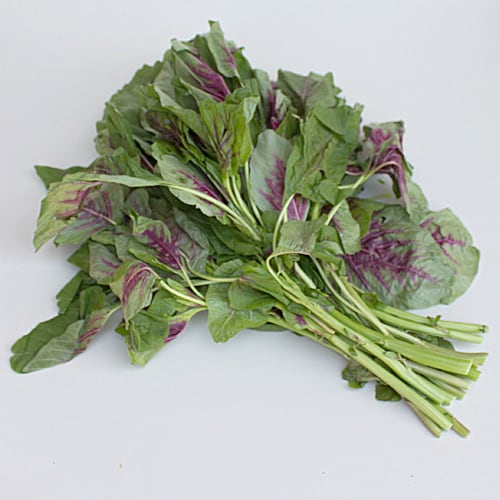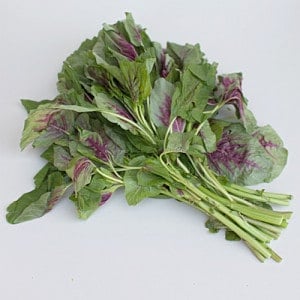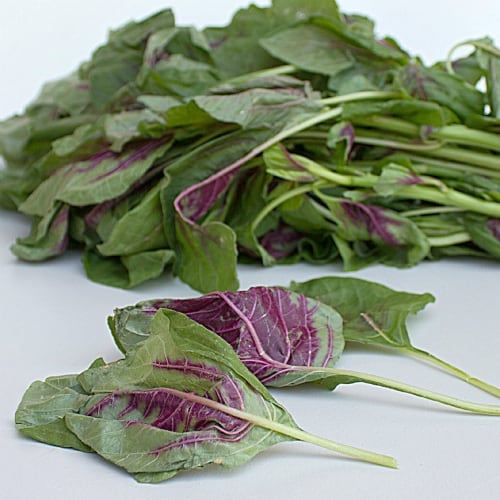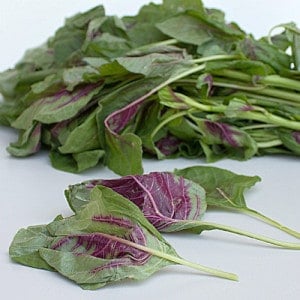 Pick the leaves off the larger stalk. The stalk itself is far too tough to eat.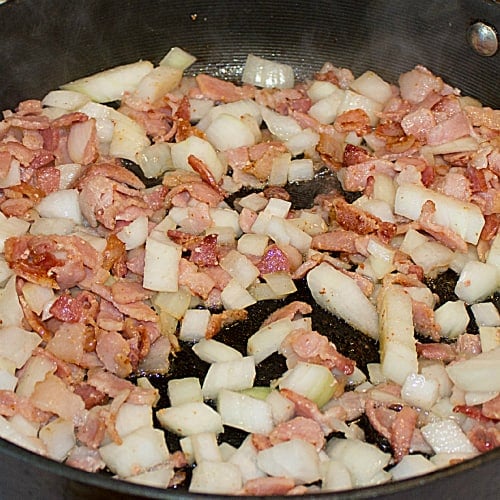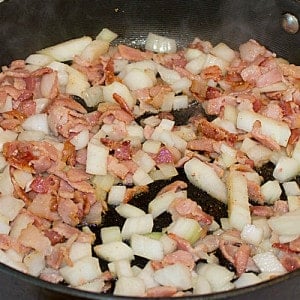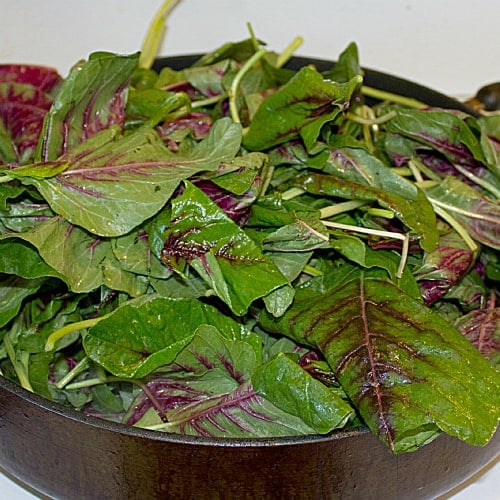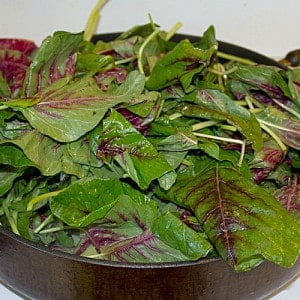 The bacon and onion add a wonderful rich flavour to go with the red amaranth.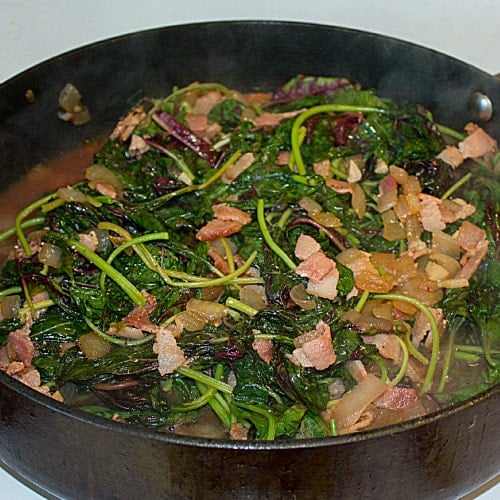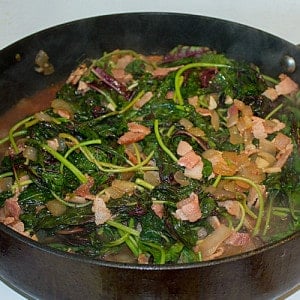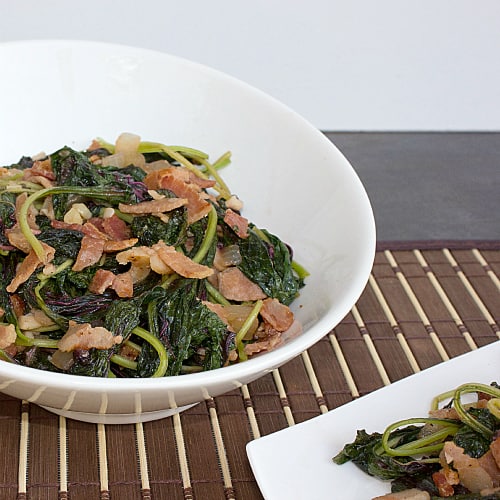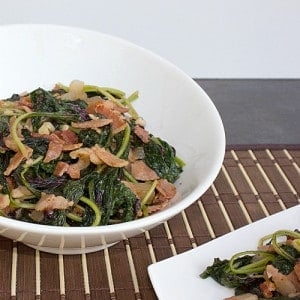 The red amaranth cooks very quickly, just like spinach. Once wilted, it is ready to serve.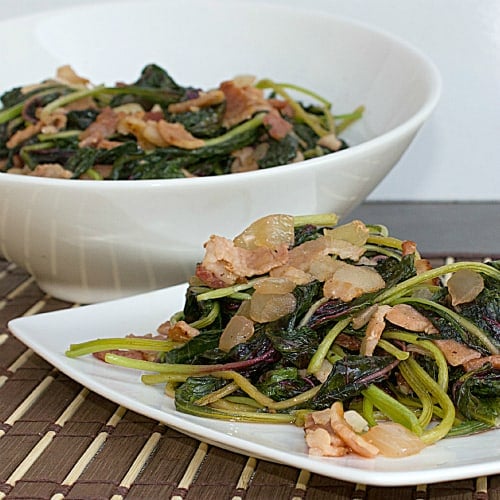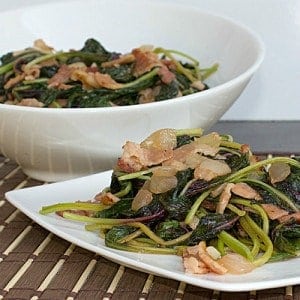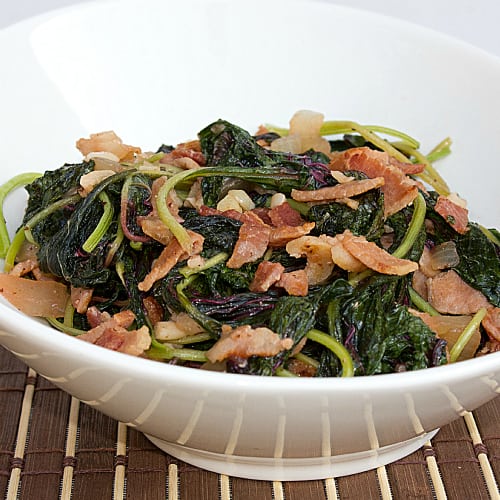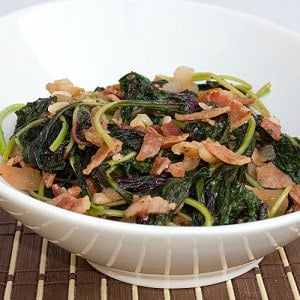 Red Amaranth with Bacon and Onions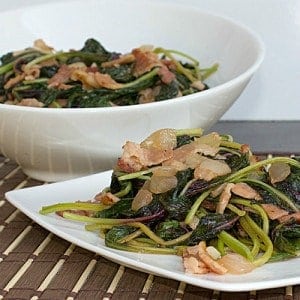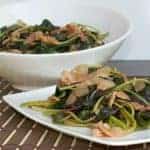 Print
Red amaranth fried with bacon and onions. Also called Chinese spinach, this dish is prepared in a way common with collard greens.
Servings: 4 people
Ingredients
8 bacon slices , diced
1 large onion , diced
3 garlic cloves , minced
1/4 cup red wine vinegar
1 tbsp dried chili flakes
1 tbsp honey
1 tsp salt
1 large bunch of red amaranth
Instructions
Fry the bacon until just starting to brown. Do not let the bacon get crispy.

Stir in the onion and cook until the onion is soft and transparent.

Add the remaining ingredients, except the red amaranth.

Let the red wine vinegar boil off for a minute or so and the garlic to bloom.

Stir in the red amaranth and cook until it is just wilted. Do not overcook the greens.

Serve immediately.