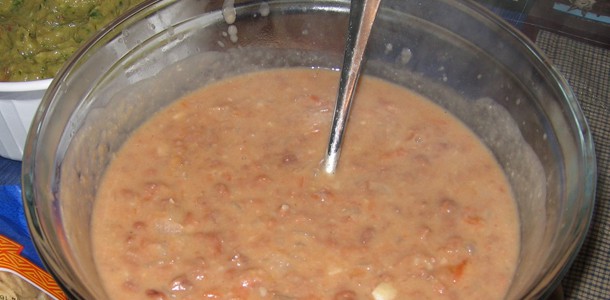 We love mexican food and refried beans are a family favourite. A can of store bought beans are nothing close to homemade and they are ridiculously expensive. Here is my version.
Refried Beans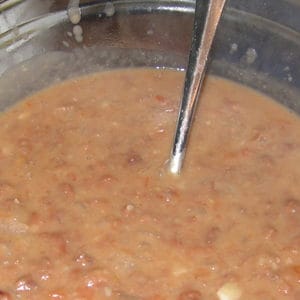 Print
Servings: 6
Ingredients
1 tsp oil
2 cans pinto beans , drained
2 tomatoes , diced
1 onion , diced
4 cloves garlic , minced
1 jalapeno , seeded and minced
1 tsp chili powder
1 tsp cumin
1 tsp salt
1 cup water
Instructions
Cook all ingredients in a saucepan on medium high heat, stirring frequently so that beans do not stick to the bottom.

Once onions are cooked (around 10 minutes), remove from heat and using a potato masher, mash the beans, tomatoes and onion.

If there is still some water in the mixture and it is not a thick consistency place back on minimum heat and simmer until bean mixture is thick, stirring often.

Serve with tacos or nacho chips.
Notes
If desired, spread in a baking dish and cover with grated cheddar and monterey jack cheeses. Bake, uncovered for 30 minutes at 325.