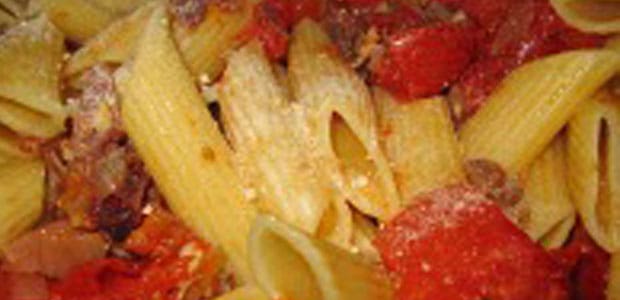 There is nothing better than harvest season in Ontario! I love going to the market or even a grocery store and picking up fresh local produce. Tomatoes are a huge favourite in the house. We love to do preserving with them (chili sauce, salsas, etc.) and making many fresh dishes. The following recipe is something I got from watching Chef at Home – an excellent cooking show with Chef Michael Smith. It uses fresh roma (plum) tomatoes and are halved and roasted. The slow roasting brings out an incredible sweetness.
Directions
Preheat your oven to 350 degrees F (175 degrees C)
Thinly slice the prosciutto then toss with the tomatoes, onions, garlic and olive oil. Season with salt and pepper.
Toss into a casserole dish and roast until the tomatoes shrivel and begin to brown a bit, about an hour and a half.
Toss the pasta in with the tomatoes and serve immediately. Serve with freshly grated parmesan cheese.