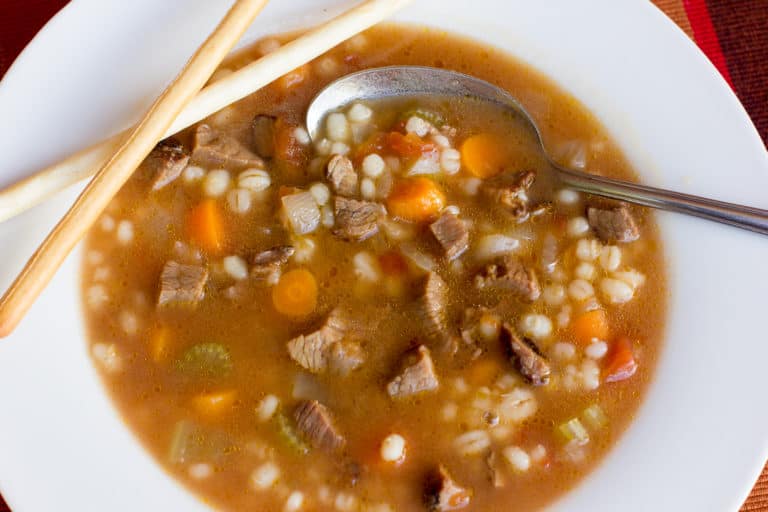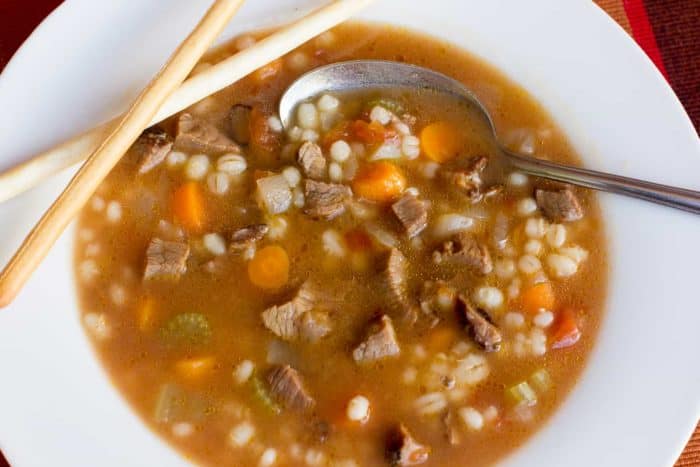 During these cold winter months, a pot of soup is often found simmering on my stovetop. There is not much more comforting than a warm bowl of soup. Probably my favourite soup is beef barley. Hearty with rich meaty flavours, this soup will warm you up on the coldest of days.
If you want to add some smokey flavour to your beef barley soup, try using some leftover smoked beef. I smoke meat so much, that it is not unusual for me to have some leftovers. I had some smoked brisket in the fridge and figured it would be perfect for a pot of soup.
This is a pretty classic version of beef barley soup with plenty of vegetables to go along with the beef. I use onions, celery, carrots and tomatoes.
It is the pearl barley that makes beef barley soup. Otherwise, you just have a beef vegetable soup. I love the nutty texture of the barley and it is a great way to make the soup super hearty.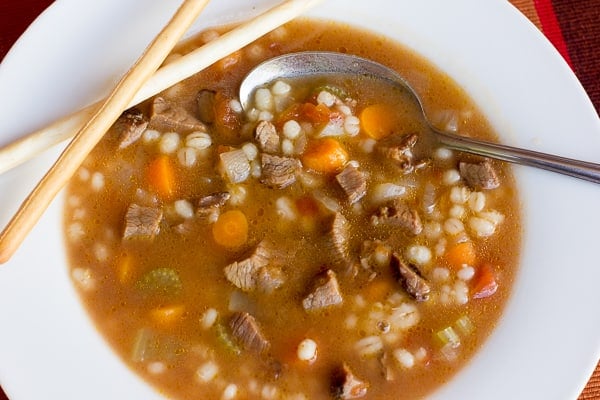 While I used smoked brisket, many other different cuts of smoked beef will also work. One other option is to use some smoked lamb meat. That will make this soup a smokey version of scotch broth.
Smoked Beef Barley Soup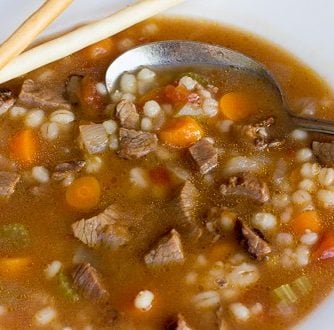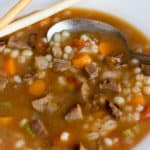 Print
A rich hearty soup using leftover smoked beef. Brisket, sirloin, or other smoked beef can work. Delicious comfort food for cold winter months.
Servings: 8 people
Ingredients
1 cup chopped onion
1 cup chopped celery
1 cup chopped carrots
2 tbsp butter
2 cups smoked beef finely chopped
6 cups water
6 cups beef broth
1 28 oz can of diced tomatoes
1½ cup dry pearl barley
2 tsp salt
1 tsp ground black pepper
Instructions
In a large soup pot, cook onions, celery and carrots with the butter. Once the onions and celery are tender, about 6-8 minutes, stir in the beef.

Cook, stirring often, for another 5 minutes.

Add the water, beef broth and diced tomatoes. Bring to a boil and stir in the remaining ingredients.

Let the soup cook at a low rolling boil for 30-45 minutes. The barley should be fully cooked and the beef should be tender.