Spinach Ricotta Ravioli – a guest post from a long time friend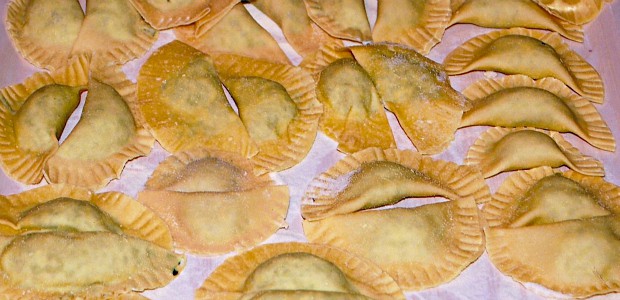 So, like I mentioned on my last post, this week is a week of guest posts and I could not be more excited. There is a great collection of recipes and contributors and I am sure you will enjoy each and every post. I number of weeks ago, I posted on Facebook, stating that I was looking for guest posters for the second week of July. I was so encouraged by how quickly many people responded with offers to help out. Most were food bloggers but I did get a couple offers from non food bloggers. One of those offers came from the person guest posting today and when I received her offer, I was so excited. Susan and I have known each other for many years and even though she does not have a food blog, she is a gifted writer and is talented and creative in the kitchen! She has a personal blog called Fish in Motion and I encourage you to check it out.
Let's welcome Susan Fish to The Black Peppercorn!!
Susan Fish – I'm a writer, editor and mother of three living in Waterloo, Ontario. I met Steve almost 20 years ago when he was a student at Laurier where I worked. Cooking is a creative outlet for me – I'm not the world's most adventurous eater but I love to try innovative flavours and I also really like learning how people cook and eat in places we visit. I always make a point of going to farmers markets when we travel, and often bring home honey or other local products. (On a recent trip to Newfoundland, I fell in love with cloudberries!) I enjoy cooking for large crowds, using fresh foods, and have been a supporter of local foods and community shared agriculture for more than a decade. One of my food challenges is that not everything I make looks beautiful – I'm more about flavour than presentation. I blog at fishinmotion.blogspot.com
In early March 2009, my husband and I had the opportunity to travel to Italy. I had always wanted to see Florence, but we decided to add another stop: we rented a car and drove through the Italian Alps to spend two nights at a bed and breakfast in Parma – simply for the cheese! It was utterly amazing – we drove from dairy to dairy, sampling large, grainy hunks of the most delicious cheese in the world. We also arranged for a private tour of an achetaia – the upstairs of a winery where balsamic vinegar is made and aged over decades. We ate in out-of-the-way restaurants where we were the only English speakers. It was foodie heaven.
But we also wanted to be able to bring food skills home with us, so while we were in Florence, we took a pasta making course at a thousand year old farmhouse. When Steve asked me to share a recipe with you, I thought you would enjoy making perfect Italian ravioli with us. The photos here are of the pasta we made in the basement of the farmhouse. Afterwards, the lady of the house took our attempts upstairs and incorporated it into a glorious meal.
Spinach –Ricotta Ravioli
This process is somewhat time-consuming if you work alone, but if you can recruit a few family members, pasta lovers or friends, it can go surprisingly quickly. You also need a pasta maker to really succeed with this.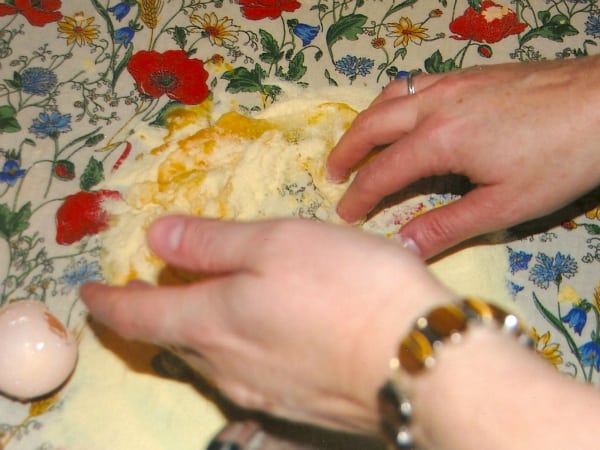 Pile almost a cup of semolina flour on the counter in front of you. Semolina is made from durum wheat and is yellower and slightly coarser than regular flour. It is widely available. Add to this a pinch. Make a small well in the centre of the pile. To this, add an egg.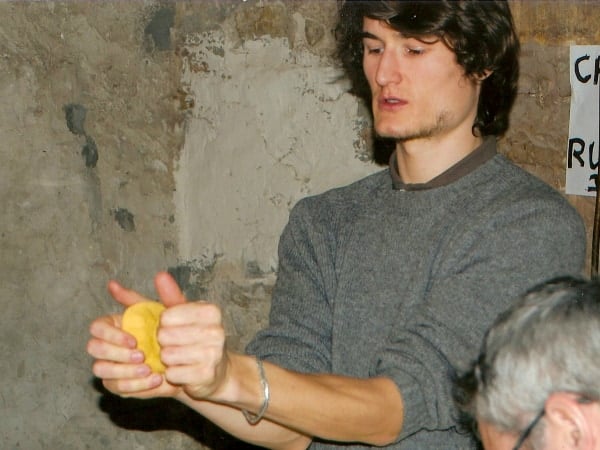 Quickly, using your fingers, poke the egg and mix flour into it, using flour from the outside and the heel of your hand to form the mixture into dough. Flatten, fold and repeat a number of times. Semolina is high in gluten and you will begin to form a supple but heavy dough. Flatten, fold and repeat a few more times. Form your dough into a disk, wrap with plastic wrap and let it sit for 15 minutes or so to let the gluten develop. (Note: it may be humidity or the egg or something else but sometimes this works better than others. If the dough is sticky, add a bit more semolina. If it falls apart, I've had success adding bits of water to the dough. Play with it.) Also, you will need to make at least three batches of dough to use all the filling.
While the dough sits, you can make a filling. Steam two cups of spinach and then cut finely (In Italy, we used a tool called a mezzaluna – a half moon knife). Squeeze out any excess moisture. Add to 2 cups of ricotta cheese. Add a pinch of nutmeg and salt and a few turns of a pepper mill. Add in 1/3 cup fresh grated Parmesan (or Grana Padano). Mix and let sit.
Put your pasta maker on its thickest setting and feed the dough through the wheels, flattening it out as it goes. Fold it in half and repeat – do this a dozen times. This starts to give the dough a satiny feeling. Then, adjust the setting to one notch thinner and run the dough through. Adjust it thinner again and repeat. Adjust it until the dough is translucent.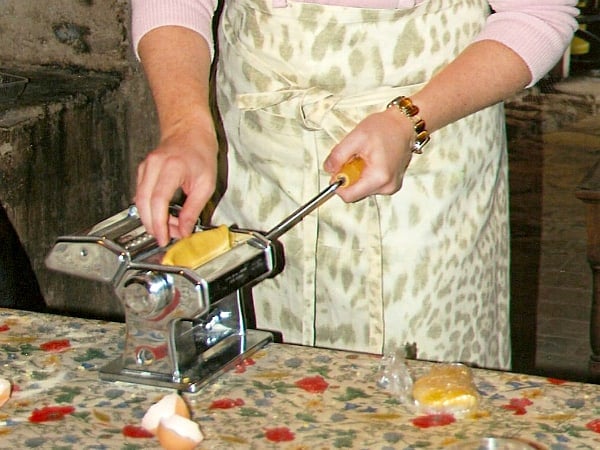 Sprinkle the counter with a light dusting of semolina and carefully place the thin dough on the counter. Next you cut out the dough. We have found a well-cleaned tuna can to be the perfect size and shape for cutting ravioli circles. Make any leftover dough into a ball and either add to another ball of pasta or run it through the machine again to use all the pasta.
In the centre of each circle, add roughly 1 tsp of the spinach-ricotta mixture. Then, using your index finger and a bowl of water, moisten the edge of the circle. Fold the circle in half and use the tines of a fork to press the edges together. Place completed ravioli on a semolina-dusted cookie sheet. (Note: at this point the pasta will stick if you don't dust the sheet.)
Bring a pot of water to a full boil and using a slotted spoon, slide your ravioli into the water, several at a time. The ravioli will only take 3-4 minutes to cook.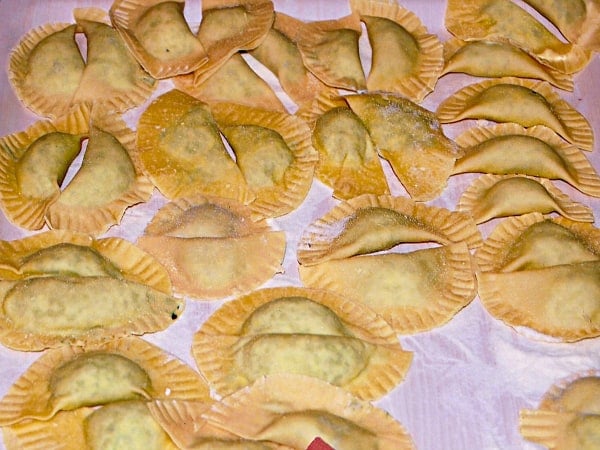 While the ravioli cooks, brown butter in a skillet, and add leaves of fresh sage. As the ravioli are drained, add them to the skillet and toss them in the butter and sage. Scoop out into a bowl and sprinkle more fresh parmesan on top.
The tragedy of this meal is that it is eaten in a fraction of the time it takes to make. The ecstasy of this meal is the taste. Even if you are not a fan of fresh pasta, this is something to try at least once. Buon appetito!