A simple recipe for making classic stuffed bell peppers! This rice and ground beef stuffing is perfect stuffed into any colour of bell pepper!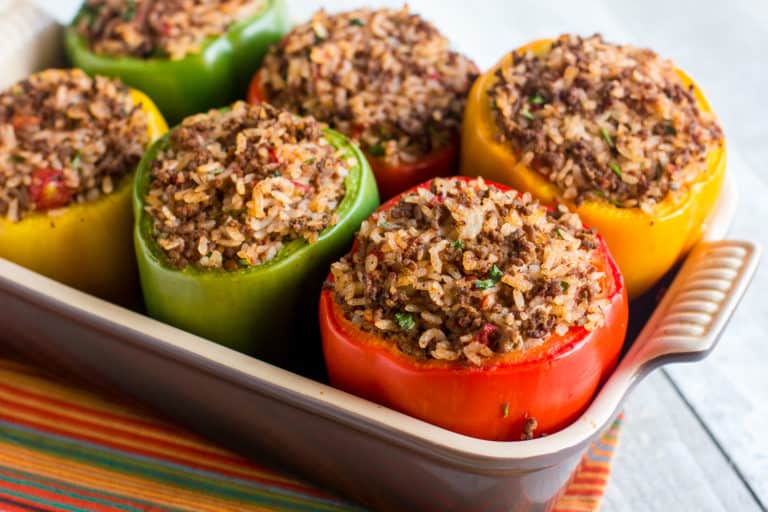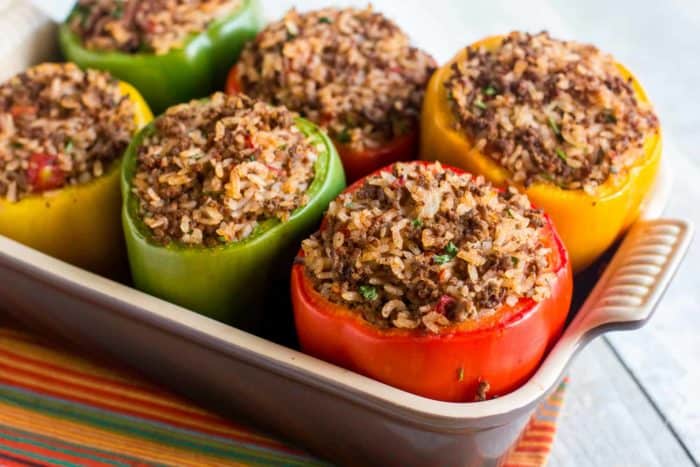 Growing up as a kid in the 80s, there were a number of dishes that my mom used to cook regularly. Recipes like these stuffed green peppers were commonplace in our home, as well as many others, during those years. I love these peppers and they are the perfect comfort food to have on a cold winter day.
Stuffed bell peppers are very healthy and not at all complicated to make. I like to use all sorts of different colours of peppers when making this recipe. This gives such a great colourful presentation!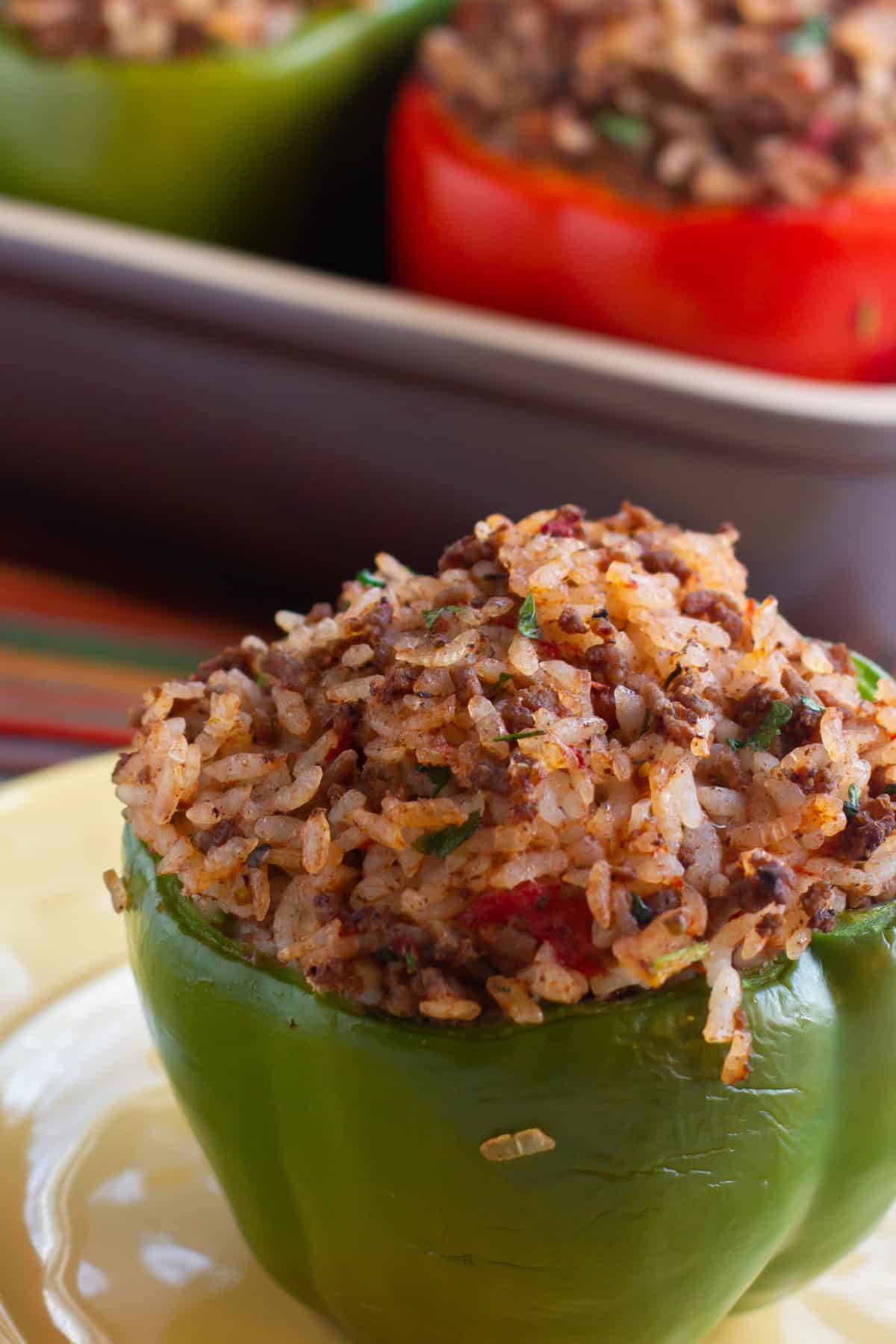 Some Of Favourite Classic Recipes
Here are some other popular recipes we used to have in the 1980s: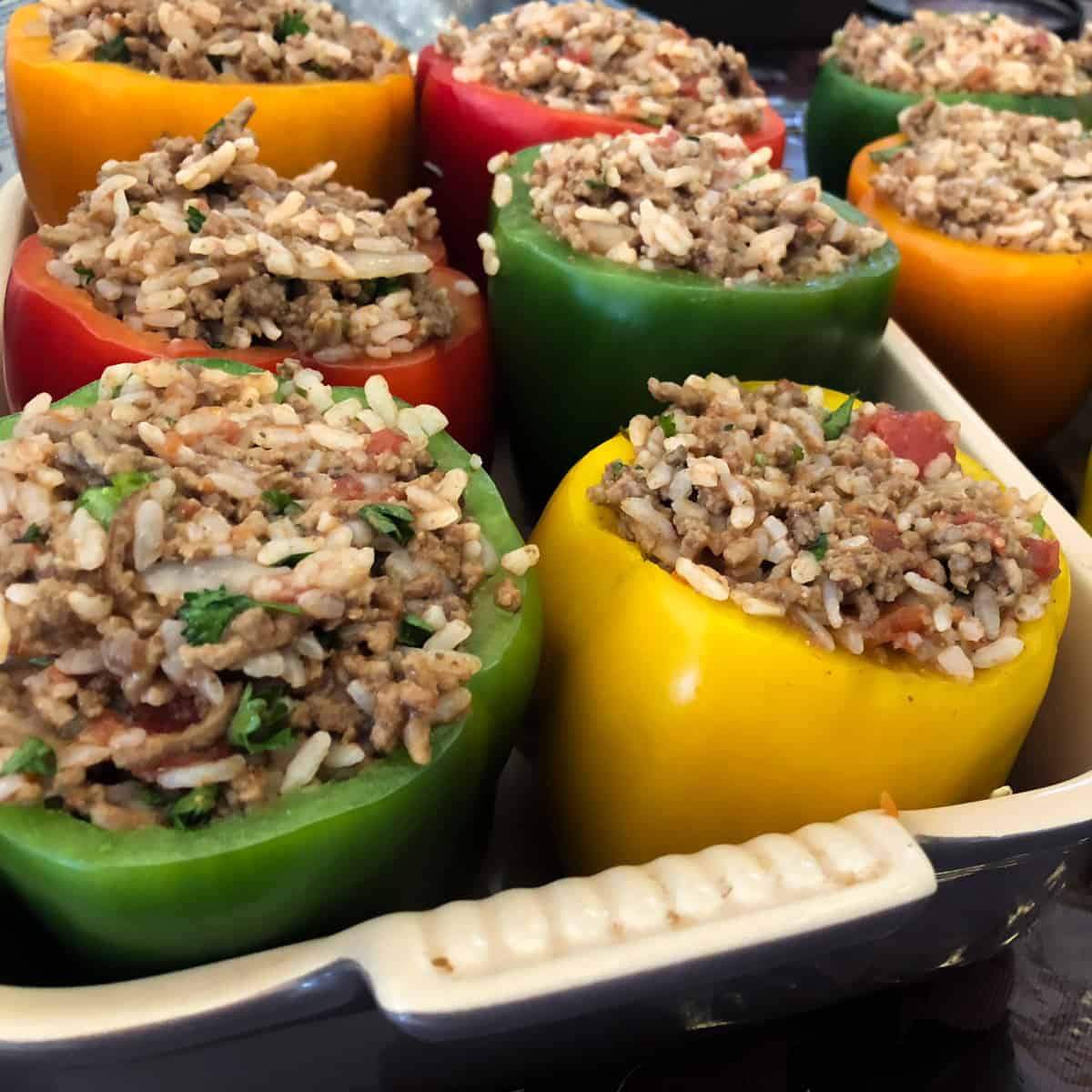 How To Make Stuffed Bell Peppers
Preparing these peppers is quite simple. Cut the top off the peppers, clean the inside of any seeds and membrane. Place the peppers in a baking dish.
The stuffing is made with ground beef, cooked rice, onions and diced tomatoes. Once stuffed, the peppers are baked in the oven until the peppers are soft.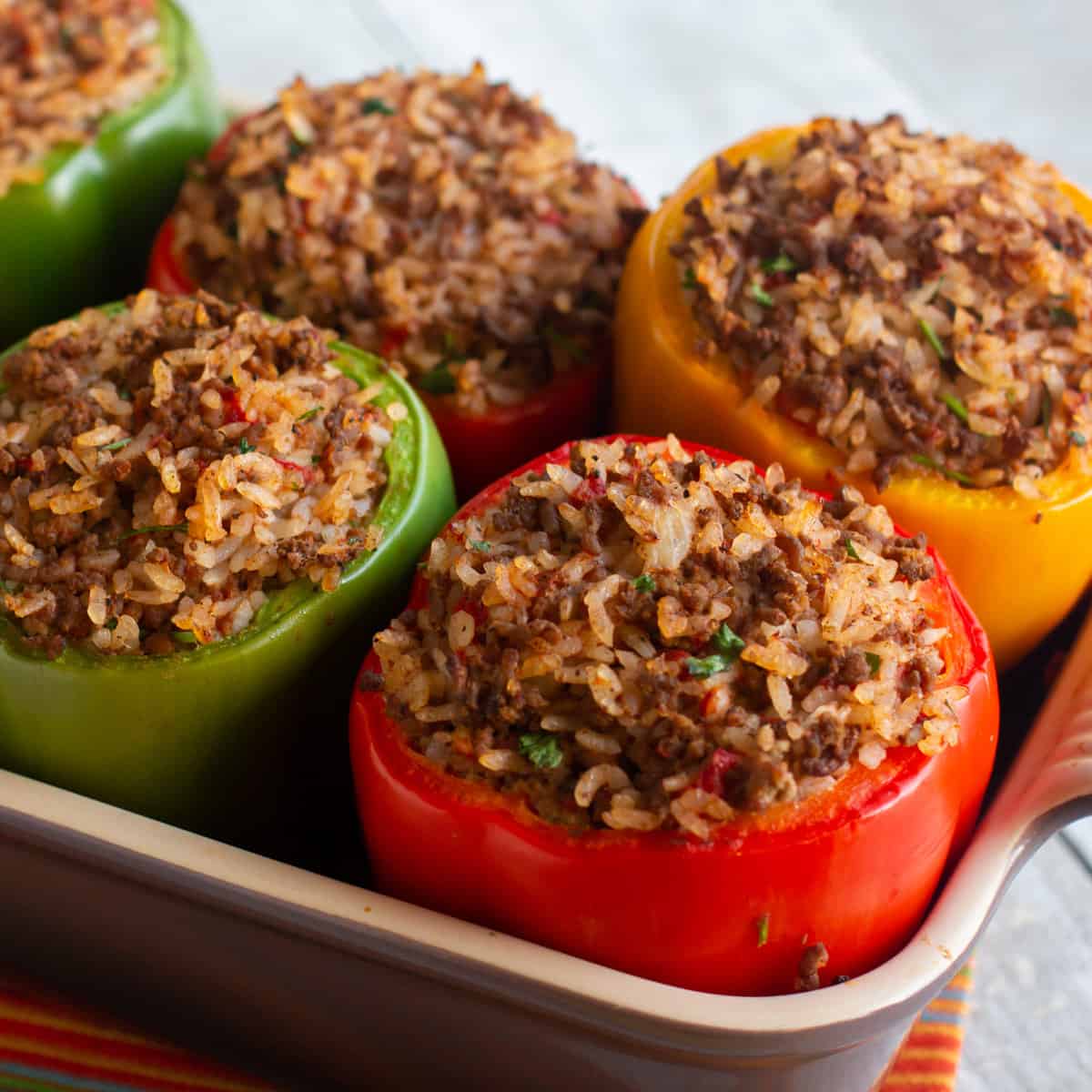 How Long to Bake Stuffed Peppers
I like to cover them with foil and bake in a 350F oven for 25 minutes. After that, I remove the foil and let them bake for another 20 minutes.
Stuffed peppers are something that you can make ahead. Simply prepare and stuff the peppers as written in the recipe. Prior to baking them, you can wrap them up and put them in the fridge. Then, when you want to cook them, bake in the oven as written in step 7. While the 45 minutes of baking should be enough to warm the stuffing, you can check by inserting a knife in the middle of the stuffing of a pepper to check the heat. If they are not quite warm enough, heat them a little longer.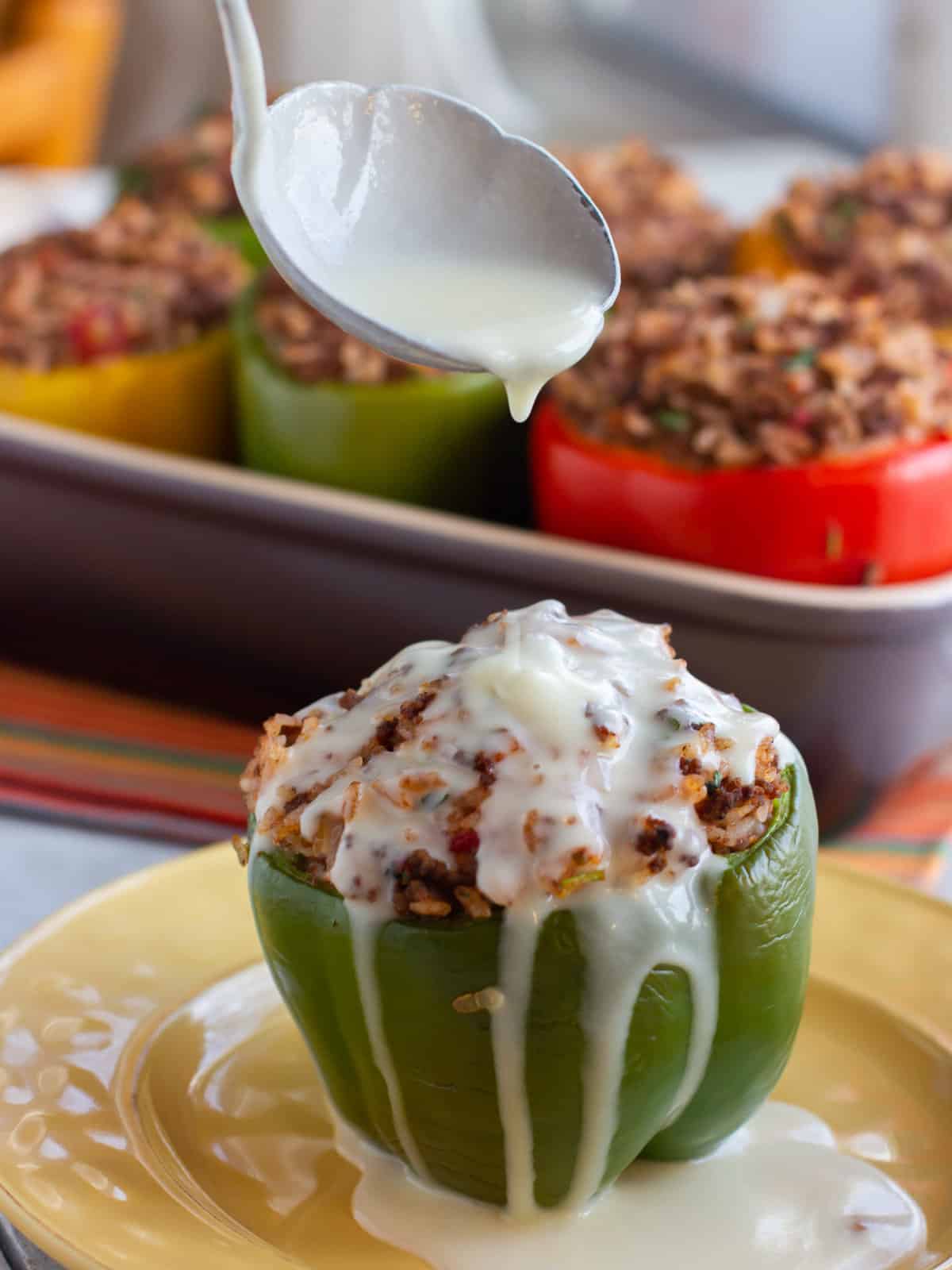 Amazing With Cheese Sauce
While these peppers are amazing on their own, I enjoy pouring on some Old Cheddar Cheese Sauce. This sauce is cheesy, creamy and goes perfectly with the filling of these peppers. I love seeing the sauce ooze down the sides of the peppers. Just incredible!
Other Stuffed Pepper Recipes!
These stuffed bell peppers are a classic recipe and very similar to what my mom used to make all those years ago. On this website, I have some other recipes for stuffed peppers that have different types of stuffing and sauce. Here are the links to those recipes:
Stuffed Peppers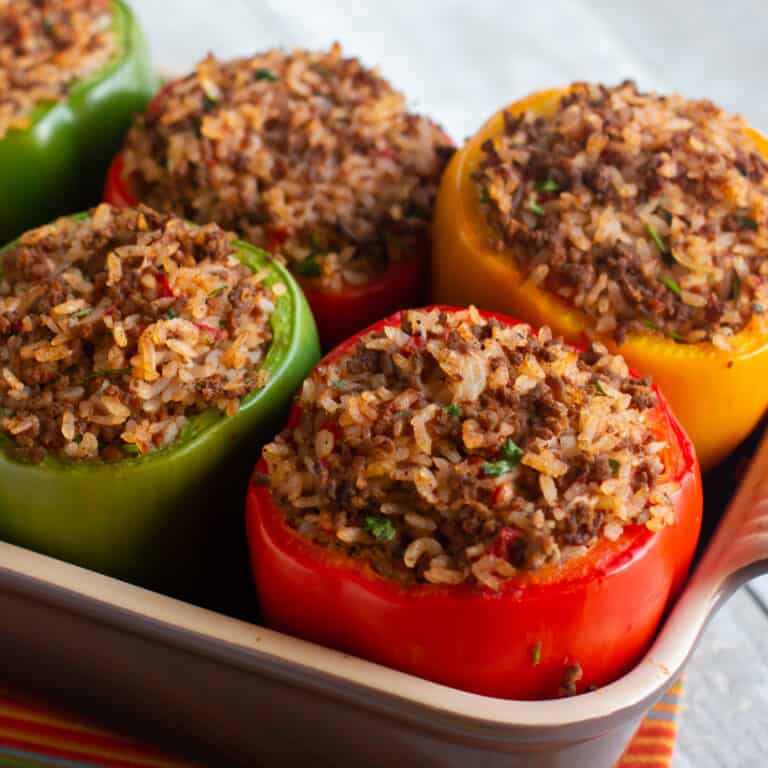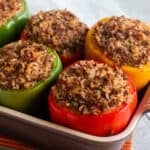 Print
Stuffed green bell pepper recipe with ground beef and rice. Red, yellow and orange peppers work great as well. Baked in the oven.
Servings: 6 peppers
Ingredients
6 bell peppers , green, red, yellow or orange
1 1/2 pounds lean ground beef
1 medium onion diced
2 garlic cloves minced
28 oz diced tomatoes ,1 can
1 tsp salt
1/2 tsp black pepper
1/2 tsp paprika
2 cups cooked rice
3 tbsp fresh parsley minced
Instructions
Preheat oven to 350F.

Cut the top off the peppers and clean the inside by removing the seeds and membrane. Place in a baking dish.

Brown the ground beef on medium heat, using a wooden spoon to break the meat into small pieces. Drain the grease.

Stir in the onion, garlic and diced tomatoes. Continue to cook until the onions are transparent, about 7-8 minutes.

Remove the cooked beef from heat and stir in the remaining ingredients.

Spoon the stuffing mixture into the peppers.

Cover the peppers with foil and bake for 25 minutes. Remove the foil and bake another 20 minutes.

Serve.
Nutrition
Per serving:
Calories: 293kcalCarbohydrates: 29gProtein: 28gFat: 6gSaturated Fat: 2gCholesterol: 70mgSodium: 659mgFiber: 4gSugar: 8g