White Chocolate Cranberry Shortbread Cookies
These buttery shortbread icebox cookies are packed with dried cranberries and white chocolate chips.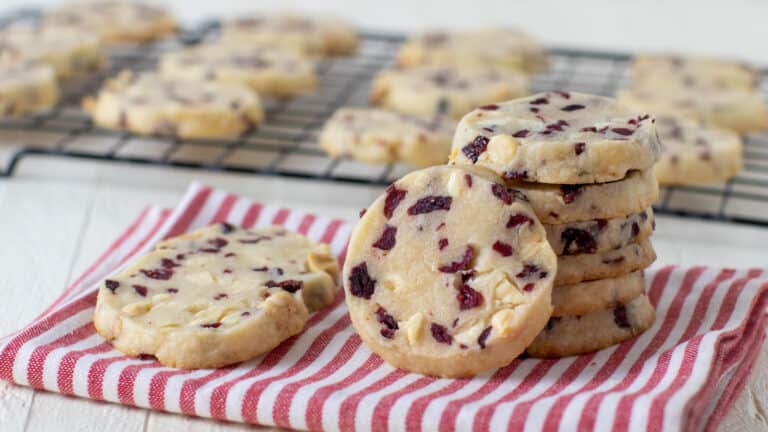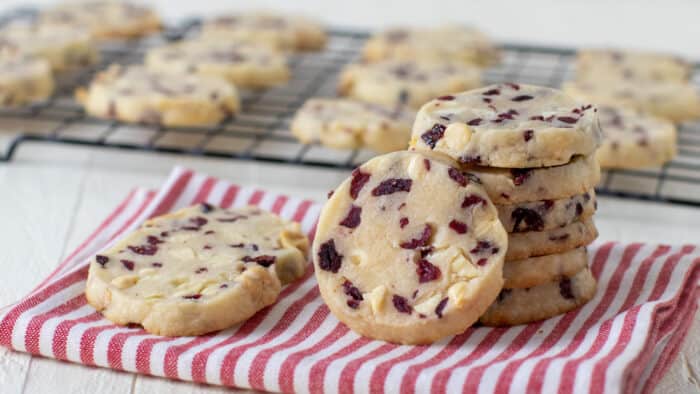 I love shortbread cookies. It doesn't matter if it is a classic traditional shortbread or a cookie packed with stuff using a shortbread cookie dough. The buttery flavour of shortbread is a winner for me and these white chocolate cranberry shortbread cookies are one of my favourites.
These cookies are easy to make, perfect for Christmas holiday baking, or anytime you are craving some fresh baked cookies!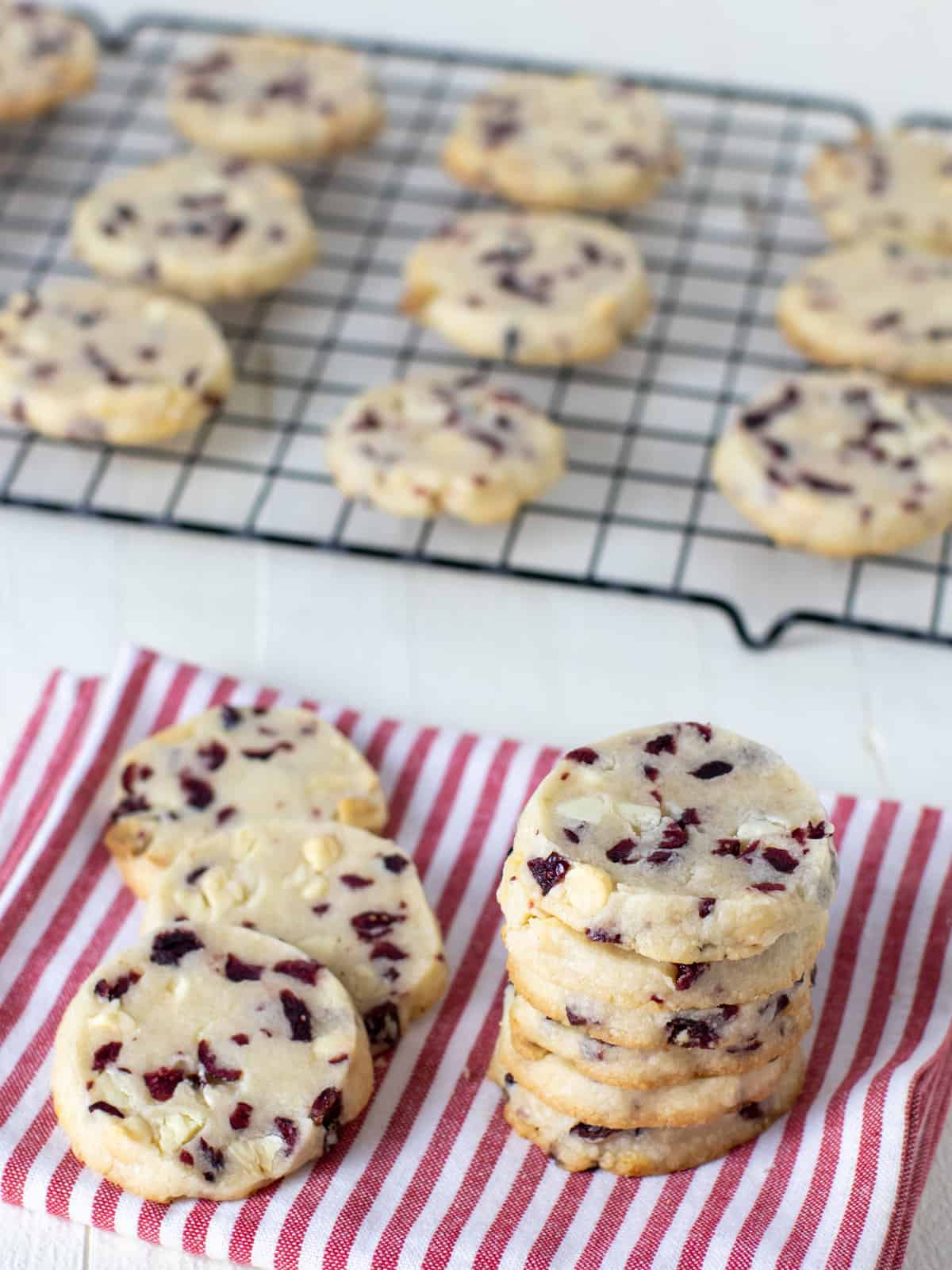 White chocolate and dried cranberries are a great combination and perfect for these buttery cookies. I chop the dried cranberries so that they are mixed throughout the cookies and you get some with every bite.
These cookies are easy to change up the ingredients. The white chocolate chips and cranberries can be swapped with many other options including dark chocolate chips/chunks, pecans, pistachios, raisins and so much more.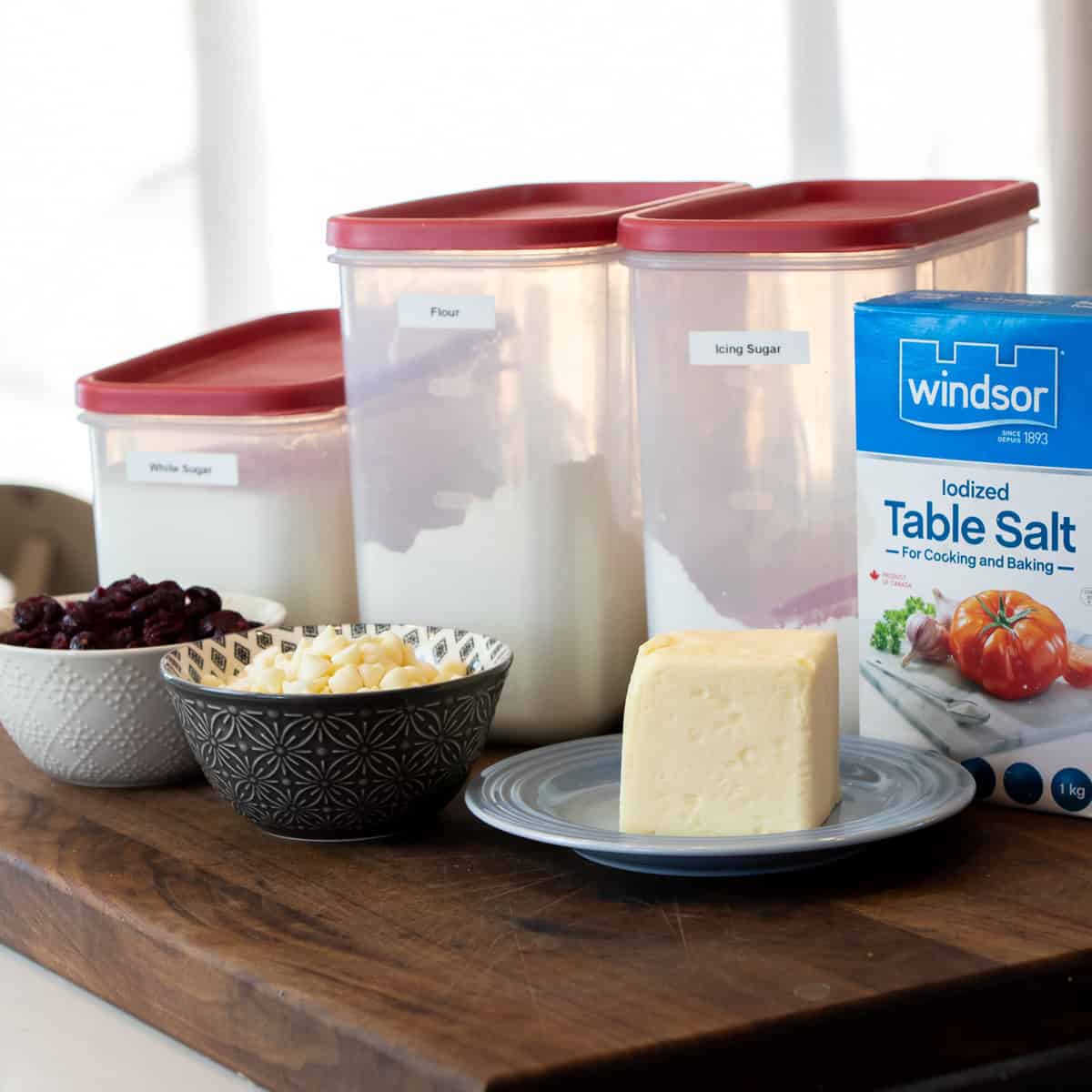 Ingredients You Will Need
These cookies have a shortbread base for the dough with the added goodies
Butter (I use salted butter for these cookies)
All purpose flour
White sugar
Icing sugar
Salt
Vanilla
Dried cranberries
White chocolate chips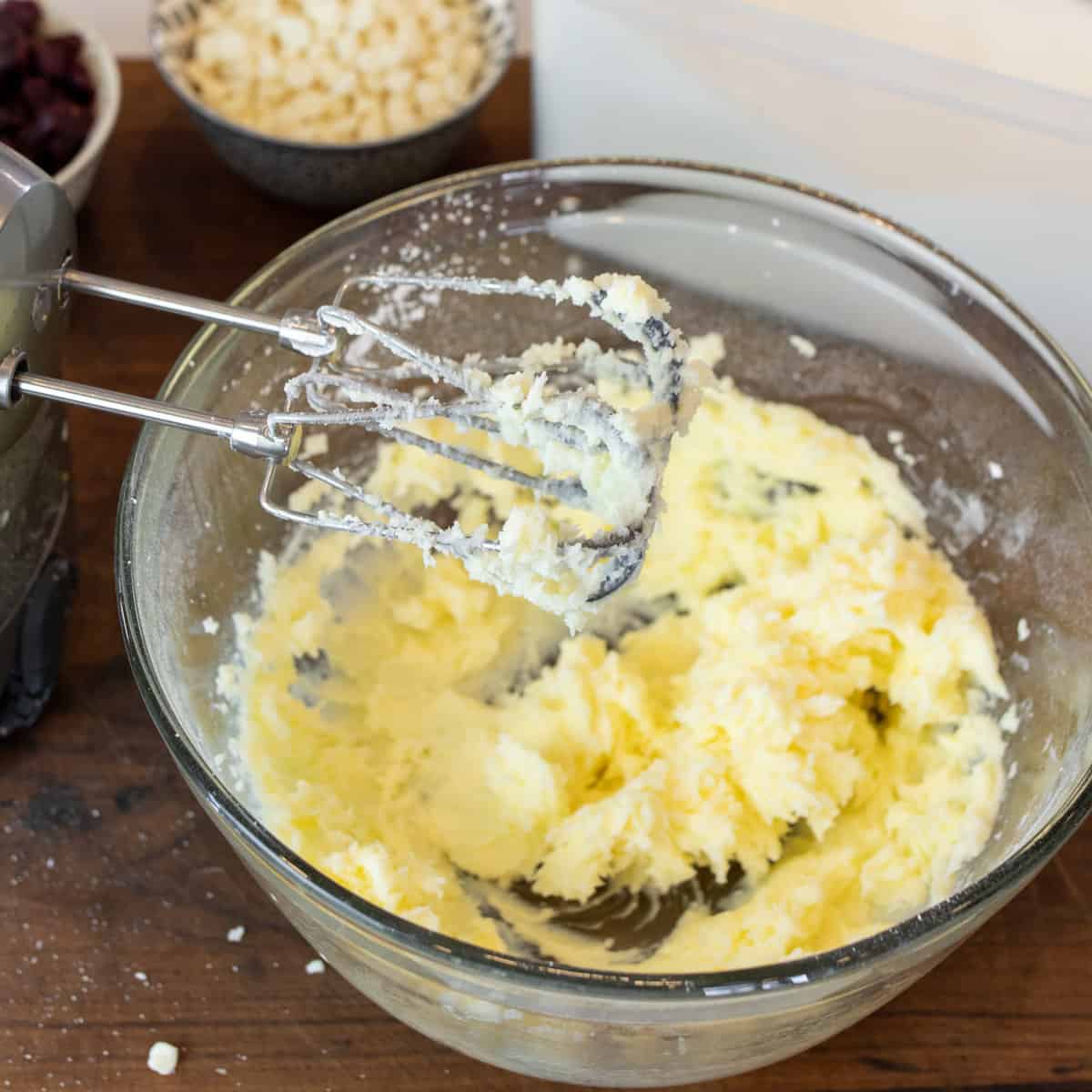 Cream Together the Butter and Sugars
The first step for me almost any time that I am making cookies is to cream the butter and sugars together. Mixing these first allows the sugars to blends smoothly into the butter and creates a softer, smoother cookie.
Use a large mixing bowl and beat the butter, white sugar, icing sugar, water and vanilla with an electric mixer until smooth and creamy.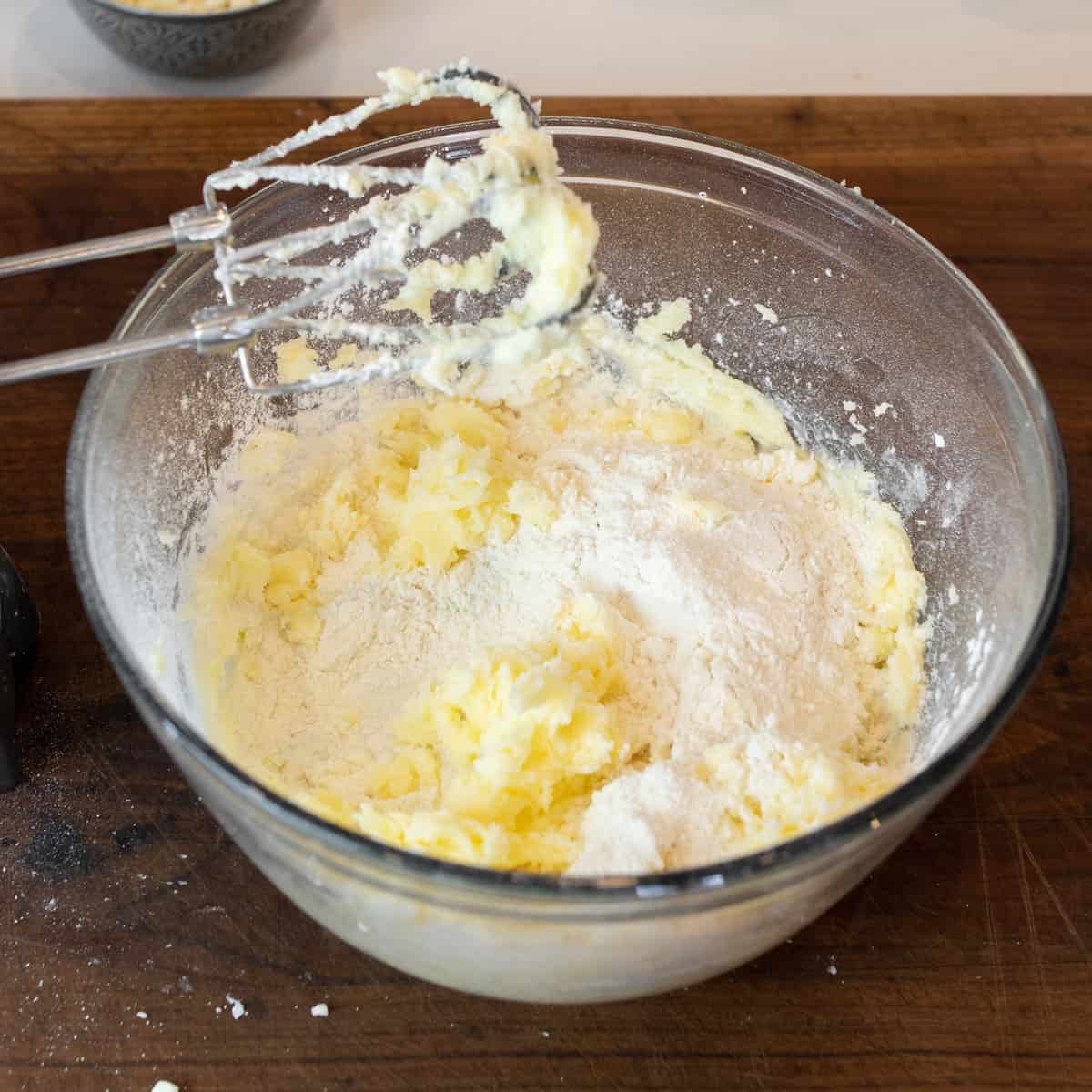 Add the flour and salt to the mixing bowl and continue to mix.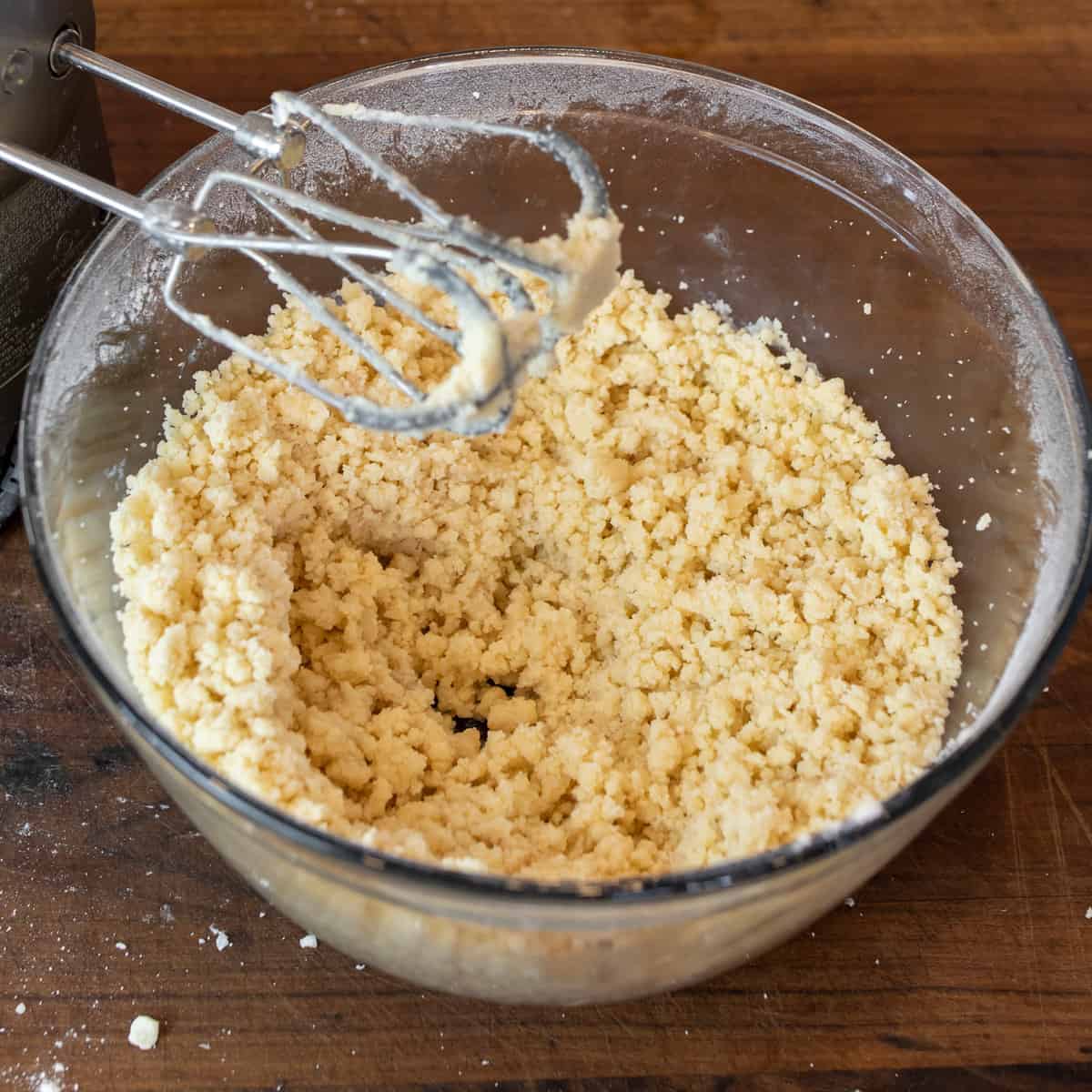 As you mix the flour into the creamed ingredients, you will notice that they cookie dough turns into a crumbly mixture. You want the dough to be like little peas. If you pinch some of the peas together, the dough should be moist enough to stick together. If you find that they are dry and crumbling, mix in a few more drops of water and try the pinch test again.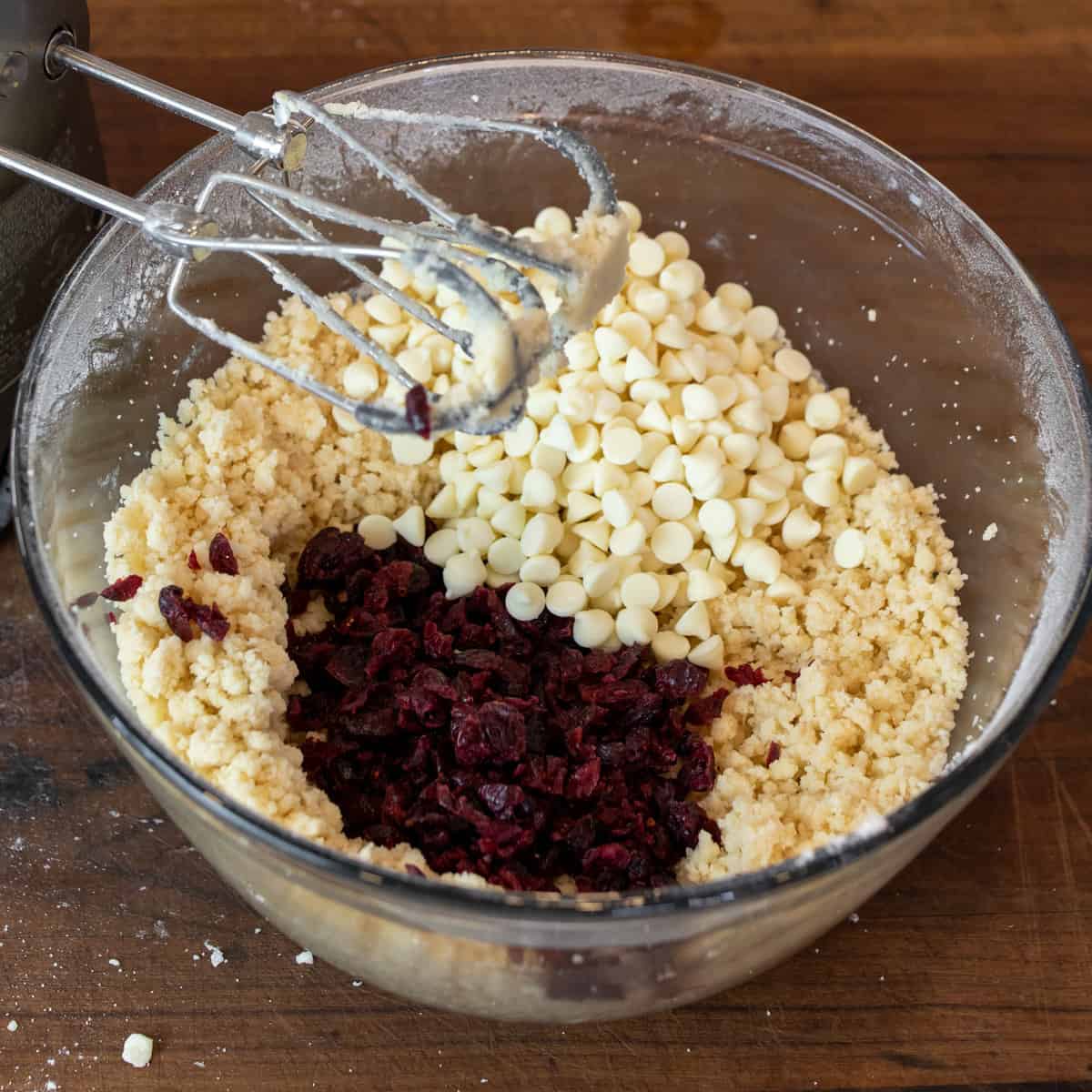 Mix in the dried cranberries and white chocolate chips. Make sure that the cranberries have been chopped finely so that they will be nicely spread throughout the cookie dough.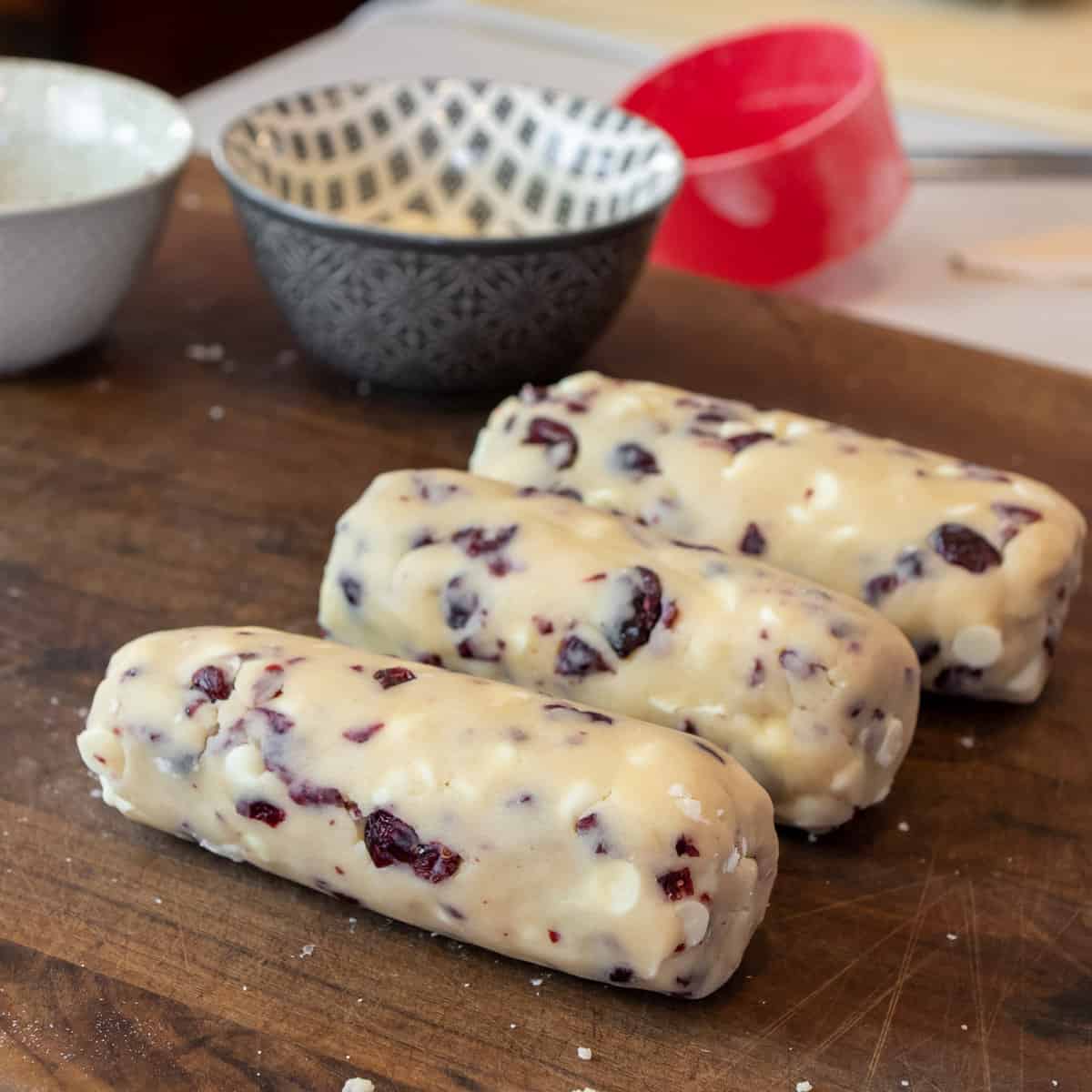 Roll Into Logs
After the cookie dough is mixed, it is time to roll them into logs. Split the dough into three equal portions and roll them into 9 inch logs. Make sure that they are similar shapes to each other.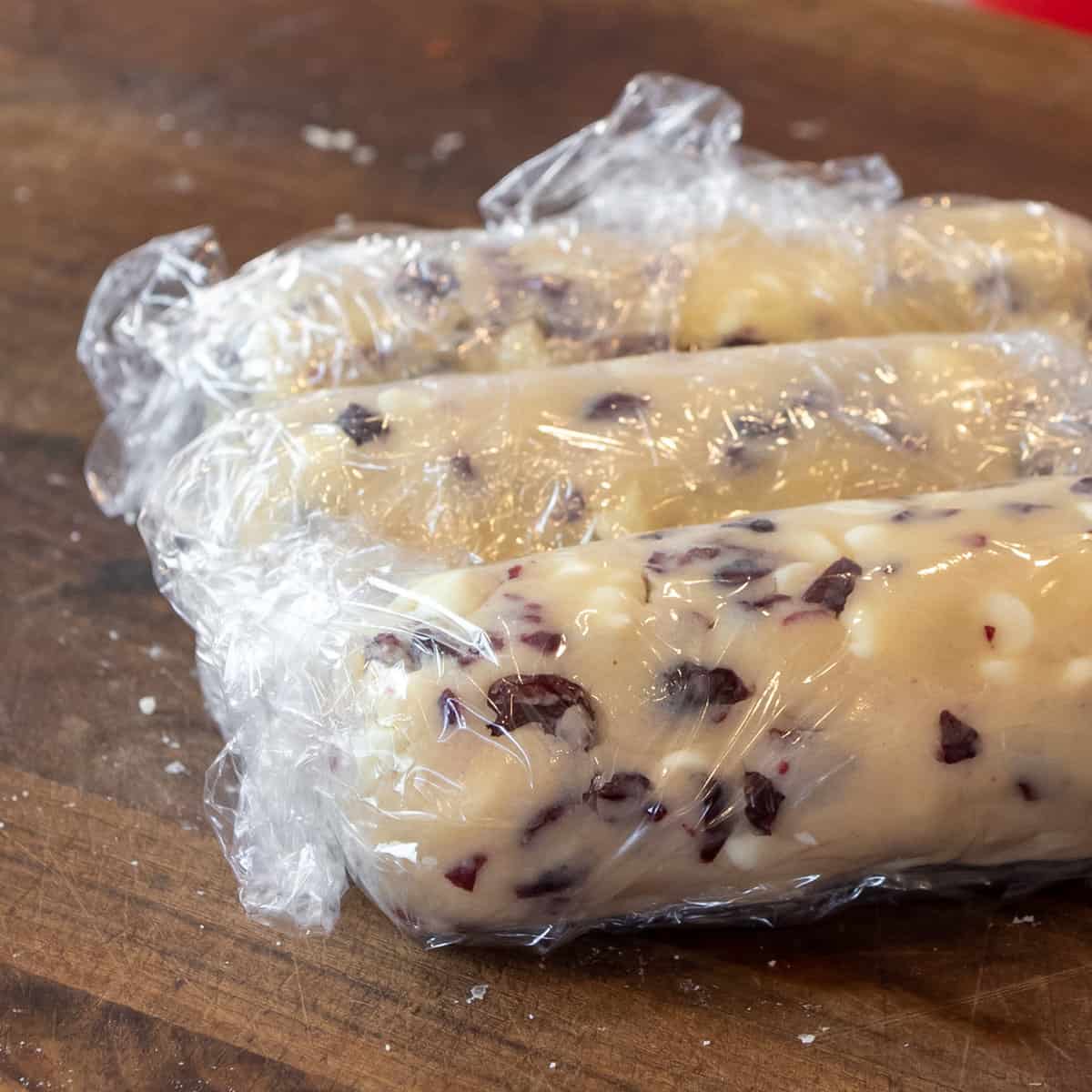 What Are Icebox Cookies?
Once the cookie dough is made, they are rolled into logs and placed into the fridge. This allows them to chill which makes slicing nice and easy. Just wrap each log in plastic wrap and let them chill for a few hours.
This recipe makes three logs and I often don't bake them all on the same day. I enjoy baking them one log at a time over the course of a few days and it is perfect for have fresh baked cookies each time!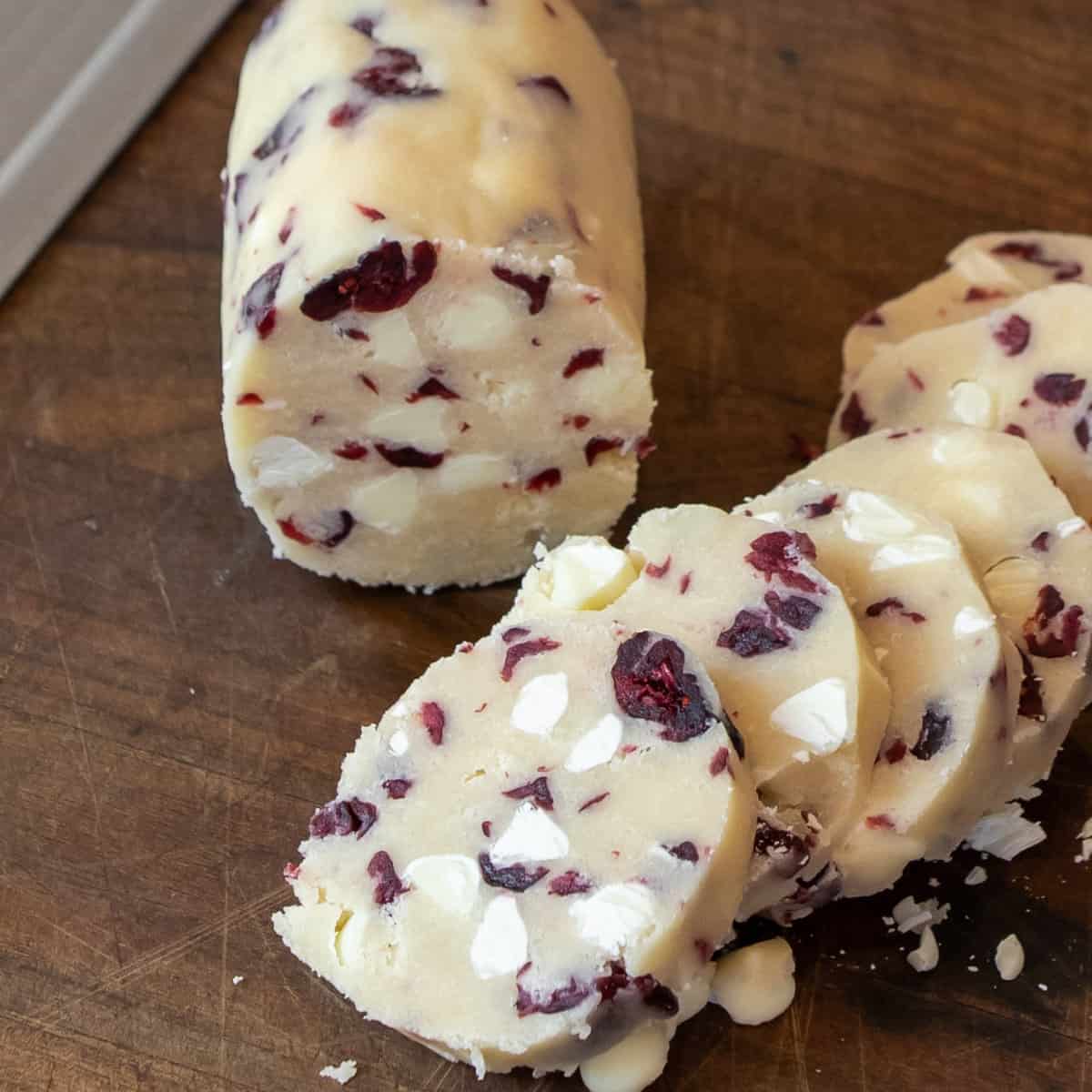 Slicing Time!
After the cookie dough logs have chilled, it is time to slice them. Take one out of the fridge and remove the plastic wrap. Using a sharp knife, cut them into 1/2 inch slices. Slice them slowly using a back and forth motion with the blade. This will help cut through the cookie dough especially the white chocolate chips. If you find that the break apart a bit, just press them back together.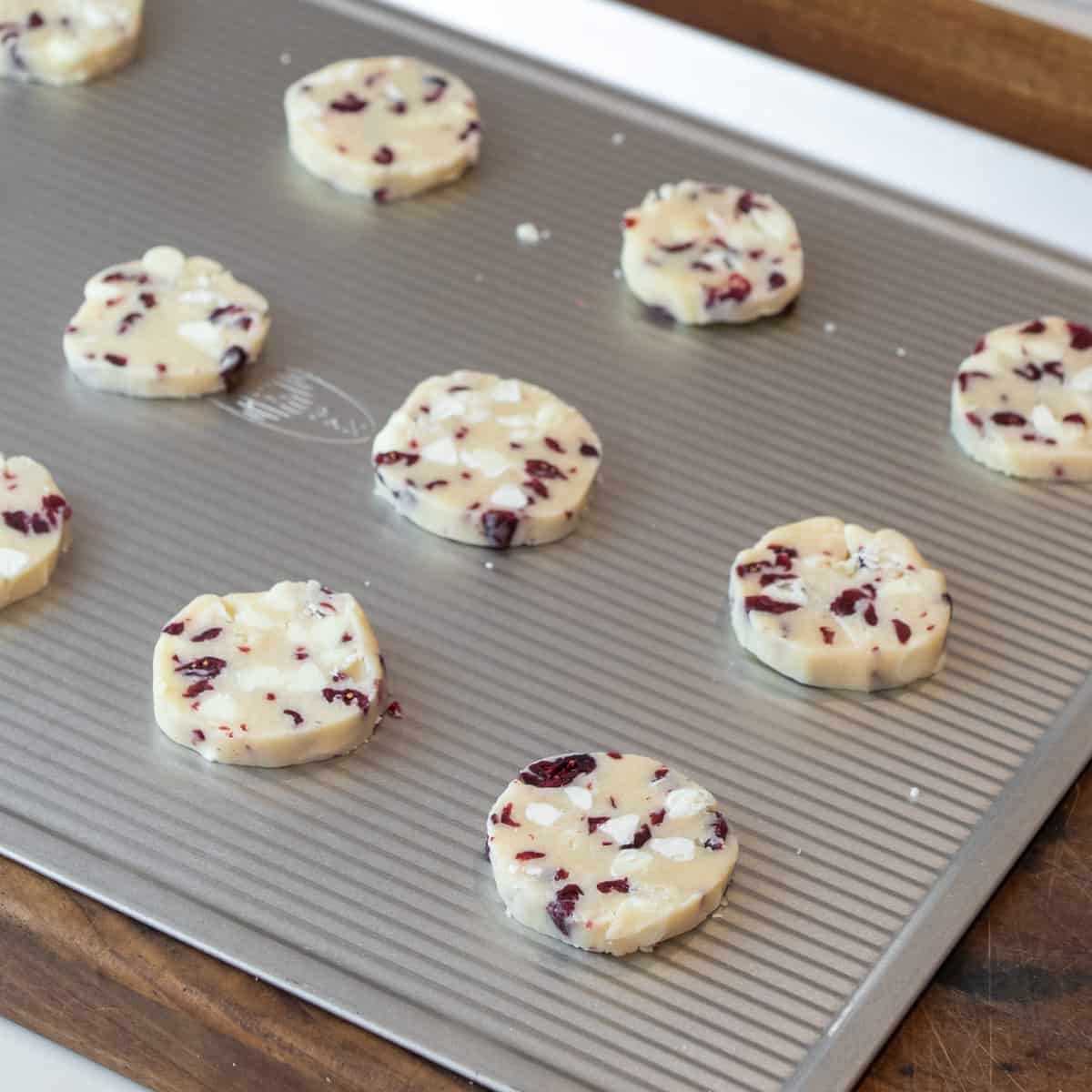 Place the sliced cookies on a baking sheet. If you have a nice non stick pan, they can go directly on the baking sheet. You could also line it with some parchment paper or a silicone baking sheet.
Make sure that the cookies are at least 1 1/2 inches apart.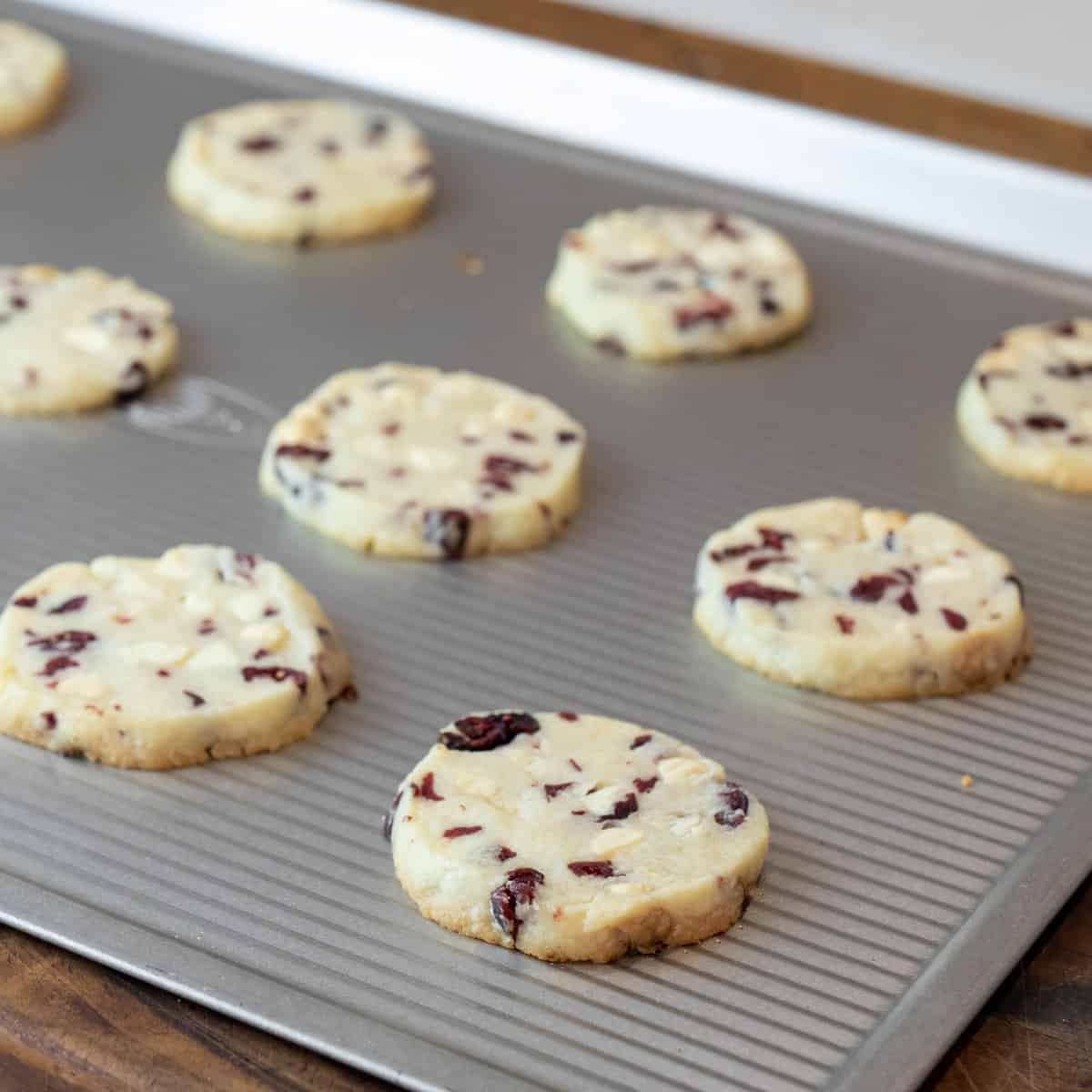 How Long to Bake Shortbread Cookies
Preheat the oven to 350F and place the baking sheet in the oven. These white chocolate cranberry shortbread cookies will not take long to bake. Bake them for 12-14 minutes. You are looking for the cookies to be just starting to brown around the edges. Remove them from the oven and let them cool on a wire rack.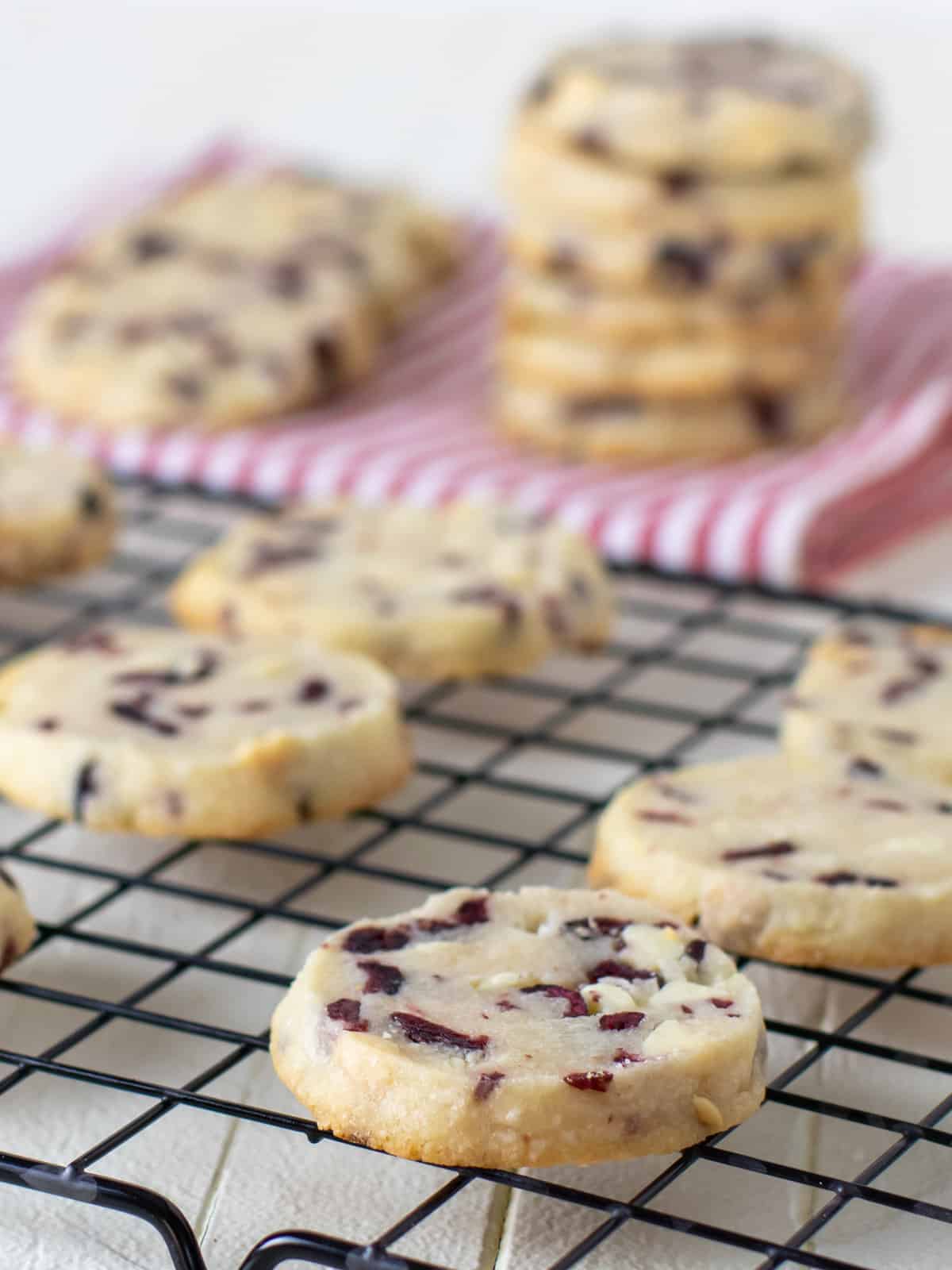 Let these cookies cool for a few minutes on the cooling rack and then you can dive in. Trust me when I say that these are best served warm. Also, don't expect them to last long. They always get gobbled up very quickly and delicious served with coffee, tea or a glass of cold milk.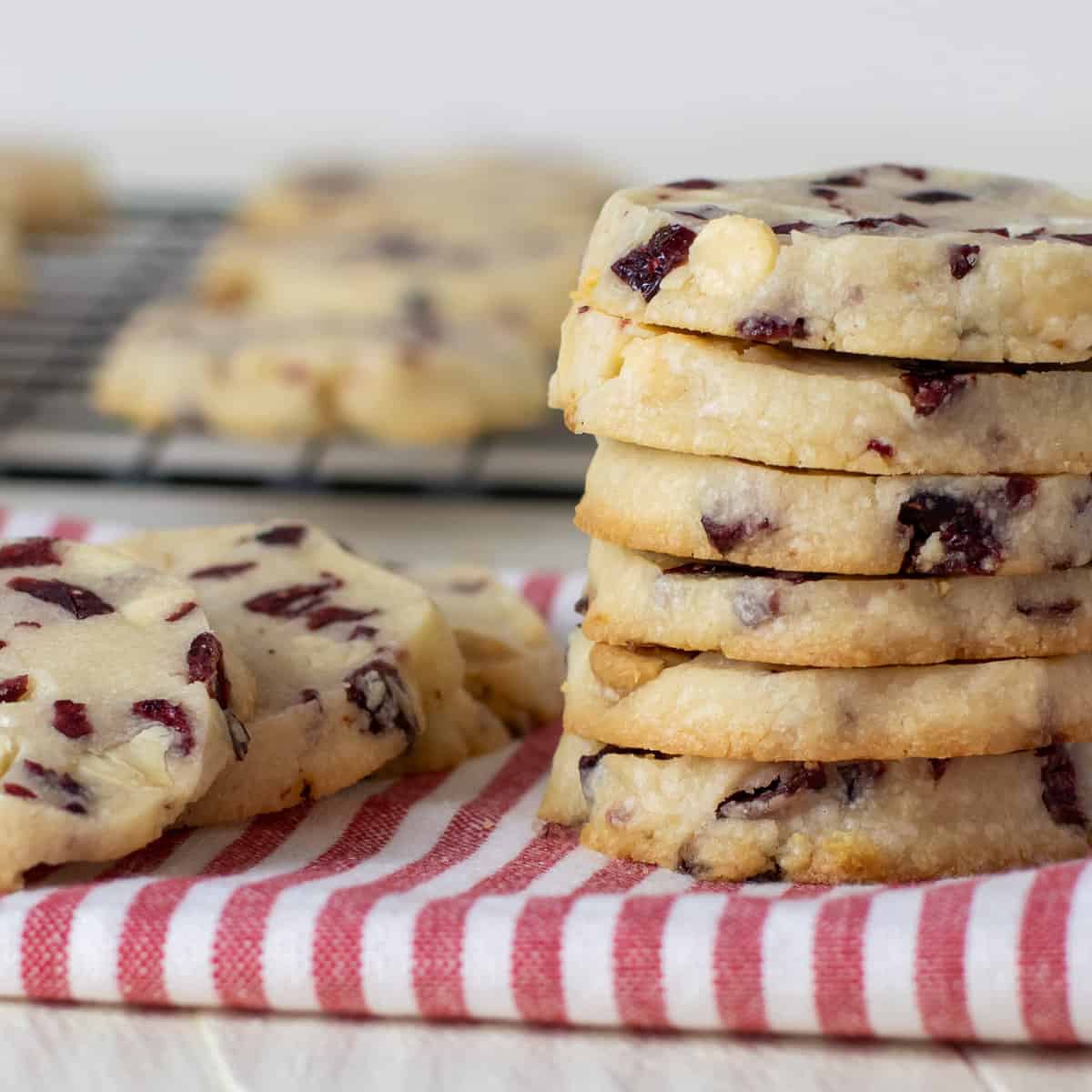 Other Great Cookie Recipes!
If you are looking for some more great cookie ideas, then check out these recipes.
White Chocolate Shortbread Cookies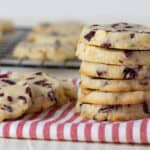 Print
Buttery cookies that are jam packed with dried cranberries and white chocolate chips. This simple recipe makes a lot of cookies!
Servings: 36
Ingredients
1 cup salted butter , softened
3/4 cup sugar
1/2 cup icing sugar
1 tsp water
1 tsp vanilla
1 tsp salt
2 cups flour
3/4 cup dried cranberries , chopped finely
3/4 cup white chocolate chips
Instructions
With an electric mixer, cream the butter, white sugar, icing sugar, water and vanilla until it is smooth and the butter is dissolved.

Beat in the salt and flour. It should have a crumbly shortbread consistency like small peas.

Mix the chopped cranberries and white chocolate chips into the dough.

Roll into 3 nine inch logs. Cover in plastic wrap and place in the fridge for 4 hours.

Remove the logs from the fridge and cut into 1/2 inch cookies.

Place on a cookie sheet lined with parchment paper and bake in a 350F oven for 12-14 minutes. The cookies should just start browning on the edges.
Nutrition
Per serving:
Calories: 121kcalCarbohydrates: 15gProtein: 1gFat: 6gSaturated Fat: 4gCholesterol: 14mgSodium: 109mgFiber: 0.3gSugar: 10g