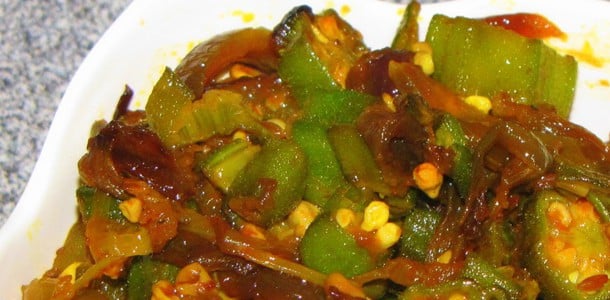 This is an Indian vegetable dish that is in a spicy sauce. The main vegetable can be almost anything and you can also have a few vegetables in it. My absolute favorite is okra. Also, the fresh cilantro gives the dish a special flavour.
Bhindi Subji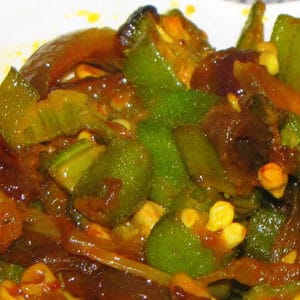 Print
Servings: 4
Ingredients
2 tbsp oil
4 cloves garlic , minced
1 onion , diced
1 tsp cumin
1 tsp tumeric
1 tsp dried chilies (less if you prefer it mild)
5-6 cups chopped okra or other vegetables (green beans, peas, cauliflower, carrots, etc.)
1 can diced tomatoes
1/2 cup chopped fresh cilantro
Instructions
Add the oil in a saucepan at medium heat. Add the garlic and onion, stirring often.

After about 4 minutes, add spices and stir constantly for 1 minute to bring out the flavour.

Add the okra, tomatoes and cilantro. Bring to a boil, stirring often.

Lower heat to a simmer and cook for 15-30 minutes.