How to Smoke a Duck Breast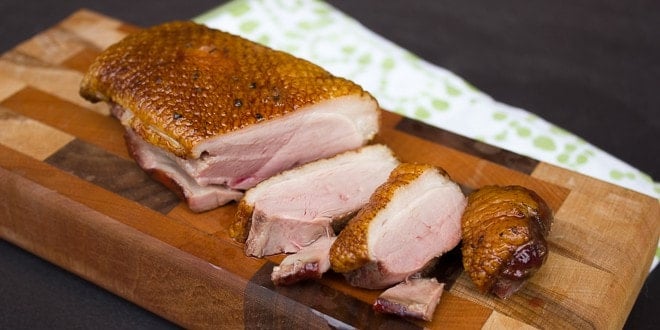 Duck breast is not something that I eat frequently, but every time I do, I love it and vow to eat it more often. It is definitely one of the more decadent types of meat. Smoking a duck breast can enhance an already great piece of meat to something extraordinary.
I like to brine my duck breast before smoking. I have found that brining for a few hours results in a much juicier duck breast. Apple juice works great as a base for the brine and I mix in some sugar, soy sauce and a bunch of spices.
Even though the skin on the duck breast will not be eaten, it is best to keep it on during the smoking. Smoking with the skin on helps to ensure that the duck breast remains moist and juicy. Once done, it is fine to peel the skin off before serving, or you can serve it with the skin on. Either way works fine.
Cherry, apple, maple and pecan woods are all great for smoking duck. I like the milder woods and my favourite are the fruit woods as I find they have a sweeter smoke that is great for this meat. I set the smoker to 250F and smoke the duck breast until the internal temperature is 150F.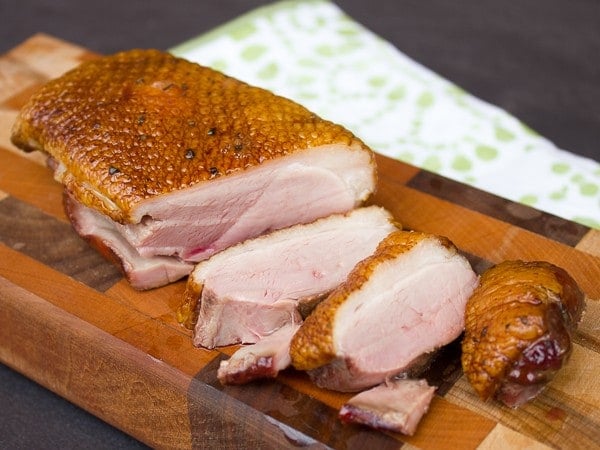 While pink juices with chicken is an indicator that it is not done, this is not a problem with duck breasts. The 150F for duck breasts is obviously lower than the recommended internal temperature for chicken breast – 165F. The duck breast comes out to a medium rare doneness and the meat is tender and juicy. It's incredible really.
Smoked duck breast is great served on its own. Each bite is rich and divine. It is also great sliced and served on pasta or in a wrap. Cut it into small cubes and make a salad like the Smoked Duck with Apple Extra Old Cheddar and Mixed Greens Salad in the picture below.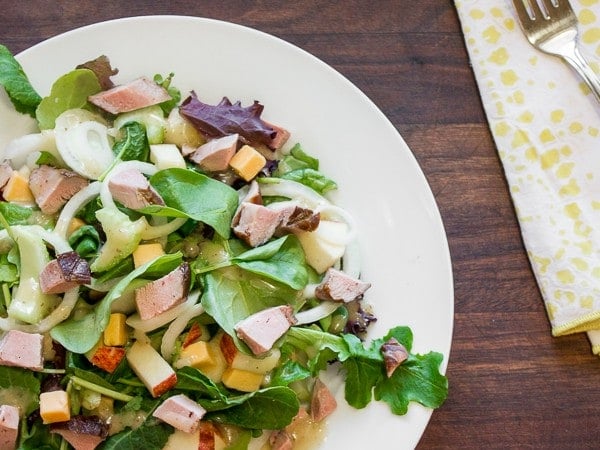 How to Smoke a Duck Breast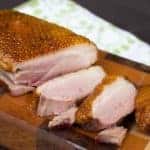 Print
Ingredients
2 boneless duck breasts
2 cups apple juice
1 tbsp coarse kosher salt
1 tbsp white sugar
1 tbsp soy sauce
1/2 tsp paprika
1/2 tsp garlic powder
1/2 tsp dried basil
1/2 tsp fresh ground black pepper
Instructions
Mix together the juice with all the salt, sugar and spices until the salt and sugar are dissolved.

Place the duck in a dish and pour in the brine. Turn the duck a couple times and cover the dish with plastic wrap. Place in the fridge and let the duck marinate for 4 hours.

Set the smoker to 250F using Cherry, Pecan, Maple or other wood chips.

Place the duck breast on a smoker rack.

Smoke the duck for around 2 1/2 - 3 hours or until the internal temperature of the meat reaches 150F.