Smoked Maple Chipotle Chicken Breast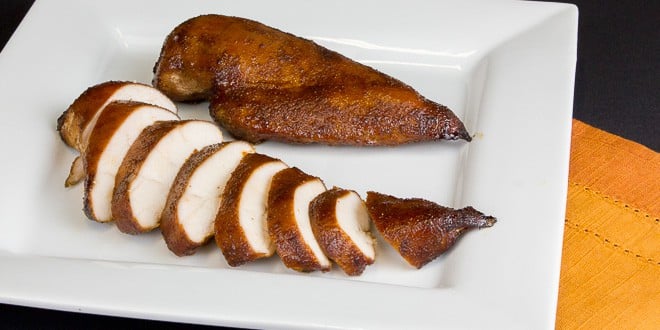 It was Super Bowl this weekend and my smokers and pellet grills got a major workout! From ribs, to jalapeno poppers, sausages and more, I seemed to be smoking anything I could. I have a philosophy, that if the smoker is running, it might as well be full! It does not cost any more wood to have the smoker full of meat as compared to only halfway full. Then, if needed, I can freeze smoked meat for future feasts!! I have vacuum sealed bags of pulled pork in the freezer, ready any time I am craving some smoked pork.
Smoking boneless skinless chicken breasts is a delicate matter since they can easily become dry and totally tasteless. If done properly, they can be moist and have a wonderful smokey flavor. They are great on their own or sliced for a salad, pizza, nachos, wraps and more. The possibilities are endless and smoking the chicken breasts provides a unique spin on a meat that can otherwise be quite boring.
For this recipe I used a chipotle rub and created a maple syrup glaze which totally rocked!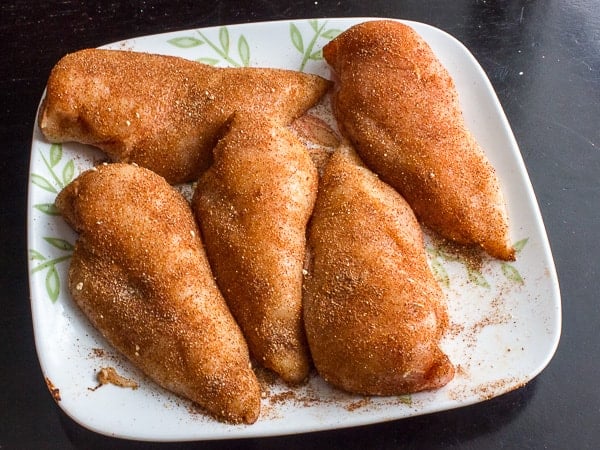 I buy chipotle powder at my local bulk food store. It is smokey and spicy and has an outstanding flavour. It is like a mix of extra smokey paprika and cayenne pepper. I use it on many different things, but this was probably one of the most popular recipes I have made with chipotle powder. Brushing the chicken breasts with maple syrup during the smoking created a sweet glaze on the meat that was perfect with the spiciness of the chipotle rub.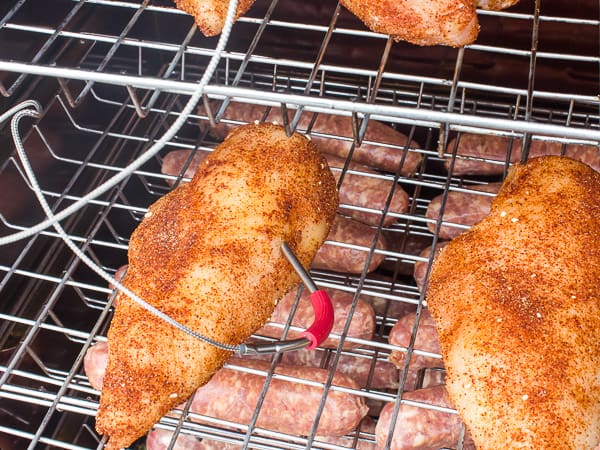 Knowing when the meat is done in the smoker is so important. I never judge doneness based on how long the meat has been in the smoker. There are too many variables that affect the inside temperature of the smoker (wind, outside temperature, how much meat is in the smoker, how often the door is opened). Therefore, it is really important to have a thermometer so that you can know exactly how the meat is doing.
For the chicken breast, I stuck the thermometer probe in the fat portion of the largest chicken breast. That way I knew that once this portion of the meat reached the optimal temperature, all the other chicken breasts should be fine.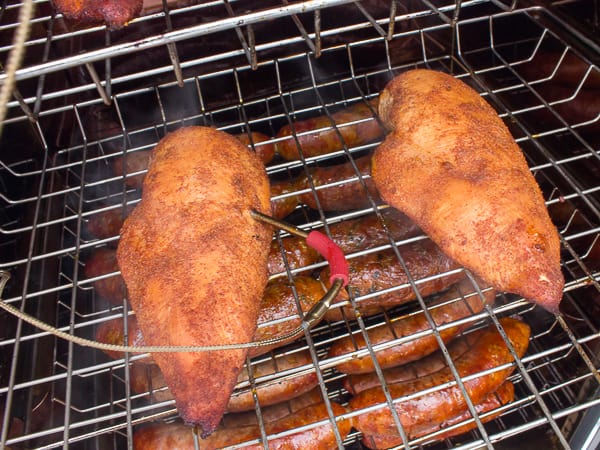 Brush the chicken breast with maple syrup after the first hour of smoking. Do this every hour until the chicken is done, about 3 hours or until the internal temperature of the chicken is 165F.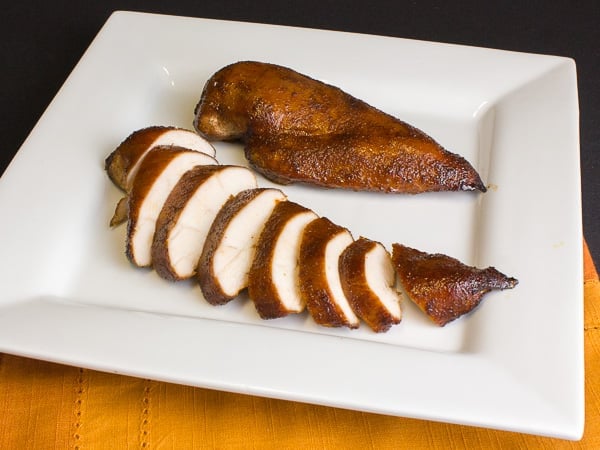 Brushing the chicken breast with the maple syrup is critical and I found that brushing them 3-4 times gave the best glaze on the chicken.
Smoked Maple Chipotle Chicken Breast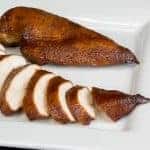 Print
Servings: 4
Ingredients
4-5 boneless skinless chicken breasts
2 tsp chipotle powder
1 tsp salt
1 tsp garlic powder
1 tsp onion powder
1/2 tsp black pepper
1/3 cup maple syrup
Instructions
Start up smoker and get it to a temperature of 250F. I use hickory or maple wood, but many other kinds of wood work really well with chicken.

In a small bowl, mix together the chipotle powder, salt, garlic powder, onion powder and black pepper.

Rub the spice mixture all over the chicken breasts.

Place chicken breasts in the smoker.

Brush with maple syrup every hour.

Remove the chicken from the smoker when it reaches 165F, about 3 hours.

Brush one last time with maple syrup.

Serve.