Muffuletta Olive Salad Spread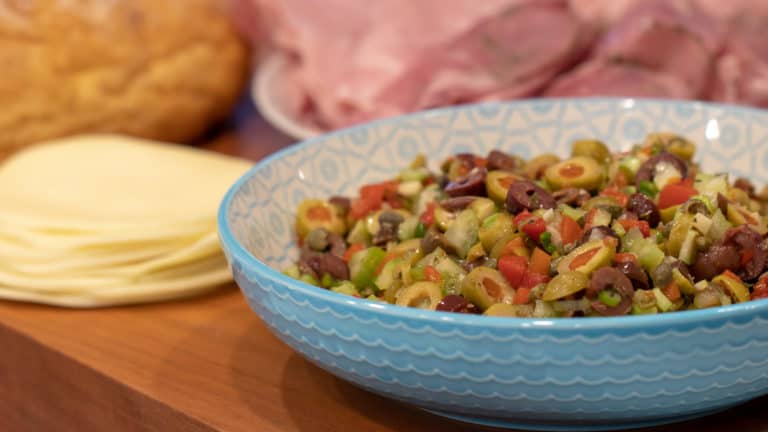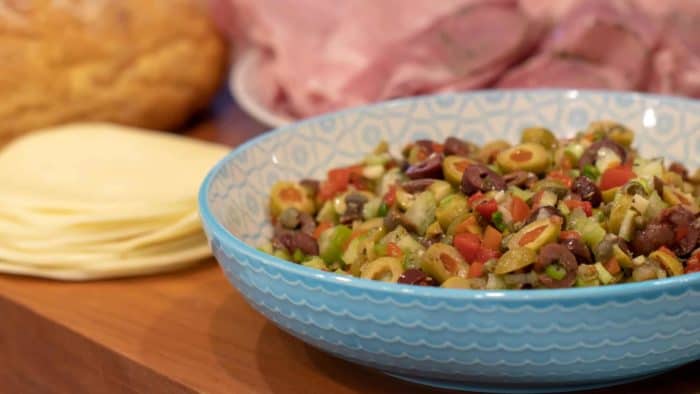 The muffuletta sandwich is a classic from New Orleans and it originated at Central Grocery & Deli in the French Quarter. This is an incredible sandwich packed with loads of cured deli meat, cheese and the incredible olive salad.
Anytime I make a sandwich, I love using classic cured meat like salami, prosciutto, sopressata, capoccolo, ham, mortadella and more. These are all stacked high with provolone or mozzarella cheese. While these make one great sandwich, it is the olive salad that truly makes it a muffuletta.
You can purchase jars of olive salad for muffulettas at Central Grocery & Deli, and it is even available at some other stores as well. But, you can easily make it yourself right at home.
There are many different combinations of ingredients that people use in their olive salad. Along with green and kalamata olives, I like to use capers, roasted red peppers, celery and green onions. I love the power packed salty flavour of the capers. Also, the crunch of the fresh celery and green onions is so nice as well.
Other possible ingredients for the olive salad could be cauliflower, jalapeño peppers, pickles, artichoke hearts and more.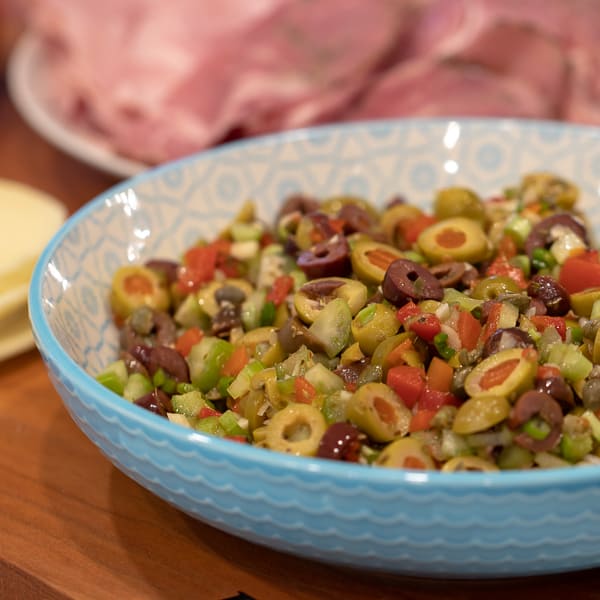 Making the olive salad for a muffuletta sandwich could not be simpler. Essentially, all you need to do is roughly chop all the ingredients and mix them all together in a bowl with the oil and seasonings.
I prefer to keep the ingredients quite chunky, so I chop them with a knife. I have actually tried pulsing them with a food processor and it turns to a coarse paste. While that is great for a tapenade, I think keeping it chunky provides a better flavour in a muffuletta.
The chunky nature of this salad allows you to actually notice the ingredients of each bite. You can taste the crunch of the celery and green onions. The saltiness of the capers and sweetness of the roasted red peppers can also be picked out.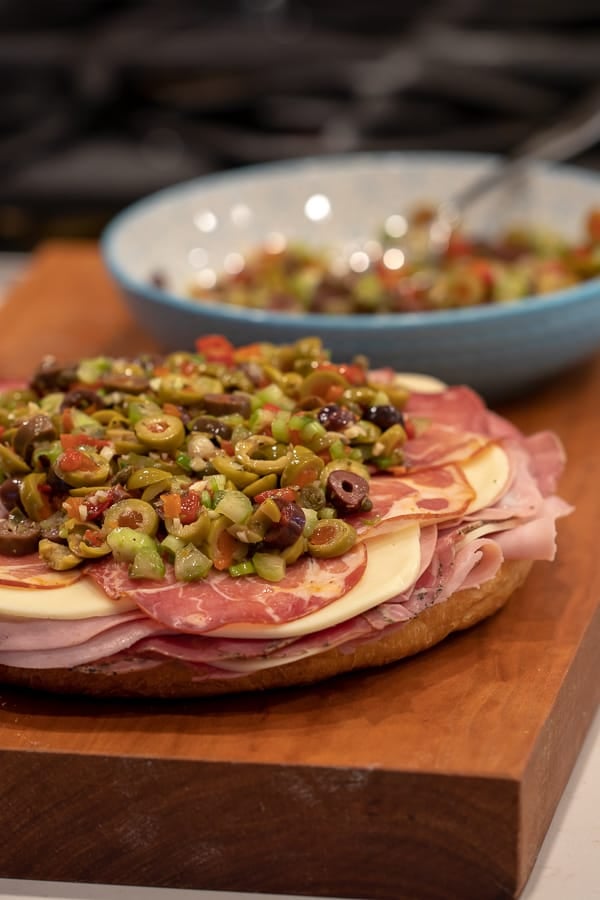 Once the olive salad has been allowed marinate for about an hour, it is ready to use in a muffuletta sandwich.
For a detailed recipe on how to assemble a muffuletta and what type of bread, cured deli meats and cheese are used, check the link below.
How to make a Muffuletta Sandwich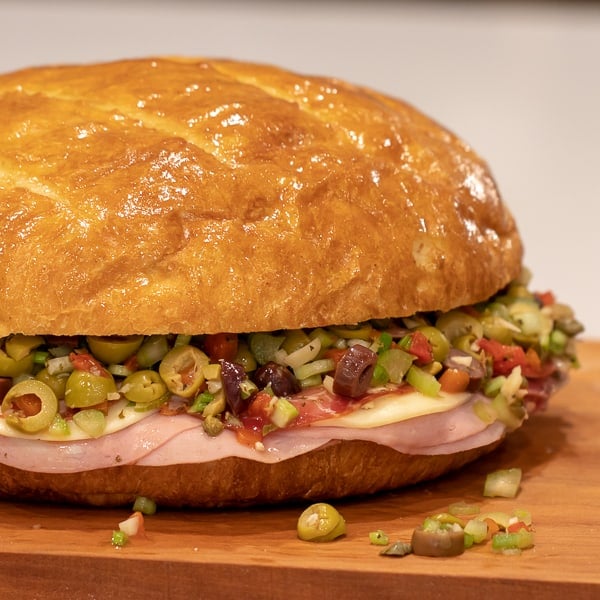 This sandwich is large enough to feed a family or small crowd. It is an ideal appetizer or snack for your next game day party. I also like to make it and serve it alongside a big pot of warm soup.
Muffuletta Olive Salad Spread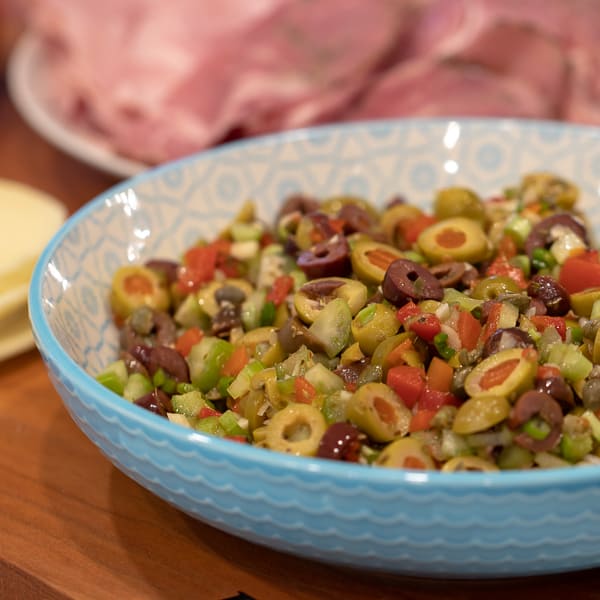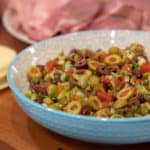 Print
Olive salad spread recipe for muffuletta sandwich made with green and kalamata olives as well as roasted red peppers, capers, celery and green onions.
Servings: 10
Ingredients
1 1/2 cup green olives with pimentos , roughly chopped
1 1/2 cup pitted kalamata olives , roughly chopped
2/3 cup roasted red peppers , roughly chopped
1/4 cup capers , roughly minced
2 stalks celery , roughly chopped
4 green onions , roughly chopped
1/3 cup olive oil
1 1/2 tbsp white wine vinegar
1 tsp oregano
1/2 tsp fresh ground black pepper
Instructions
Mix all ingredients together in a bowl.

Cover with plastic wrap and leave to marinate for an hour.

Use in a muffuletta sandwich.
Nutrition
Per serving:
Calories: 129.08kcalCarbohydrates: 2.93gProtein: 0.77gFat: 13.51gSaturated Fat: 1.84gSodium: 886.66mgFiber: 1.95gSugar: 0.5g