No Bake Cherry Cheesecake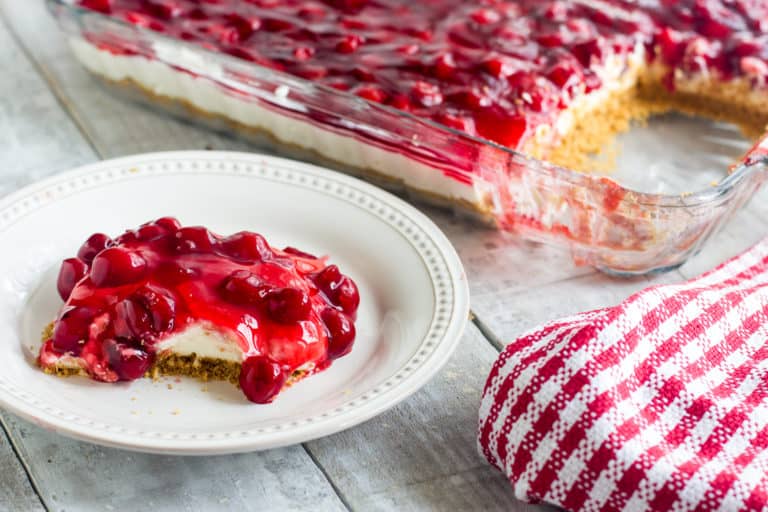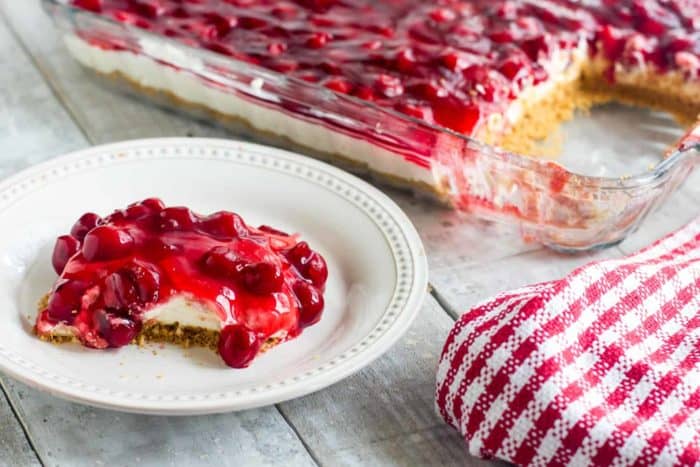 This dessert is one of those classic dishes from the 1980s. It seemed that at every church potluck, family gathering or other event, there was always at least one tray of no bake cherry cheesecake. One of my friend's mom used to make it all the time and I swear that there was always a tray of it in the fridge anytime I went to their house.
Please don't think I am complaining that this dessert seemed to be everywhere during my childhood. It is amazing and I seriously love it! But, sometime during the 90s, it seemed that everyone transitioned to making baked New York style cheesecake instead. While I love that version as well, I did miss this no bake kind.
No bake cheesecake is light, creamy and an awesome summer dessert. My kids go nuts whenever I make this treat.
It's funny because any time I serve this there is definitely some nostalgia for people who enjoyed this during the 1980s. And, once tasted, many often say that they forgot how delicious it is!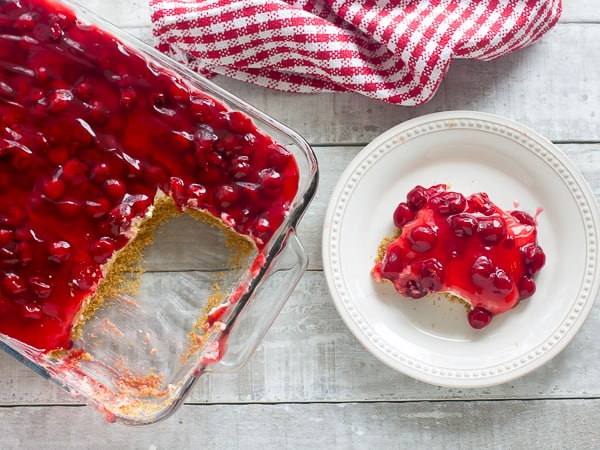 No bake cheesecake is often prepared in a rectangular baking dish. I use a 13×9 dish, which makes lots of this dessert. If I was to make it in a smaller dish, like a 9×9, it would disappear in one sitting, and I love having a little bit of this leftover in the fridge for a late night treat! If a 13×9 dish is more than you want, you can easily halve this recipe, which will fit perfectly in a 9×9 square dish or even a pie plate.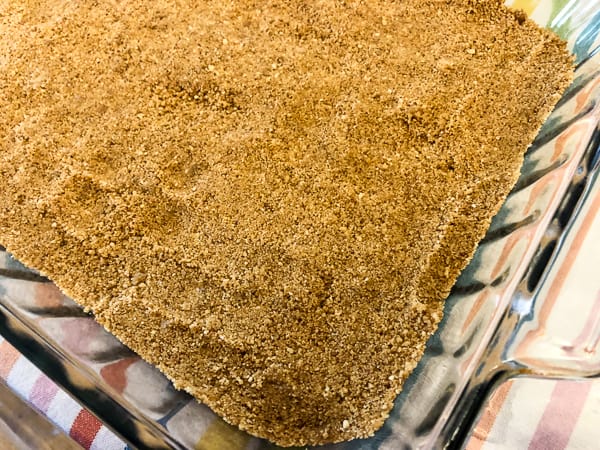 This dessert consists of three layers. Trust me when I say, that this truly is one of the simplest desserts that you will ever make.
The bottom layer is a crust made from graham cracker crumbs, sugar and melted butter. Stir the crust ingredients in a bowl until well mixed and the graham cracker crumbs are wet from the melted butter. Press the crust mixture across the bottom of a 13×9 dish.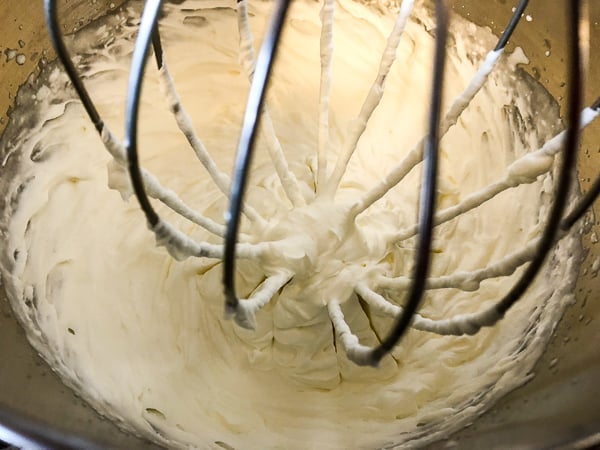 The first step in preparing the cream cheese filling is to make the whipped cream. While using a tub of cool whip does work, I prefer to make the whipped cream from scratch with heavy cream, sugar and vanilla. Whisk with a stand mixer on high until stiff peaks form.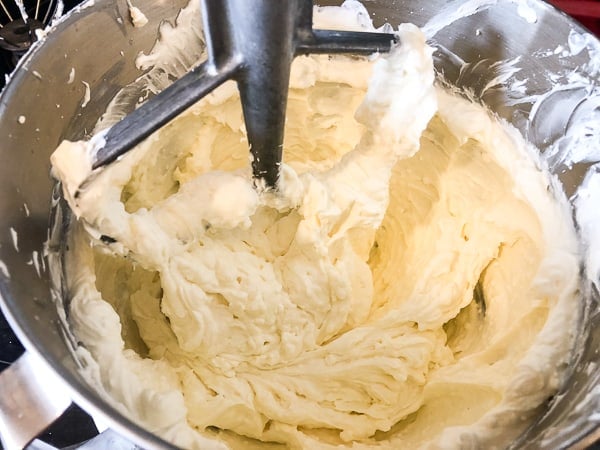 Once you have made the whipped cream, mix in the bricks of cream cheese until smooth and creamy.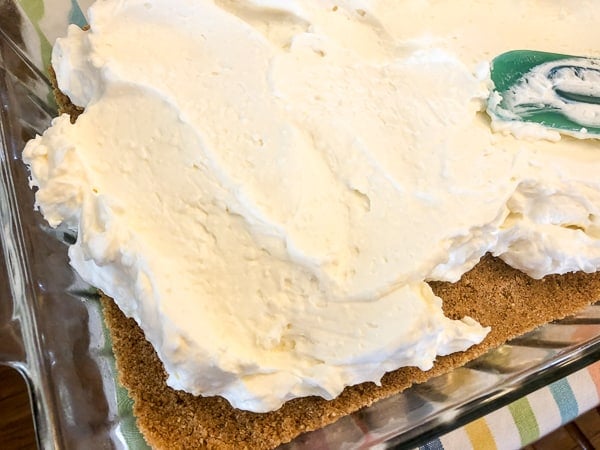 Spread the cream cheese filling across the top of the graham cracker crust.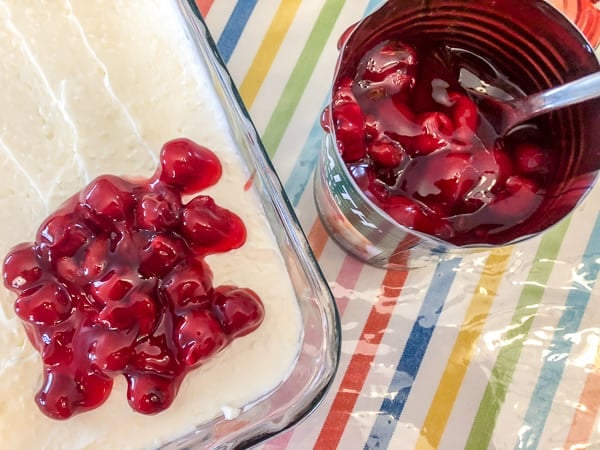 The final step to make the cheesecake is to spoon the canned cherry pie filling across the cream cheese mixture.
Once the cheesecake has been assembled, place the dish in the fridge to chill. This allows the crust and cream cheese filling to firm up, to make slicing into squares much easier.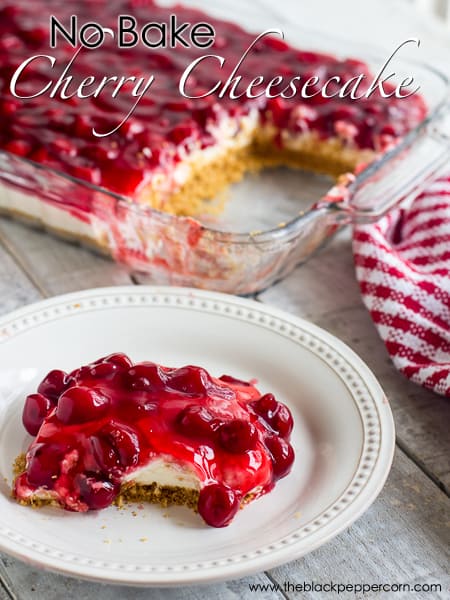 While the classic no bake cheesecake is topped with cherry pie filling, you can use pretty much any canned berry pie filling, like blueberry, strawberry or raspberry. Personally, I like blueberry cheesecake about as much as cherry.
No Bake Cherry Cheesecake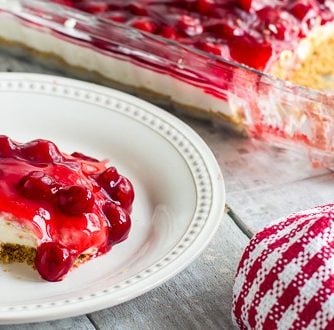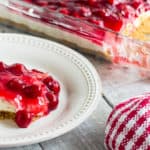 Print
Easy recipe for classic no bake cherry cheesecake. Graham cracker crust, cream cheese and whipped cream middle layer and cherry pie filling for the topping!
Servings: 12 servings
Ingredients
Crust
2 1/2 cups graham cracker crumbs
1/2 cup melted butter
1/2 cup sugar
Cheesecake Filling
2 cups heavy cream (35%)
1/2 cup sugar
1 tsp vanilla
16 oz cream cheese
Topping
3 cups cherry pie filling
Instructions
Mix together the graham cracker crumbs, sugar and melted butter until well mixed. The graham crackers should be evenly wet by the butter and sticking together.

Press the graham cracker mixture in a 13x9 pan.

Whisk the heavy cream, sugar and vanilla on high until stiff peaks form and it makes whipped cream.

Add in the cream cheese and continue to mix on medium high until the filling is smooth and creamy.

Use a spatula to spread the cream cheese filling on top of the crust. Be careful not to move the graham crackers around.

Dump the 2 cans of cherry pie filling on top of the cream cheese filling and evenly spread it across the top.

Place in the fridge for 90 minutes to chill.

Slice and serve.
Notes
While this recipe is made for a 13x9 pan, it can easily be modified for smaller dishes. Reduce each ingredient by half and it will fit in an 9x9, 8x10 or even an 8x8 pan. Half of the above recipe will also work for a round pie pan as well.
Nutrition
Per serving:
Calories: 644kcalCarbohydrates: 74gProtein: 4gFat: 37gSaturated Fat: 21gCholesterol: 116mgSodium: 346mgFiber: 1gSugar: 21g