Cherry Cheesecake Popsicle
These popsicles are cold, refreshing, and perfect for the summer months. You will be surprised at how much this truly does taste like a cheesecake!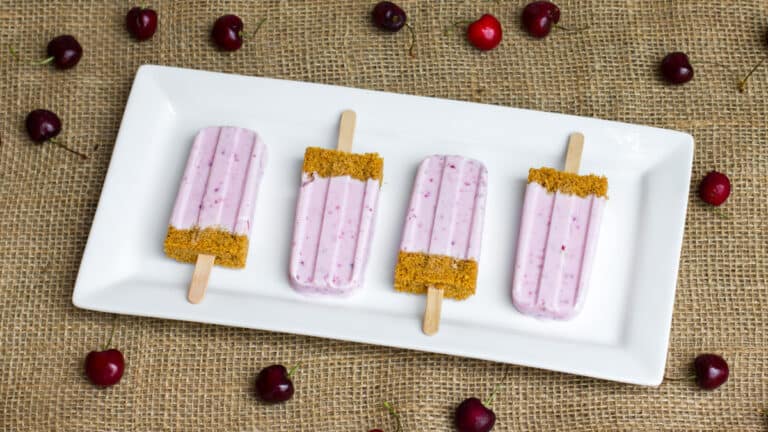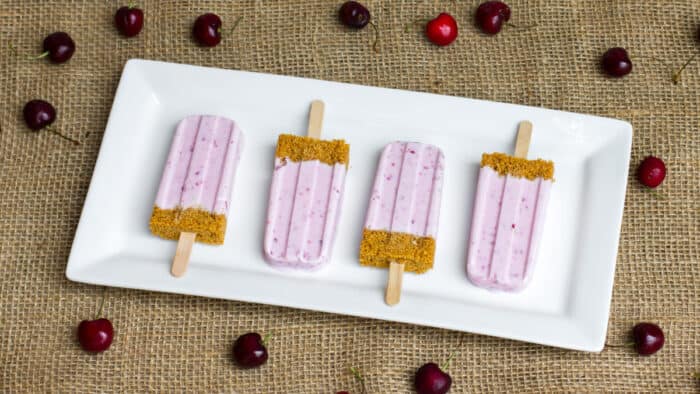 Popsicles are one of my favourite summer treats and I love to make my own. Always trying new variations on frozen ice pops, I made these cherry cheesecake popsicles and wow are they amazing..
The first time I made these popsicles, they were even better than I imagined. They taste exactly like cheesecake and they are totally refreshing as a popsicle. The frozen cheesecake is creamy, cold and refreshing and the layer of graham cracker crumble is perfect!
Cherries Are So Good!
I love cherry desserts – cherry pie, black cherry ice cream, black forest cake and more. But of all the cherry desserts, my favorite is definitely cherry cheesecake. Creamy, cheesy, tart and sweet all in one. On top of that, the graham cracker crust is awesome.
So, with the weather so hot I figured it was time to turn this awesome dessert into a popsicle! Cheesecake should be good as a popsicle right?
More Cherry Recipes – I have a number of other recipes with cherries, including this Black Cherry Milkshake, No Bake Cherry Cheesecake, and some White Chocolate Cherry Shortbread Cookies.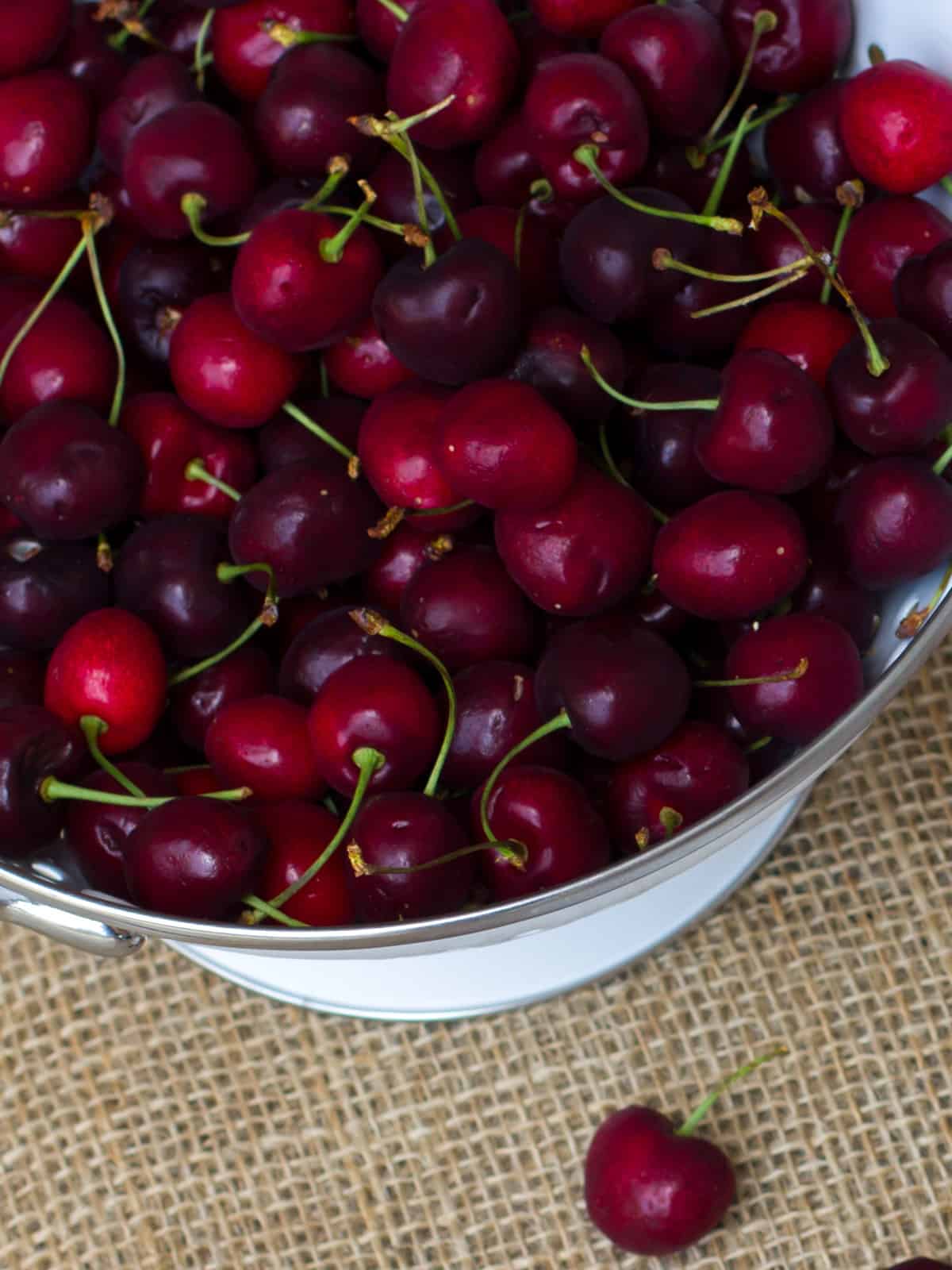 Ingredient Notes
Much of the ingredients for this cherry cheesecake popsicle are just what is used for the cheesecake!
Cherries – sweet cherries that are fresh are perfect for this recipe. Make sure to pit them before adding them to the recipe.
Cream cheese – one 8oz brick of cream cheese.
White sugar – This adds a sweetness to the creamy portion of the popsicle.
Milk – I typically use 2% milk.
Graham cracker crumbs – these are the classic part of the base of a cheesecake and adding them.
Butter – melted butter is used to bind the graham cracker crumbs together.
Expert Tip! There are lots of ways to vary this recipe. Use blueberries or strawberries instead of cherries. Try shortbread or Oreo cookie crumbs instead of graham cracker crumbs.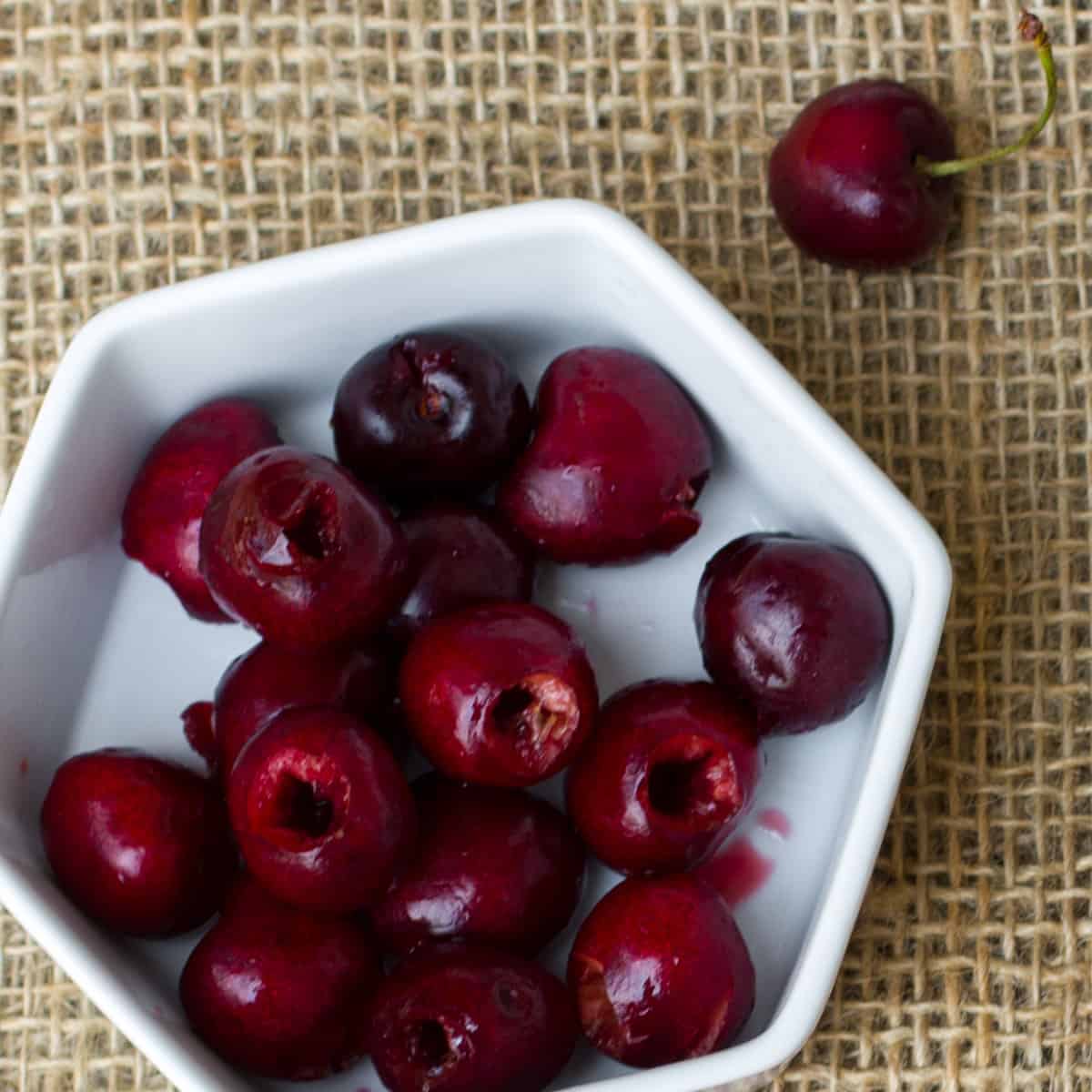 How To Pit Cherries – The easiest way to pit cherries is with a pitter utensil but you could also cut them in half and remove the pits with your fingers. Be aware that cherry juices can stain.
How To Make Popsicles
There are many different types of popsicles molds, and most should work just fine with this recipe.
The first step in making these popsicles is to add the cream cheese, milk and sugar to a food processor. Pulse until smooth and creamy. Then add the pitted cherries and pulse to chop them and incorporate them into the creamy mixture. Feel free to pulse them more or less depending on how large you desire the chunks of cherries to be in the mixture. Pour the mixture into popsicle molds.
In a separate bowl take mix the graham cracker crumbs with the melted butter. Spoon some into each popsicle fold and press it into the cheesecake mixture.
Place the popsicle mold in the freezer until it fully freezes. This should take around 3-4 hours.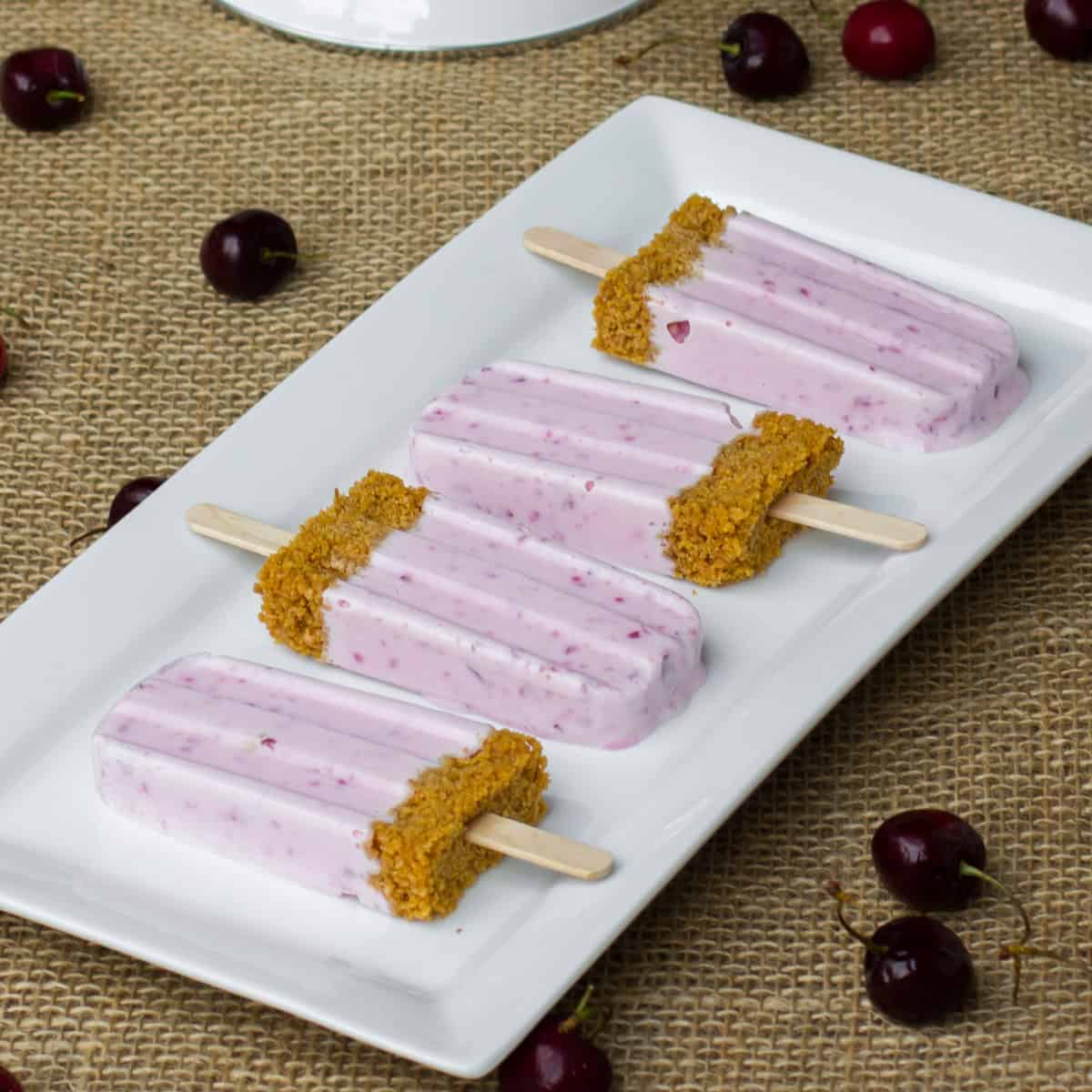 More Popsicle Recipes!
I am always on the lookout for a new popsicle flavour. These cherry cheesecake popsicles are amazing, and here are some other ones I have made over the years:
Cherry Cheesecake Popsicle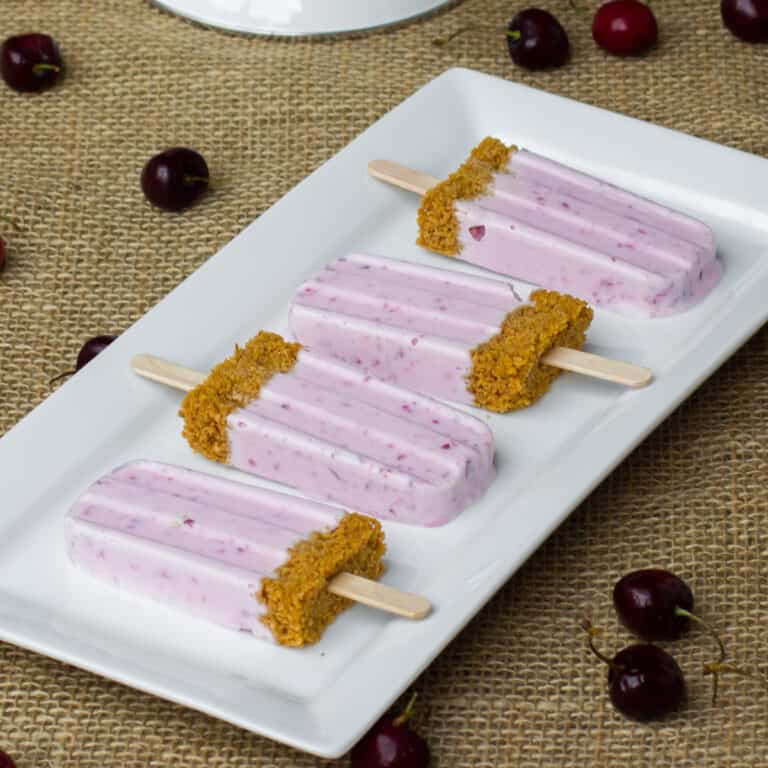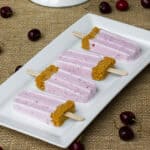 Print
These frozen ice pops are creamy and taste just like cherry cheesecake. Cream cheese, milk, sugar, cherries and graham cracker crust in this simple recipe.
Servings: 10
Ingredients
1 brick cream cheese , 8oz
1/2 cup white sugar
1/3 cup milk
1 cup cherries , pitted
3/4 cup graham cracker crumbs
2 tbsp melted butter
Instructions
Add cream cheese, sugar and milk to a food processor. Pulse until smooth and creamy. Add the pitted cherries and pulse until the cherries are finely chopped and mixed throughout the creamy mixture. You can pulse it more or less depending on how chunky you want the cherries.

Pour into popsicle molds.

In a separate bowl, mix together the graham cracker crumbs and melted butter until combined and crumbly.

Evenly scoop some of the graham cracker mixture into each popsicle mold on top of the cheesecake. Gently press the crumbs down.

Place the popsicle mold in the freezer for about 3 hours or until solid.
Nutrition
Per serving:
Calories: 177kcalCarbohydrates: 18gProtein: 2gFat: 11gSaturated Fat: 6gCholesterol: 32mgSodium: 138mgFiber: 1gSugar: 14g
Recipe originally posted in June 2013.