Cherry Cheesecake Popsicle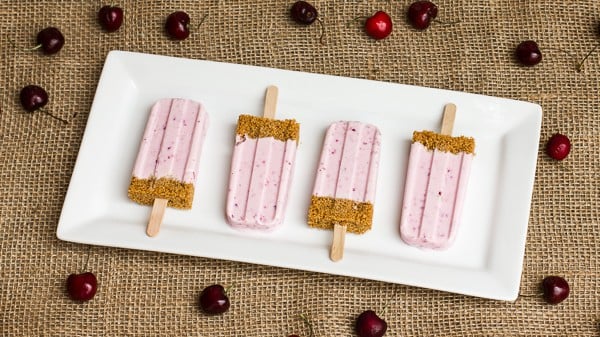 This first week of summer has been a hot one. There is a heat wave here in Toronto and it is a total scorcher. I like the heat, but man, when the humidity is high, it feels like a wall and almost smothering.
To beat the heat I have these new popsicles to share with you. Talisman Designs sent me a Cherry Chomper cherry pitter to try out, so this just turned into an excuse to make a recipe with cherries. I have no problem with that cause cherries are great and the kids love them.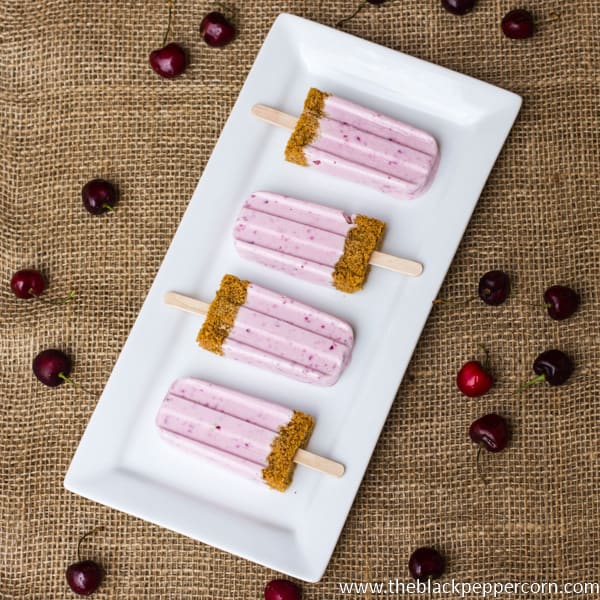 I love cherry desserts – cherry pie, black cherry ice cream, black forest cake and more. But of all the cherry desserts, my favorite is definitely cherry cheesecake. Creamy, cheesy, tart and sweet all in one. On top of that, the graham cracker crust is awesome. So, with the weather so hot I figured it was time to turn this awesome dessert into a popsicle! Cheesecake should be good as a popsicle right?
I made these and they were better than I even imagined. They taste exactly like cheesecake and they are totally refreshing as a popsicle. The frozen cheesecake is creamy, cold and refreshing and the layer of graham cracker crumble is perfect!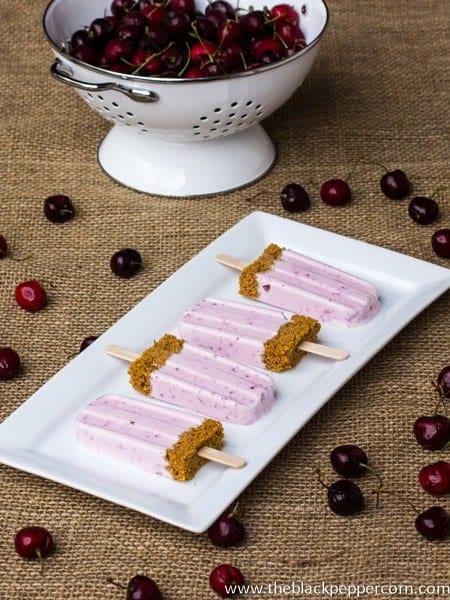 I am always on the lookout for a new popsicle flavour. Here are some other ones I have made over the years: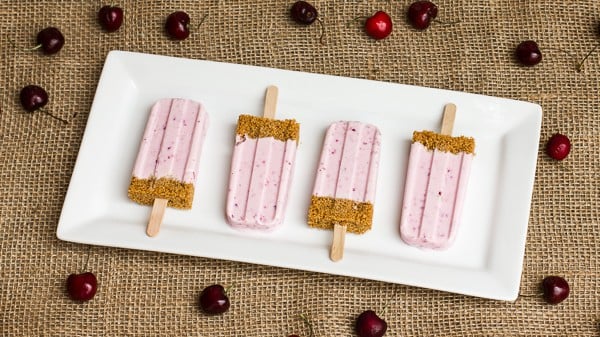 Cherry Cheesecake Popsicle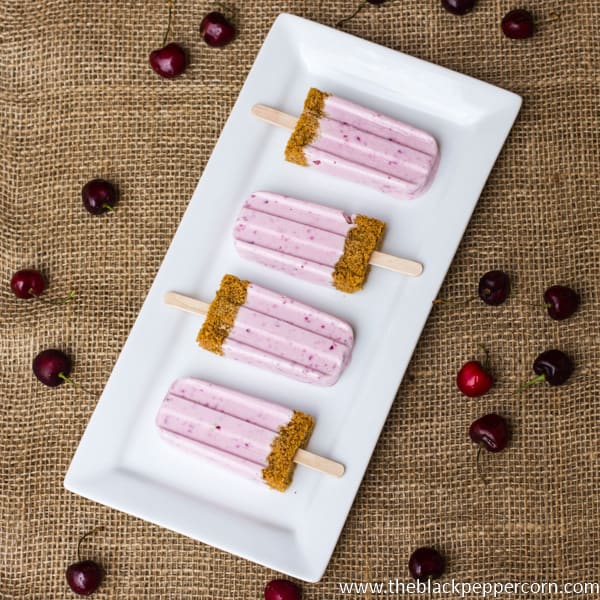 Print
These frozen ice pops are creamy and taste just like cherry cheesecake. Cream cheese, milk, sugar, cherries and graham cracker crust in this simple recipe.
Servings: 10
Ingredients
1 brick cream cheese , 8oz
1/2 cup white sugar
1/3 cup milk
1 cup cherries , pitted
3/4 cup graham cracker crumbs
2 tbsp melted butter
Instructions
Add cream cheese, sugar and milk to a food processor. Pulse until smooth and creamy. Add the pitted cherries and pulse until the cherries are finely chopped and mixed throughout the creamy mixture. You can pulse it more or less depending on how chunky you want the cherries.

Pour into popsicle molds.

In a separate bowl, mix together the graham cracker crumbs and melted butter until combined and crumbly.

Evenly scoop some of the graham cracker mixture into each popsicle mold on top of the cheesecake. Gently press the crumbs down.

Place the popsicle mold in the freezer for about 3 hours or until solid.
Nutrition
Per serving:
Calories: 177kcalCarbohydrates: 18gProtein: 2gFat: 11gSaturated Fat: 6gCholesterol: 32mgSodium: 138mgFiber: 1gSugar: 14g