Pecan Praline Monkey Bread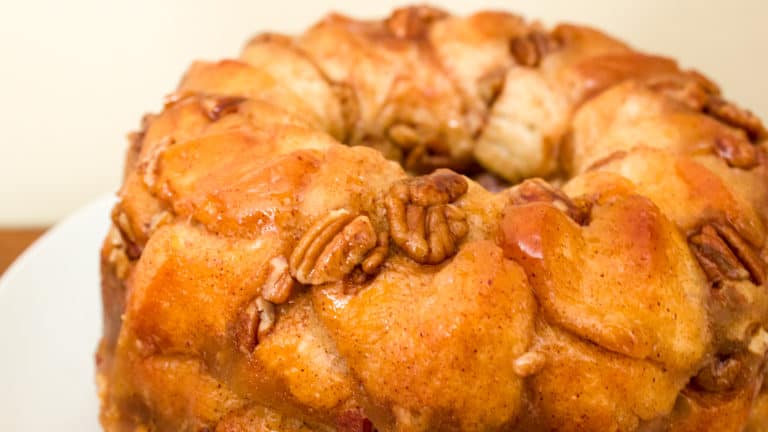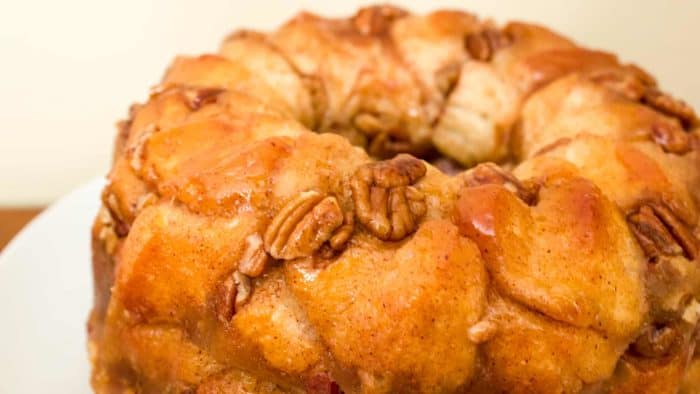 Friday was a P.A. day for the kids. Since they got to stay at home we were able to do some fun things together before I had to leave for a weekend work trip to Niagara Falls. A few weeks ago I made a Seafood Stuffed Monkey Bread. Ever since then the kids have asked me to make the traditional sweet kind.
So Friday morning, I got them to help me and we used it as the next Kids in the Kitchen recipe. All three of the kids were involved this time, each helping in different ways. If you are looking for a recipe to make with your kids, this is an excellent option!
If you have never had Monkey Bread before I highly encourage you to give this recipe a try. The caramel mixture that is poured over top coats the pecans and monkey bread. It is so easy to make and is like bite size cinnamon bun and praline goodness! It is great as a breakfast treat or as a dessert as well.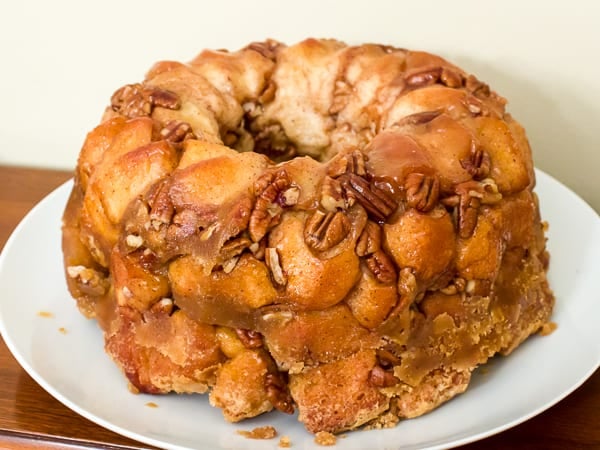 The kids were thrilled to help out and there were tasks that each of them could do!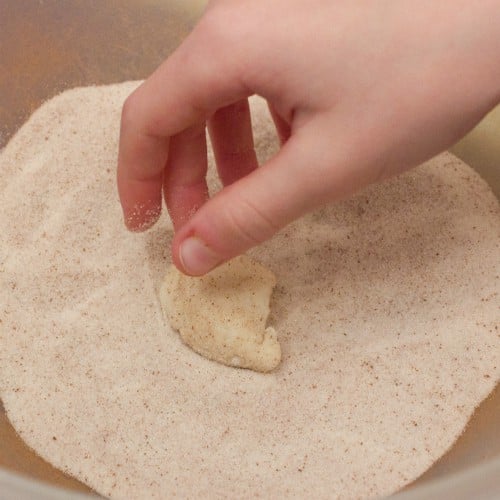 Roll the pieces of dough in a sugar and cinnamon mixture.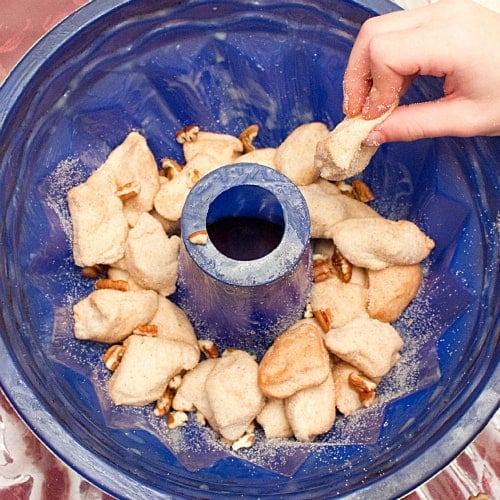 Place in a buttered bundt pan with some pecans sprinkled throughout.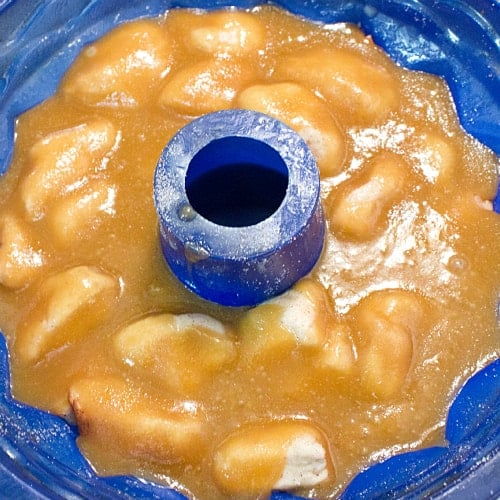 Make the caramel and pour over the pieces of dough.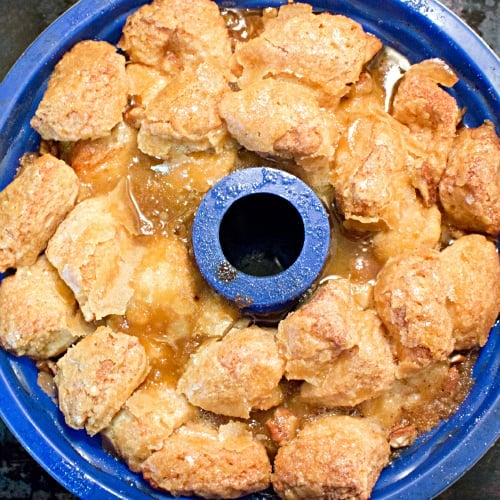 Bake for 35 minutes. The monkey bread will brown and start to crisp up on top. Let it rest for 10 minutes before removing from the bundt pan.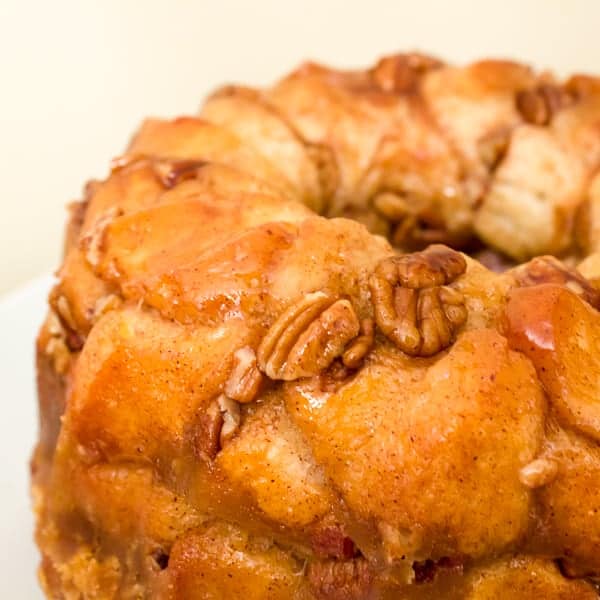 The caramel works its way all throughout the bundt pan and coats the whole loaf of monkey bread. It is so amazing.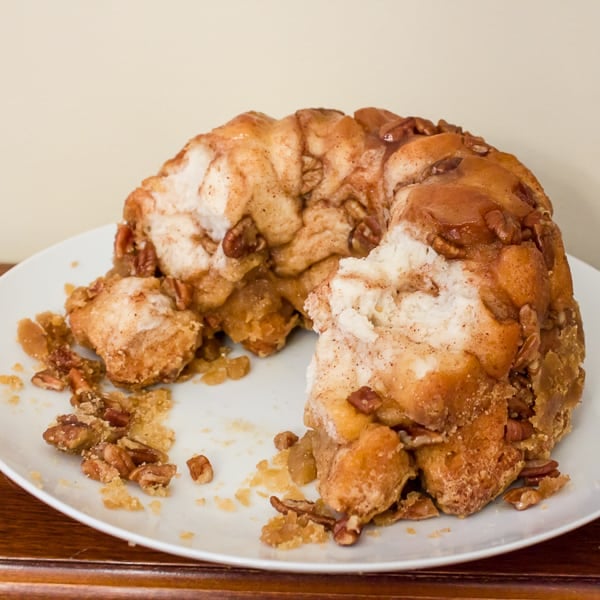 Pecan Praline Monkey Bread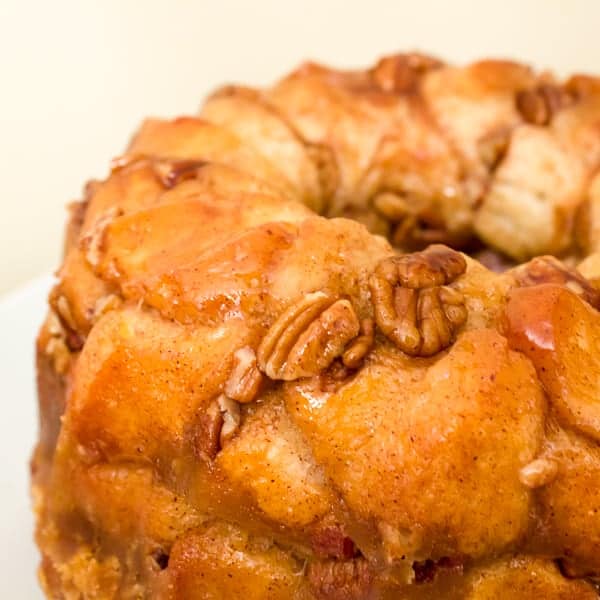 Print
How to make monkey bread recipe with Pillsbury biscuit tubes and then has a caramel mixture that is poured over top and coats the pecans and monkey bread.
Servings: 8 people
Ingredients
2 tbsp melted butter
2 tubes of Pillsbury Country Biscuits or other brand
1 cup sugar
3 tsp cinnamon
1 cup chopped pecans
1/2 cup butter
1 cup brown sugar
Instructions
Brush the melted butter on the bottom and sides of the bundt pan.

Mix the sugar and cinnamon together.

Cut each Pillsbury biscuit dough in quarters. Roll each quarter in the cinnamon and sugar and place in the bundt pan. Sprinkle pecans in the bundt pan as you continue to fill with the remaining quarters of dough rolled in sugar.

Melt the 1/2 cup of butter in a saucepan. Stir in the brown sugar and bring to a boil. Stir constantly while it is boiling for 2 minutes. Remove from the heat and pour the caramel over the monkey bread.

Bake in a 375F oven for 35 minutes. The top of the monkey bread should be a golden brown. Remove from the heat and let rest for 10-15 minutes.

Flip the bundt pan onto a serving plate. Serve the monkey bread hot.