Rainbow Candy Popcorn – Kids in the Kitchen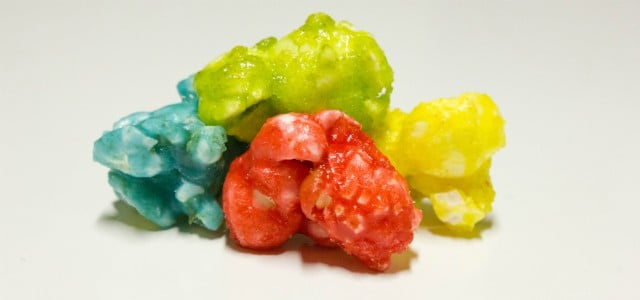 Saturdays are turning into Kids in the Kitchen days. When we started this 'kids' series, Ben was the first one to want to do some cooking with me. But as he was making some dishes, the other two decided that they didn't want to be left out of all the fun! Today's recipe had to be focused on the Valentine's Day gift that the three are going to give to their teachers on Tuesday. Cards have been written for all the classmates but the teachers deserve something extra special so we searched for the perfect little treat.
I had been scanning the Jello website and discovered that candy corn could be made with Jello. I was so pumped and told the kids that this would make the perfect gift. Plus, this would be easy for them to make and a lot of fun! I bought a few different kids of Jello and we made the red Jello first.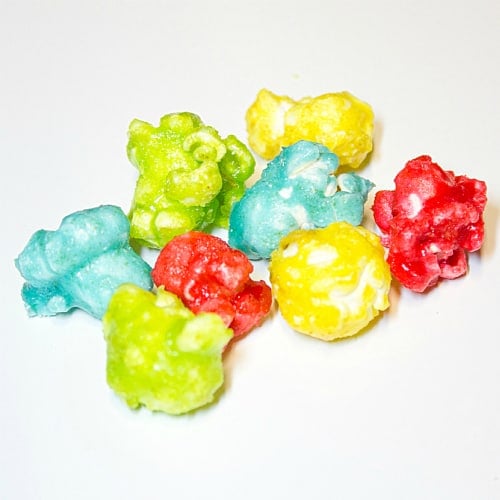 There are only a few steps and the kids did pretty well all of it as I stood close by. I added a few drops of food colouring to make sure that the candy coating had a bold colour.
Once baked we removed it from the oven and let the popcorn cool. I learned that it is important to break apart the candy corn immediately after it is removed from the oven. The first batch cooled compltetly before breaking it apart and they were all hardened together. They tasted fine but it wasn't as attractive.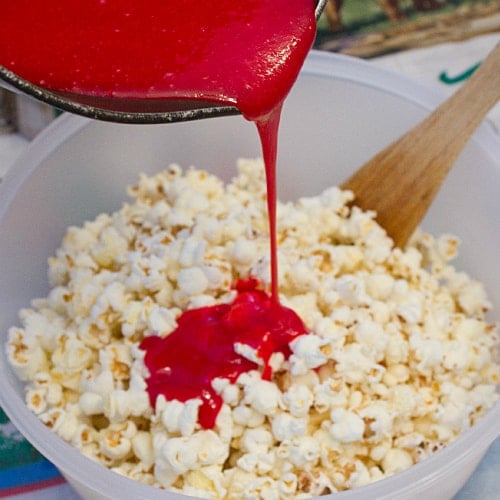 After the red Jello, we decided to try green, yellow and blue. They all tasted great and each colour was a favourite of someone. Mixing all the candy corn together made a beautiful rainbow display that just begs you to dive in.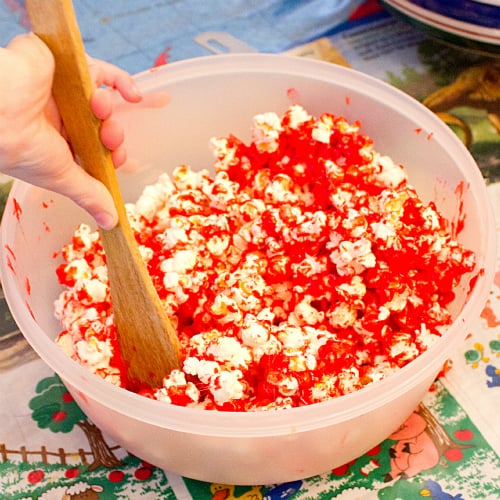 It is necessary to quickly mix the popcorn once you pour the candy coating in as it gets sticky very quickly.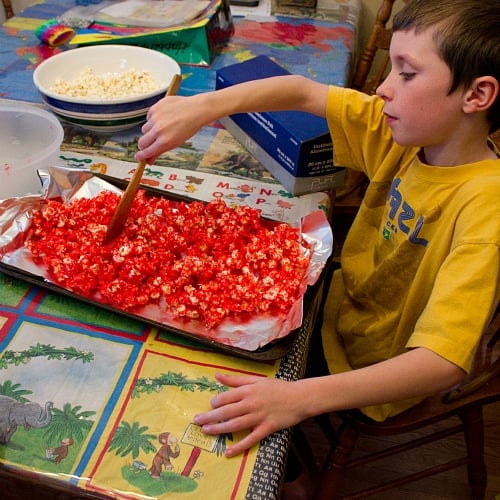 Spread the candy corn on a cookie sheet lined with foil. Once baked, break the popcorn apart with your hand immediately after taken it out of the oven. If you wait to long they will harden together.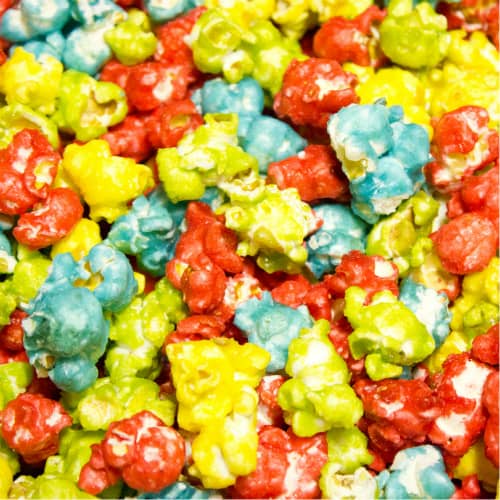 Rainbow Candy Popcorn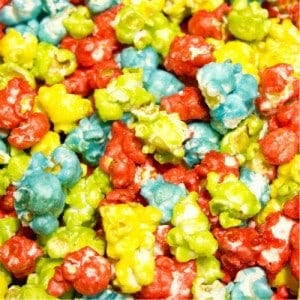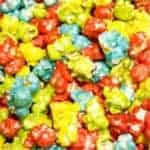 Print
This candy popcorn recipe is made with Jello. A simple sweet popcorn recipe for how to make candy corn with bright colours and fruity flavours!
Servings: 10 cups
Ingredients
10 cups of popped popcorn
1/4 cup butter
1/4 cup corn syrup (clear, if possible)
1 package Jello
1/2 cup white sugar
few drops of food colouring (if desired)
Instructions
Melt butter in a saucepan. Stir in the corn syrup until smooth. Mix in the Jello, sugar and food colouring (if desired). Bring the candy coating to a boil and lower heat to a simmer. Cook for 5 minutes, stirring often.

In a large bowl, pour the candy coating over the popcorn. Using a wooden spoon, mix the popcorn so that they are evenly coated with the candy coating.

Spread the popcorn on a cookie sheet lined with foil. Bake in a 250F oven for 30 minutes.

Remove from the oven and immediately break the popcorn apart. The candy will harden as it cools.
Recipe adapted from Jello