Jello Mold with Fruit Salad
This jello fruit mold recipe is a classic retro recipe that reminds me of my childhood. It is still a hit today and perfect for potlucks.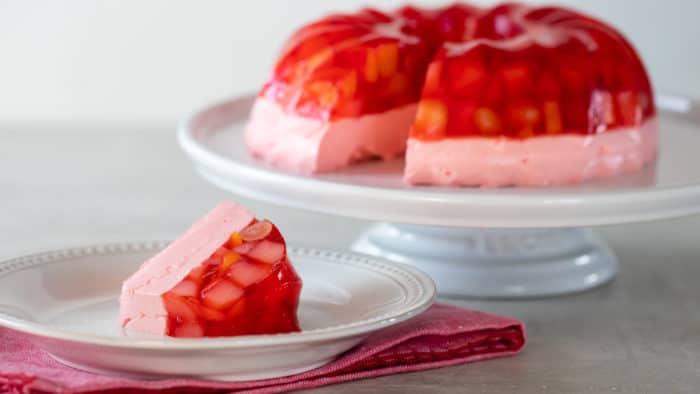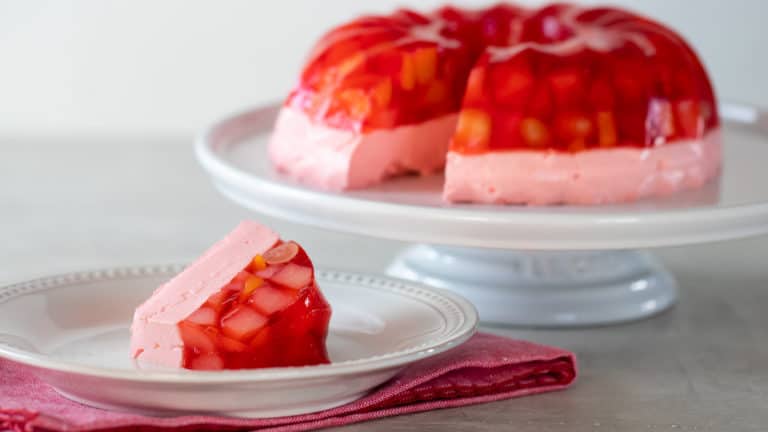 There are a number of recipes that were popular during the 60's, 70's and 80's, that seemed to just disappear. This Jello mold with fruit salad is one of those dishes that was very popular when I was a kid. You would find this dish at church potlucks, BBQ picnics, family reunions and basically any gathering where people would bring food.
I love Jello salad. Is it a salad? Is it a dessert? The debate can continue, but all I know is that it tastes amazing!
This recipe is the standard classic version I remember having when I was a kid. Along with the strawberry Jello, this also uses canned mixed fruit. Now, I do love using fresh fruit in a Jello salad. Fruit like strawberries, raspberries, kiwis and others will all work great. But, I actually find that using a can of mixed fruit with peaches, pears, grapes and cherries will bring back the nostalgia that I absolutely love about this recipe!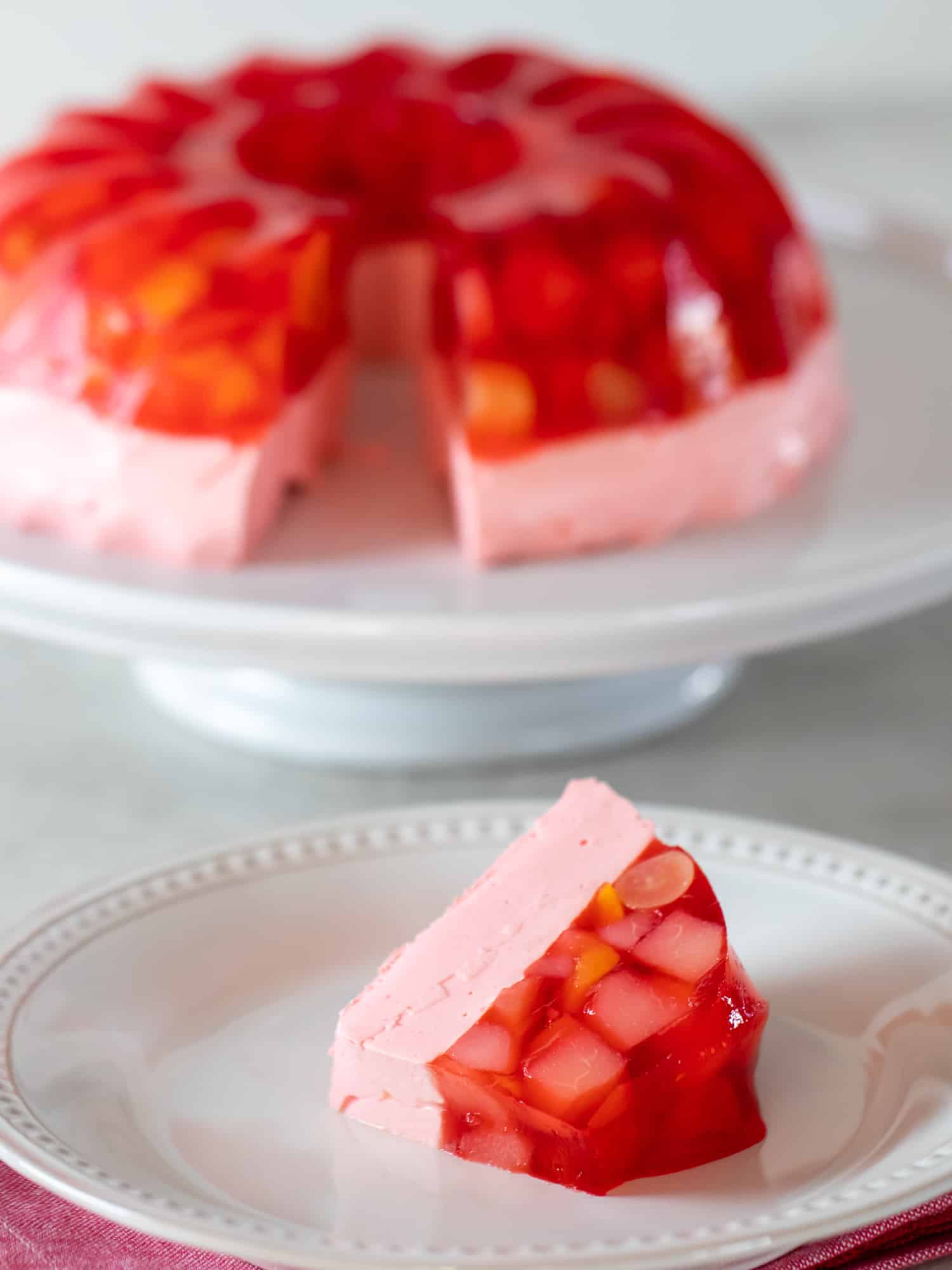 My mom is an amazing cook and there are so many amazing dishes she would make during my childhood. Over the years, I have asked her to teach me many of these classic recipes. I love being able to introduce my kids some of these dishes as well.
Here are a number of my mom's recipes that I just love!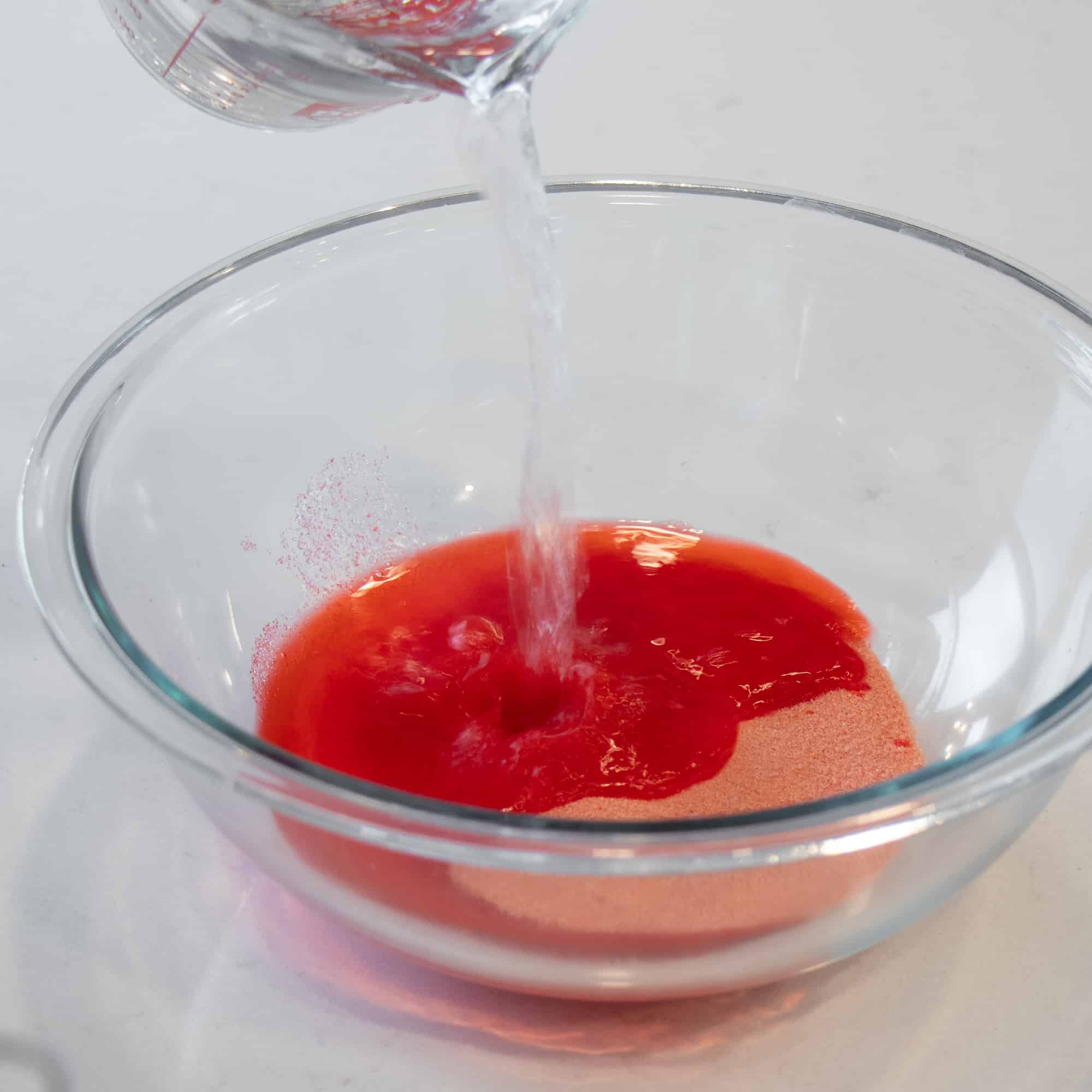 How to make a Jello Mold
This recipe is very easy and super versatile. Every time I make it, I seem to switch something up, either by using a different flavour of jello, or different types of fruit. The first step in this recipe is to make the Jello. Use either two 4 serving packets or one 8 serving packet of Jello gelatin. Stir in the boiling water first to dissolve the Jello crystals. Then, mix in the cold water. This recipe uses a little bit less water than what is needed to make standard jello. But, with the canned fruit and whipped cream, it comes out with the perfect consistency.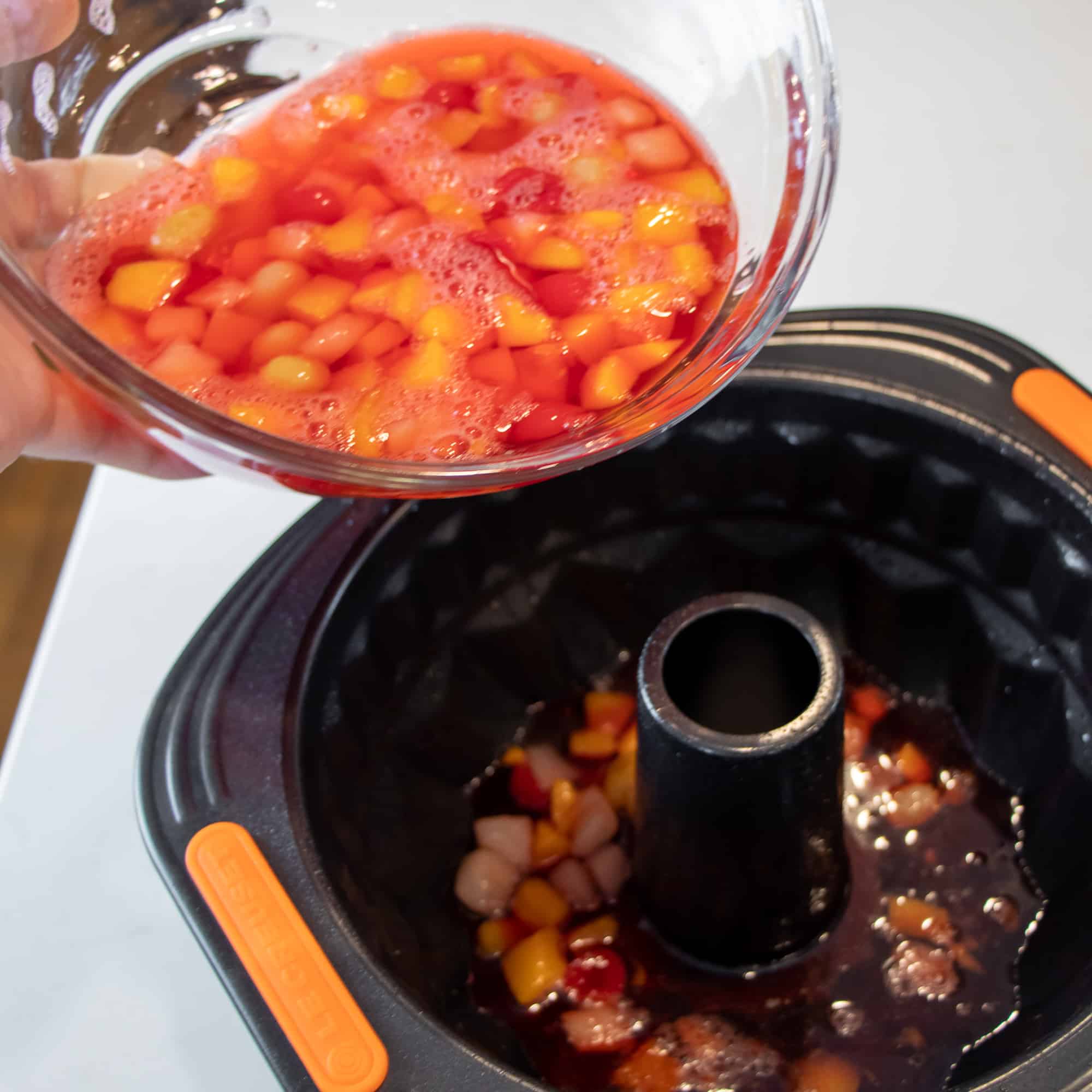 I put the jello in the fridge for about 45 minutes. This allows it to just start to gel and set. By doing this, it allows the mixed fruit to be more evenly distributed throughout the Jello. Once it has started to set, mix half of the Jello mixture with the canned mixed fruit. Make sure to drain the mixed fruit to get rid of the syrup. Dump the half Jello and fruit into a bundt pan that has been sprayed with cooking spray. Place the bundt pan in the fridge for the Jello to set.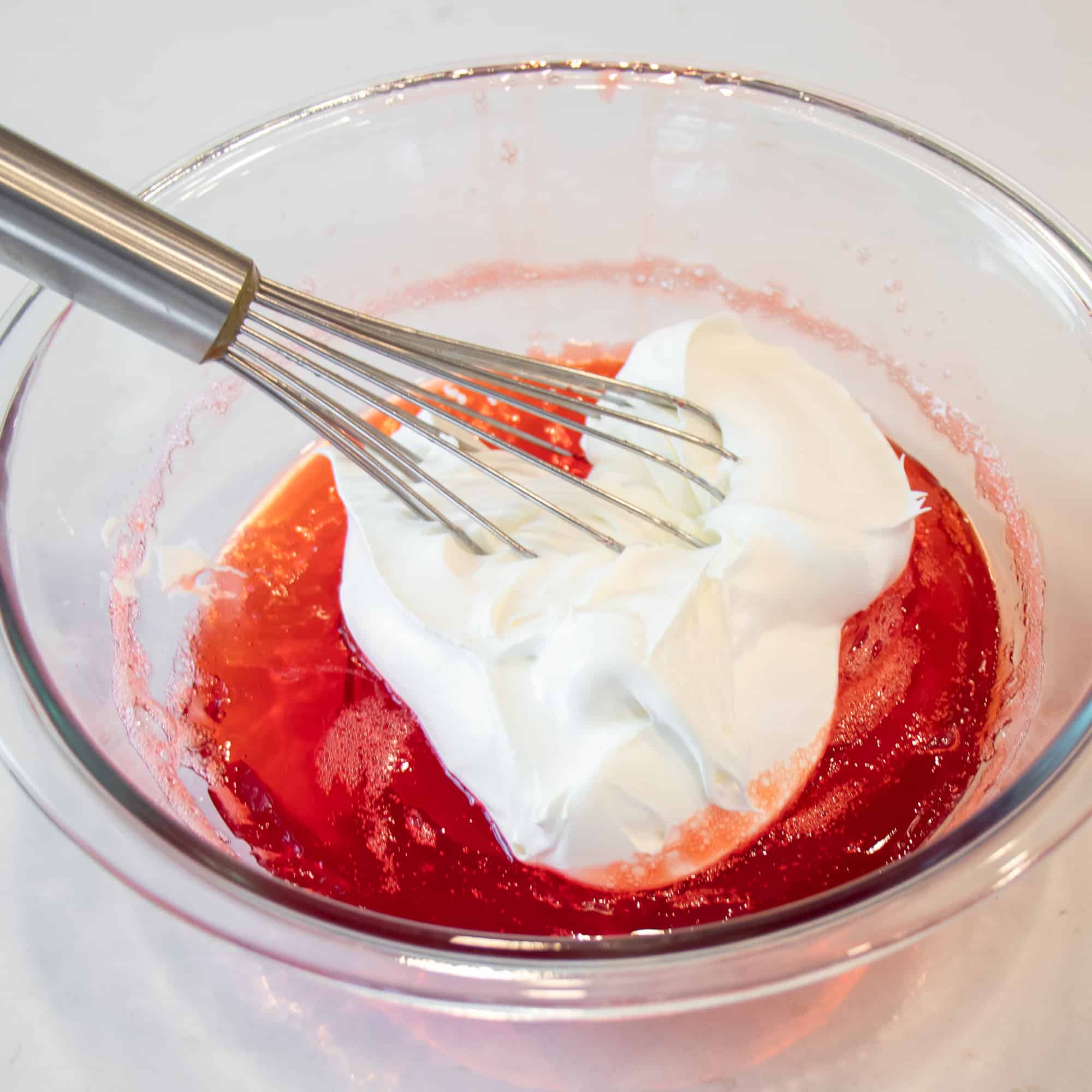 While the bundt pan is in the fridge, whisk together the remaining Jello with some whipped cream. This creates firm mousse type layer that is fruity and creamy. This is easily my favourite part of this recipe. I could eat all this layer by myself.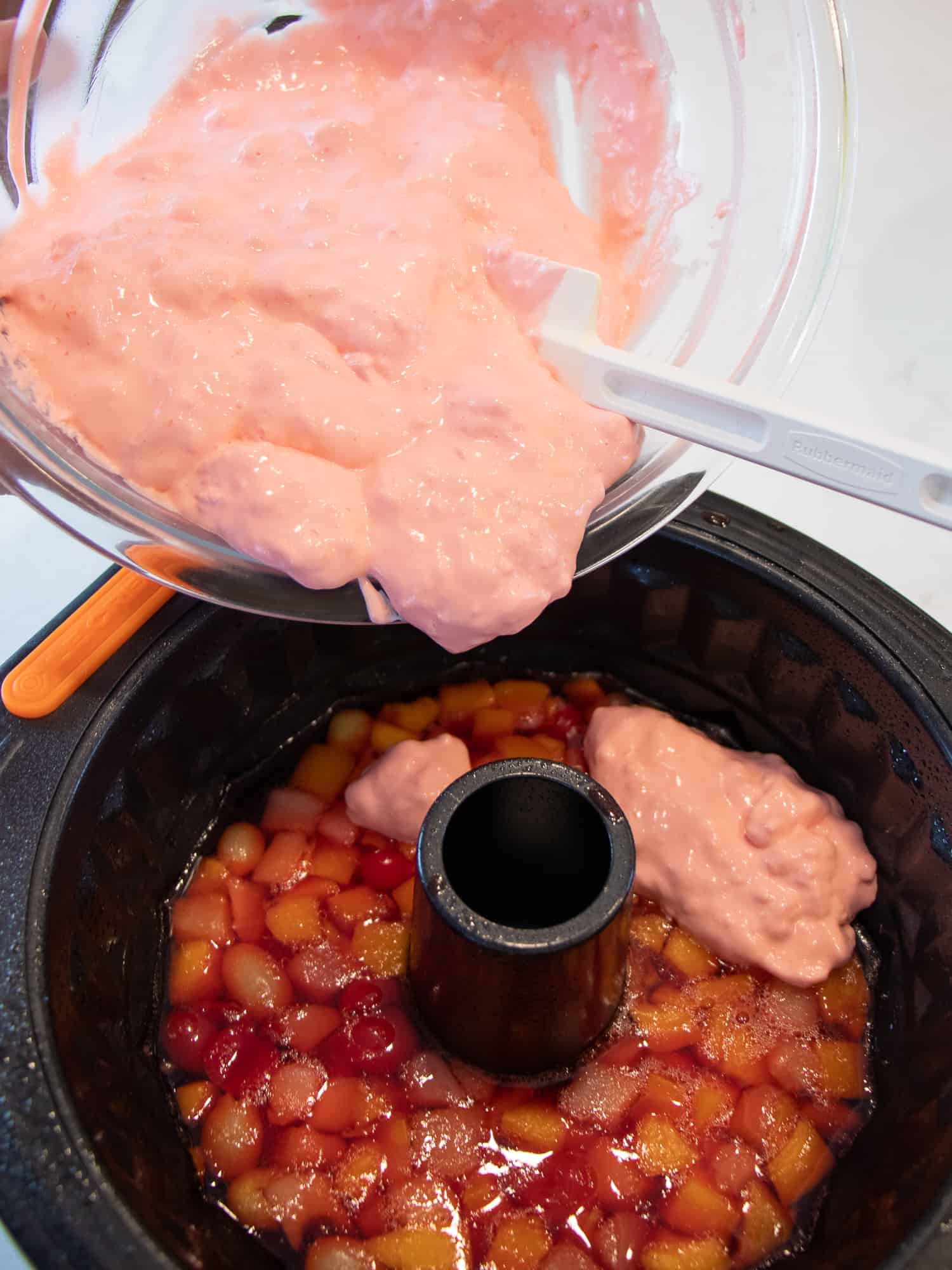 Once the Jello has started to set on the surface, you can spoon the Jello and whipped cream mixture on top. Spread it evenly across the Jello and fruit mixture.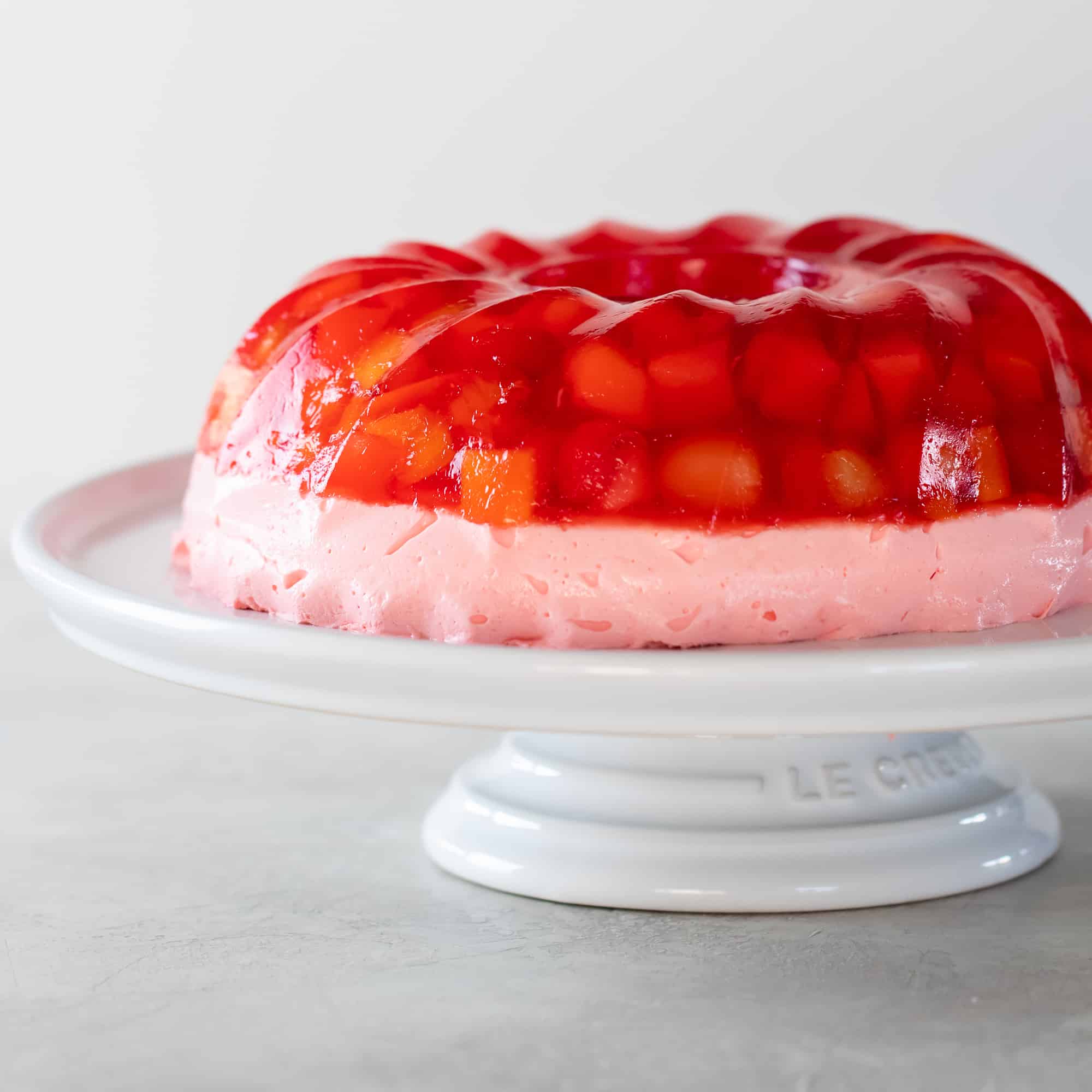 Keep the bundt pan in the fridge for at least 6 hours. I find it takes this long to get firm right into the centre. After this Jello salad ring has been in the fridge long enough to set, you can take it out and flip it upside down on top of a serving dish. If the Jello is not coming out of the bundt pan, you can wiggle it back and forth. I find that jiggling it, is usually enough to get the Jello ring to release from the pan.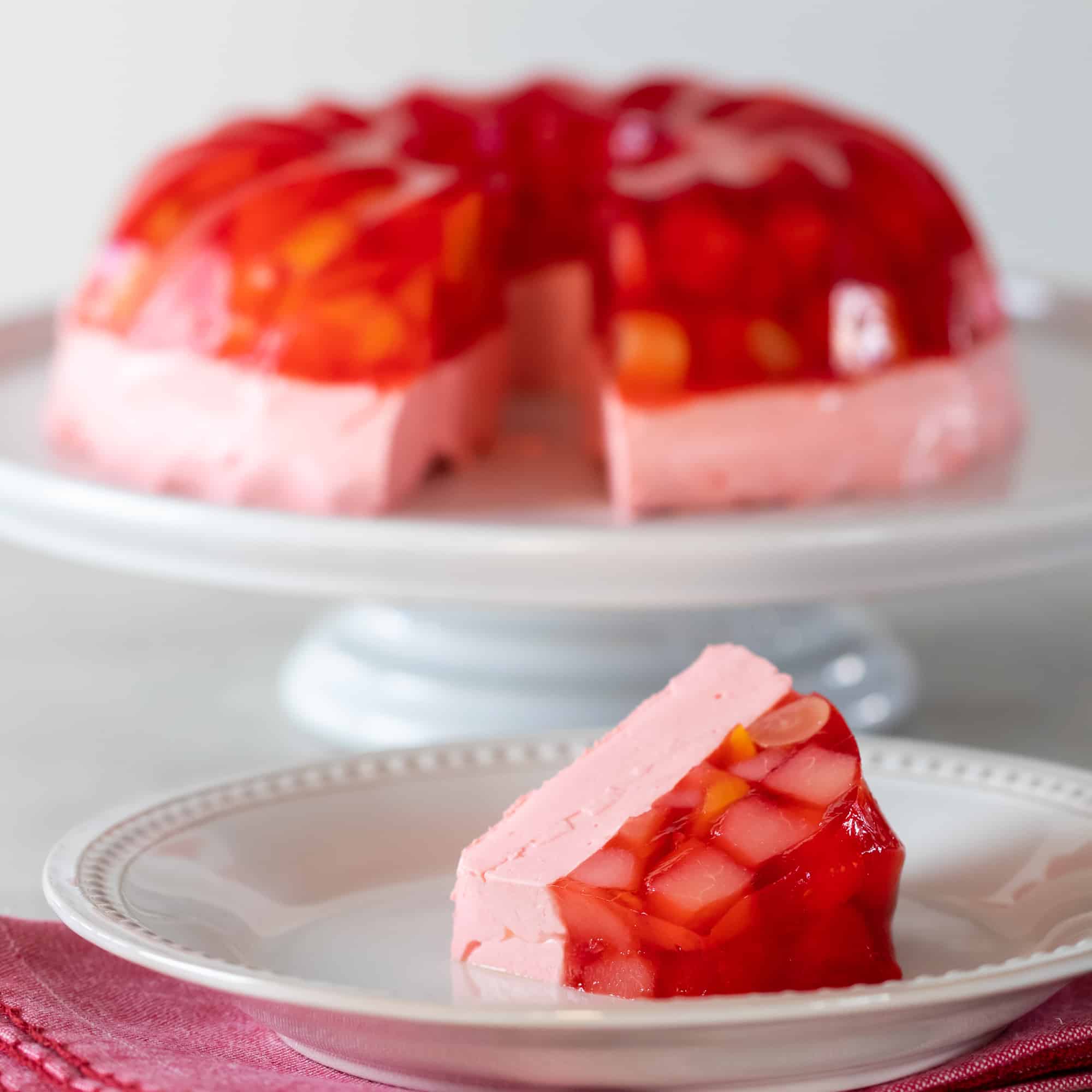 This Jello mold is best served chilled. Keep it in the fridge until you are ready to serve this to your family or guests. Use a sharp knife to cut the mold into slices to serve. Lift it up the serving dish with a flat lifter or spatula.
Jello Mold with Fruit Salad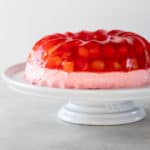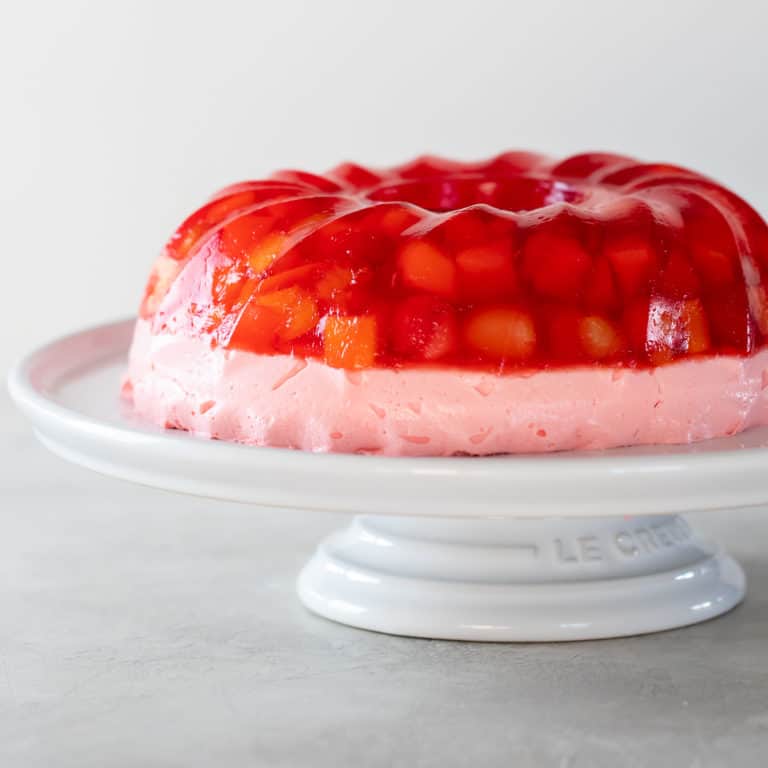 Print
This classic retro recipe is perfect for pot lucks, holidays, parties and more! A simple recipe with Strawberry jello, fruit salad from a can and cool whip.
Servings: 8
Ingredients
2 packages strawberry jello , 4 serving packages (or use one 8 serving package)
1 1/2 cups boiling water
1 1/4 cups cold water
2 cups canned fruit salad , drained
1 1/2 cups whipped cream
cooking spray
Instructions
Whisk the Jello powder in a bowl with the boiling water until all the crystals have dissolved. Stir in the cold water.

Place in the fridge for about 45 minutes. The Jello should just start to thicken.

Spray a bundt pan or other mold with cooking spray.

In a separate bowl, combine the drained mixed fruit salad with half of the jello. Spread evenly in a bundt pan. Place back in the fridge.

Whisk the remaining Jello with the whipped cream, until smooth and creamy.

After the bundt pan has been in the fridge for another 30 minutes, the top of the Jello should be fairly set. Spread the Jello and whipped cream mixture on top of the Jello and mixed fruit.

Place the bundt pan back in the fridge until completely set, about 6 hours.

To remove the Jello from bundt pan, flip it upside down, on top of a serving dish. If it is sticking, wiggle it back and forth a little until the Jello mold releases.

Slice and serve.
Nutrition
Per serving:
Calories: 144kcalCarbohydrates: 29gProtein: 2gFat: 3gSaturated Fat: 2gCholesterol: 9mgSodium: 107mgFiber: 1gSugar: 26g