Turnip Cake with Chicken Breast and Star Anise Broth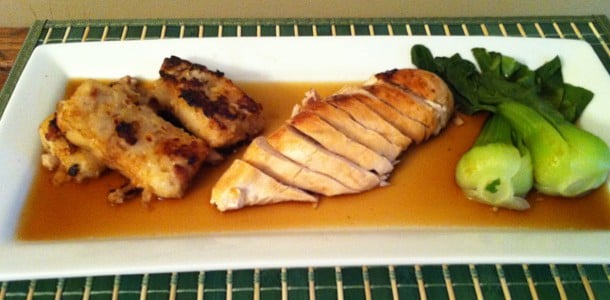 Star anise is a spice that I have not used much but after watching some of Masterchef Australia Season 2 I was inspired to cook this dish. Star anise is the highlight of this dish. Its flavour is like licorice and making a broth with star anise, thai chiles and fresh ginger turned out incredible!
The turnip cake is a classic Chinese dish that is popular in dim sum restaurants and also traditionally served on Chinese New Year. The turnip is in fact daikon or white radish and is considered lucky in Chinese culture.
The chicken was first fried in a pan, skin side down, to render the skin and then put in the oven with a bit of the broth.
Turnip Cake with Star Anise Broth and Chicken Breast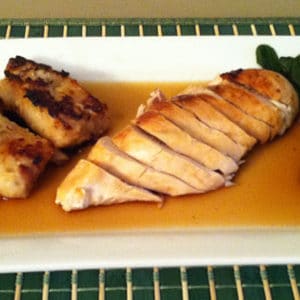 Print
A wonderful dish with turnip cake and a rich tasting broth made with anise seed.
Servings: 4 people
Ingredients
1 whole chicken
8 cups chicken broth
1/3 cup soy sauce
6 star anise
10 round slices of fresh ginger
4 thai chiles
2 tsp sugar
5 cups grated daikon/white radish
1 cup diced pork belly
3 tbsp oil
1 1/2 cups shitake mushrooms , sliced
1/2 cup dried shrimp , soaked, drained and minced
2 cups rice flour
1-2 cups water
Instructions
Cut up the chicken into four parts for serving. Also cut off the wings and the back to use for the broth. Place the 4 pieces of chicken in the fridge.

In a large pot place the chicken wings and back along with plenty of water (more than 10 cups). Bring to a boil and lower heat to a rolling boil. Cook for 1 hour to develop a nice chicken broth. Set aside.

To make the star anise broth, put all the broth ingredients (except the sugar) in a pot and bring to a boil. Lower heat and let simmer for 40 minutes.

Remove from heat, remove star anise, chilies and ginger. Stir in sugar and set aside.

To make the turnip cake put oil and pork bellies in a frying pan at medium heat. Cook until pork bellies are cooked through and starting to brown.

Add mushrooms and cook, stirring often, until they soften.

Add daikon and shrimp and cook until daikon begins to soften.

Once the daikon has softened remove from heat. Stir in the rice flour and and water until fully combined and there are no lumps of flour.

To cook the turnip cake it requires first to be steamed. Transfer the mixture to a baking dish that fits in a bamboo steamer. Place in the steamer and cover. Steam the turnip cake for 60 minutes.

Remove from the steamer and let the turnip cake rest and cool for 1 hour.

To cook the chicken, put some oil in a fry pan on medium high heat. Place chicken, skin side down and cook for 7 minutes. Lift up and check the skin. It should be beginning to brown. Flip chicken over so the skin is up and place in the oven, set at 350, for 50-60 minutes.

Remove from the oven and take the chicken out of the pan and let it rest for a few minutes to bring the juices back into the bird.

Slice the turnip cake into 1 inch strips. Place in a frying pan with a couple tablespoons of oil and cook until browned and caramelized on each side.

While the turnip cake is cooking, reheat the broth so it comes juice short of a boil.

Serve turnip cake with the chicken and broth.