I have come to love tagine. This dish, which is a staple of Moroccan cuisine, is slow cooked meat with lots of spices. Typically, not near as spicy as an Indian curry tagine has a blend of sweeter and earthier spices. This is great with lamb, chicken or beef, it is also commonly served on top of couscous. Here are two of my couscous recipes that are perfect for this tagine dish.
Couscous with Apricots and Pistachios
Couscous with Cranberries and Almonds
I am thrilled to announce that Gourmet Choice has generously offered an Electric Tajine Cooker as a giveaway for one lucky reader. Click here to go to the page with the giveawy details.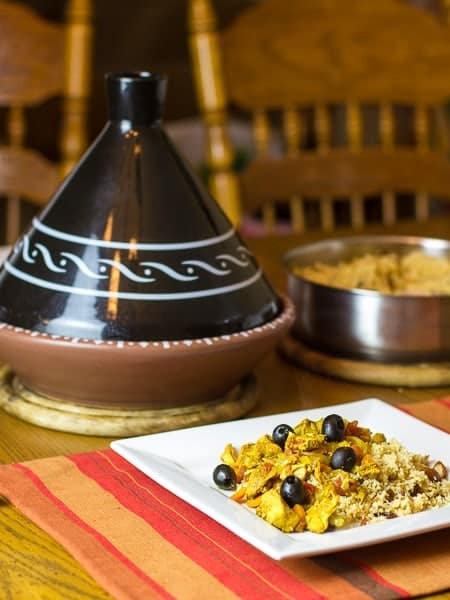 Chicken Tagine
Ingredients
3 tbsp oil
2 pounds boneless skinless chicken breast, cubed
1 tsp cumin
1 tsp coriander
1 tsp turmeric
1 tsp paprika
1 tsp salt
½ tsp cinnamon
½ tsp ground ginger
2 onion, diced
3 garlic cloves, minced
3 carrots, diced
3 tomatoes, diced
zest of one lime
1 can whole pitted black olives, drained
Instructions
Mix the spices together and toss with the cubed chicken.
Add oil to skillet or tagine cooker and heat on medium high to brown. Saute the spice rubbed chicken until they are lightly browned on all sides.
Slow cooker option – Transfer chicken and remaining ingredients, except for the black olives, to a slow cooker and set to high. Cook for 3-4 hours
Electric tagine cooker option – Add If using an electric tagine cooker, add remaining ingredients, except the black olives. Set to simmer and cook for 3-4 hours.
Standard tagine pot option – Transfer chicken and remaining ingredients, except for the black olives, to the tagine pot. Cook for about 3 hours at 325F.
With about 15 minutes remaining in the cooking time, stir in the black olives.
Serve with couscous