This easy recipe for homemade beef barley is perfect for a cold winter day and an excellent way to use leftover roast beef. Hearty and delicious!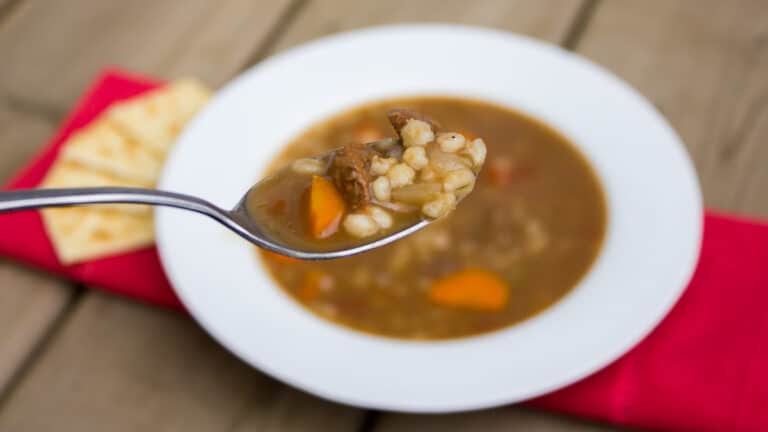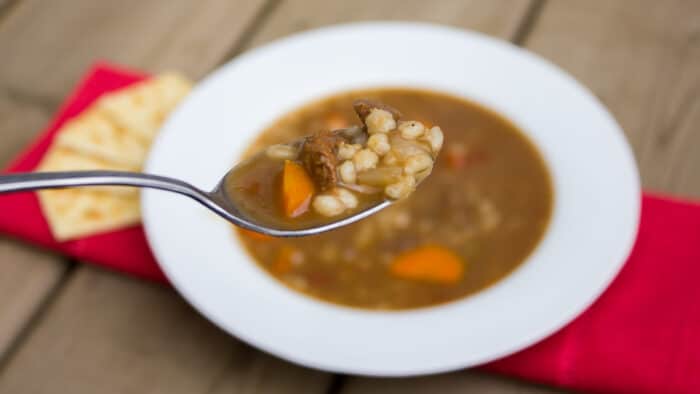 Beef barley soup is one of my favourite kinds of soup and I am not sure why, but I do not actually make it all that often. Whenever I do cook up a big pot of this soup, I vow to make it more frequently. You may often think of a hearty bowl of soup as a winter dish, but this beef barley works for me any day of the year!
I usually make this soup the day after we have a roast beef dinner. Leftover roast beef is ideal for soup and sometimes I cook up a prime rib or top sirloin roast, just so that I have an excuse to make this beef barley soup.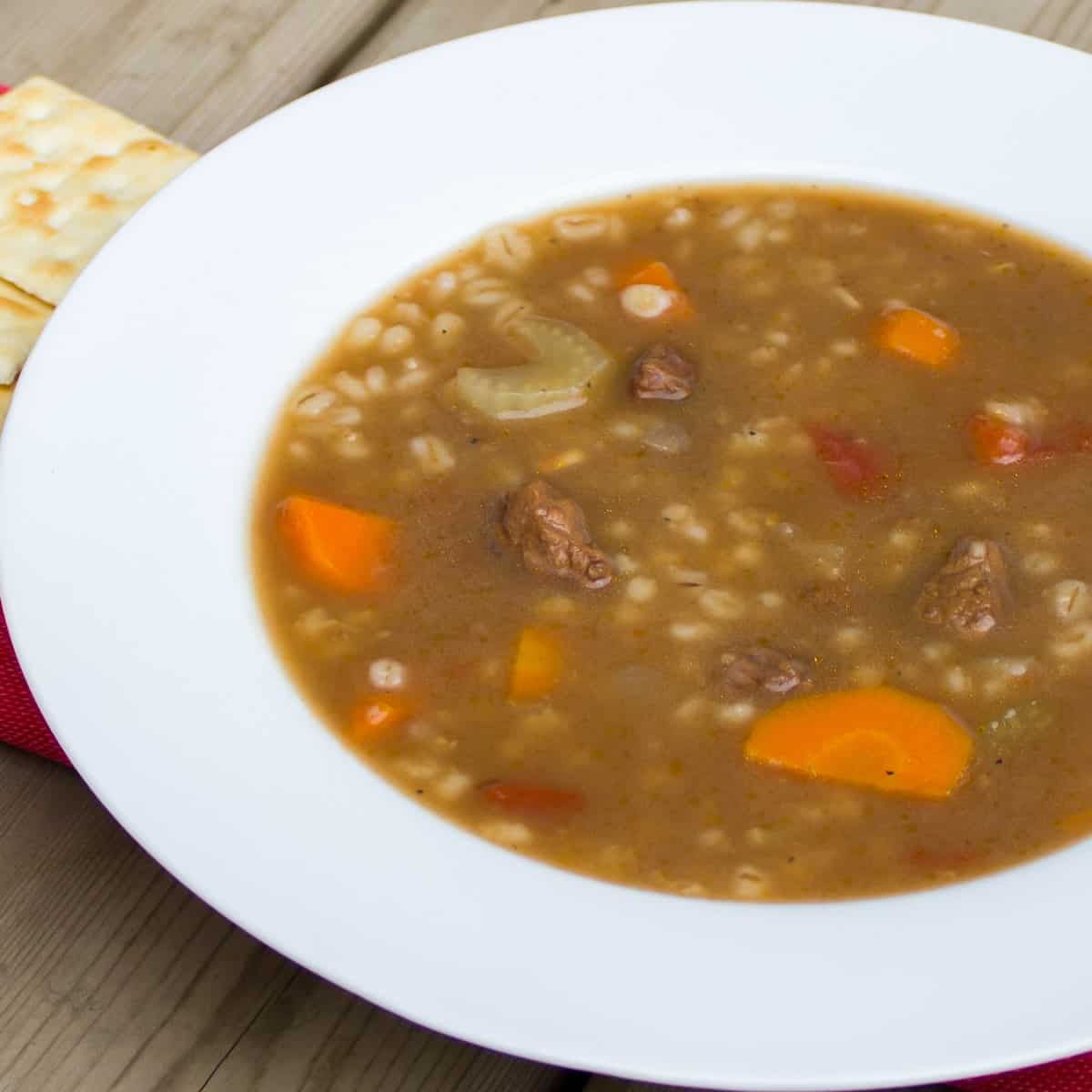 Barley is great for soup. It has a nutty texture and a great variation from rice, macaroni or diced potatoes in soup. I keep a container of dry pearl barley in the pantry for those soup day cravings.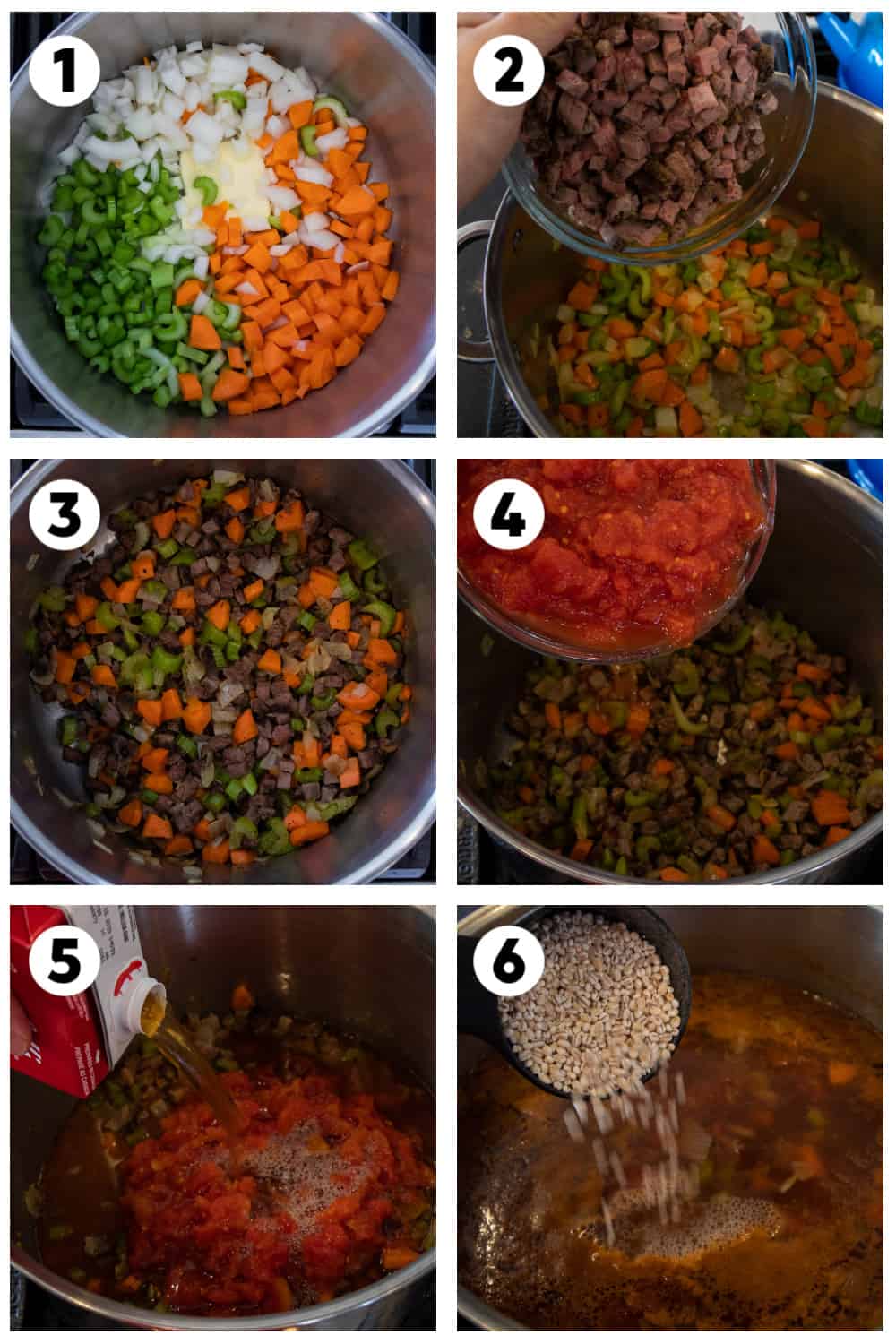 How to make homemade soup
The first step to making this soup is to sauté the onion, celery and carrots in a large stock pot with butter.
While the veggies are cooking, you can dice up the beef. Cut them into small chunks. You can use either raw or cooked beef. I often make this soup when I have some leftover beef roast. It is an awesome way to use up the leftovers.
Toss the cut up beef in the stock pot and stir. Cook for another 6-8 minutes.
Dump in a can of diced tomatoes (28oz), beef broth, water and seasonings. Bring to a boil and reduce heat so that the soup is cooking at a low rolling boil.
Dump in the pearl barley and continue to cook for 30-45 minutes.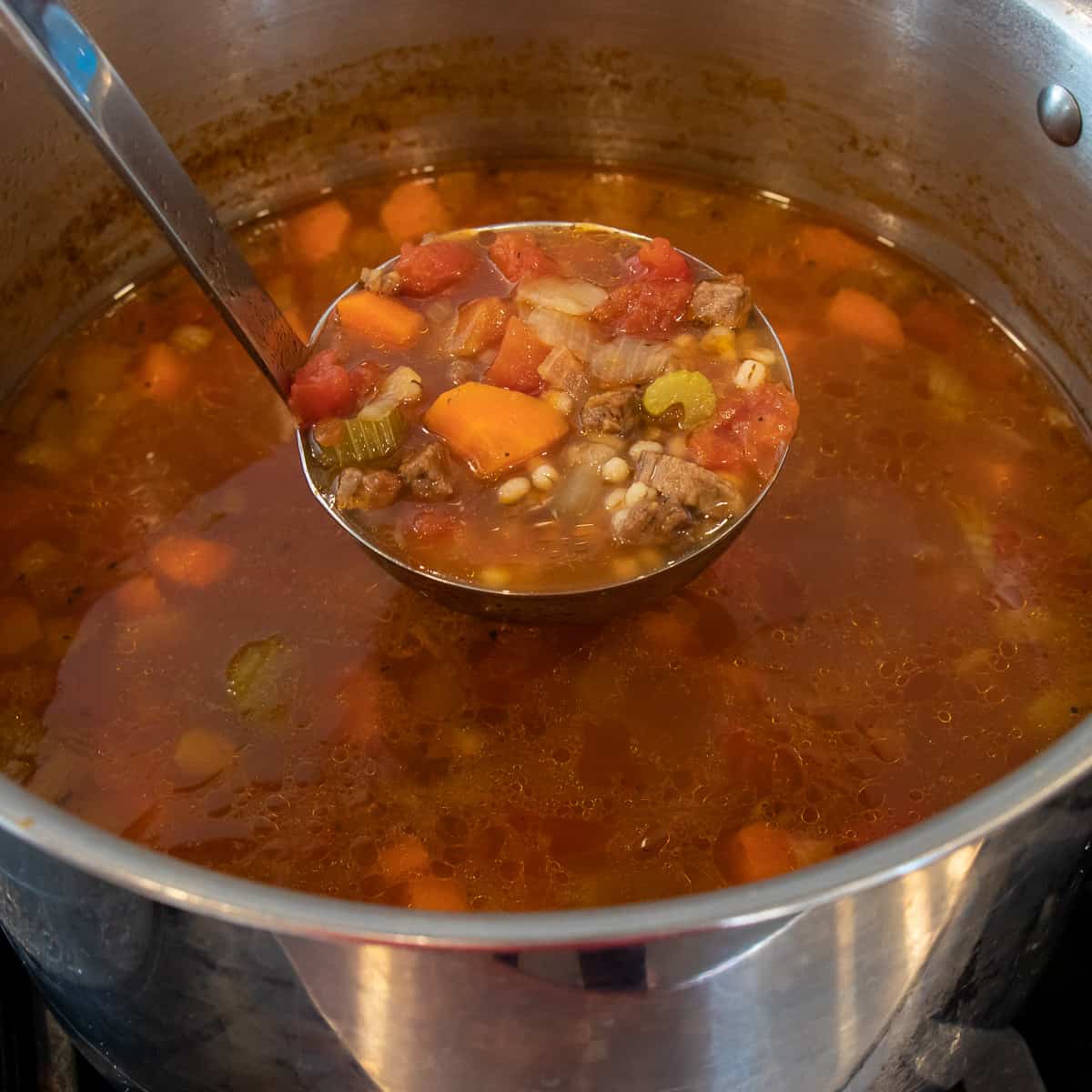 This soup will have a rich and silky broth and is hearty, packed with beef, carrots, onion, celery and lots of barley! There is a lot of soup in this pot and it will feed a crowd. It is so hearty that I would not serve this before a main course. Homemade beef barley soup is a meal in itself.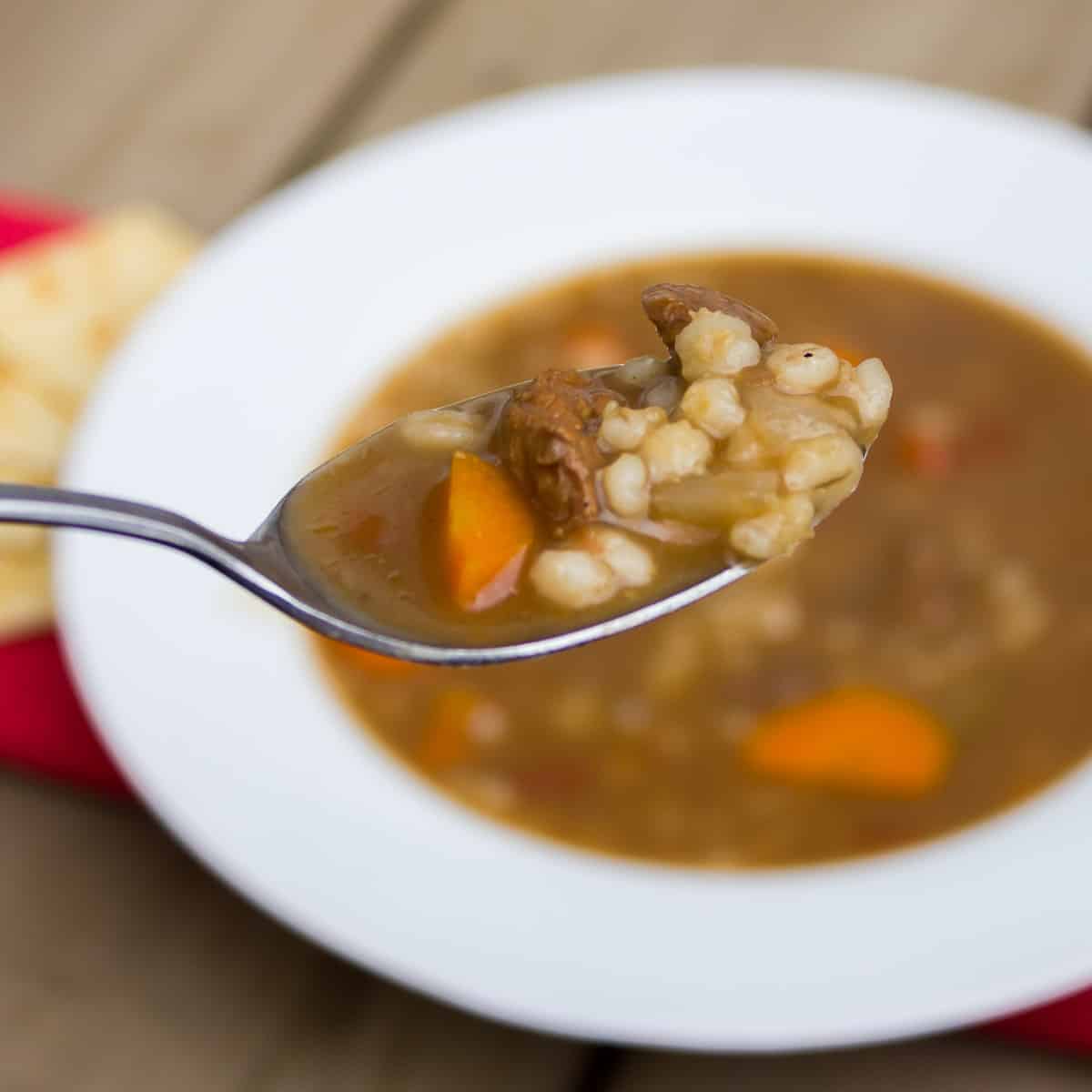 Other soup recipes
Check out some of these other great classic soups!
Homemade Beef Barley Soup - easy recipe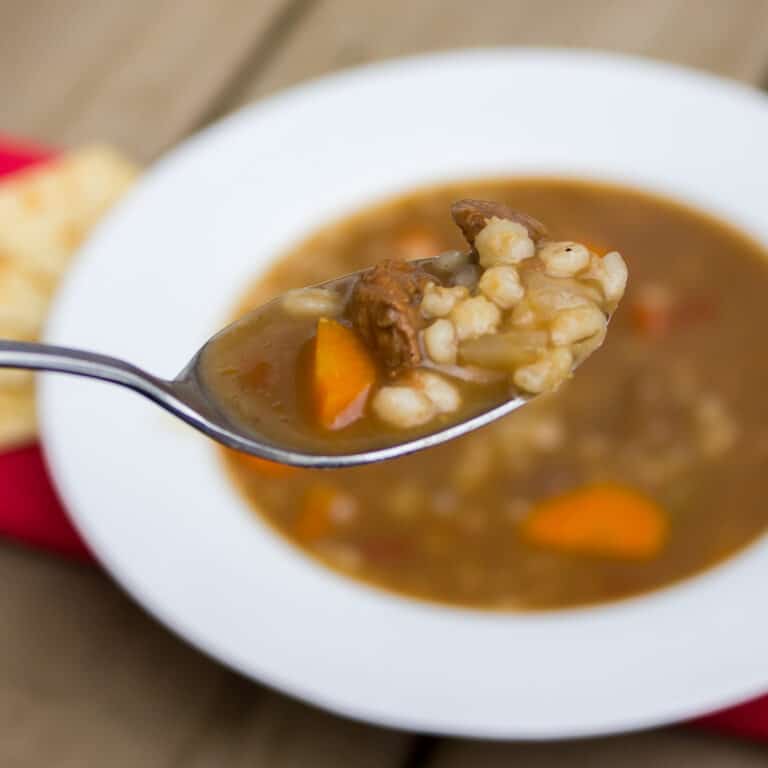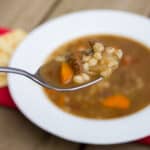 Print
Classic soup that is hearty and delicious with simple detailed instructions. Perfect for a cold day
Servings: 12
Ingredients
1 cup onion , chopped
1 cup celery , chopped
1 cup carrots , chopped
2 tbsp butter
2 cups leftover roast beef or stewing beef , finely chopped
7 cups water
7 cups beef broth
28 oz can of diced tomatoes
2 tsp salt
1 tsp pepper
1 cup pearl barley
2 whole bay leaves
Instructions
In a large soup pot, cook onions, celery and carrots with the butter. Once the onions and celery are tender, about 6-8 minutes, stir in the beef.

Cook, stirring often, for about 6-8 more minutes.

Add the water, beef broth and diced tomatoes and seasonings. Bring to a boil and lower heat so that it is cooking at a low rolling boil.

Dump in the barley and continue to let the soup cook at a low rolling boil for 30-45 minutes. The barley should be fully cooked and the beef should be tender.
Nutrition
Per serving:
Calories: 318kcalCarbohydrates: 18gProtein: 37gFat: 10gSaturated Fat: 4gCholesterol: 98mgSodium: 1127mgFiber: 4gSugar: 3g