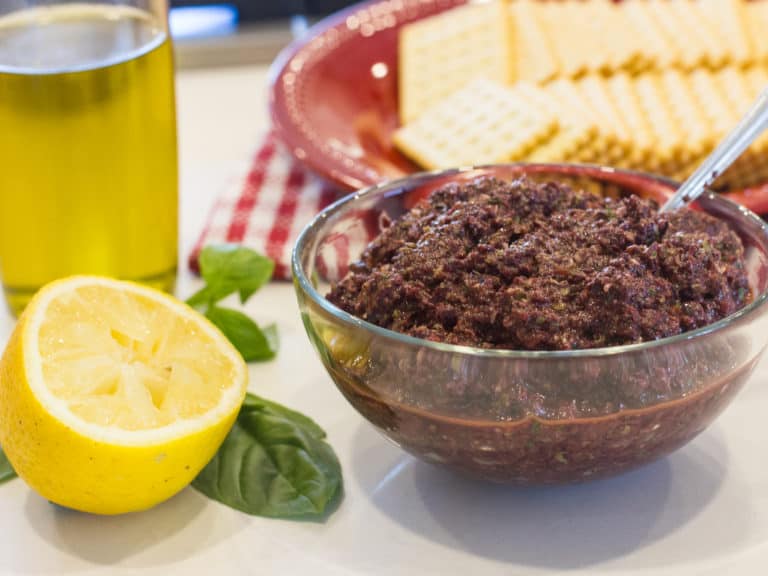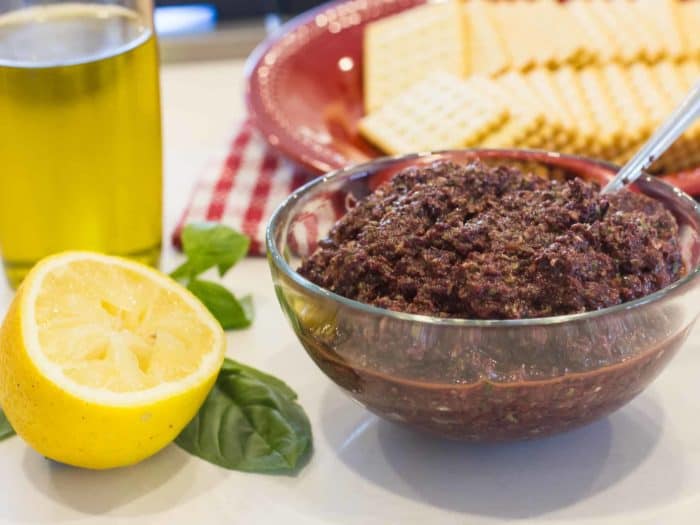 I have a serious weakness for olives and black kalamata olives are the deadliest for me. I don't really have a sweet tooth. Instead, it is the salty snacks that really get me. Kalamata olives are just addictive and they never last long in my house.
I look for any reason to buy olives. Whether it is for using the olives in a dish, having them as part of a cheese and olive tray for a party, or just for snacking, it seems that olives always make their way into the shopping cart when I am at the supermarket.
Tapenade is one of my most favourite ways to enjoy kalamata olives. Tapenade is a spread made by pulsing black olives, capers, garlic and some other ingredients until it is a spreadable paste.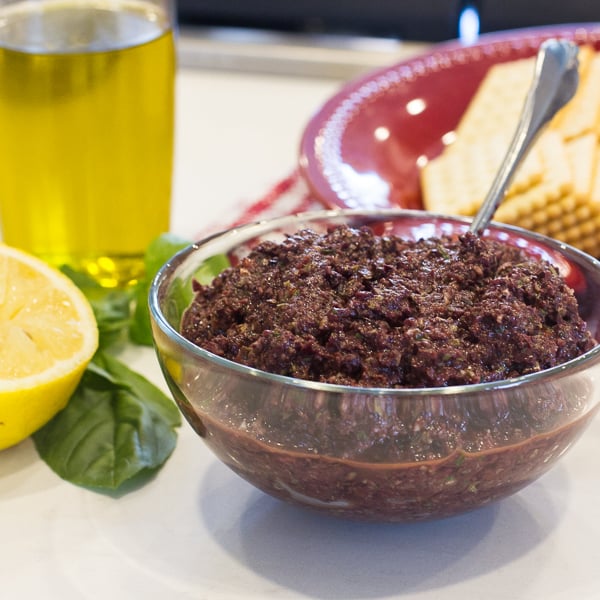 Tapenade comes from the Provence region of France and is typically served as an appetizer. It is amazing when spread on some crusty bread, tapenade is also excellent on crackers with a slice of cheese, or spread on a sandwich.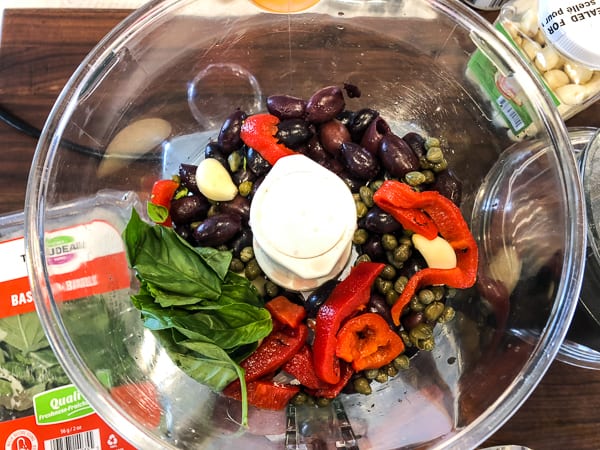 Making tapenade could not be simpler. Dump all the ingredients into a food processor and pulse. That is it! Some of the main ingredients in tapenade is kalamata olives, capers, garlic and olive oil. I also like to add some roasted red peppers, fresh herbs and lemon juice. There are so many incredible flavours in every single bite!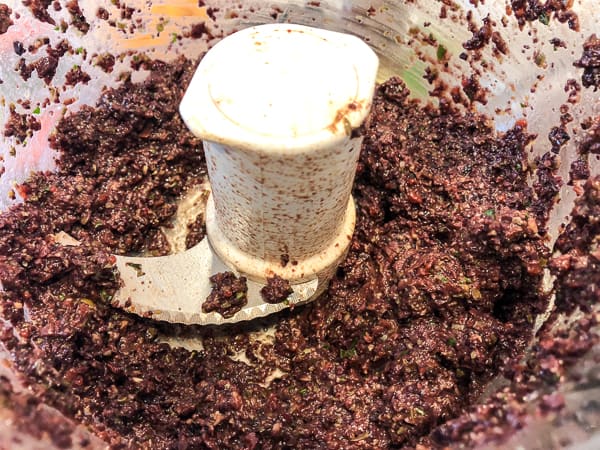 While pulsing, you are looking for a coarse spreadable texture. You can see in the picture above the consistency that I go for. It is not super smooth, and you can still see small bits of olives, capers and other ingredients throughout the tapenade.
Once made, this can be stored in the fridge in a small mason jar or other container. Trust me, once you make this, you may find yourself regularly having some tapenade in the fridge for any time you get the craving!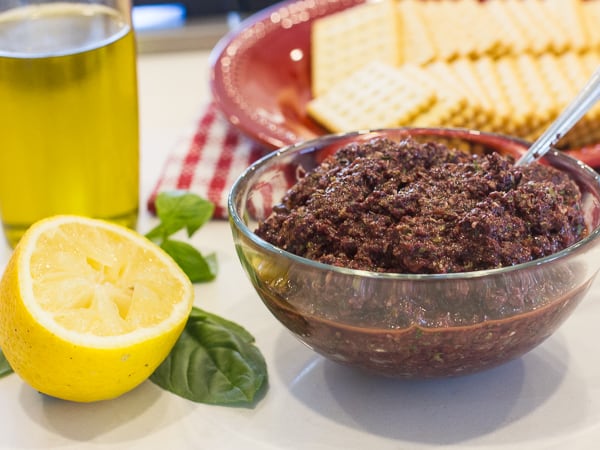 I have lots of other dishes that use black olives. Check out some of these recipes!
If you also love green olives then check out these recipes!
Olive Tapenade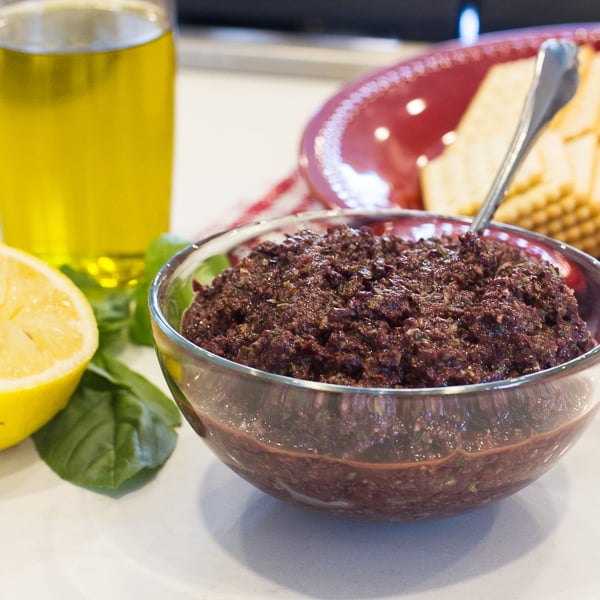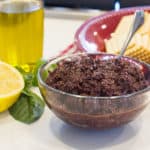 Print
Delicious recipe for kalamata olive tapenade spread from the Provence region of France. Ingredients also include capers, garlic, lemon juice, oil, herbs and roasted red peppers.
Servings: 4 people
Ingredients
1 1/2 cups kalamata olives , pitted
4 cloves garlic
1/4 cup roasted red pepper
3 tbsp capers
1/4 cup basil leaves , or parsley
1 1/2 tsp lemon juice
2 tbsp olive oil
1/4 tsp fresh ground black pepper
Instructions
Add all ingredients to a food processor and pulse until the tapenade has a coarse spreadable texture.

Serve with crusty bread, crackers, pita chips, or spread on a sandwich.
Nutrition
Per serving:
Calories: 143kcalCarbohydrates: 3gProtein: 1gFat: 14gSaturated Fat: 2gSodium: 1086mgFiber: 2g