Shrimp, Avocado and Tomato Salad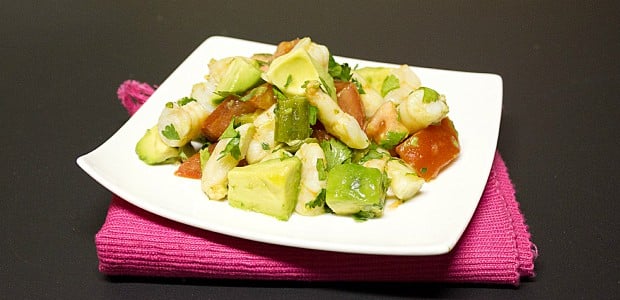 My oldest son has been involved in a folk dancing group at school over the past few months. He loves to participate in any extra curricular activity that is offered. Kilometre Club, Cross Country Team, Boy's Book Reading Club and Folk Dancing are just a few he is doing at the school during the month of May. It is wonderful seeing him eager to be involved and his enthusiasm draws and influences others to get involved.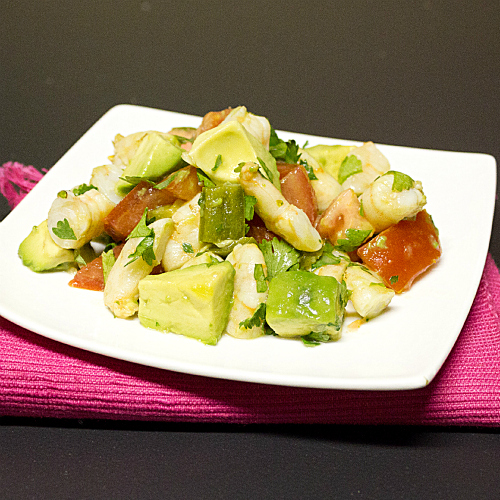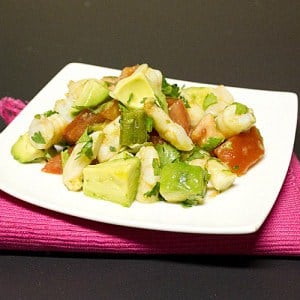 Tonight was the culmination of all the folk dancing practices as they took part in a big jamboree. Approximately ten local schools got together at a nearby outdoor concert venue. There were hundred's of kids doing the polka, traditional Indian and Filipino dances, Cotton Eye Joe and others. They ended the jamboree with YMCA and had all the parents come in to dance with them. Ben was nervous I wouldn't know the dance moves to YMCA because I never practiced with him. I told him I was born in '72 and dancing to YMCA was a way of life for people living in the 70s and 80s. It was a lot of fun!
Today's salad is bright, fresh and packed with flavour. I love avocados and they, along with tomatoes, shrimp and lime juice make one amazing salad!
We used this as a side salad but it could easily be made as a salsa to go with nacho chips or even used to fill a soft taco with Mexican cheese or feta.h tomatoes, make the base of this salad. I diced the shrimp so that there would be more in each bite. Cilantro and lime enhance the salad providing a Mexican kick.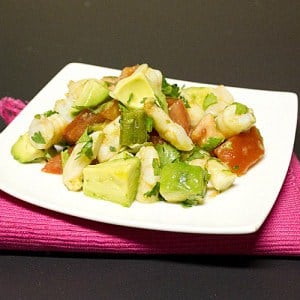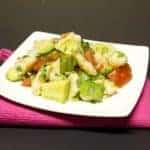 Print
Servings: 4
Ingredients
1 pound of cooked and peeled shrimp
2 avocados , peeled, cored and cubed
3 medium tomatoes , diced
2 jalapeno peppers , cored and minced
1/2 cup fresh cilantro , chopped
juice of 2 limes
1/2 tsp salt
Instructions
Cut the shrimp into 2 or 3 pieces.

Toss all the ingredients together.

Let the salad marinate for 10-15 minutes before serving.