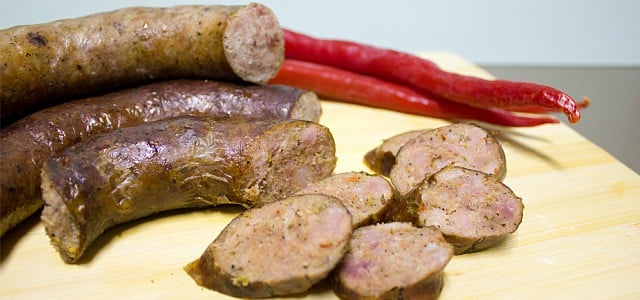 There are days I need to smoke. There, I said it. Are you worried for me? Do you think that I have picked up a bad habit? Are you concerned that I have a nicotine addiction? Before you send me messages about how bad tobacco is, let me assuage your concerns. Smoking for me is not puffing on a little white stick. Instead, my version of smoking is a little contraption I have in my back yard that smokes any meat you can imagine! Yes, there are days I need to smoke.
Even though I live in Canada and am experiencing winter temperatures, I am still able to smoke some meat. I try to make sure that the outside temperature will not drop too much and that the wind will not be very strong. It is amazing how my little smoker, I call him Bradley, is still able to pump up the heat and hold it there so I am able to get my smoked meat fix!
Today I want to share with you my recipe for smoked andouille sausage. Since Mardis Gras is next week, I figured something southern is needed. Andouille is of French origin, but as with other French dishes, it was brought to the United States and modified in the southern states. The Cajun version of andouille is quite different than the French variety. Cajun andouille is smoked and packed with spices such as paprika, cayenne, thyme and garlic.
Andouille is excellent on its own, but it is also quite popular as an ingredient in many Cajun dishes such as gumbo, jambalaya and others.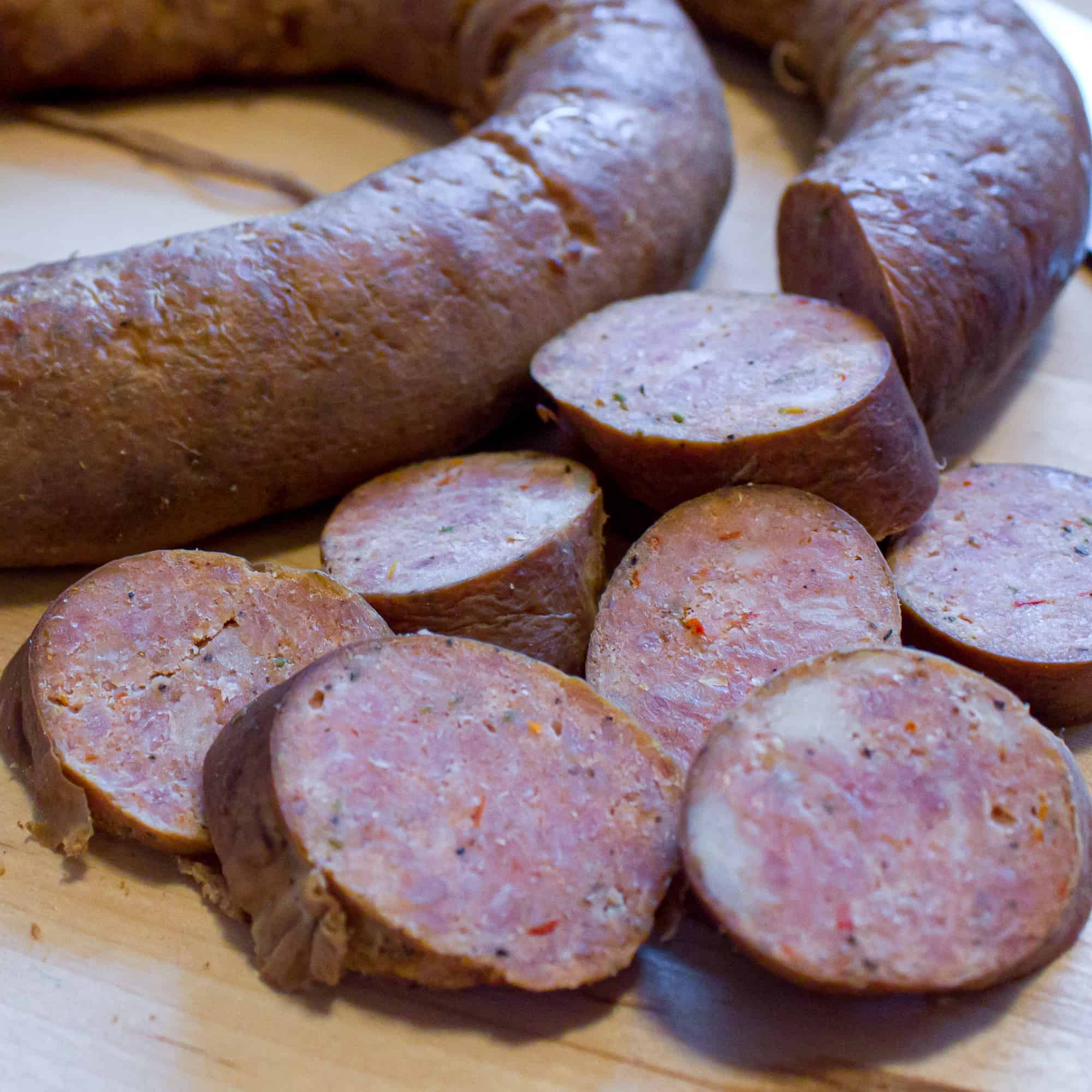 Here are some tips when smoking sausage.
Even though using lean cuts of meat is healthy, there is a need for some pork fat in the andouille. Some people recommend meat to fat ratios anywhere from 80%-20% to 70%-30%. I have made it at both ratios and, even though leaner may be healthier, the ratio of 30% fat did provide a better texture sausage and a far better taste.
I did not want to grind all the meat as I like to have 'ham' chunks in the sausage. So I reserved about 1/3 of the meat and diced it. Ensure that you do not have the chunks of meat too large as they may clog up the stuffer.
Make sure that you use cure. Since the smoker is at such a low heat for a prolonged period of time the pork does not get to the necessary 165F within the 4 hour timeframe and that can cause botulism. Clearly that is not something anyone wants, so to prevent that using a cure is the smartest and safest best. Use 1 tsp for every 5 pounds of meat.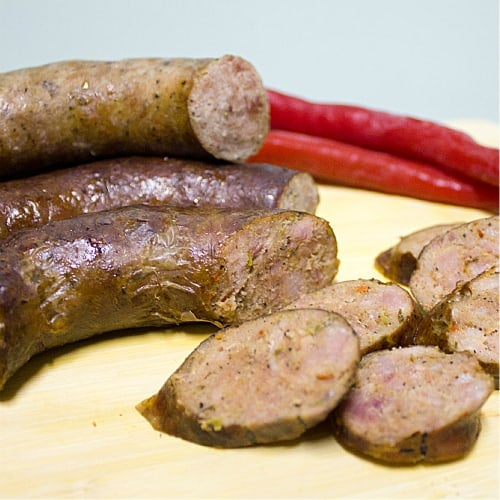 Smoked Andouille Sausage

Print
Recipe and instructions for making classic andouille sausage right at home with your own smoker.
Servings: 5 pounds
Ingredients
5 lbs pork shoulder or fresh ham
2 tbsp garlic powder
3 tsp salt
1 tbsp paprika
1 tbsp ground black pepper
4 tsp dried thyme
2 tbsp of dried chili flakes
1 tbsp cayenne pepper
1 cup cold water
1/2 cup skim milk powder
1 tsp cure
sausage casings
Instructions
Cut the pork meat and pork fat into 1-2 inch cubes. Pass them through a meat grinder. Consider reserving about 1/3 of the pork meat and dice into small chunks so that there are chunks of ham in the sausage.

In a large bowl, stir the meat with the remaining ingredients (spices, cure, water, milk powder). Knead it together well so that everything is combined thoroughly. Place in the fridge and let marinate for 3 hours or so.

Take the meat mixture out of the fridge and stuff the sausage casings according to the instructions of your sausage stuffer.

Preheat the Bradley smoker, or the smoker you are using, for 130F with your choice of wood pucks smoking in it. Place the andouille in the smoker by either laying them on the racks or hanging them on hooks.

The andouille needs to smoke in the smoker for four hours. Each hour increase the temperature 20F. So hour one is 130F, hour 2 is 150F, hour 3 is 170F and hour 4 is 190F.

After they have been in the smoker for 4 hours take them out and put them in a hot water bath that has the water preheated at 165F. Keep them in the hot water bath for 45 minutes.

Remove the kielbasa from the hot water bath and hang them for 1-2 hours so that they can bloom.