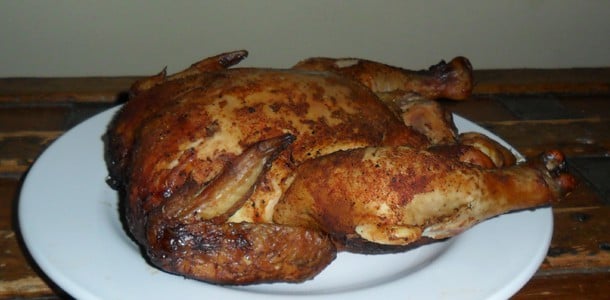 Ever since I picked up my Bradley Smoker from Canadian Tire this spring, I have been enjoying smoking all sorts of meats. This past Monday night I had the English as a Second Language class that I lead come over for a BBQ. There were close to 30 at our house and I was supplying the meat. The smoker has four racks and can hold a lot of meat. Throughout the day I smoked ribs first and that was followed by whole chickens. With the four racks I can smoke 8 birds – not to shabby!!
I never had smoked chicken much before, but, after having it many times this summer already, it is my favourite way to cook and eat a whole chicken. The Bradley Smoker makes it so easy. I rub the bird with my BBQ rub and then put it in the smoker for 3-4 hours. That's it!!
Smoked Chicken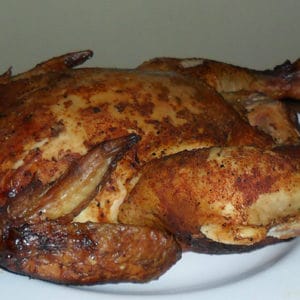 Print
Servings: 4
Instructions
Wash the chicken. Pat it dry with a paper towel. Rub the bird with Steve's Basic BBQ Rub

Smoke in the Bradley Smoker at 250F for 3 to 4 hours. Time may vary depending on outside temperature, # of birds smoking, size of birds. The bird is done when the internal temperature of the bird reaches 165F. (I use a thermometer in the thickest part of the breast to measure the temperature so that I know when it is done. I have used hickory, mesquite and apple wood pucks and they have all turned out a great bird!